Netflix Inc (NASDAQ:NFLX) Goes After Mobile
Netflix Inc (NASDAQ:NFLX) Goes After Mobile
Date Published:
2016-11-30
Written by Ophir Gottlieb

Preface
Netflix Inc (NASDAQ:NFLX) has made a powerful move to become mobile friendly, and the impetus is larger than you might have imagined.

STORY
Netflix is going after the fastest growing part of technology in the world that is mobile video, and it's doing it aggressively. First, we start with the current success, then the next step:

Netflix Inc is famously known for turning the world upside down by essentially killing of video rental services like Blockbuster. Then, Netflix went a step further, by essentially saving TV shows from cancellation through its streaming video on demand (SVOD) pivot. Most notable here was the revival of the what is now considered the most critically acclaimed show in television history, AMC's 'Breaking Bad.' Here's what the shows creator said several years ago:



"

I am grateful as hell for binge-watching. But I'm just as grateful for an entirely different company that I have no stake in whatsoever: Netflix.

I don't think you'd be sitting here interviewing me if it weren't for Netflix. In its third season, Breaking Bad got this amazing nitrous-oxide boost of energy and general public awareness because of Netflix.

"



Here is the broader theme of SVOD and its growth (via Statista):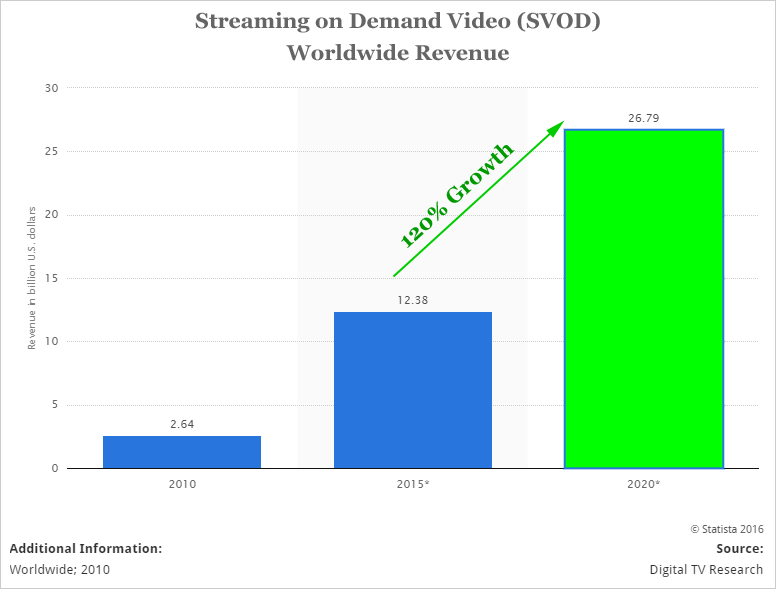 Now, while that looks like a great growth trajectory, there is a serious pivot happening in how people consume video, and Netflix Inc will not be left behind.

THE FUTURE IS NOW
It turns out, as a populace we are turning away from standard video consumption from a traditional television to going on line in a major way. Check out these next charts, starting with the average amount of time spent per day for U.S. adults with online video (via Statista):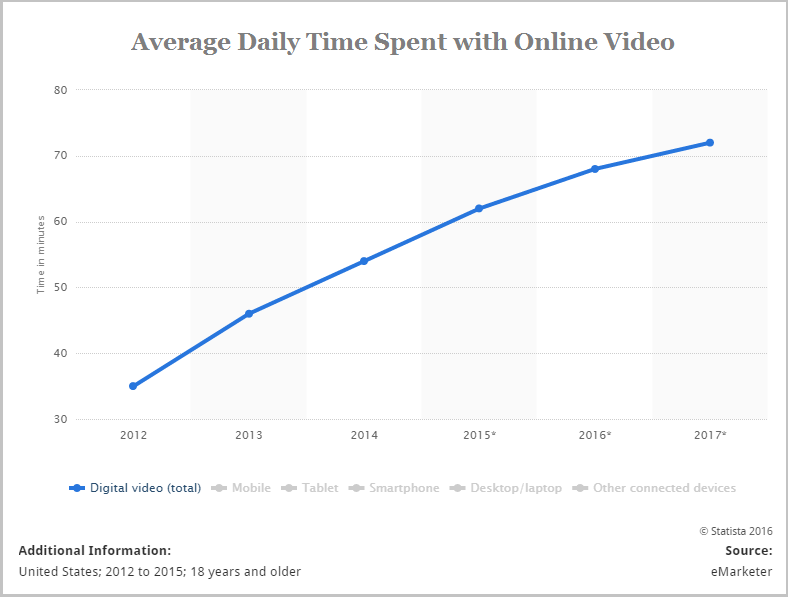 Next we go to weekly time spent watching online video for the United States (again, via Statista):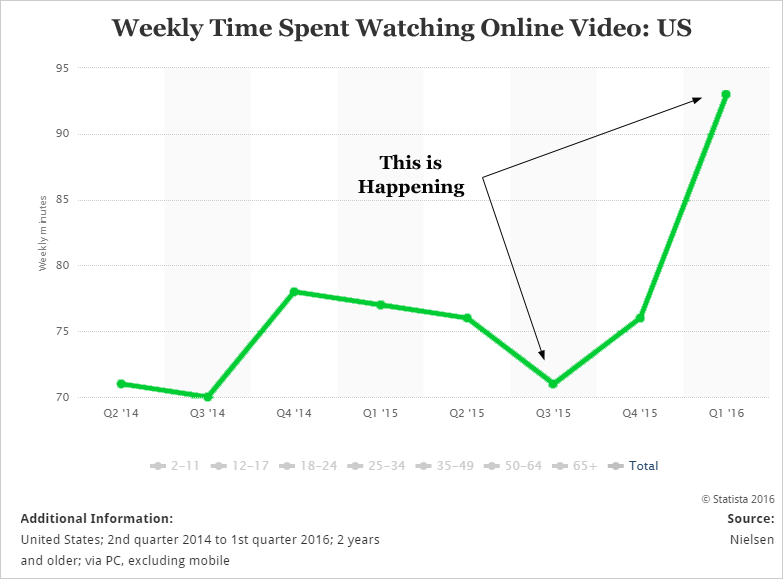 And finally, the frequency of online video consumption is already at high levels (via Statista):




Nearly two-thirds of the population in the United States watch online video at least weekly, with a third watching it daily.

WHAT NETFLIX IS DOING
Finally, here's what Netflix Inc just announced surrounding mobile capabilities (emphasis added):



"

Netflix Inc has added an option that allows subscribers to download shows

at no additional cost

on their

mobile device

to watch without an internet connection.

"



While this means airplane binge watching in the US is now a reality, Reuters' Supantha Mukherjee, Tim Baysinger, and Amy Tennery wrote an article that went further than the obvious. Before we get to it, we note what CML Pro broke earlier this year -- the Netflix international expansion: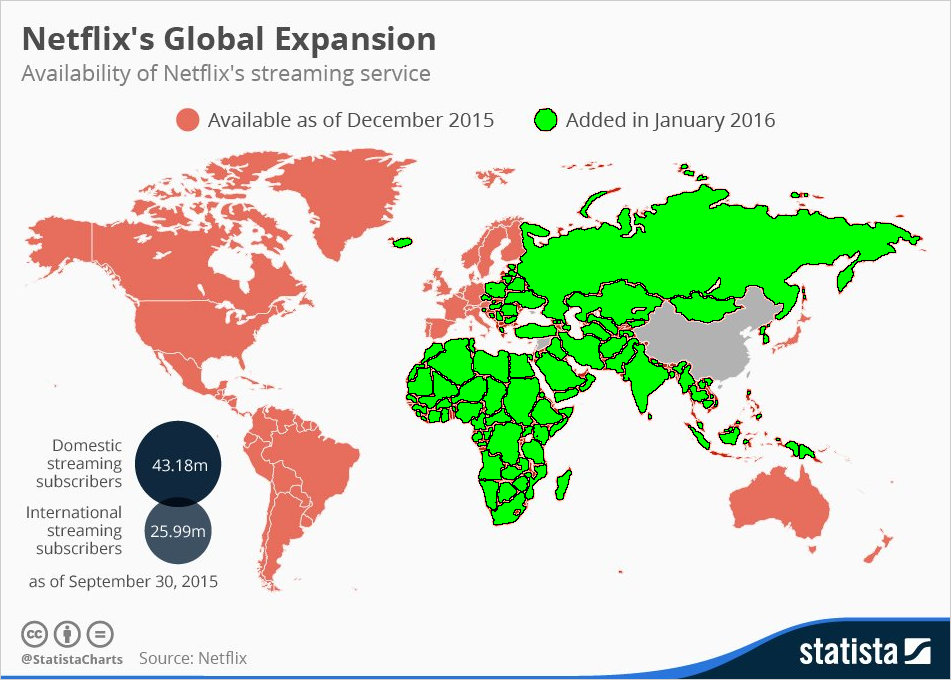 Earlier this year at the Consumer Electronics Show (CES), Netflix CEO Reed Hastings announced significantly expanded reach to 190 countries, making its Internet TV service available in 130 new markets. The bright green areas are the newest additions.

But, many of these nations have poor or no internet connectivity, which is to say, almost everything is consumed over mobile connections. Now, Netflix Inc has stepped into the fray by enabling a feature to watch video on mobile even when its offline.

Netflix said "The new feature is included in all plans and available for phones and tablets on Alphabet Inc's Android and Apple Inc's iOS platforms." This is a brilliant move into mobile that could propel Netflix adoption worldwide to much higher rates, in particular the enormous populations in India and the nations of Africa.

The author has no position in Netflix Inc (NASDAQ:NFLX).

WHY THIS MATTERS
If you enjoyed learning about this future trend in technology and Netflix, this may be up your alley: Our research sits side-by-side with Goldman Sachs, Morgan Stanley and the rest on professional terminals. Of our Top Picks, Nvidia is up 180% since we added it. Ambarella is up 80% since we added it. Relypsa was taken over for a 60% gain and we are already up on Twitter when we added it to Top Picks for $15.60.

To become a CML Pro member it's just $19 a month with no contract. It's that easy -- you cancel at any time, instantly.

Each company in our 'Top Picks' portfolio is the single winner in an exploding thematic shift like self-driving cars, health care tech, artificial intelligence, Internet of Things, drones, biotech and more. For a limited time we are offering CML Pro for $19/mo. with a lifetime guaranteed rate. Get the most advanced premium research along with access to visual tools and data that until now has only been made available to the top 1%.