Fundamentals

Nvidia Corporation (NASDAQ:NVDA) Growth Prospects Strong
PREFACE
Once in a great while, when enough powerful actors throw their weight in the same direction, a movement drives forward that is nearly impossible to stop.
It was true of the personal computers in the 80s, it was true of the internet in the 90s. It was true of mobile technology in the 2000s. Now, in the 2010s, a new technological trend is dominating, and one company is dominating that technology.
Welcome to Machine Learning.
MACHINE LEARNING
Machine learning is the process of turning data into a computer program's decisions. What makes it exceptional is that once the basic algorithm is written, the system learns on its own.
The market's top technology companies are collecting peta-bytes of customer data, satellite images, web site content, weather sensor data, and much more. What's left to turn all this information into cars that drive themselves, drones that carry out autonomous missions, online shopping platforms that know what you'll buy before you do and the next step in human evolution that is virtual reality? Massive, massive, processing power. Enter NVIDIA (NASDAQ:NVDA).
NVIDIA
The marvel behind NVIDIA stands squarely on the footing of its strategy to become the driving force underlying large technology segments and to power those segments with every major company.
With Nvidia, we are looking at machine learning, artificial
super
intelligence, big data, gaming, self-driving cars, virtual reality and a lot more.
"
It's not often someone breaks Moore's Law,
but that is just what NVIDIA has accomplished
with its new GPU architecture, Pascal products.
"
Source: Forbes
Nvidia is the market leader in visual computing; it literally invented the graphics processing unit (GPU) which now serves as the visual cortex of modern computers and artificial intelligence, and that innovation has opened up monstrous markets for the company.
According to
Guru3D
, NVIDIA's share of the discrete desktop GPU market has risen to 76.5%, up from 71.5% last quarter and 64.19% last year as AMD has seen its market share drop. Here is the trend chart: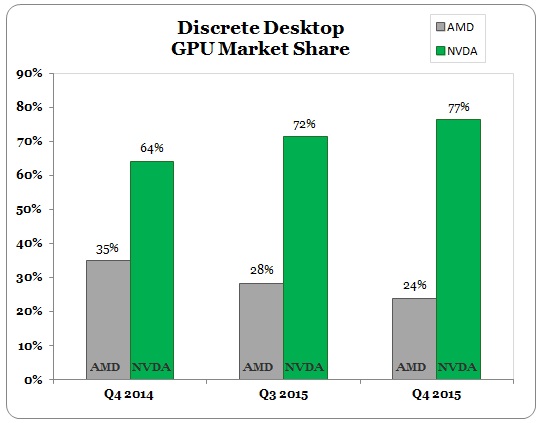 Data Source: Guru3D.com
Compilation: Capital Market Laboratories (CML)
NVIDIA officially launched its Pascal at GTC 2016 and has recently begun the roll-out of their new architecture specifically targeting the High Performance Computing and AI markets. Perhaps equally important is the enviable position NVIDIA has built in the emerging ecosystem for Deep Learning.
The company's cuDNN software appears to have become pervasive, while the open source AI frameworks such as Torch, Caffee, Theano and Google TensorFlow all support NVIDIA accelerators. NVIDIA also provides hardware, assistance and expertise to become entrenched in universities, software developers, OEMs, and large end users (
Forbes
).
NVIDIA is a transformational company that now has its hands in the most innovative segments of technology and is one of the few identifiable crown jewels of tomorrow's market. In the eyes of Capital Market Laboratories (CML) Pro, this company may very well be the next Intel.
Let's go deeper.
ARTIFICAL SUPER INTELLIGENCE
This is the opportunity so many investors say they welcome – that say they search for. The opportunity to find the "Next Apple," or the "next Google." Friends, it's coming right now, and it lies in the depths of technology's core. It's not artificial intelligence, it's artificial super intelligence.
Become a member of CML Pro to get the full analysis.
SELF-DRIVING CARS
The growth potential in the self-driving car realm is tremendous. Here are the forecasts for self-driving cars.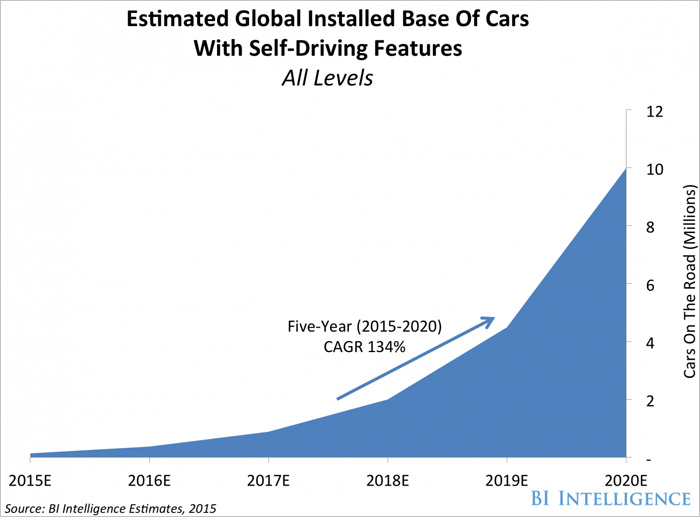 That's 134% compounded annual growth for the next five years, and that's the small growth. Forecasts going further are so large, it's almost meaningless to plot them -- but the forecasts are likely
too low
.
Deep learning is the secret weapon for self-driving car algorithms. NVIDIA already calls Tesla, Aston Martin, Rolls Royce and Audi as customers with what can only be described as "the guts of the future."
We're just at the beginning of a huge revolution in autonomous driving and Nvidia is at the center of this change. Revenue in the automotive space grew over 50% year-over-year. While the number still sits small at $79 million, let's take a look at why that number could grow 40-fold in the next few years. Ian Ing of MKM partners wrote:
"
[M]achine learning could become a $3B+ opportunity should it grow to 30%-40% of the $10B server chip market.
"
Source:
Barron's
NVIDIA announced that its Tesla Accelerated Computing Platform secured a deal with long-time partner Microsoft (and its Cloud) and we just learned about the Facebook partnership. NVIDIA could very well end up being the hyper critical system behind all self-driving cars. Check this out:
"
The development kits are being used to help train self-driving prototypes[]. The kit contains a graphics processor that runs image-recognition software and decodes patterns in footage from up to 12 cameras.
"
Source:
CNBC
Get CML Pro
for the full details of why Nvidia is going to experience massive revenue growth from this new product offering. Plus, get the full research report about the other players in the self-driving segment, like Apple, Google, and Tesla.
There's more. Nvidia's ultra high-end graphics cards are making a ton of money somewhere else as well.
VIRTUAL REALITY
"One hates to be all breathless but [] the ability for two people on opposite sides of the planet to feel like they are physically in the same room could represent one of the biggest changes in communications technology in [] decades.

Add in things like cameras that can read and replicate facial expressions, avatars and more natural looking environments, and this is a technology whose consumer base looks increasingly like [all of] humanity."
The market for virtual reality (VR) and augmented reality (AR) will be absolutely enormous. Together VR/AR is projected to hit $150 billion in yearly sales by just 2020, according to a study by digi-capital: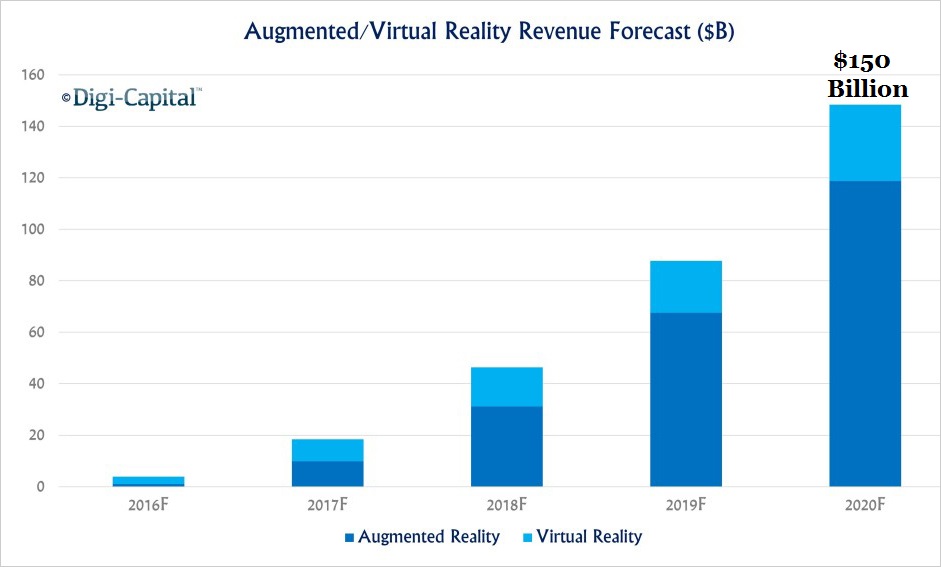 Those numbers are too small. Goldman Sachs told Bloomberg:
"
We believe VR/AR has the potential to spawn a multibillion-dollar industry, and possibly be as game changing as the advent of the PC.
"
Source: Bloomberg
This technology goes well beyond games and visual pleasure. The results will be disruption and innovation on a scale that can only be compared to the most revolutionary technologies of the modern era: the car, the plane, the phone, the computer, the Internet. This is the next step in human evolution. The
full CML Pro research piece
provides all the critical insights investors need about the VR/AR revolution, as well as detailing why Nvidia stands to make a fortune from the Cloud and gaming markets as well.
NVIDIA WINS
Apple, Google (NASDAQ:GOOG), and Tesla (NASDAQ:TSLA) are positioned to enter a massive battle to take over the autonomous driving segment. Even Uber has announced plans to make their service autonomous. It's hard to say who will win out amongst these players. What we can say is Nvidia stands in an extremely strong position to make massive profits regardless of who wins that war.
Microsoft (NASDAQ:MSFT), Facebook (NASDAQ:FB), Google, and Apple will also be battling for control of the virtual and augmented reality markets. Nvidia won't be fighting the battle. They'll be profiting from a safe distance.
At Capital Market Labs (CML), these are exactly the types of companies we identify. Technology marvels that stand to profit enormously from segment growth without needing to spend the massive capital to enter the battle themselves.
Warning
: include(promotions/conclusion.php): failed to open stream: No such file or directory in
/efs/web/news/cml_news_20160528_nvidia-corporation-nasdaq-nvda-growth-prospects-strong.html
on line
104
Warning
: include(): Failed opening 'promotions/conclusion.php' for inclusion (include_path='/var/www/html/web/cmld3b/') in
/efs/web/news/cml_news_20160528_nvidia-corporation-nasdaq-nvda-growth-prospects-strong.html
on line
104