NVIDIA Corporation Is a Marvel
NVIDIA Corporation
Date Published:
2016-08-17

Preface
NVIDIA Corporation (NASDAQ:NVDA) is now famously known for its top performance in the S&P 500, but the reality is, the company is a technological marvel and its future looks quite strong from here, in the long-run.

STORY
Once in a great while, when enough powerful actors throw their weight in the same direction, a movement drives forward that is nearly impossible to stop.

It was true of the personal computers in the 80s, it was true of the internet in the 90s. It was true of mobile technology in the 2000s. Welcome to Machine Learning.

MACHINE LEARNING
Machine learning is the process of turning data into a computer program's decisions. What makes it exceptional is that once the basic algorithm is written, the system learns on its own.




The market's top technology companies are collecting peta-bytes of customer data, satellite images, web site content, weather sensor data, and much more. What's left to turn all this information into cars that drive themselves, drones that carry out autonomous missions, online shopping platforms that know what you'll buy before you do and the next step in human evolution that is virtual reality? Massive, massive, processing power. Enter NVIDIA Corporation (NASDAQ:NVDA).

The marvel behind NVIDIA Corporation stands squarely on the footing of its strategy to become the driving force underlying large technology segments and to power those segments with every major company. This edge allows the firm to benefit from segment growth, rather than to make a bet on any specific provider. With new product development and continued innovation, NVDA is a true technology disruptor.

With Nvidia we are looking at machine learning, artificial super intelligence, big data, gaming, self-driving cars, virtual reality and a lot more. Here is a slightly dated image of NVIDIA's share of the discrete desktop GPU market.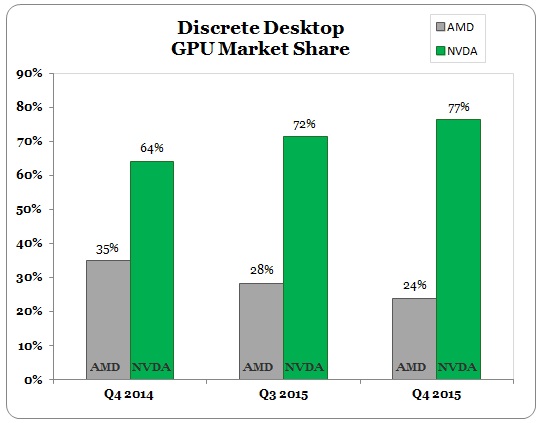 NVIDIA officially launched its Pascal at GTC 2016 and has recently begun the rollout of their new architecture specifically targeting the High Performance Computing and AI markets. Perhaps equally important is the enviable position NVIDIA has built in the emerging ecosystem for Deep Learning. There's so much more to say about NVIDIA, but for now, we'll move forward to the stock price.

STOCK
The company just beat earnings yet again, reporting $1.43 billion versus estimates of $1.35 billion and $0.53 in EPS versus estimates of $0.37. The stock has been on a tear. We can look at it in two ways. First, the standard time series chart: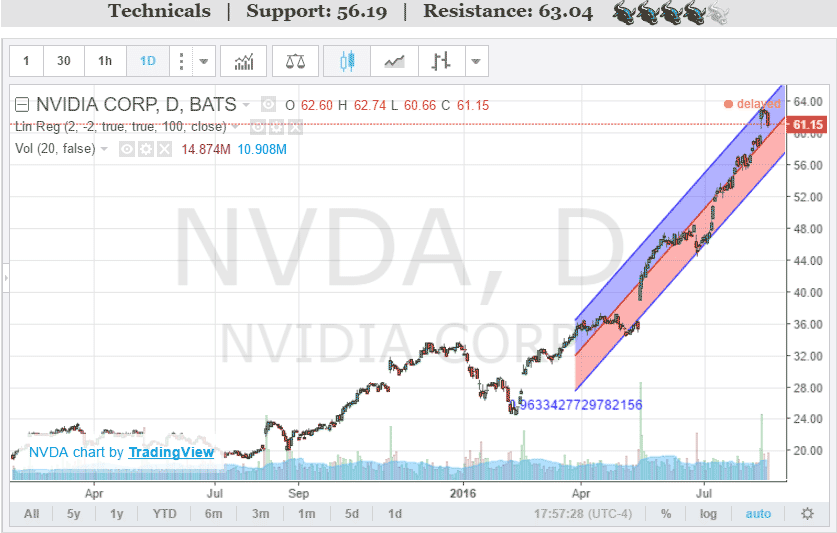 That absurd run translates into a 44.8% rise over the last three months, 121.4% over the last six months and 161.8% over the last year. That chart comes from Trading View as customized in the CMLviz Chart app which is available for any company, for free, here: Chart App.

Another way to look at NVIDIA's historic run is through a more sophisticated lens. Here it is: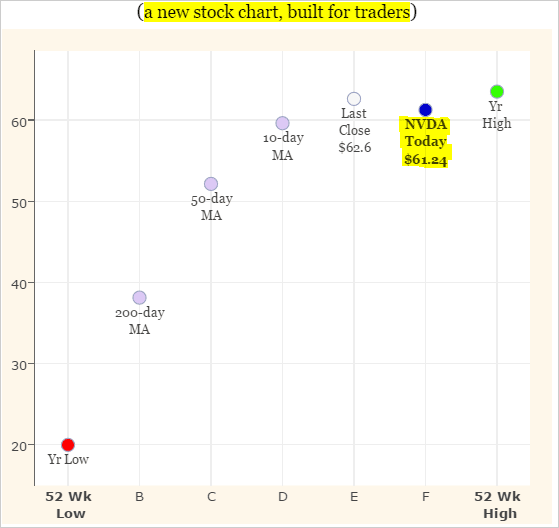 This scatterplot for NVIDIA Corporation (NASDAQ:NVDA), with the technical pivot points marked as points in time rather than a time series, is the next evolution of stock chart. This chart is available for any company for free on the CMLviz "Pivot Points" app available here: The Future of Stock Charts: Pivot Points.

Look how easily we can see that the current price (the blue points) is above all of the purple dots, which are the 200-, 50- and 10-day moving averages, respectively, pointing to technical strength while the 52 week high (green point) looms as the next critical pivot point.

Finally, the analysts have gotten yet more bullish of the stock.

ANALYSTS
Analyst ratings have risen across the board. Here is a quick summary from the CMLviz "Analyst App," also free for any company:



NVDA Earnings Estimates
Number of Analysts
11
Earnings Date Estimate
2016-11-03


EPS Estimate
$0.56


Revenue Estimates
Revenue Estimate (Average)
$1.68 billion
Revenue Estimate (Median)
$1.68 billion
Revenue Low Estimate
$1.68 billion
Revenue High Estimate
$1.69 billion


Revenue Estimate Revisions
Upward Revisions in Last Week
9
Upward Revisions in Last Month
9
Upward Revisions in Last Quarter
8


Downward Revisions in Last Week
0
Downward Revisions in Last Month
0
Downward Revisions in Last Quarter
0

You can get analyst reports on any company from the analyst app here: Analyst App.

The author is long shares of NVIDIA Corporation (NASDAQ:NVDA).

WHY THIS MATTERS
NVIDIA is one of those crown jewels -- one of those companies that so many investors say the seek out, say they search for -- the lesser known companies that are disrupting the world and leading the charge in the various new technologies that will shape our future. Identifying trends and companies like this this that allows us to find the 'next Apple' or the 'next Google.' This is what CML Pro does. Our research sits side-by-side with Goldman Sachs, Morgan Stanley and the rest on professional terminals, but we are the anti-institution and break the information advantage the top .1% have.

Each company in our 'Top Picks' is the single winner in an exploding thematic shift like artificial intelligence, Internet of Things, drones, biotech and more. For a limited time we are offering CML Pro at a 90% discount for $10/mo. with a lifetime guaranteed rate. Join Us: Get the most advanced premium research delivered to your inbox along with access to visual tools and data that until now has only been made available to the top 1%.