NVIDIA Corporation (NASDAQ:NVDA) Crushes Earnings, Again
NVIDIA Corporation (NASDAQ:NVDA) Crushes Earnings, Again
Date Published:
2016-11-10
Written by Ophir Gottlieb


Preface

Our number one Spotlight Top Pick, NVIDIA Corporation (NASDAQ:NVDA), reported earnings after the bell on Thursday evening, and the company crushed Wall Street forecasts with borderline absurd growth rates in various business lines, again.

THE COMPANY
Nvidia Corporation (NASDAQ:NVDA) is the crown jewel of technology's future. It spans the thematic trends of artificial intelligence, self-driving cars, virtual and augmented reality, cloud computing, gaming and machine learning.

While the stock is the top performer in the S&P 500 this year and it now carries a market cap of about $40 billion with a stock price of $70, we do see the potential here of a $100 billion mega cap technology company in the making (that's a stock price of about $200), if the company can keep its lead and continue to execute over the next several years.

It's so hard to discuss Nvidia Corporation without including tons of charts that illustrate the various themes it is leading the charge in, but for now we will focus on the actual earnings report and intersperse some charts where relevant. The full Nvidia Corporation (NASDAQ:NVDA) CML Pro Spotlight Top Pick dossier has the real details surrounding the company.

EARNINGS
Nvidia reported revenue of $2 billion for the last quarter, eclipsing Wall Street's estimates for $1.69 billion. The company also delivered earnings per share (EPS) of $0.83 handily beating estimates of $0.57.

The $2 billion revenue number was a 50% rise from the same quarter last year and the EPS number was fully 89% higher than the quarter last year. But, in what is clearly some of the most impressive execution in the market today, when we dive deep into some of Nvidia's business lines, those growth numbers are smaller than the potential.

Data center business grew to $240 million, up 193% from the previous year. Here is the market growth expected in the public cloud worldwide: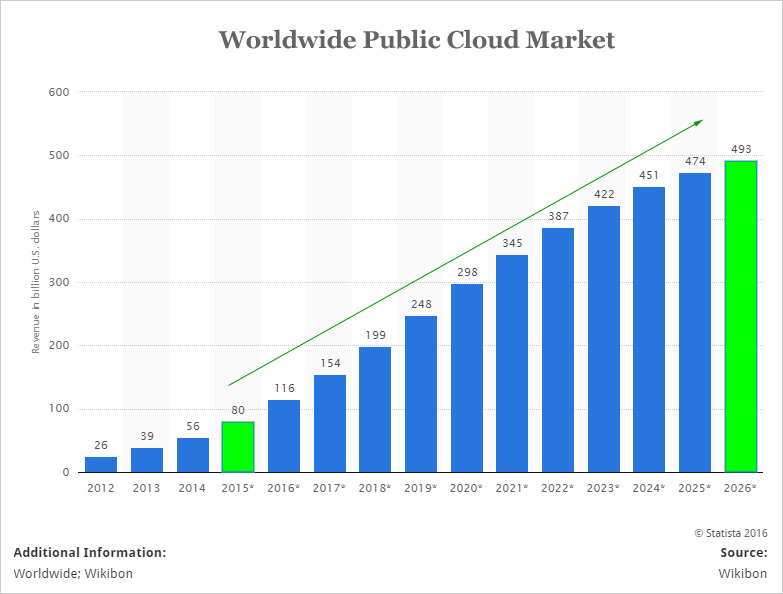 Automotive business grew to $127 million, up 61% from the previous year.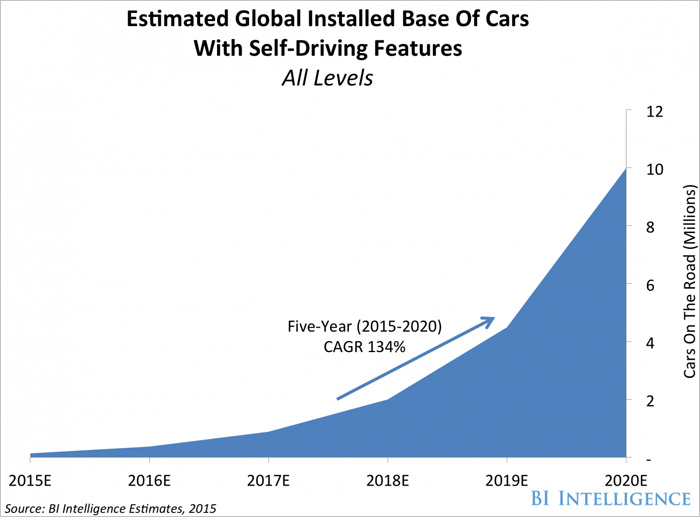 Gaming business grew to $1.2 billion, up 63% from the previous year.

MORE NUMBERS AND FEEDBACK
The company had more to say about earnings:

The dividend paid in cash, quarterly was raised 22%.
Gross margin hit a record high 59%.

The company's CEO and founder, Jen-Hsun Huang, said this in the press release:

We had a breakout quarter - record revenue, record margins and record earnings were driven by strength across all product lines. Our new Pascal GPUs are fully ramped and enjoying great success in gaming, VR, self-driving cars and datacenter AI computing.

We have invested years of work and billions of dollars to advance deep learning. Our GPU deep learning platform runs every AI framework, and is available in cloud services from Amazon, IBM, Microsoft and Alibaba, and in servers from every OEM. GPU deep learning has sparked a wave of innovations that will usher in the next era of computing

Source: NVIDIA Investor Relations

CONCLUSION
While the numbers are outstanding and the growth is almost too good to be true, the reality is that as we look further down the road, three-five years, each of these business lines should be considerably larger.

The data center business is just now becoming recognized as huge growth engine (CML Pro noted it a year ago, so it's now time the rest of the world sees it).

The self-driving car world is going to become a reality in 2019 (ish), and my goodness, that has the potential to be a huge business line.

Gaming continues to grow, to become social and to require faster and faster GPUs, a market that Nvidia dominates.

Virtual and augmented reality will take off in a couple of years as well as Facebook's Oculus Rift, Microsoft's HoloLens, HTC's Vive and Google's Day Dream will lead the way to make this business not only mainstream, but 'must have' stream. Apple will join as well.

End-to-end machine learning in biotechnology is about to become "the new black," going from "that thing that guy, Ophir, from CML Pro said that time" to "the most important element of mankind's existence." We have an entire CML Pro dossier dedicated to this trend, here: NVIDIA More Reach .

To learn more about all of Nvidia Corporation's (NASDAQ:NVDA) growth potential you can read the CML Pro dossier NVIDIA: There's More Room for Growth, Everywhere, published on 10-31-2016.

In total, we maintain our Spotlight Top Pick status for Nvidia, and maintain it as our number one spotlight.

The author is long shares of NVIDIA Corporation (NASDAQ:NVDA).

WHY THIS MATTERS
Our research sits side-by-side with Goldman Sachs, Morgan Stanley and the rest on professional terminals. Of our Top Picks, Nvidia is up 110% since we added it. Ambarella is up 90% since we added it. Relypsa was taken over for a 60% gain and TubeMogul was taken over for a substantial gain as well. We are already up on Twitter when we added it to Top Picks for $15.60.

To become a CML Pro member it's just $25 a month with no contract. It's that easy -- you cancel at any time, instantly.

Each company in our 'Top Picks' portfolio is the single winner in an exploding thematic shift like self-driving cars, health care tech, artificial intelligence, Internet of Things, drones, biotech and more. For a limited time we are offering CML Pro at a 75% discount for $25/mo. with a lifetime guaranteed rate. Get the most advanced premium research along with access to visual tools and data that until now has only been made available to the top 1%.