NVIDIA Corporation and Microsoft Corporation Strike a Partnership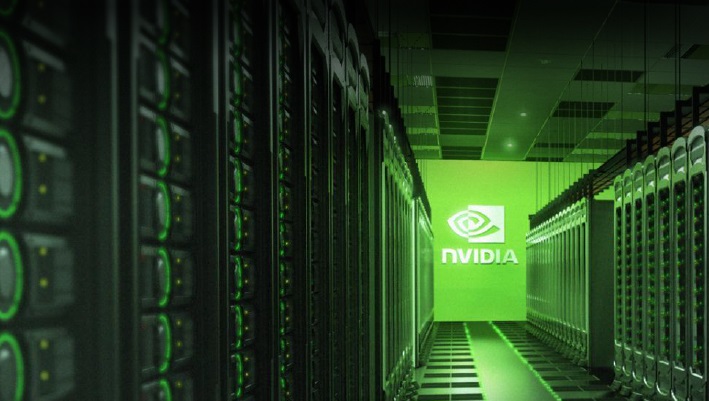 NVIDIA Corporation (NVDA) and Microsoft Corporation (MSFT) Strike a Partnership
Date Published:
2016-11-16
Written by Ophir Gottlieb

Preface
Nvidia Corporation (NASDAQ:NVDA) has broken out to new all-time highs on what appears to be a 'surprise' to Wall Street from its cloud business potential. I'll save you the suspense, there's another 'surprise' for Nvidia on the way.

NVIDIA CORPORATION: MOVING ON UP
Nvidia is our number one spotlight Top Pick and has nearly tripled since we added it in January of this year for $32.22. Today, the stock broke all-time highs yet again, this time on news of partnership with Microsoft Corporation (NASDAQ:MSFT).



"

On Tuesday, the Redmond, Wash.-based software giant announced a partnership with NVIDIA Corporation (NVDA) to accelerate AI in the enterprise, with the use of Microsoft's commercial cloud platform Azure serving as the hub.

"

Source: Investopedia



Now, people will write articles about artificial intelligence (AI) and many will have no idea what the actual technology is. Nvidia Corporation is up on the day, and is the best performing stock in the S&P 500 and very well may be the next Intel because this company understands the science and mathematics behind end-to-end machine learning and AI better than anyone else, or close to it.



NVIDIA 1-YR STOCK CHART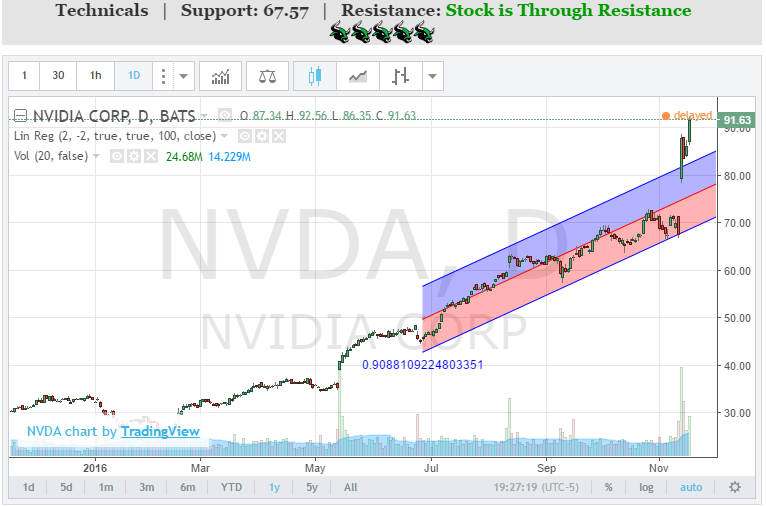 This partnership with Microsoft Corporation (NASDAQ:MSFT) is just one of dozens, if not hundreds, where technology companies are realizing that there's Nvidia, and basically, no one else. In a premium article posted by Barron's today, MKM Partners specifically called out Nvidia as 'ready for artificial intelligence' and then specifically called out AMD as not ready.

NEXT 'SURPRISE'
While the investing public is now in utter shock that Nvidia Corporation (NASDAQ:NVDA) will be playing a huge role in cloud computing, something we at CML Pro joyfully pointed out a year ago, I can already tell you the next breaking news: Nvidia is going to power genomics, biotechnology, life sciences and health care. We dedicated an entire dossier to this segment NVIDIA More Reach.

In a study from eLIFE we learned that automation could be used to reduce the cost of drug discovery by approximately 70%. In an article from the Huffington Post we get this:



"

It's an approach that a number of companies are taking to market. For instance, London based start-up Benevolent. AI utilizes complex AI to look for patterns in the scientific literature.

They have already managed to identify two potential drug targets for Alzheimer's that has already attracted the attention of pharmaceutical companies.

"

Source: Investopedia



We could go on and on about how the rate of drug attrition due to clinical trial failures has risen substantially and how most scientists now are most excited about data-driven strategies which are broadly applicable to many drug discovery methods.

Here is a final piece of the story today with Microsoft (note the added emphasis):



"

In a statement, the two tech giants pointed out that artificial intelligence has a place in

almost every environment, regardless of market

.

Industries such as

health care, life sciences,

energy, financial services, automotive and manufacturing are benefiting from deeper insight on extreme amounts of data, the company's said.

"

Source: Investopedia



We maintain our Spotlight Top Pick status for Nvidia. We do note the recent stock spike and of course caution that stocks do, eventually, go down as well. Our vision is several years into the future and we see the potential for Nvidia to become a $100 billion mega market cap tech giant. It's not a sure thing -- there is risk in that kind of execution, but the long-term view from our end remains quite bullish.

The author is long shares of NVIDIA Corporation (NASDAQ:NVDA) and has no position in Microsoft Corporation (NASDAQ:MSFT).

WHY THIS MATTERS
Our research sits side-by-side with Goldman Sachs, Morgan Stanley and the rest on professional terminals. Of our Top Picks, Nvidia is up 180% since we added it. Ambarella is up 70% since we added it. Relypsa was taken over for a 60% gain and we are already up on Twitter when we added it to Top Picks for $15.60.

To become a CML Pro member it's just $19 a month with no contract. It's that easy -- you cancel at any time, instantly.

Each company in our 'Top Picks' portfolio is the single winner in an exploding thematic shift like self-driving cars, health care tech, artificial intelligence, Internet of Things, drones, biotech and more. For a limited time we are offering CML Pro for $19/mo. with a lifetime guaranteed rate. Get the most advanced premium research along with access to visual tools and data that until now has only been made available to the top 1%.