nvidia, billion, market, company, world, driving
Even Now, The Bullish Thesis for Nvidia's Future is Breathtaking
Even Now, The Bullish Thesis for Nvidia's Future is Breathtaking
Date Published:
1-28-2018

Written by: Ophir Gottlieb

This is a snippet from a CML Pro dossier.

LEDE
It's time for an update, yet again, on the tech gem that has its sights set on powering all of technology, and in this review we discuss several segments, with total addressable markets topping $1 trillion. It is this forward looking view of the world that justifies Nvidia's market cap -- and a potential for serious growth.

CES
Nvidia was added to Top Picks on 2-Jan-16 for $32.25. As of this writing it is trading at $236.66, up 591.6%.

While the key note at CES was a full 90 minutes, just the first 2 minutes and 30 seconds does the trick for a primer. Here is that video, below:



BREAKOUT SESSION
Even yet more revealing was CEO Jensen Huang's breakout session which can be seen through this article posted by Venture Beat.

STORY
But, apart from all the videos and all the forecasts, there is more news -- real news, that powers the bullish thesis for Nvidia forward. Let's talk about some details.

CARS
We can star with self-driving featured cars which is a nascent industry in terms of revenue, it is booming with respect to research and planned infrastructure. Here is a forecast for the self-driving featured market: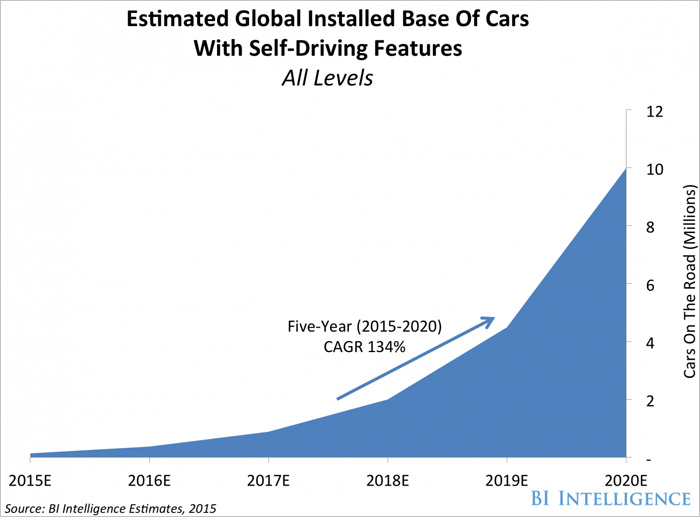 That's 134% compounded annual growth for the six years from 2015-2020 and deep learning is the secret weapon for self-driving car algorithms. And, while dozens of manufacturers of personal cars and trucks and commercial trucks are readying themselves for a fierce battle, Nvidia has a different approach.

The company's strategy in this segment is to become a part of the internal workings on which all manufacturers depend. And while that sounded a little bold when we first covered Nvidia back in 2015, today it isn't bold, it's simply a matter of fact.

First, the established players in this manufacturing world are already relying on Nvidia -- companies like Audi, Toyota, Mercedes-Benz, Volvo and Tesla in automotive, and companies like PACCAR, a leading global truck manufacturer with over $17 billion in sales and 23,000 employees.

Here is a wonderful video that hits the high points of the commercial trucking world, and even has some cool musical scoring:



Further yet, Nvidia has a partnership with Bosch, the world's largest automotive supplier with total global sales of $73.1 billion in 2016.

We also now know that 145 automotive startups around the world have chosen NVIDIA DRIVE. In total, 225 companies are currently developing with DRIVE PX.

But all of this is still, unbelievably, just the tip of the iceberg.

When people think of AI in the car, they tend to imagine level 4 and level 5 driving capabilities. At these levels -- 5 being the highest -- the vehicle would be capable of most driving scenarios it encounters. Level 5 would be a fully autonomous drive. But the AI advances inside the car shouldn't go unnoticed.

Here is a snippet from TheStreet.com:



Mercedes-Benz unveiled its new (Mercedes Benz User Experience) MBUX infotainment system. The AI-powered system will be available in the A-Class starting next month.

Nvidia has already announced a new partnership with Volkswagen (VLKAY) for its Drive IX, Nvidia's intelligence experience toolkit. In a nutshell, Nvidia's hardware gives its customers the tools necessary to build their own AI-based applications.



The point here is that it's not just hardware, but also software. Danny Shapiro, senior director of automotive at Nvidia recently said at CES:



Software is going to define so much of the user experience, the driving experience and it will continue to evolve and get better and better. New applications and new features [will be] added to your car even after it's in your driveway.



The expansiveness of AI as it pertains to the automobile, beyond self-driving, is breathtaking. Another final word for Shapiro:



AI is really at the heart of everything that's happening in the transportation space.



WHY THIS IS IMPORTANT
We could go on and on with links to product announcement on Nvidia's site that are just breathtaking, but it is in fact a 40,000 foot view that we are after.

While all of this sounds like a massive opportunity, and it is, the realization of this boom has barely hit Nvidia's business. Here is the revenue from the automotive sector for Nvidia: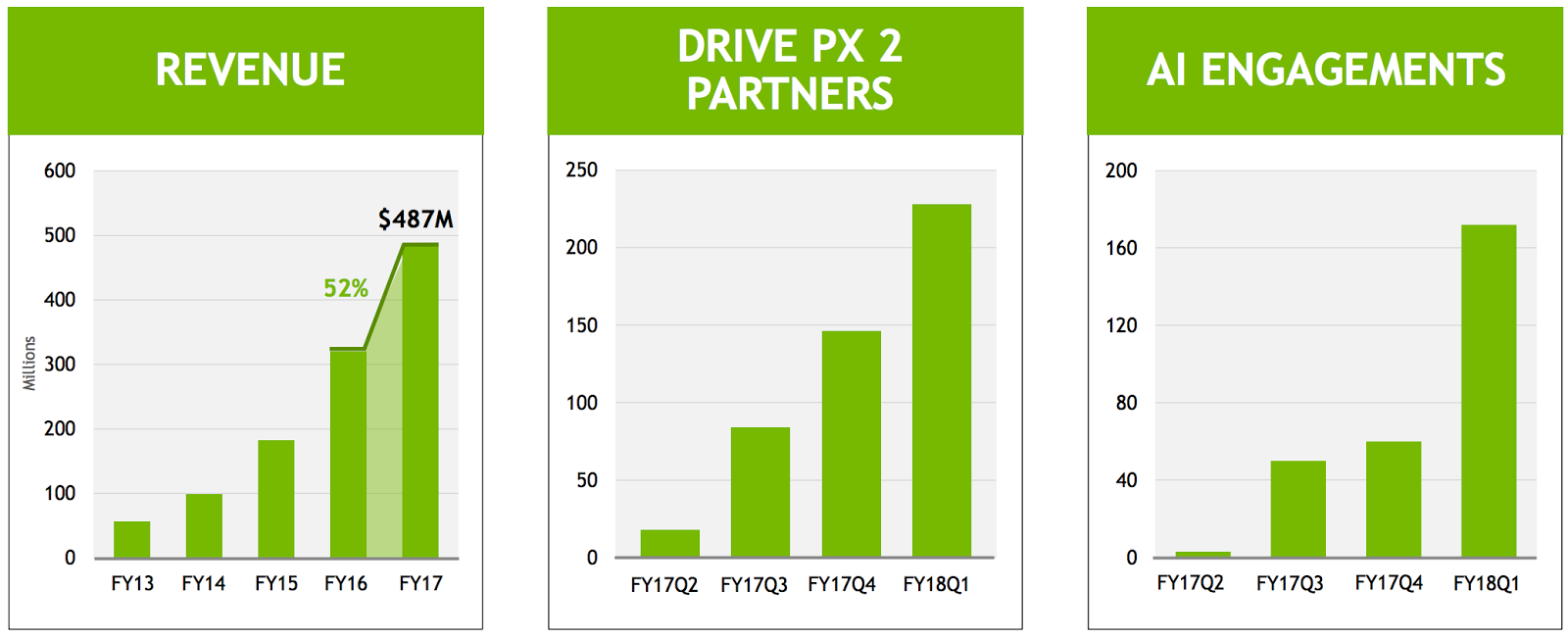 That's just $487 million, for a company with over $9 billion in sales. But, the total addressable market (TAM), at least in Nvidia's eyes, is quite substantial: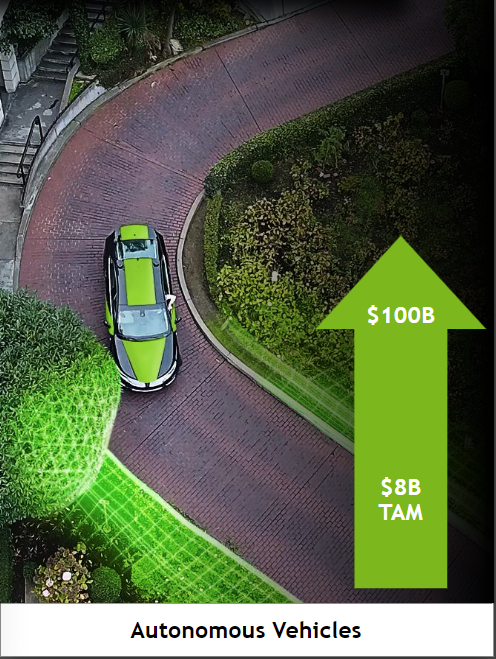 That is $8 billion by 2025 heading to $100 billion in the future.

So, you see, while the self-driving featured car world and the various other aspects of a smart car are making headlines, they are yet to hit Nvidia's bottom line. So while we can marvel at the revenue and earnings growth, which has been staggering, just this one area is in such early stages, that it is, practically speaking, rounding error as of today.

STEPPING EVEN FURTHER BACK
We focused on the automotive segment to make a point -- not just about Nvidia's proliferation in one segment and the potential TAM, but also the very idea of what the company is centered on. It's not about being the face of a product, it's about being the guts of every product.

Wall Street was slow to pick up on Nvidia's potential early on, but that is no longer the case. Recently Bank of America Merrill Lynch raised its price target to $275.

But it's the recognition that Nvidia has several business lines, that in and of themselves are substantial companies, that is starting to resonate. We covered automotive, but the data center business is also explosive.

A misguide article written August 11th, 2017, by MarketWatch read Nvidia stock could pause as server growth slows down.

Here is a quick snippet from that article:



While [the graphics chips designed for data centers] segment soared 175% from the same quarter a year ago, it grew only 2% on a sequential basis to $416 million.



Of course, in the earnings report that followed, Wall Street was in fact surprised, and the data center business is large enough, right now, to see substantial impact on revenue. Here is what CNBC reported:



The company reported $501 million in datacenter revenue, which includes sales of GPUs to cloud providers like Amazon Web Services, beating analyst estimates of $461 million and marking a 20 percent increase from last quarter.



And, for a chart, we turned to some cool graphics from TechCrunch, with our added emphasis on top of it: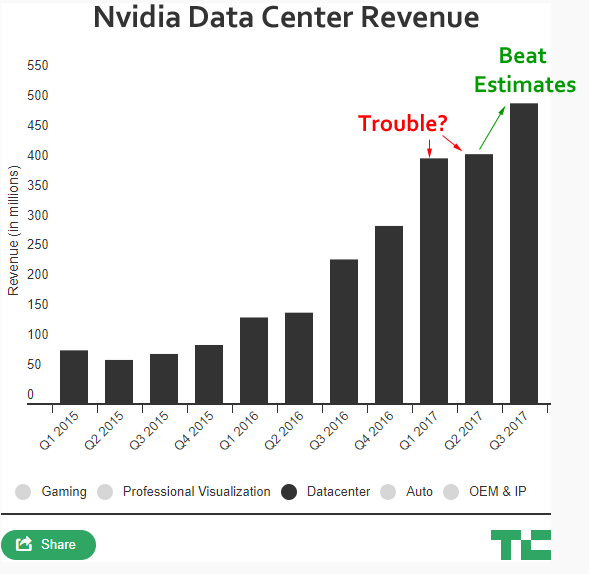 Taking a step back, autonomous anything (cars, trucks, drones, robots) and many other trends are still small, but here is what we can expect for the pubic cloud computing platform world: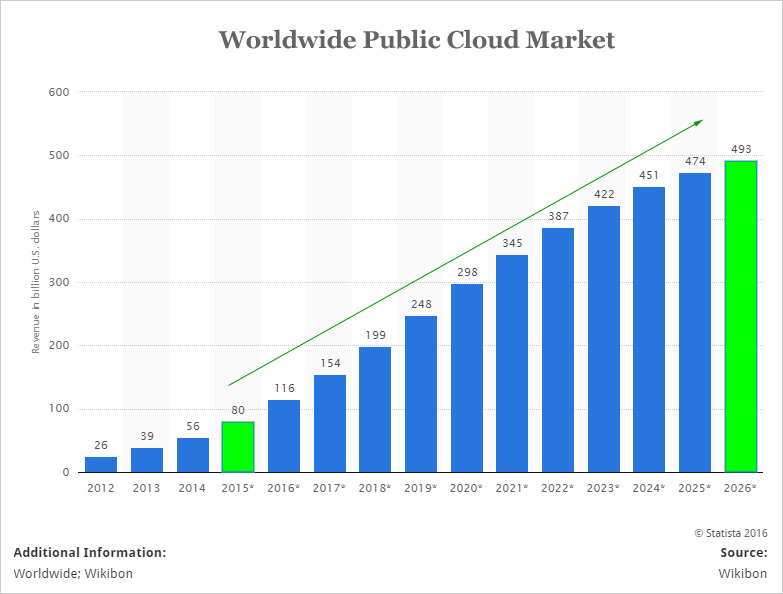 The worldwide public cloud market is forecast to rise from $154 billion this year (2017) to nearly half a trillion dollars by 2026. That market has three dominant providers: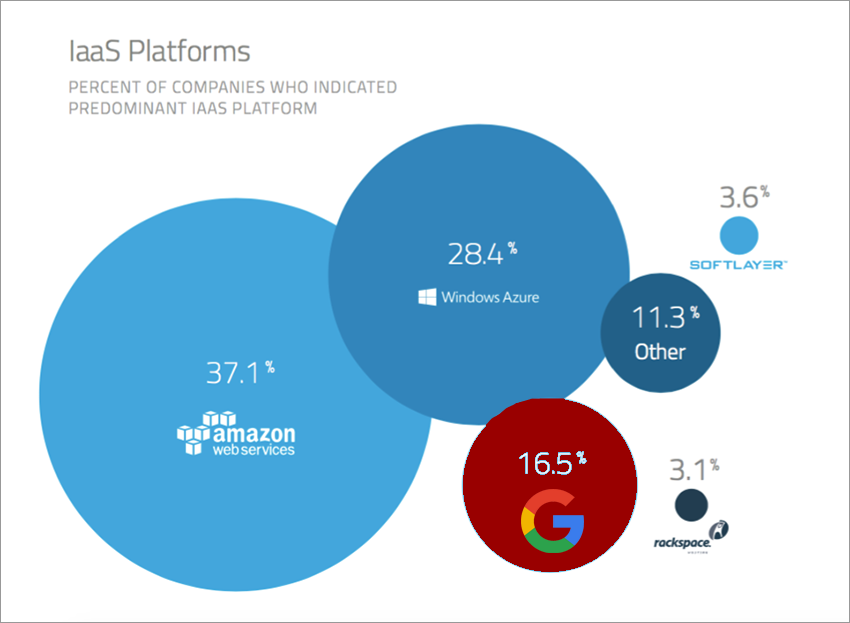 Amazon, Microsoft, and Google purchase from Nvidia, at scale, and this business line is a winner, right now. Tencent, Alibaba, Baidu, Facebook and Oracle also rely on Nvidia chips for their clouds.

In fact, on 9-27-2017 we penned Nvidia Sign Massive Deal with China's Kingpins, relating to the cloud, specifically.

So, what changed? It turns out that Nvidia's newest chip, 'Volta,' has done what it claimed it will do. This is from Nvidia:



NVIDIA Volta™ is the new driving force behind artificial intelligence. Volta will fuel breakthroughs in every industry. Humanity's moonshots like eradicating cancer, intelligent customer experiences, and self-driving vehicles are within reach of this next era of AI.



And then a comment from Goldman Sachs right after the earnings call:



The ramp of Volta seems to be tracking well, and more importantly, has significant runway ahead, in our view, as a broader set of customers adopt the new architecture in the coming quarters.



But still, if you read with a careful eye, data center revenue came in at $501 million, which more than doubled from a year ago on the strong adoption of the Volta platform, but that is still 'just' $1.62 billion over the trailing twelve-months.

Nvidia projects that the TAM for the data center segment to hit $30 billion by 2020 on its way to $75 billion.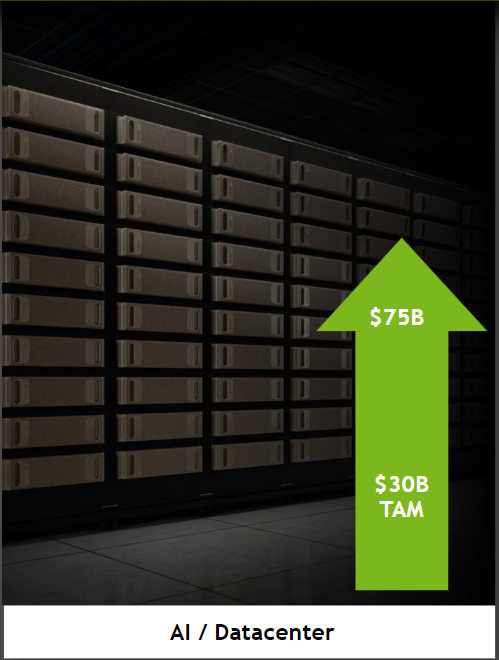 Again, this is a company with just $9 billion in sales as of the last year.

ARTIFICIAL INTELLIGENCE, BROADLY
While all of this sounds bullish, it really, at least in Nvidia's eyes, is still barely scratching the surface. Here is a quick take from the company on its fundamental underlying technology, the GPU, and then yet more market opportunity in the broadly defined 'Artificial Intelligence' segment.



GPU computing powers the computation required for deep neural networks to learn to recognize patterns from massive amounts of data. GPU programmability gives developers flexibility in this rapidly evolving, nascent industry.

We've built an end-to-end platform to advance AI, from purpose-built processors to software to fully integrated systems.

We advance fundamental AI research and fuel the AI ecosystem by working closely with developers, researchers, and startups.

We aim to democratize AI, so that every company in every industry can benefit from its power.



With only 10% of manufacturing tasks automated, AI will power a new wave of automation.

* NVIDIA is the #1 AV platform — revolutionizing the $10T global transportation industry.

* AI Cities: 1B smart cameras worldwide by 2020 will make cities safer, smarter.

* AI Healthcare: AI is transforming the spectrum of care, from detection to diagnosis to treatment.

GAMING
All of these segments, this world that will progress, still hasn't even touched on Nvidia's largest segment which is gaming. And even that core business, is seeing truly remarkable growth.

In the latest earnings report we learned that gaming revenue in the quarter was $1.56 billion, up 25% year-on-year and up 32% sequentially and the company claimed that it saw robust demand across all regions and form factors.

We also learned that more than 1,200 companies are already using Nvidia's inference platform, including Amazon, Microsoft, Facebook, Google, Alibaba, Baidu, JD.com, Hi Vision and Tencent.

DRONES
As if all of this wasn't enough, Nvidia appears to have, a stand-alone business for drones.

Accounting and auditing giant, PWC, noted that the world drone market will near $127 billion by 2020, according to Bloomberg.

The drone market in general has so many charts that look like fantasy growth forecasts that it does feel a little "too good to be true," but the PWC note adds credence to those forecasts. Here are a few charts, just for some perspective, before we get the role the Nvidia hopes to play.

Let's start with a chart of projections for consumer drone shipments from our friends at Statista.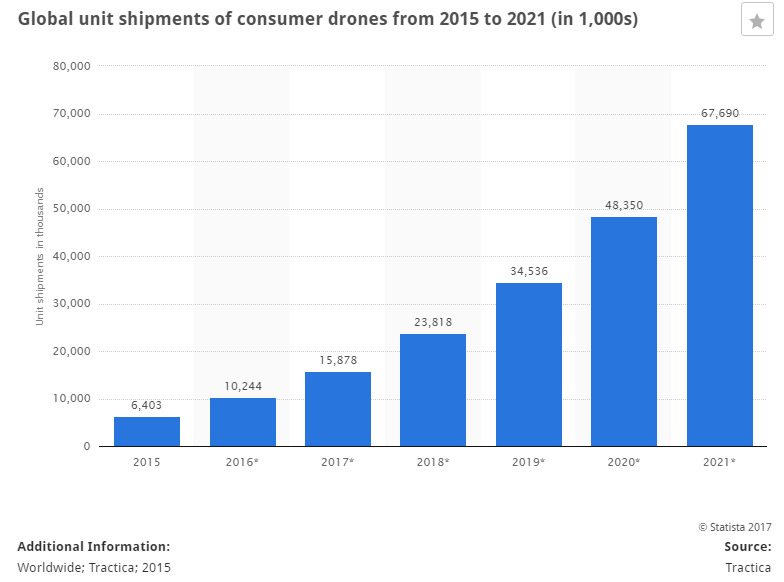 There are two incredible phenomena surrounding consumer drone shipments. The first is this chart, which shows shipments growing 570% from 2016 to 2021, ultimately hitting nearly 68 million in that year alone totaling over $5 billion in sales. The second incredible phenomenon is that consumer drones are the smallest segment when compared to commercial and military.

Let's turn to the commercial market -- there is where companies like Amazon would fit in.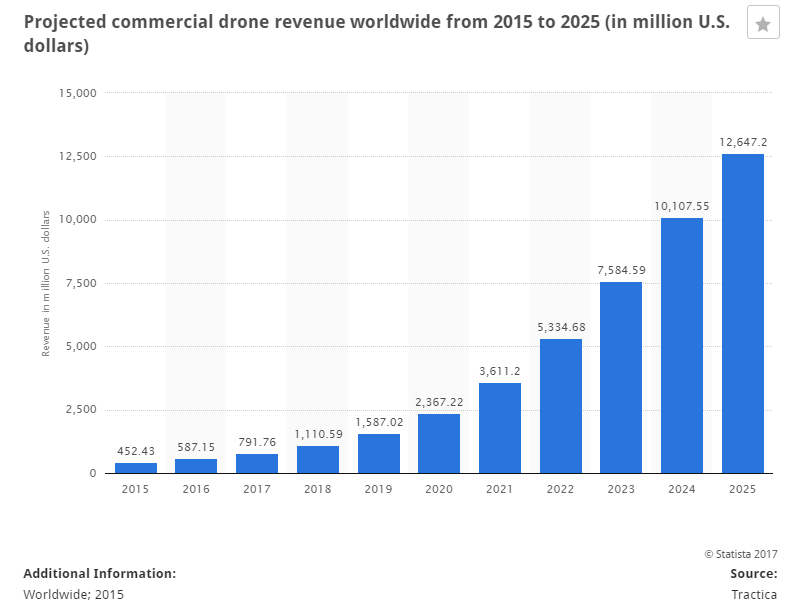 Much like the consumer segment, this market is set to lift-off (no pun intended) right now. We're looking at a $587 million market growing to over $12 billion, or a 20-fold increase. Yes, while consumer is set to grow nearly 6x to $5 billion, this commercial market is set to grow by 20x and to $12 billion.

As enormous as those growth figures are, and easily make room for several competitors to do quite well, friends, that's literally rounding error when compared to the military. Check out the size of military compared to everything else, labeled as 'civil' in the chart below: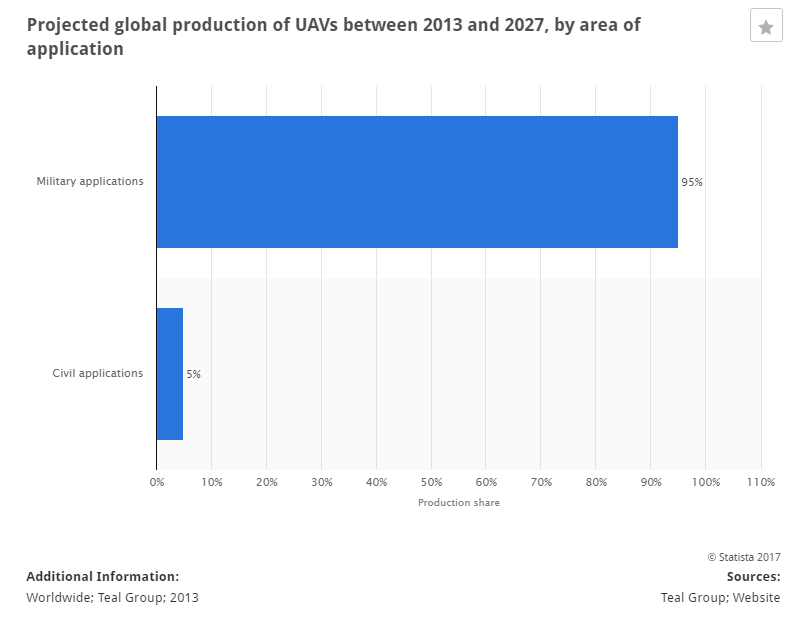 Even further we get these projections from "Commercial and Military Drone Market Assessment and Forecasts 2016 - 2025" (note: UAV is short for "unmanned aerial vehicle").

* By 2018, UAVs will be used by nearly for every major manufacturing company to control logistics.

* By 2021, UAVs will be used nearly every automobile manufacturer in metropolitan areas and along major highways to provide ubiquitous wireless coverage based on a combination of LTE, 5G, and satellite communications.

Suffice it to say, the drone market is set to become a gigantic part of technology across all customer types and the demand is expected to keep growing significantly through 2027.

Nvidia writes that "there's a new generation of smarter, more advanced drones and unmanned aerial vehicles (UAVs) that uses the power of deep learning algorithms to understand and react to the world around them. NVIDIA® Jetson™ is the platform that makes it possible."

Here is a video from an Nvidia partner:



On September of 25th of 2017, news broke that Chinese e-commerce giant JD had selected Nvidia for drone deliveries, rescue and agricultural use. JD.com is the second-largest online retailer behind Alibaba.

RISK
Nvidia's market cap, as of this writing, is over $140 billion, and the company has 'just' $9 billion in sales. It is quite profitable, pays a dividend, and is growing by leaps and bounds, but still, with that valuation it better at least be 'sort of right,' about several of the markets it is pursuing for the stock to rise.

CONCLUSION
It's head spinning -- all of it. Each segment seems too good to be true, and who knows, maybe it is, or at least, maybe some of them will not pan out. But, the idea that Nvidia is hitting a wall, or that growth is finally tapering, is likely false -- if you believe the company, at least.

There is so much room for growth that all we can do is listen to earnings calls, and watch the world as we know it evolve. If Nvidia is right, or even if it is 'partially' right, this entity may well become the most important and powerful technology company in the world.

SEEING THE FUTURE
It's understanding technology that gets us an edge on finding the gems like Nvidia, when they are small and under appreciated, that can turn into the 'next Apple,' or 'next Amazon,' where we must get ahead of the curve. This is what CML Pro does.

Each company in our 'Top Picks' has been selected as a future crown jewel of technology. Market correction or not, recession or not, the growth in these areas is a near certainty. We are Capital Market Laboratories. Our research sits next to Goldman Sachs, JP Morgan, Barclays, Morgan Stanley and every other multi billion dollar institution as a member of the famed Thomson Reuters First Call. But while those people pay upwards of $2,000 a month on their live terminals, we are the anti-institution and are breaking the information asymmetry.

The precious few thematic top picks for 2018, research dossiers, and alerts are available for a limited time at an 80% discount for $29/mo. Join Us: Discover the undiscovered companies that will power technology's future.

As always, control risk, size appropriately and use your own judgment, aside from anyone else's subjective views, including my own.

Thanks for reading, friends.

The author is long shares Nvidia at the time of this writing.

Legal
The information contained on this site is provided for general informational purposes, as a convenience to the readers. The materials are not a substitute for obtaining professional advice from a qualified person, firm or corporation. Consult the appropriate professional advisor for more complete and current information. Capital Market Laboratories ("The Company") does not engage in rendering any legal or professional services by placing these general informational materials on this website.

The Company make no representations or warranties about the accuracy or completeness of the information contained on this website. Any links provided to other server sites are offered as a matter of convenience and in no way are meant to imply that The Company endorses, sponsors, promotes or is affiliated with the owners of or participants in those sites, or endorse any information contained on those sites, unless expressly stated.