nvidia, billion, year, company, revenue, data, cloud, business
Nvidia Crushes Earnings -- But Still Shows More Upside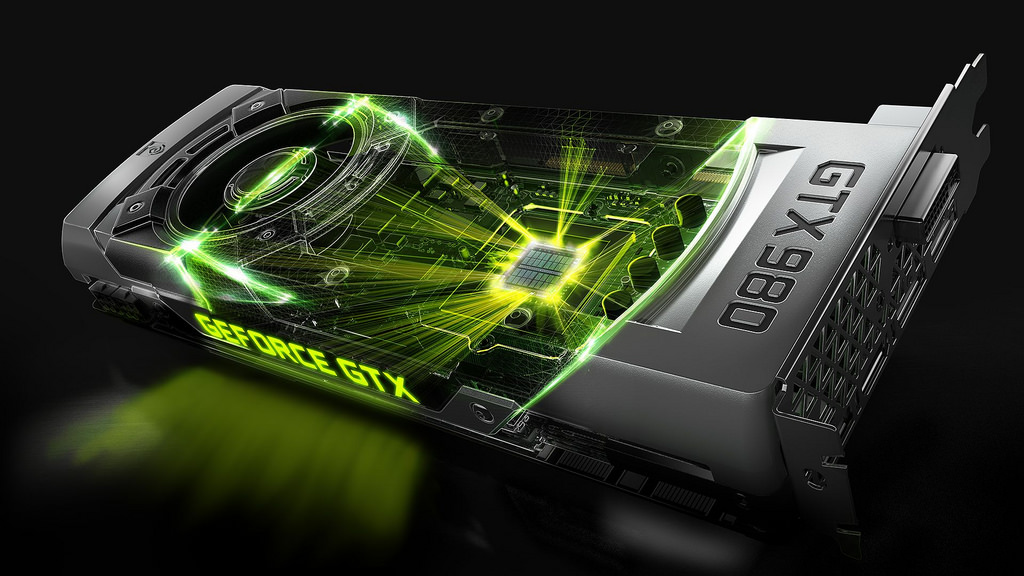 Nvidia Crushes Earnings -- But Still Shows More Upside
Date Published:
2018-02-13

Written by Ophir Gottlieb

This is a snippet from a CML Pro dossier.

LEDE
Spotlight Top Pick Nvidia Corporation (NASDAQ:NVDA) crushed earnings expectations, but even further, showed that one of its 'soon to be large businesses' is, right now, ready for the world to take notice.

STORY
We first added Nvidia to Top Picks on 2-Jan-16 for $32.25, and the stock is up 620% since then.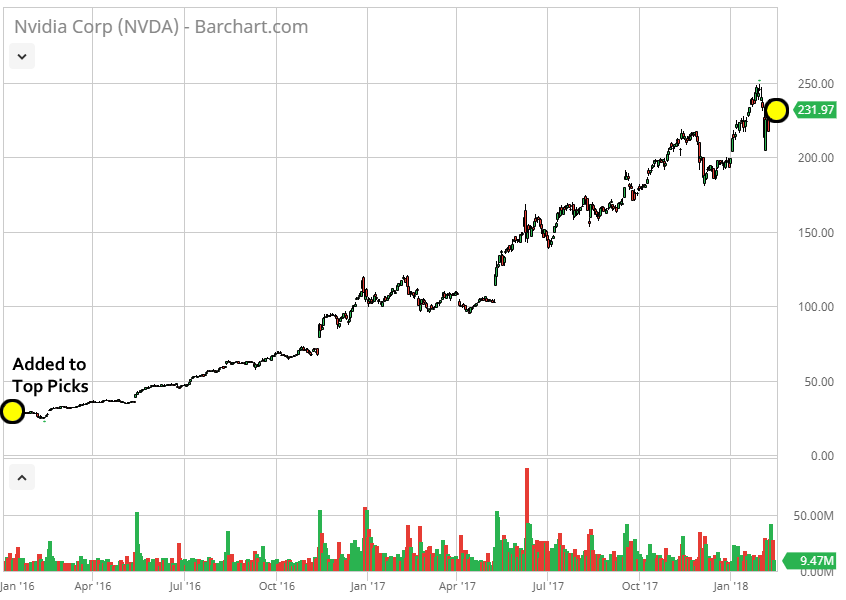 When we first introduced this company to CML Pro, we did name it as the single best technology opportunity that we had identified, in the world. The original Top Pick dossier is available here The Crown Jewel of Technology's Future.

In that dossier we dug pretty deep into the ideas of end-to-end machine learning, the segment of that called 'artificial intelligence' and 'deep learning,' and walked through where technology was likely headed, and how each piece, each segment, each little wrinkle, was in some way, great or small, dependent on Nvidia's technology.




In that dossier we showed forecasts for each of these segments, but still then, it took some faith. It took faith not just that Nvidia would be the leader, but that these ideas, these possibilities, would in fact materialize into actual businesses. That faith has paid off, and we can now quite comfortably say that one of those 'ideas' is a full-fledged, knockdown-drag out booming success.

In our opinion, there will be more, many more in fact. But today we will focus on both the earnings call and the reality that one new segment is absolutely for real, right now.

As an aside, Nvidia's revenue, net income and cash from operations are all smashing records while gross margins are also smashing records. We detail these phenomena near the end of the dossier with charts and comments from the company.

THE CLOUD -- DATA CENTERS
When we first spoke about Nvidia, Intel owned 99% of CPU business in the cloud and personal computers, pushing AMD to the side and dominating in a way we have seen very few times in technology when real competition was actually allowed (unlike Microsoft in 1998 (eh, hem)).

Intel still stands tall as the overwhelmingly dominant leader in CPUs, but Nvidia has GPUs -- in fact it invented them. And while this is not the story to review that technology, we do so in the original Top Pick dossier.

What very (very) few people recognized in late 2015, was that the GPU would actually hold a place in the cloud as well. Not as a competitor to Intel's CPUs, but as a new usage, and in some cases, a far more valuable one. It's this reality -- that end-to-end machine learning, artificial intelligence and general deep learning is going to be one of the tent poles for the cloud -- that has now turned into a sizable business for Nvidia, and one that has simply staggering upside for all parties involved.

Here is the chart we always start with for the cloud: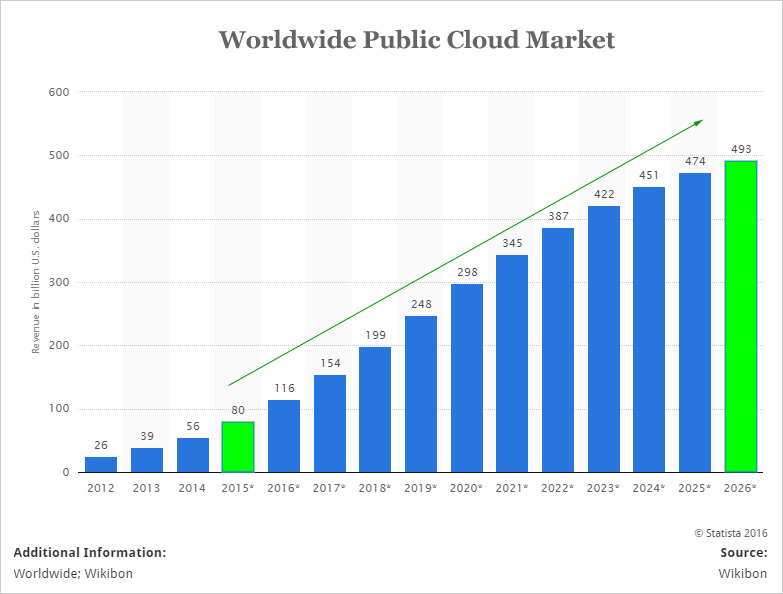 We're looking at a segment, for all players, that will reach half a trillion dollars by 2026, if forecasts hold.

In the United States, there are three dominant players: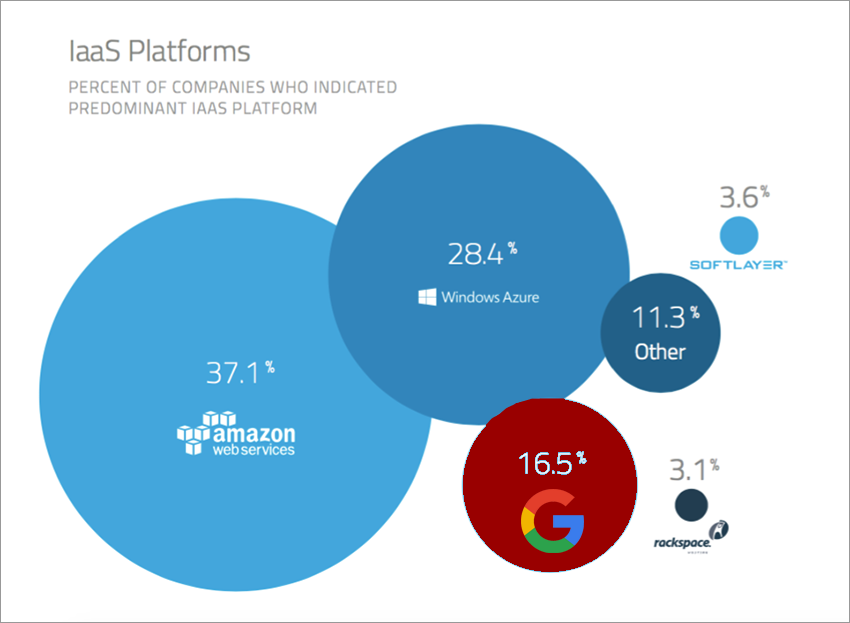 Facebook, too, has a massive cloud platform; it just isn't public, and Nvidia powers that cloud as well.

Nvidia is included (available) in each of those platforms. But let us not be so obtuse to forget about the rest of the world, which is larger than United States.

On September 27th we penned Nvidia Sign Massive Deal with China's Kingpins. In that article we noted that Nvidia had struck a deal where it will provide AI graphic processing chips to the three Chinese tech titans; Alibaba, Baidu, and Tencent.

Here's a nice little snippet:



Alibaba Group Holding Ltd., Baidu Inc., and Tencent Holdings Ltd are upgrading their data centers with Nvidia's Volta-based platforms, which revolve around the V100 data center GPU, the company said in a statement.

The chip has 21 billion transistors and offers five times the performance over the Pascal-based chips the Chinese firms currently have deployed, and the deal is similar to partnerships Nvidia has with U.S. cloud-computing providers.



The takeaway here is worldwide opportunity and, and to date, worldwide dominance in the area of GPUs.

LARGER THAN WE THINK
On January 24th, 2018 we penned Nvidia's Future is Aimed at Magnificence.

In that article, we show Nvidia's view of the total addressable market (TAM) in data centers, and the numbers are a little bit... oxygen thieving.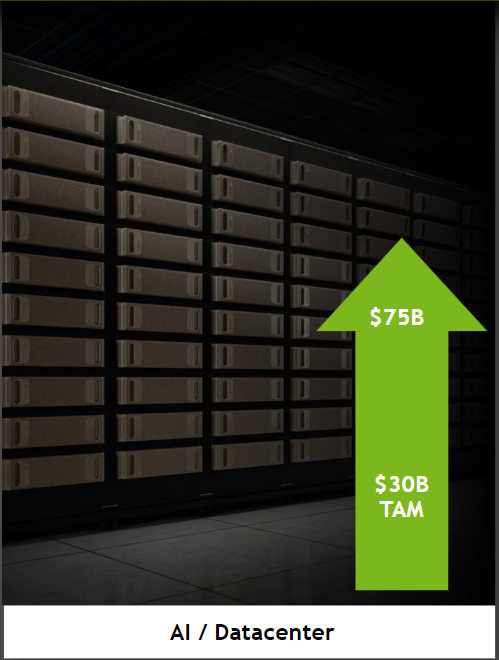 For context, Nvidia did about $10 billion in total company wide revenue in the last twelve-months.

Just so we don't somehow forget the other businesses Nvidia is powering, or hope to power, here a few other forecasts from the firm, in other areas:

Gaming, of course, is still the main stay of Nvidia's core business, and that too, per the company is in the early phases of radical growth: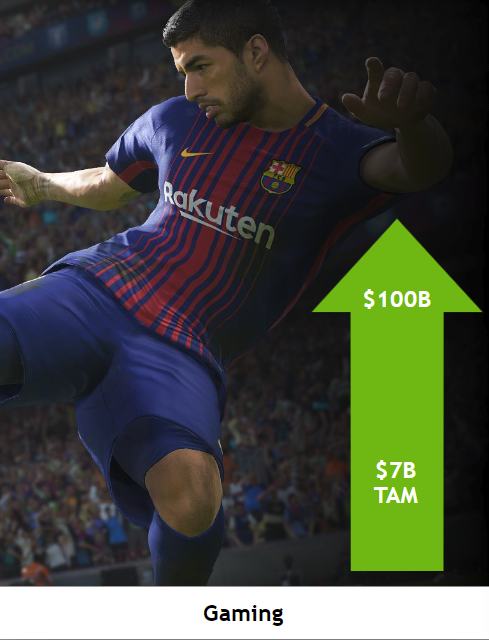 In fact, gaming is the world's largest entertainment industry with 200 million gamers. Nvidia's GeForce Now, which is a brilliant cloud based subscription service for gamers who cannot afford the expense of setting up their own at home rig, has been called a "Netflix for games" by the company.

We can also turn to automotive, and while the self-driving featured portion is one piece, there is an entire ecosystem of smart cars, beyond the driving, that is booming.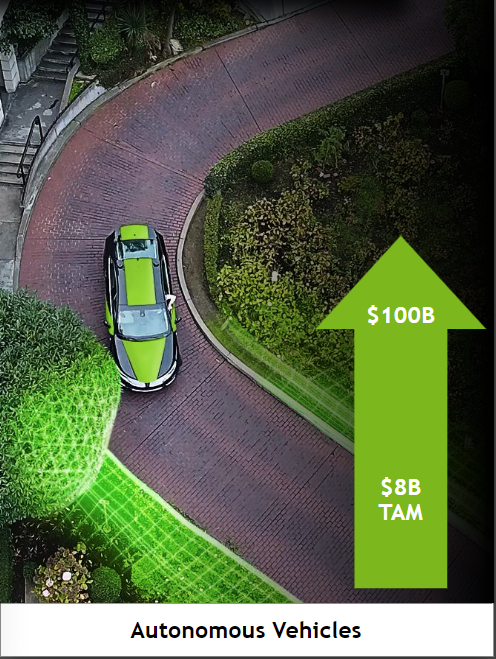 And, quietly, Nvidia has named the manufacturing industry, at large, an industry it will revolutionize. That industry's TAM is... $5 trillion dollars.



With only 10% of manufacturing tasks automated, AI will power a new wave of automation.

Source:

Nvidia



And as if we needed more, Nvidia has its sights set on the global transportation segment, a $10 trillion industry.

Now, let's take a closer look at Nvidia's cloud business and get to the earnings call, because going through these other businesses is just too fantastical to touch until we see actual results.

NVIDIA'S DATA CENTER BUSINESS
The push here has come from Nvidia's newest chip, 'Volta.'



Equipped with 640 Tensor Cores, Volta delivers over 100 Teraflops per second (TFLOPS) of deep learning performance, over a 5X increase compared to prior generation NVIDIA Pascal™ architecture.

With over 21 billion transistors, Volta is the most powerful GPU architecture the world has ever seen.



Nvidia just reported that its data center business, that is, the usage of its GPUs in data centers grew to $606 million in the last 3-months. Analysts were expecting a lofty $541 million.

In order to put some sort of trend on this business -- we're talking about actual realized revenue, we created our own chart from the company's public data: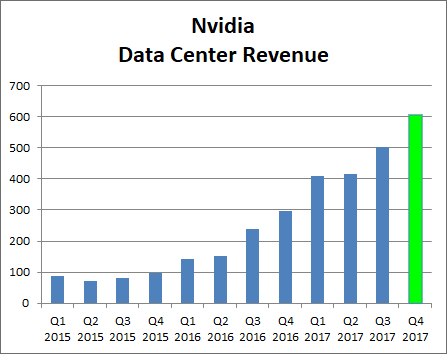 We find it easier to look at trends lumped together as trailing-twelve-months (TTM). Here are those same numbers rolled up into annual tallies:




As of right now, not the future, not a forecast, not a goal -- right now, Nvidia's data center business is just under $2 billion a year, growing at 76% year-over-year. This is a business; right now.

EARNINGS CALL AND RESULTS
Let's take a peek at the earnings call and the highlights we bring forward. We will also intersperse financial charts to draw some context.

* Revenue: $2.91 billion, topping estimates of $2.69 billion.

* EPS: $1.72, excluding the tax benefit, beating estimates of $1.17.

* Net income: $1.12 billion, up from $655 million, a year earlier.

* Guidance: Revenue of $2.90 billion, plus or minus 2 percent, well above the analysts' average estimate of $2.47 billion.

And now the earnings call:

* Q4 revenue reached $2.91 billion, up 34% year-on-year.

* Fiscal 2018 revenue was $9.71 billion, up 41% or $2.8 billion above the previous year.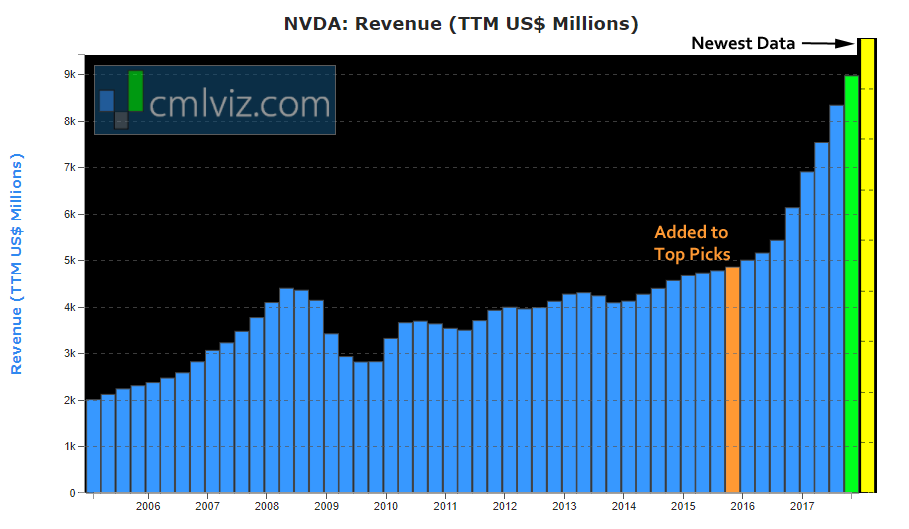 * Quarterly cash from operations reached record levels at $1.36 billion, bringing our fiscal year total to a record $3.5 billion.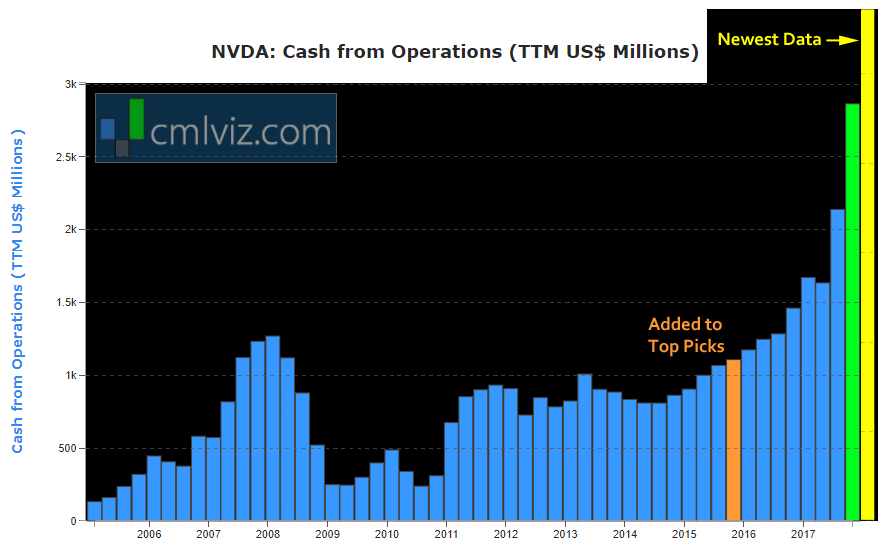 * For the first time, gross margins strongly exceeded 60% (61.9%).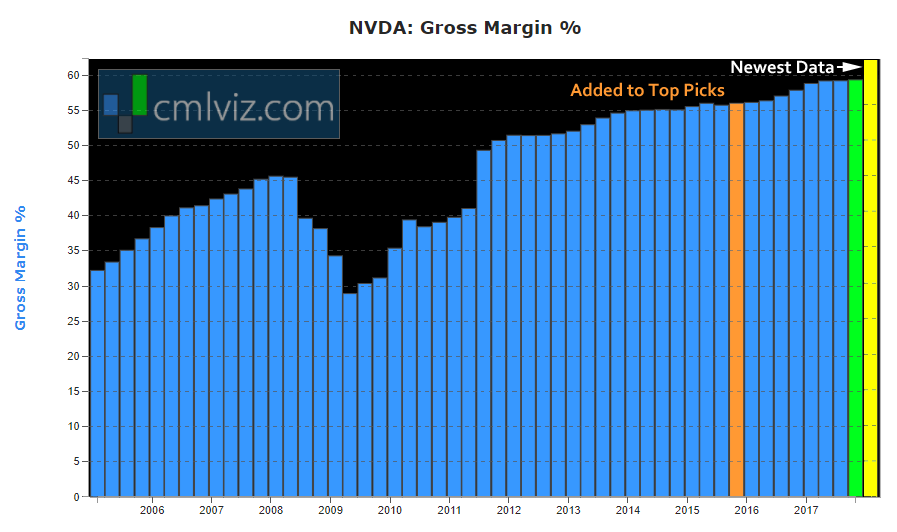 * Outlook for the first quarter, GAAP gross margins are expected to be 62.7%.

* Gaming business revenue was $1.74 billion, up 29% year-on-year [CMl Note: This was more than half of total revenue. Analysts projected $1.59 billion].

* Data center revenue [was] of $606 million was up 105% year-on-year.

* Hyperscale and cloud customers adopting the V100 include Alibaba, Amazon Web Services, Baidu, Google, IBM, Microsoft Azure, Oracle and Samsung.

* We continue to support the build out of major next generation supercomputers among them that the U.S. Department of Energy's Summit System expected to be the world's most powerful supercomputer when it comes online later this year.

* We are also seeing traction for AI in a growing number of vertical industries such as transportation, energy, manufacturing, smart cities, and healthcare.

* There are now more than 320 companies and research institutions using the NVIDIA Drive platform that's up 50% from a year ago and encompasses virtually every car marker, truck maker, robo-taxi company, mapping company, center manufacture and self-starter in the autonomous vehicle ecosystem.

* We returned $1.25 billion to shareholders in the fiscal year through a combination of quarterly dividends and share repurchases.

SEEING THE FUTURE
It's understanding technology that gets us an edge on finding the gems like Nvidia that can turn into the 'next Apple,' or 'next Amazon,' where we must get ahead of the curve. This is what CML Pro does.

Each company in our 'Top Picks' has been selected as a future crown jewel of technology. Market correction or not, recession or not, the growth in these areas is a near certainty. We are Capital Market Laboratories. Our research sits next to Goldman Sachs, JP Morgan, Barclays, Morgan Stanley and every other multi billion dollar institution as a member of the famed Thomson Reuters First Call. But while those people pay upwards of $2,000 a month on their live terminals, we are the anti-institution and are breaking the information asymmetry.

The precious few thematic top picks for 2018, research dossiers, and alerts are available for a limited time at a 80% discount for $29/mo. Join Us: Discover the undiscovered companies that will power technology's future.

As always, control risk, size appropriately and use your own judgement, aside from anyone else's subjective views, including my own.

Thanks for reading, friends.

The author is long shares Nvidia at the time of this writing.

Legal
The information contained on this site is provided for general informational purposes, as a convenience to the readers. The materials are not a substitute for obtaining professional advice from a qualified person, firm or corporation. Consult the appropriate professional advisor for more complete and current information. Capital Market Laboratories ("The Company") does not engage in rendering any legal or professional services by placing these general informational materials on this website.

The Company specifically disclaims any liability, whether based in contract, tort, strict liability or otherwise, for any direct, indirect, incidental, consequential, or special damages arising out of or in any way connected with access to or use of the site, even if we have been advised of the possibility of such damages, including liability in connection with mistakes or omissions in, or delays in transmission of, information to or from the user, interruptions in telecommunications connections to the site or viruses.

The Company make no representations or warranties about the accuracy or completeness of the information contained on this website. Any links provided to other server sites are offered as a matter of convenience and in no way are meant to imply that The Company endorses, sponsors, promotes or is affiliated with the owners of or participants in those sites, or endorse any information contained on those sites, unless expressly stated.