nvidia, NVDA, company, billion, nvidia corporation (NASDAQ:NVDA)
Nvidia's Bullish Narrative is Getting Absurd -- For Good Reason
Nvidia's Bullish Narrative is Growing -- For Good Reason
Date Published:
2018-09-10

Written by: Ophir Gottlieb

This is a snippet from the original CML Pro dossier published on 08-17-2018.

LEDE
Nvidia is not a chip company, and that's all you have to know if you don't want to read any further. We won't bury the lede, here it is: CEO Jen-sen Huang sees the company growing 10-fold.


By the end of this dossier, you may well find yourself incredulous when we demonstrate an explicit example of Nvidia's platform for the cloud. I still am, and I wrote it -- simply transcribing the CEO's words from an interview.

Here's the final analysis:

Yes, this is 90% less expensive, 99% smaller, consumes 97% less heat than current cloud configurations, and is 500 times faster than prior AI learning systems.

And that's not even the story.

Now remember, a lot of this is coming from the CEO, and CEOs are by nature bullish -- so take that fact with you as we move forward. But also note that this CEO has never been off the mark with his bullish statements, in fact, if Wall Street was listening, we wouldn't have had the chance to add the stock to Top Picks for $32.

LEDE
We added Nvidia to Top Picks on 2-Jan-16 for $32.25. As of this writing it is trading at $244.82, up 659%.

The company released earnings, beat EPS estimates quite handily, beat revenue estimates by a little, but for the first time in a very long time, guided revenue down for the next quarter.

That has Wall Street a little spooked, and the stock came down initially off that earnings release. But all of that, all the numbers from the quarter, all the non-sense about crypto-currency demand, all of it -- is not the story.

STORY
Nvidia spans so much of technology, and the future of the world, that when we first penned our dossier naming it the Crown Jewel of Technology's Future, if possible, we understated the opportunity.

We want to be specific in this dossier, so for once, we will not do a full background, but rather leave links to our prior stories that are must reads for those that are new to this company -- and really to those that feel they know the company well. The media doesn't have the vocabulary to understand, let alone convey, the opportunity.

Here are some critical links, and then we thrust forward:

6-04-2018: Nvidia Announces Massive AI Break Through - Stock Breaks All-time Highs

2-10-2018: Nvidia Crushes Earnings – Shows More Upside

7-24-2017: It's Happening: The Opportunity in Artificial Intelligence

1-24-2018: Nvidia's Future is Aimed at Magnificence

10-23-2017: Surprise: The 5G Revolution is Coming Faster Than Expected

9-27-2017: Nvidia Sign Massive Deal with China's Kingpins

ONWARD
Let's start with earnings results to build a base for conversation. We also note that while Capital Market Laboratories is a member of Thomson First Call (Reuters), we did not submit estimates for Nvidia.

* Revenue: $3.12 billion (up 40%) vs. $3.10 billion as expected by analysts, according to Thomson Reuters.

* EPS: $1.76 per share, excluding certain items, vs. $1.66 per share as expected by analysts, according to Thomson Reuters.

* Guidance: Revenue is expected to be $3.25 billion, plus or minus two percent vs estimates of $3.34 billion.

Stop right there. That $90 million guide down was due entirely to crypto-currency. The company simply took the estimates to zero. That's all that happened. Nothing more, nothing less.

Now, look what really happened once we take out crypto-currency. First, the quarter reported, along with the thematics behind them.

-BEAT- * Gaming: $1.81 billion, up 52% year-over-year, above the $1.75 billion consensus.

It's incredible that the company's largest segment is still growing by more than 50% yoy, and, per the company, in the early phases of radical growth: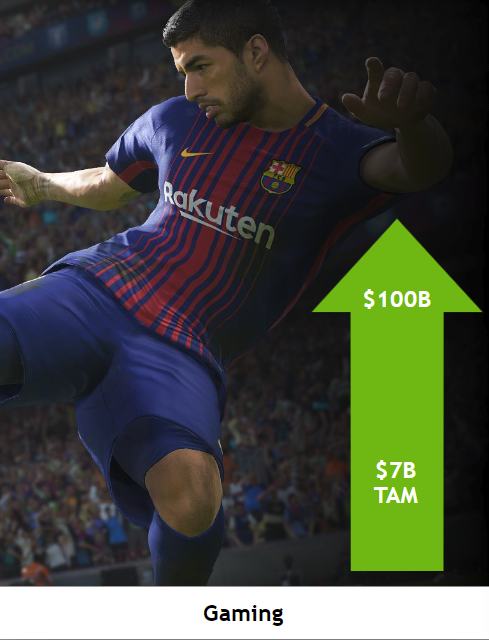 In fact, gaming is the world's largest entertainment industry. Here is a chart of the number of active video gamers worldwide from 2014 to 2021, also from Statista: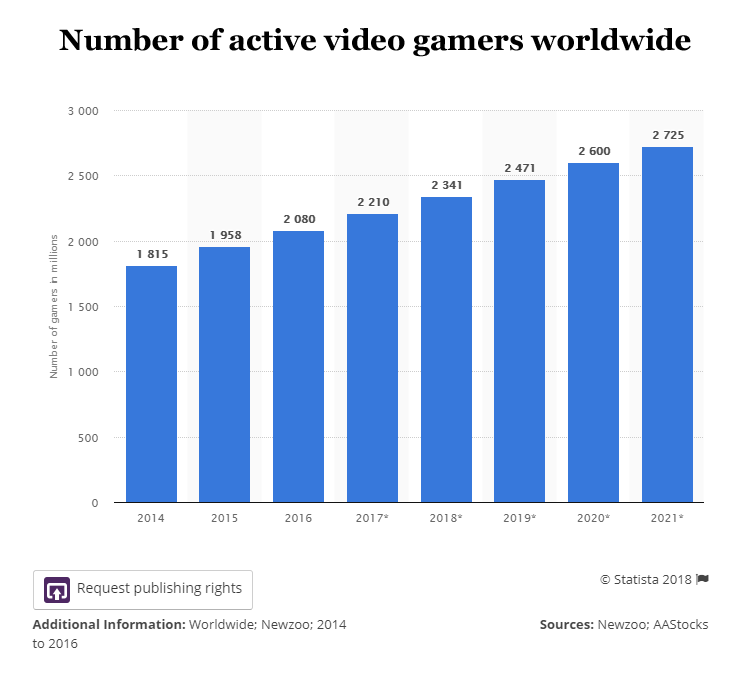 Yes, that chart hits 2.7 billion people.

Even further, Nvidia's GeForce Now, which is a brilliant cloud-based subscription service for gamers who cannot afford the expense of setting up their own at home rig, has been called a "Netflix for games" by the company.

-BEAT- * Data Center: $760 million, up 83% year-over-year, above the $744 million consensus.

Here is the chart we always start with for the cloud: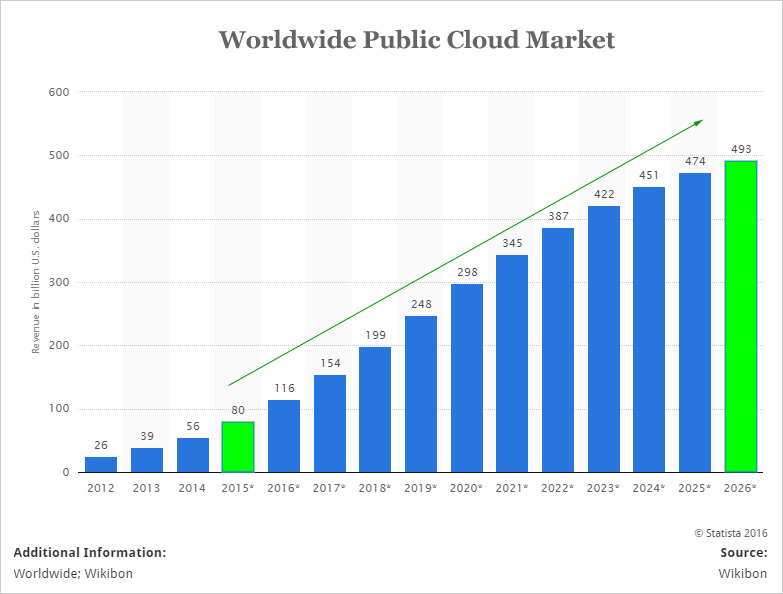 We're looking at a segment, for all players, that will reach half a trillion dollars by 2026, if forecasts hold. While Nvidia dominates in the United States, it's actually the rest of the world that is garnering more headlines.

Nvidia's view of the total addressable market (TAM) in data centers was presented in January: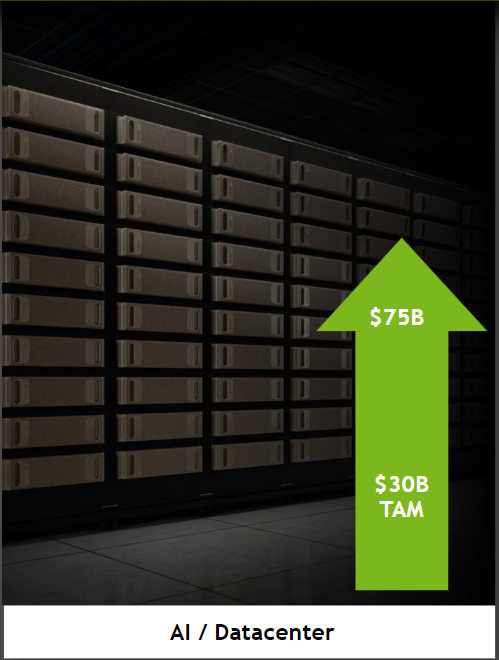 For context, Nvidia did a little over $10 billion in total company wide revenue in the last year, so a TAM of $30 billion, with an upshot to $75 billion is enormous.

-BEAT- * Professional visualization: $281 million, up 20 % year-over-year, above the $257 million consensus.

Jen-sen Huang noted that with the new Turing™ GPU architecture (discussed below), that now Nvidia can address hybrid rendering in the $250 billion visual effects industry.

-BEAT- * Automotive: $161 million, up 13 % year-over-year, above the $148 million consensus.

The realm of the self-driving car, or at least, the self-driving "featured" car, is still early. But let us not be so foolish to translate "early" into "small." There is an entire ecosystem of smart cars, beyond the driving, that is booming.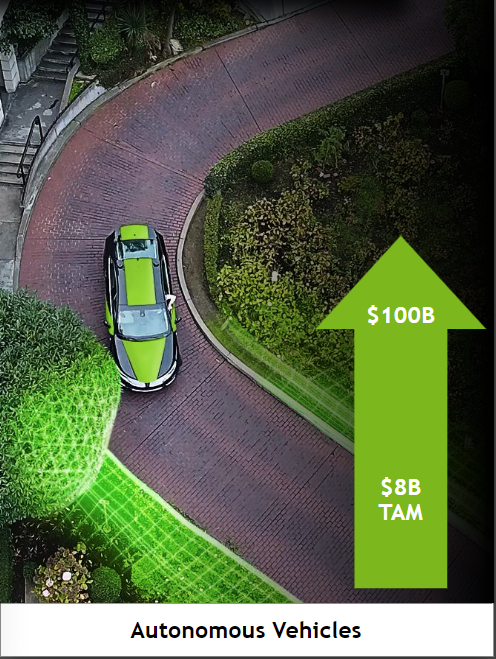 While automotive revenue grew 'just 13%', that's following a quarter of just 3%, and following a quarter before that of negative growth. It's simply far too early to reap the benefits. Nvidia pegs the opportunity at $100B in TAM. But we have other forecasts.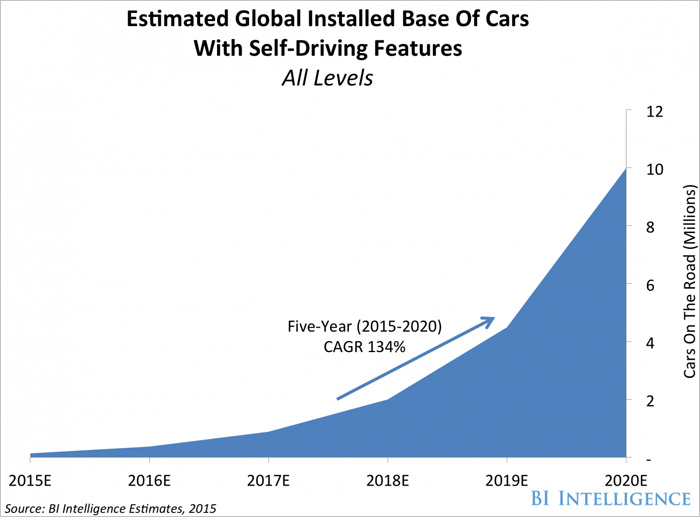 That's 134% compounded annual growth for the next five years, and that's the small growth. Forecasts going further are so large, it's almost meaningless to plot them.

-MISS- * Crytpo-currency: $18 million below the $100 million consensus.

Nobody cares.

Just to be perfectly explicit, the company reported record revenue from all platforms – Datacenter, Gaming, Professional Visualization, and Automotive.

And to be yet more explicit, the company's two largest segments (Gaming and Data Center) grew by 52% and 83%, respectively.

AFTER ALL THAT - AI
But going segment by segment really does miss the broader picture — and fully the thematic behind Nvidia. It's not gaming, or data centers, or cars, it's the all-encompassing reality that is artificial intelligence (AI).

With AI comes everything -- not just the segments we noted, but massive opportunity in drones, for example.

In fact, Nvidia writes that "there's a new generation of smarter, more advanced drones and unmanned aerial vehicles (UAVs) that uses the power of deep learning algorithms to understand and react to the world around them. NVIDIA® Jetson™ is the platform that makes it possible."

Here is a video from an Nvidia partner:



There is an enormous world of self-driving trucks (not consumer cars) and although the headlines would have you believe that Tesla is the leader here, that's not the case -- and it's not even close.

Yes, Tesla is a marvel and builds the trucks, but Nvidia is not after a fleet of 500 trucks (or whatever). It's after companies like PACCAR, a leading global truck manufacturer with over $17 billion in sales and 23,000 employees.

Here is a wonderful video that hits the high points of the commercial trucking world, and even has some cool musical scoring:



Further yet, Nvidia has a partnership with Bosch, the world's largest automotive supplier with total global sales of $73.1 billion in 2016.

THAT'S STILL NOT THE STORY
The lede to this dossier was simple: "Nvidia is not a chip company, and that's all you have to know if you don't want to read any further."

Since you have read further, let's go there, and then to the CEO's bold call of the company growing 10-fold.

NOT A CHIP COMPANY
CEO Jensen Huang made it as transparently clear as possible -- Nvidia is no longer a chip company. That was the story 25 years ago.

They have reinvented themselves as a GPU computing company, a systems company, they create the processor, the platform, the system, system architecture, system software -- an entire ecosystem. The company provides programmable algorithms, libraries and even services, like the "Netflix of video games."

And for good measure, here is a real world example.

REAL WORLD EXAMPLE
Nvidia has a new data center product called the DGX-2, which includes 16 of the companies Volta processors. It is the most powerful super computer in the world that sits in one box.

And how powerful is that?...

One DGX-2 replaces 300 servers in the cloud, or several millions of dollars, all now in one little box for $399,000. And Nvidia isn't just the hardware seller -- every inch of it, every inch of this 300-server replacing beast, is created by Nvidia -- from system architecture to system software.

But there's more. This super computer is designed specifically for AI researchers and according to Huang, this system allows AI researchers to train their models 50,000% (500 times) faster than could have been done just five-years ago.

As for energy, 300 servers consume about 160,000W of energy, the DGX-2 reduces all of that to 6,000W.

Yes, this is 90% less expensive, about 99% smaller, consumes 97% less heat than current cloud configurations, and is 500 times faster than prior AI learning systems.

You see, we use this example because it shows, explicitly, exactly what Jen-sen Huang has been repeating ad nauseum. The more Nvidia GPU you buy, the more money you save.

Nvidia is going after all of it -- and that's the total addressable market in one sliver of one segment that happens to be growing 82% yoy and is already a multi-billion dollar segment for the company.

CAN IT GET BETTER?
It turns out this is the start, not the middle, or the end. The Volta chips mentioned above are twice as fast as the Volta chips introduced just six-months ago.

BUT THAT ISN'T IT EITHER - THIS IS THE WORLD CHANGER
On August 13th, Nvidia announced

"NVIDIA today reinvented computer graphics with the launch of the NVIDIA Turing™ GPU architecture."

The company is calling the greatest leap greatest leap since the invention of the CUDA GPU in 2006. It will usher in a new generation of hybrid rendering to address the $250 billion visual effects industry.

Here is a snippet from the press release, with our emphasis added:



Turing is NVIDIA's most important innovation in computer graphics in more than a decade.

The arrival of real-time ray tracing is the Holy Grail of our industry.



The film industry generates about a billion frames per year, and it takes hours on a super computer to render each frame. This can now be done on a few GPUs, saving the industry an immense amount of money while bringing the quality to levels never seen in the history of humanity.

Pixar has actually held off on making its newest films in anticipation of this new technology.

Turing accelerates real-time ray tracing operations by up to 25x that of the previous Pascal generation, and GPU nodes can be used for final-frame rendering for film effects at more than 30x the speed of CPU nodes.

In English, video games will be moving from a virtual reality, to looking real -- real-time rendering and motion.

Quadro GPUs based on Turing will be initially available in the fourth quarter.

CONCLUSION

It's difficult for us to be concerned about a crypto-currency miss, which the company has simply taken to $0 in expected sales, when the company has nearly a trillion dollars in addressable markets.

There's just not a lot left to say about the company. Either it moves you and the bullish narrative is compelling, or it does not. Either vision is perfectly fine.


WHY THIS MATTERS
When we first covered Nvidia to Top Picks it was a small gaming stock -- trading at $20.

It's understanding technology that gets us an edge to find the "next Apple," or the "next Amazon." This is what CML Pro does. We are members of Thomson First Call -- our research sits side by side with Goldman Sachs, Morgan Stanley and the rest, but we are the anti-institution and break the information asymmetry.

The precious few thematic top picks for 2018, research dossiers, and alerts are available for a limited time at a 80% discount for $29/mo. Join Us: Discover the undiscovered companies that will power technology's future.

Thanks for reading, friends.

The author is long shares of Nvidia at the time of this writing.

Legal
The information contained on this site is provided for general informational purposes, as a convenience to the readers. The materials are not a substitute for obtaining professional advice from a qualified person, firm or corporation. Consult the appropriate professional advisor for more complete and current information. Capital Market Laboratories ("The Company") does not engage in rendering any legal or professional services by placing these general informational materials on this website.

The Company specifically disclaims any liability, whether based in contract, tort, strict liability or otherwise, for any direct, indirect, incidental, consequential, or special damages arising out of or in any way connected with access to or use of the site, even if we have been advised of the possibility of such damages, including liability in connection with mistakes or omissions in, or delays in transmission of, information to or from the user, interruptions in telecommunications connections to the site or viruses.

The Company make no representations or warranties about the accuracy or completeness of the information contained on this website. Any links provided to other server sites are offered as a matter of convenience and in no way are meant to imply that The Company endorses, sponsors, promotes or is affiliated with the owners of or participants in those sites, or endorse any information contained on those sites, unless expressly stated.