InVitae Corp (NYSE:NVTA) Shows Brilliance
InVitae Corp (NYSE:NVTA) Shows Brilliance
Date Published:
2016-12-15
Written by Ophir Gottlieb

Preface
InVitae Corp (NYSE:NVTA) is a Spotlight Top Pick for CML Pro. It probably carries the most risk of any Top Pick as well, with just $18.9 million in revenue in the trailing-twelve-months and a recent stock sale to fund operations at an abysmal $6 per share.

But, as we wrote in our recent dossier It's Time to Pay Serious Attention to this Genomics Company, it appears that the InVitae Corp (NYSE:NVTA) model is actually... working.

But, news yesterday is starting to go from promising, to down right brilliance.

PRE-STORY
The idea behind InVitae Corp (NYSE:NVTA) is to take the world of genomics testing down to the individual patient. For now, even though genomics testing pricing has dropped into the realm of human (thanks to Illumina, a Spotlight Top Pick), it's still pretty expensive for a single patient and insurers aren't quite sure yet what to do about it. InVitae Corp wants to change it all.

InVitae Corp (NYSE:NVTA) has a simple goal: to bring genetics into mainstream medicine. The Top Pick dossier is available here: New Top Pick: The Amazon of Genomics

Just five quarters ago the company only covered 4.5 million individuals in its insurance network. Today that number sits at 160 million. This is actually happening.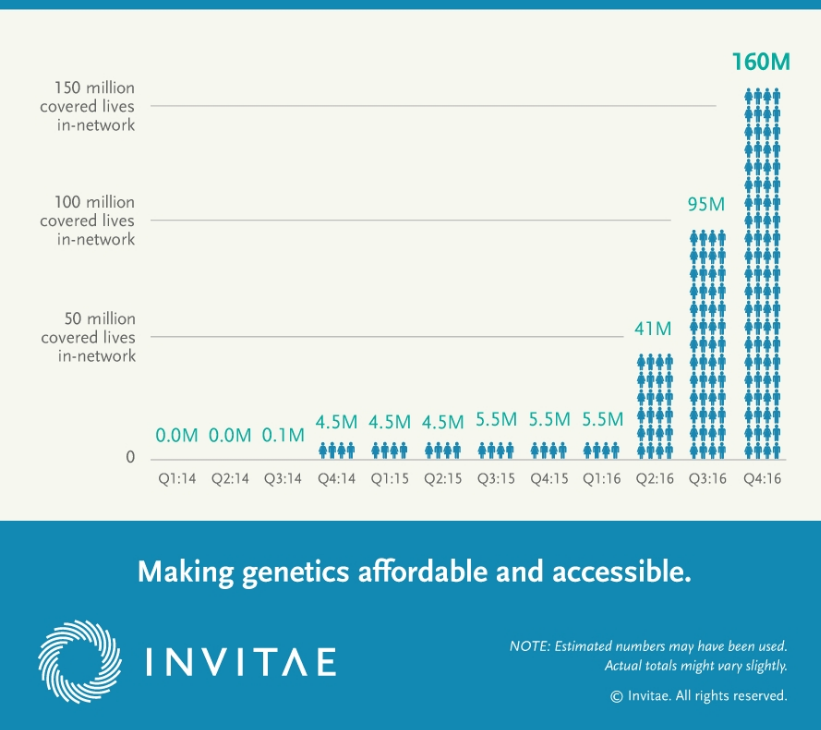 We also found out from the last earnings call that Medicare and Medicaid Services' (CMS) issued final pricing of $925 for genetic testing for hereditary breast cancer-related disorders. That was our signal that this company is actually doing what they set out to do. Recently we got more news which has pushed his dream yet one step closer to reality.

ANOTHER CANCER, ANOTHER SPECIALTY
This isn't the best part yet, but it comes first...

Invitae announced in a press release that it has seen a significant increase in genetic testing for prostate cancer since the publication of landmark data showing testing may be underutilized when screening for and treating the second most common cancer in men. InVitae's chief medical officer said:



"

Use of Invitae's prostate cancer panels increased throughout the year, and the trend intensified with the publication of data confirming the role of gene mutations in patients with aggressive prostate cancer.

It's clear the prostate cancer community is responding to research showing the value of genetic information that has long benefited the breast and ovarian cancer communities.

"



We can see the company moving down the line of disease, cancer in this case, and finding very interested doctors, patients and insurers. Brian Helfand, MD, PhD, clinical associate professor at the University of Chicago and a clinician at NorthShore University HealthSystem in Chicago said this:



"

Invitae's testing provides us with information on clinically significant genes, allowing clinicians to use the information to identify men with prostate cancer at earlier stages and provide personalized therapies to those with potentially lethal disease.

"



And here's where we can start to see a realization of the phrase "world changing."

Invitae provides results in as few as 10 calendar days (14 days on average).

MORE NEWS
InVitae Corp has partnered with biotech BioMarin Pharmaceutical Inc to offer free Invitae Epilepsy Panel testing for 3 year olds that meet the patient eligibility requirements to ensure patients benefit from genetic insights early in their care.

On the company blog, InVitae Corp (NYSE:NVTA) wrote:



"

In as little as 2 weeks, an epilepsy gene panel test can bring you and your patients closer to identifying the genetic cause.

"



There is that two week number, again. InVitae's relationship with BioMarin could be (should be ?) the model for the company going forward. It's literally in the small print on InVitae's website, but we get this from their epilepsy page:





For those of us that don't have X-ray vision, here's how that reads:

"Upfront patient pay price is $475 for orders placed online in the US and Canada only, in which the order is connected to a patient account."

BRILLIANCE
It seems pretty reasonable that BioMarin is paying InVitae Corp (NYSE:NVTA) for these tests and this would make a perfect model for InVitae Corp (NYSE:NVTA) to follow with other rare disease biotech's. The idea here is simple.

BioMarin makes money on its rare disease medications, but, many people don't know that they have these diseases. It's in BioMarin's best interest to identify these people as early as possible so they can, with all due respect, make a profit.

But this is one of those rare cases where capitalism and the desire for profits actually works in the healthcare world. Patients need to know if they have these rare diseases so they can be treated. The biotechs that offer the medication need to know so they can give them their medicine. And, the more people that test themselves, the cheaper the genetic tests become. That means, it's more profitable for InVitae.

It actually is a win-win-win. InVitae needs more of these, but more importantly, patients and other biotechs do too. Friends, this can turn into a huge win for this company.

CONCLUSION
InVitae Corp (NYSE:NVTA) is a risky investment. It's one of those few companies that might actually go away -- that is, it has an existential risk to it, unlike most other companies which simply have a risk of under performance. But signs are pointing to the potential of a giant win and brilliance.

Revenue is rising: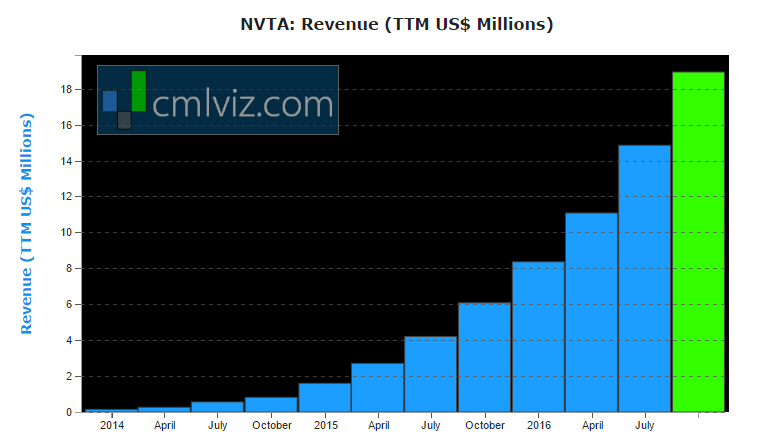 The company's volume by billable reports is rising:




And as that volume is rising, cost of goods sold (COGS) is dropping:




Given this progress, and the progress we covered today, we believe InVitae Corp (NYSE:NVTA), though extremely risky, is worth our imprimatur as a Spotlight Top Pick.

Thanks for reading, friends.

Disclosure: The author is long shares of InVitae Corp (NYSE:NVTA) and purchased shares less than 24 hours before this article was published.

WHY THIS MATTERS
If you enjoyed learning about InVitae, this may be up your alley: Our research sits side-by-side with Goldman Sachs, Morgan Stanley and the rest on professional terminals. Of our Top Picks, Nvidia is up 200% since we added it. Ambarella is up 60% since we added it. Relypsa was taken over for a 60% gain and we are already up on Twitter when we added it to Top Picks for $15.60.

To become a CML Pro member it's just $19 a month with no contract. It's that easy -- you cancel at any time, instantly.

Each company in our 'Top Picks' portfolio is the single winner in an exploding thematic shift like self-driving cars, health care tech, artificial intelligence, Internet of Things, drones, biotech and more. For a limited time we are offering CML Pro for $19/mo. with a lifetime guaranteed rate. Get the most advanced premium research along with access to visual tools and data that until now has only been made available to the top 1%.