Invitae, information, network, genetic, patient, health
Invitae: Now Is The Time To Recognize A Massive Disruptor

Invitae: Now Is The Time To Recognize A Massive Disruptor
Date Published:
2018-01-20

Written by: Ophir Gottlieb

Hello, all. This is Ophir writing. I had a great talk with Sean George, CEO of Invitae, which I share below. It does require a fair amount of context, so sit back, grab cup of Joe, and relax into the comfort of a detailed research dossier on one of the most exciting companies in the genomics world, as we see it.

After this read, you should understand the company better than most Wall Street banks -- I mean that literally. They don't get it, but now, we do.

We have said it many times, with an extremely elevated risk like this also comes potential upside. We do believe that Invitae has a legitimate chance at becoming one of those small companies that in 5-10 years turns into a household name. A company that, in its field, turns into "the next Apple," or "the next Amazon." With a current market cap of $378 million, there is room here for a success.

In fact, that the company has said it out loud -- it aims to become the "Amazon Of Medical Genetics."

LEDE
Spotlight Top Pick Invitae Corp (NYSE:NVTA) took a tumble after announcing full year results and then speaking at the JP Morgan health conference.

While the results seemed good to us, we have reached out to the CEO, Sean George, had a full conversation, and below are the details.

FIRST THE RESULTS
First, we turn to the results for 2017. This comes straight from the company's press release Invitae more than doubles annual volume, exceeds full-year 2017 guidance, and projects momentum to continue in 2018

-- 127% year-over-year growth in volume for the base business, excluding acquisitions, to more than 134,000 samples accessioned compared to approximately 59,000 in 2016. The results exceeded the high end of the company's previously increased projected range of 120,000-130,000 samples.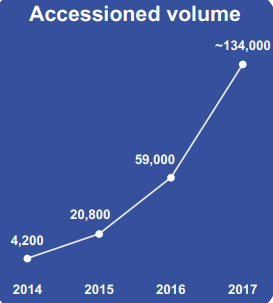 -- 136% growth in revenue in the base business to approximately $59 million, excluding acquisitions. Results were within the company's $55-$65 million revenue guidance.




-- Including results from acquisitions, the company expects to report full-year 2017 accessioned volume totaling approximately 150,000 samples generating approximately $67 million in total revenue.

-- Anticipates continued, robust test volume and revenue growth in 2018 on strength of newly expanded business.

BAD NEWS
If Invitae hits its worst case scenario for 2018, which is $120 million in combined revenue for the core business and the acquired ones, the company will not reach a cash flow positive Q4 in 2018, which was the prior stated goal.

Sean noted this, but also noted that the company could be cash flow positive right now if they wanted to be, but they will incur greater expenses to capture greater growth as the opportunity ahead is large and the inflection point is, for all intents and purposes, right now.

If you're looking for the 'why' with respect to the recent stock drop -- this is it. The company may have to raise cash again -- the two most likely facilities would be debt or equity (selling stock) financing. We will cover this more in depth when we go through the interview.

But, before we get to our discussion with Sean, we have reviewed the JP Morgan presentation. All of the facts must be out on the table before getting context from Sean.

JPM CONFERENCE REVIEW
You can download the .pdf of the presentation here.

Here is our summary, with relevant slides included as images.

Sean George, the CEO, made the full presentation, so anything that looks reads like a first person narrative comes from him, and no one else. When the dossier reads "CML," those are our comments.

• Unqualifiedly the most unprecedented change in the history of our space. CML: He means that the old version of the test by test approach, or the "lab test," version of a business model, paid to answer specific questions at a specific time is over.

• Genetic diagnostic industry, as we know it, is dead. The future is a network, in which there will be essentially one winner, where information is used by the entire network and patients are treated throughout their lifetimes, likely, for some, from birth to death. Not to address just an one-time fear or event, but an entire life cycle.

• Human Genome product 1990, hasn't played out yet (the promise)
o Single successes
o Sea change has not happened

• In course of 4.5 years, gone from $0 revenue, to dominant force in inherited genetic testing today.
o Invested more than $400 million in the business
o Made genetic information more accessible
o Transforming the field from testing to information management
o Fueled by technology hitting the industry
* We all suspect the cost will come down and will disrupt the industry
* Harnessing this technology in a technology business model

• When technologies disrupt, it happens way faster than anyone thinks, and the stable denizens are the last to know.

• Best way to build the future, is a network of information managed on a patient in order to improve health care at a lower cost. The more patients we can get with more novel information with more industry partners to improve their outcomes.

• Like all new network business, the value of the network increases with each new patient, entry, data point.
o Must work to the benefit every participant in it.
o All patients, partners

• Amount of content for Invitae tests has exploded.



• Network has boomed: Health Systems, Partners, Patient Networks

• Full year 2014: 3,600 people

• Full year 2017: 134,000 people, over 220,000 with family history on, etc.

• All the information is owned by the patients and only used at the behest of the patients.

• In a very short period of time, say 12-18 months, if genetics is the question, Invitae will be the answer.

• Progress





o The entire population of people where there is no reason to think genetics plays a role in their health is to ask is there something in my genetics that can impact my life and family as I go through it.
o How big is this market?
* People in modernized health care systems – that's 1-2 billion people.
* "That is genuinely the size of the market we think could benefit from the network we are building."

• More specific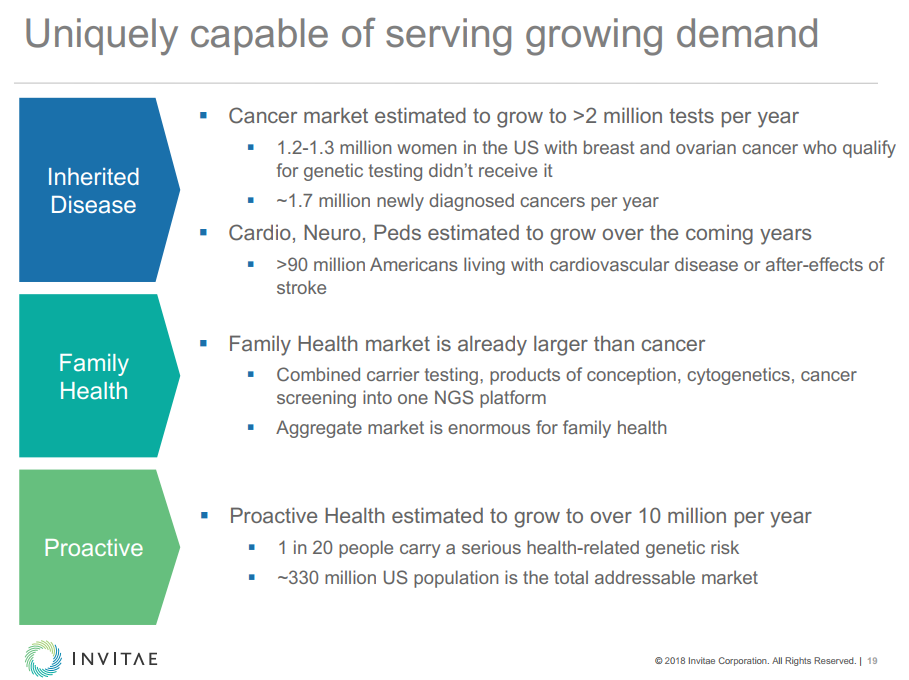 * Just in inherited diseases, alone. Just in cancer, > 2 million people per year.
* Then add cardiovascular, neuro, pediatric

• Example > 90 million Americans living with cardiovascular or after-effects of stroke

• Family Health: Entering an era where anyone who is considering starting a family is generally aware that genetic information can be useful for them. 4 million births in US alone and 6 million pregnancies.
o Are there potential problems with fertility?
o Are there potential problems with the delivery process?
o What are the diseases we could screen for?
o Are there other risks?
o Within time everyone will use it.

• Proactive
o 1 in 20 people carry a serious health related genetic risk
o ~330 million US population
o Been piloting the most comprehensive screen.
* Learning from the pilot: We know, there is a lot of information to be dumping on an otherwise unsuspecting public.
* Good news: A far higher proportion of the population is at higher risk of a genetic disease than anyone thought prior.
* Most importantly: When you deliver this information to an unsuspecting individual in the content of a primary care physician, nothing bad happens relative to getting a MRI, and X-Ray or any other test that shows something is wrong with that individual.

• So, with that TAM, Invitae is continually investing in the breadth and depth of that content

• Recipe for success: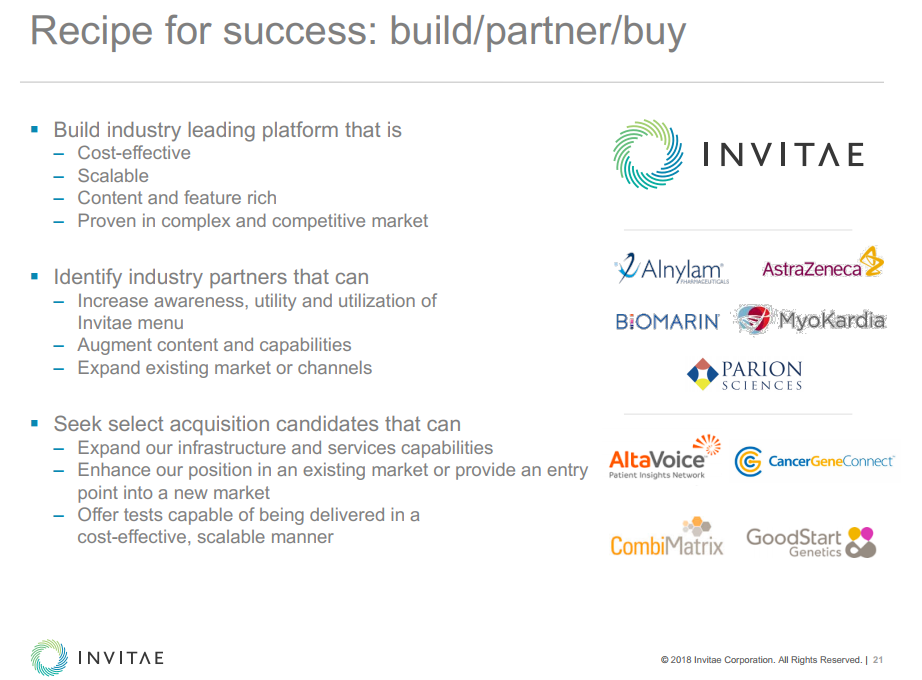 o Build it
o Identify partners
o Select acquisition

• The goal: to get that basic information out there. Personalized medicine.
o Nothing more personal than your genome.
o That genetic information is the major driver of your health care cost.
o Health care outcomes
o Health care decision making
* to get this information out there, to create an industry where that information can follow that individual, beyond just a single test, a single "yes/no."
* Improve care --> better lives --> this is the network

• So how do we know if this business is succeeding?
o Look for sign posts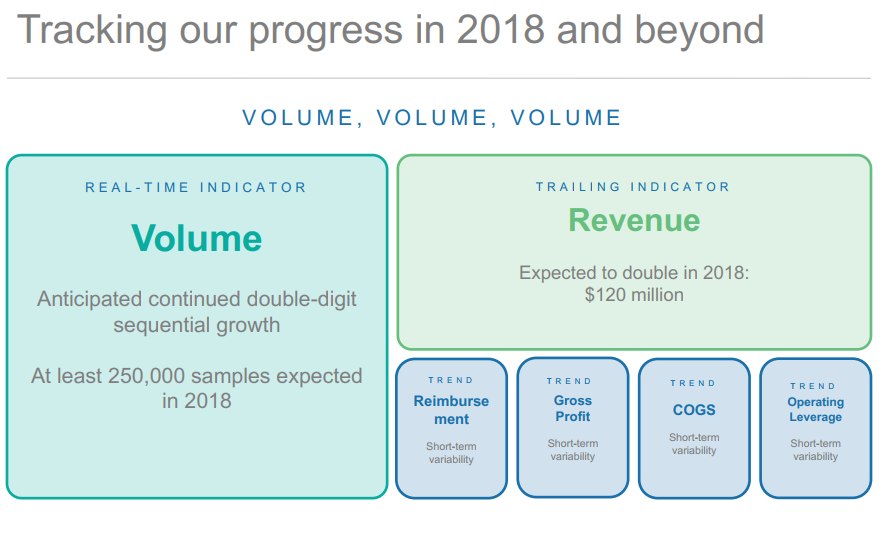 o Volume: The number one leading indicator for success of the business is volume: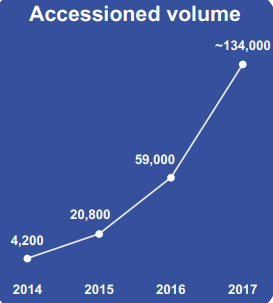 • Look at the business this way. That's how we know we are being successful.

• A trailing indicator is revenue
o Expected to double in 2018 to $120M, at a minimum.




o VOLUME is the driver

• Then there is the financial stuff to follow
o COGS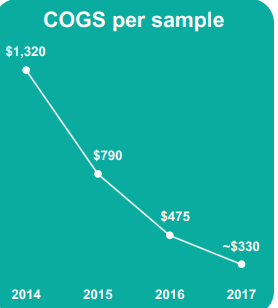 o Reimbursement
o Etc
o "These things will bounce around in the near-term and have no basis on the success of the company in the long-term"

• Building an incredibly powerful business that will eventually create immense amounts of free cash flow on an annual basis.
o But for now: IT'S ALL ABOUT VOLUME – everything else follows

• Value of the network can best be described as
o # ppl served x data per person x connections per person per data point




• This is the value.

• Most frustrating thing is that the guidelines they are taking people through are 15 years old. And we are not getting quality care. "It's borderline criminal given what we in this room know, but they, the individuals trying to give us the best care possible…[]"

COMMENTARY
Summing it up nice and neat -- Invitae more than doubled revenue last year (+136%), volume is booming and Sean believes is the proper way to measure success (or failure) right now. Cost of Goods sold is dropping (that's good) which has turned the company to positive gross margins.

One line I want to repeat was this: In a very short period of time, say 12-18 months, if genetics is the question, Invitae will be the answer.

But most importantly, from everything that was presented above, was the single underlying proposition that Invitae is making: The world of genetic testing, like a lab testing company, which is one-off tests at times of crisis, is over.

Invitae is building a network information and management business. Sean believes them to be the clear runaway leader and there is no close second. This will be a winner takes most industry.

The value is in the network.

And now, the interview.

INTERVIEW
Our talk was lengthy, as Sean is always generous with his time to explain in great detail the Invitae story to Wall Street. I have selected snippets from the call that go into greater detail than the bullet points from above. We will designate context with [].

Sometimes I posed a question and sometimes statement -- that will always be designated as 'CML'. We have added our own emphasis to some of Sean's responses.

CML: What is the low end of revenue guidance for 2018?
A: We're calling for minimal revenue for [20]18 at $120 million [combined company].

CML: The goal for 2017 was to double revenue in 2017.
A: Doubling volume and doubling revenue.

CML: Then in 2018 it was supposed to be roughly a double again. It sounds like if 2017 was $59M for core business, then a doubling would be closer to $120M than $100M.
A: We think we are going to double this business every year for the foreseeable future. We feel we could even do more than that given what we have experienced ... and what the world in front of us looks like.

There is room to go further, faster, and it would behoove us to do so.

We have called revenue at 120 and there are really two reasons for this.

One is ... that is the revenue for our business accounting for all manner of nuance. Let's assume nothing improves in our business, in trying to get paid from the acquired business, and CMS pulls more shenanigans ... imagine all the stuff that has been coming up over the last 3-4 years that can, let's put a number out there that we guarantee we can hit and in no way is it going to be below that.

There have been so many moving parts that even we have underestimated how difficult it has been from third party payors to get paid. Even though historically we are absolutely crushing the industry ... we think there is a ton of potential in this business, if nothing else improves 120 is what we know we can hit.

The other more important part of it is, what become crystal clear to me as we got toward the end of last year is that ... we have been talking about our business model which is to totally collapse and consolidate and lead a new era in genetic testing business but use that as a stepping stool to build out a much more interesting and much more valuable network information management business.

That will basically move the entire world from an one-test, one-sample, one-person, type of business which is known today as genetic testing, to a feature which is where everybody in modernized care, roughly a billion plus people, at some point and time in their life get into our sphere of influence and we get information on them and we manage information on them on behalf of and in context of their care ... and that is an incredibly valuable business that we think we can build.

And in building that new business, building that new industry, the nice thing about going through the pain of all of this is once we build it and once we hit a certain scale, there is a network effect that will be put in place, where there will be no catching us.

In fact right now we suspect we are already there on our infrastructure because of our cost advantage of providing genetic testing and managing it, we don't see anybody gearing up to do so, and we're absolutely confident that at some scale, and the ability to demonstrate the value of that network beyond just the initial genetic testing.

It will be apparent and obvious to everybody that we have created this new industry, are a clear runaway leader in it, and by the way, there will be no close second.

This is going to be a winner take most industry. That is what the true value potential of this business is. The faster we get there, the faster that we believe we will see that value inflection point happens.

From an investor perspective, we see that as the value of the company and that's we are building it and the sooner it will show up for investors the sooner people realize that is the case.

Earlier in 2017, I was allowing us to get sucked into this lab, genetic testing business conversation ... the P and L discussion of a lab testing industry which at best ... you are going to get a 3x multiple on that [revenue].

So, not only is that not the business we are building, it's not good for investors for us to build that business. We found ourselves in public dialogue stuck in that discussion ... and we kept re-iterating ... [we are attempting] to move this business from a test by test, sample by sample, reporting industry into true information management.

That is not the business we are building and it is not the way we view the world and generally not the way we are developing our architecture.

I'm not convinced over the last six-months ... that everybody involved even was listening to what company we are building, and frankly, what industry we are building. They were asking everything in the context of the current diagnostic incumbent testing companies.

To put revenue guidance in context, volume is most important, we will continue to double this every year for the foreseeable future, because the value of this company is the number of people in this network, the amount of information we have on them and the number of connections with various players that can use it to improve their life.

That network provides value for everybody involved. Every patient that enters that network increases the value of that network for everybody involved. That's what we're gunning for.

If we had to make a trade-off between price and volume, as we have in the past, we will make [it]. We know we can get under the cost, that we have demonstrated handily over the last 8 years.

We know we can generate volume. That we have demonstrated handily over the last 5 years, generating more volume is even more important and we wanted to make sure people understood that if we got a hole lot more patients in our network this year, whether our revenue is 120 million or 220 million, that number is [] irrelevant to the value of the business we are building.

Now, granted that number is important in terms of funding the business. That number is important [with respect to] how much cash we are burning. That number is important in how much faster we can go.

But we really need people to understand that the value of the company is not in the traditional lab model ... nor by the way is there any value in it for them.

The lab industry and lab testing companies are shuttering their doors and selling off for 2.5 or 3 times revenue. Nobody is interested in that business for good reason. It doesn't work.

The business we are building, the industry we are building, actually delivers the promise of personalized medicine via genetic information. Conveniently for us ... we already believe we have a wide and deep moat in terms of [defending our business against] people trying to copy what we are doing.

Let's recall over the last five-years the type of company we have been communicating we are building. We are not coming off of that vision, that vision has massive value creation.

Yes it's unusual. There are no [examples] I can point to in the diagnostic space ... but from day one we said we were building a new thing here.

Indeed the day has come that a lot more of our efforts are going to move into the information management field away from the traditional testing path.

The [old] space is dead and we are building a new model of it.

You can map out the fundamentals of our business. You can map out the volume, map the revenue, map the operating expenses, and you can see that the leverage is there.

[We re-insert the relevant images below]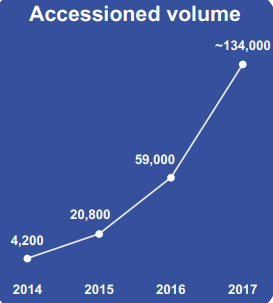 Straight line everything out into the future, not only does this business become profitable, we are going to suck up the entire space in a way no single testing company in the past could have been able to do, even without having to believe anything about a network.

And then if you can appreciate and understand that the network business can do, this is a powerful model.

CML: I want to understand the network effect better. Can you explain it me like I was a 6-year old child?
A: Here's how genetic testing works today. Somebody gets sick, or a loved one gets sick, or dies and the doctor asks the question, given how young these people are or how particular these diseases are, I think that understanding the people's genetics could really help how the disease is going to play out, how to treat the patient and how we can best monitor it and best understand the progression.

What measures could this person do to delay or possibly even prevent the onset of this disease.

Today that is done in a very one-off way. Not until somebody is sick is the genetic information ever used. That information is only used in a small fraction of the individuals who could use it.

We view a world where instead what happens is where if you were born into any modernized health care system, at some pint in your life, which could be when you're born, we you first visit a pediatrician, when you decide to have kids, or when you have a disease or are worried about it, we capture this information, and in the future everyone will have this information acquired at some point in time.

That information will be used to answer a lot of the same questions that were asked in the old world, but the difference is that in the future it's going to be far more people, i.e. everybody in modernized health care systems, and that information will be captured before really serious stuff begins.

Before people die, before symptoms occur, before loved ones become affected.

That information will be available and provided in a very obvious context of your care. The company that is going to deliver that information to you and to your care providers is also going to be able to point you to a variety of players, some in the tech space, some in the health care space, some in the consumer products space.

That company is going to be able to point you to other people around the world, especially in the very rare disease, that had a very similar type of disease and you can connect with them and learn what did they do about it, whether it be monitoring, therapies, prevention.

In that future world, that information, that network of individuals, that is the way that personalized medicine is going to get delivered because we're going to look at that information before any of that bad stuff happens and we're going to have a lot of partners that can help you do something about it.

From a business perspective, that network becomes more valuable for everybody involved the more patients that come into it. So, naturally at some point in time, Invitae becomes the choice of partner whether it be for the hospital, the OB, the pharma company, the integrated systems.

And frankly we have ambitions, whether that be the minister of health of Norway, or Health Canada, or the Ministry of Health Singapore because that infrastructure and to deliver that exquisitely complex information at that sale for that many people ... we've already begun developing that.

That's the shift that is going to happen. In the future it's to get answers for everybody and flag the appropriate people to figure out what to do about it.

That information will only be used on behalf of that patient and only with the express consent of the patient.

There are some specific examples we can give and will give in the next 1-2 years to show that this is in fact taking place.

END NOTES
Sean did go into specific proof points, in particular with their partnership with pharma giant Bio Marin, which we have covered in prior dossiers and is also a very exciting area of growth for Invitae. Here is a snippet from our prior work:

Invitae's relationship with BioMarin will be a part of the model for the company going forward. It's literally in the small print on Invitae's website, but we get this from their epilepsy page:





For those of us that don't have X-ray vision, here's how that reads:

"Upfront patient pay price is $475 for orders placed online in the US and Canada only, in which the order is connected to a patient account." As an aside, the company has been pretty openly discussing a planned launch of a $250 patient pay price.

BRILLIANCE
Bio Marin makes a ton of money on its rare disease medications, but, many people don't know that they have these diseases. It's in BioMarin's best interest to identify these people as early as possible so they can, with all due respect, make a profit.

But this is one of those rare cases where capitalism and the desire for profits actually works in the healthcare world. Patients need to know if they have these rare diseases so they can be treated. The biotechs that offer the medication need to know so they can give them their medicine. And, the more people that test themselves, the cheaper the genetic tests become. That means, it's more profitable for Invitae.

It actually is a win-win-win. Invitae needs more of these, but more importantly, patients and other biotechs do too.

CLOSING THOUGHTS
When we first added Invitae the company was generating single digit revenue and losing money on every test it produced. Now revenue is forecast to be $120 million for 2018 on the low end and the company is turning a gross profit.

Volume is also rising rapidly. It has done a remarkable job working with insurers and now has over 200 million lives covered in the United States: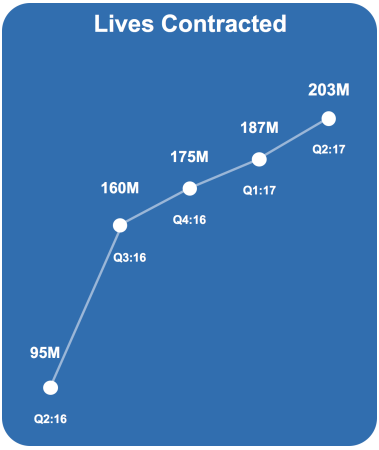 The CEO is saying out loud that there is going to be a dividing line between those genetic testing companies that have their tests covered by insurance and those that do not. And Invitae is in the first group.

But even further, Invitae sees the future -- a world where pre-emptive care saves lives before diseases take shape. A world where risks are identified early and treatments are pinpointed, down to the individual person.

Where people no longer suffer through years of agonizingly imperfect diagnoses, where doctors are finally empowered with the information they need to heal and prevent, rather than to react and to guess.

Where a network of people and therefore a network of information, collected globally, with a total addressable market in the billions of people, serves the common good, while also creating a large scale profit center in an industry that does appear to be a winner take all (or most) and Invitae, for now, is running away with it.

Invitae has a simple goal: to bring genetics into mainstream medicine. So far, it's working.

CONCLUSION
We maintain our Spotlight status on Invitae, and while we continue to issue a special and elevated risk alert here, we do see the potential for this to become a multibillion dollar company (in market cap), and it stands at just $350 million, right now. The industry is growing rapidly, winners and losers are already getting determined, and Invitae, as of right now, is winning.

SEEING THE FUTURE
It's understanding technology that gets us an edge on finding the gems like Invitae that can turn into the 'next Apple,' or 'next Amazon,' where we must get ahead of the curve. This is what CML Pro does.

Each company in our 'Top Picks' has been selected as a future crown jewel of technology. Market correction or not, recession or not, the growth in these areas is a near certainty. We are Capital Market Laboratories. Our research sits next to Goldman Sachs, JP Morgan, Barclays, Morgan Stanley and every other multi billion dollar institution as a member of the famed Thomson Reuters First Call. But while those people pay upwards of $2,000 a month on their live terminals, we are the anti-institution and are breaking the information asymmetry.

The precious few thematic top picks for 2018, research dossiers, and alerts are available for a limited time at a 80% discount for $29/mo. Join Us: Discover the undiscovered companies that will power technology's future.

As always, control risk, size appropriately and use your own judgment, aside from anyone else's subjective views, including my own.

Thanks for reading, friends.

The author is long shares Invitae at the time of this writing.

Legal
The information contained on this site is provided for general informational purposes, as a convenience to the readers. The materials are not a substitute for obtaining professional advice from a qualified person, firm or corporation. Consult the appropriate professional advisor for more complete and current information. Capital Market Laboratories ("The Company") does not engage in rendering any legal or professional services by placing these general informational materials on this website.

The Company specifically disclaims any liability, whether based in contract, tort, strict liability or otherwise, for any direct, indirect, incidental, consequential, or special damages arising out of or in any way connected with access to or use of the site, even if we have been advised of the possibility of such damages, including liability in connection with mistakes or omissions in, or delays in transmission of, information to or from the user, interruptions in telecommunications connections to the site or viruses.

The Company make no representations or warranties about the accuracy or completeness of the information contained on this website. Any links provided to other server sites are offered as a matter of convenience and in no way are meant to imply that The Company endorses, sponsors, promotes or is affiliated with the owners of or participants in those sites, or endorse any information contained on those sites, unless expressly stated.