Invitae Beats Earnings and Raises Estimates

Invitae Beats Earnings and Raises Estimates
Date Published:
2018-11-07






LEDE
Invitae beat revenue and EPS estimates, raised guidance and has secured a large debt financing making cash burn less of a risk.




EARNINGS
We will have our interview with CEO Sean Georg tomorrow, but here are the highlights of the quarter:

* Revenue: $37.4 million vs estimates of $34.8 million, and above even the highest estimate of $36 million.

* EPS: -$0.45 vs estimates of -$0.47.

* Guidance: Revenue guidance was raised from between $135 and $140 million to between $140 and $145 million in 2018.
Volume guidance was raised from more than 275,000 samples to more than 285,000 samples. Here are two very strong charts. First, volume: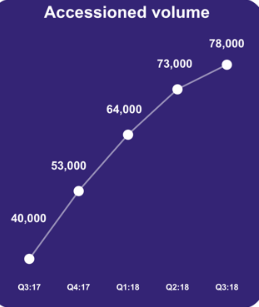 And the second is operating leverage, which in English means, the ability to grow the company's top line without having to grow the cost side as much.




Notice volume increasing as operating expense is virutally unchanged.

Finally, here is a great 3-in-1 chart the company provided: revenue growth, cost per sample down, and gross profit up.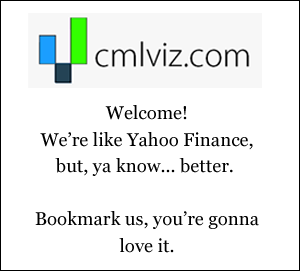 CEO Comments

Sean George, co-founder and chief executive officer of Invitae said:



We have had another strong quarter of growth and execution, building momentum among our expanding base of customers.

In addition to the volume and revenue growth, we achieved our goal of reducing cash burn by nearly 50% from the first quarter of this year. With access to more than $250 million in capital, we are well positioned to continue to grow the business as we emerge as a leading provider and partner of choice in genetics.




Result Details
* Accessioned approximately 78,000 samples in the third quarter of 2018, representing a 95% increase over the 40,000 samples in the third quarter of 2017.

* Generated revenue of $37.4 million in the third quarter of 2018, representing a 106% increase over the third quarter of 2017 revenue of $18.1 million.

* Reduced the average cost per sample to approximately $260 in the third quarter of 2018, representing a 21% reduction from an approximate $330 average cost per sample in the third quarter of 2017.

* Achieved positive gross profit of $16.9 million in the third quarter of 2018 compared to nearly $5.0 million gross profit in the third quarter of 2017.

Total operating expenses for the third quarter of 2018, excluding cost of goods sold, were $47.0 million compared to $35.9 million in the third quarter of 2017. For the third quarter of 2018, Invitae reported a net loss of $31.7 million, or a $0.45 loss per share, compared to a net loss of $27.4 million in the third quarter of 2017, or a $0.57 loss per share.

At September 30, 2018, cash, cash equivalents, restricted cash and marketable securities totaled $134.6 million. Net increase in cash, cash equivalents and restricted cash for the quarter was $52.6 million, with cash burn for the quarter at $18.4 million.


Corporate & Scientific Highlights
* Closed equity financing of $59.0 million in net proceeds in the quarter

* Subsequent to the quarter close, we entered into new financing arrangements for up to $200 million in debt and $5 million in equity from funds managed by Oberland Capital

* Notified of agreement to receive payments from Medicare for Lynch syndrome analysis (CPT code 81436)

* Continued growing our biopharma and patient advocacy network with the expansion of the company's partnership with Alnylam Pharmaceuticals to provide genetic testing at no cost to patients through the Alnylam Act® program for individuals who may carry gene mutations associated with primary hyperoxaluria, an ultra-rare genetic disorder affecting the kidneys that most often presents in childhood

* Presented findings at annual American Society of Human Genetics meeting, showing proactive genetic testing identifies medically significant findings for 16.5% of healthy individuals, adding to a growing body of evidence showing expanding clinical genetic testing to people without identified risks could be beneficial Announced the appointment of Chitra Nayak to the company's Board of Directors, noting her considerable track record of helping companies achieve transformational growth to scale and innovate globally


WHAT HAPPENED
It's understanding technology that gets us an edge to find the "next Apple," or the "next Amazon." This is what CML Pro does. We are members of Thomson First Call -- our research sits side by side with Goldman Sachs, Morgan Stanley and the rest, but we are the anti-institution and break the information asymmetry.

The precious few thematic top picks for 2018, research dossiers, and alerts are available for a limited time at a 80% discount for $29/mo. Join Us: Discover the undiscovered companies that will power technology's future.

Thanks for reading, friends.

The author is long shares Invitae, at the time of this writing.

Please read the legal disclaimers below and as always, remember, we are not making a recommendation or soliciting a sale or purchase of any security ever. We are not licensed to do so, and we wouldn't do it even if we were. We're sharing my opinions, and provide you the power to be knowledgeable to make your own decisions.

Legal
The information contained on this site is provided for general informational purposes, as a convenience to the readers. The materials are not a substitute for obtaining professional advice from a qualified person, firm or corporation. Consult the appropriate professional advisor for more complete and current information. Capital Market Laboratories ("The Company") does not engage in rendering any legal or professional services by placing these general informational materials on this website.

The Company specifically disclaims any liability, whether based in contract, tort, strict liability or otherwise, for any direct, indirect, incidental, consequential, or special damages arising out of or in any way connected with access to or use of the site, even if we have been advised of the possibility of such damages, including liability in connection with mistakes or omissions in, or delays in transmission of, information to or from the user, interruptions in telecommunications connections to the site or viruses.

The Company makes no representations or warranties about the accuracy or completeness of the information contained on this website. Any links provided to other server sites are offered as a matter of convenience and in no way are meant to imply that The Company endorses, sponsors, promotes or is affiliated with the owners of or participants in those sites, or endorse any information contained on those sites, unless expressly stated.