Invitae Stock News A Short Seller Gone Wrong - Setting the Record Straight






Date Published: 2019-10-14


Disclaimer
The information contained on this site is provided for general informational purposes, as a convenience to the readers. The materials are not a substitute for obtaining professional advice from a qualified person, firm or corporation. Consult the appropriate professional advisor for more complete and current information. Capital Market Laboratories ("The Company") does not engage in rendering any legal or professional services by placing these general informational materials on this website.

Hello, all. This is Ophir writing. I am an analyst of record covering Invitae for Capital Market Laboratories.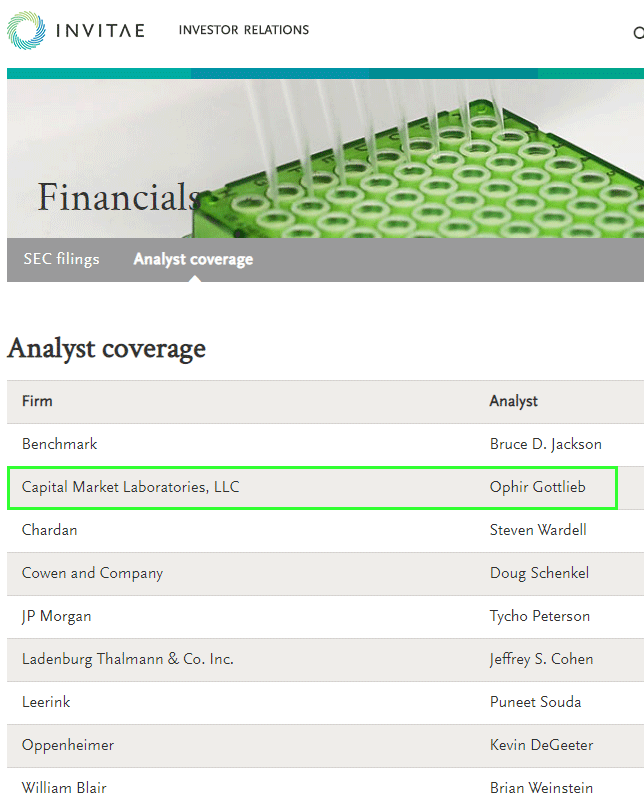 This designation does not mean I am somehow better than someone else. It does mean that I have been in contact with the CEO over a dozen times over the last three-years and have a firm understanding of the company, for the good and the bad.

My purpose here is to dispel factual errors, and there are many.

Lede As many of you may have now seen, there was an anonymous short-seller's article published on Seeking Alpha on Friday 10-11-2019.

We added Invitae to Top Picks on 1-Sep-16 for $7.42. As of today the stock closed at $17.99, up 142.45%.

Story
Contrary to how many people feel, I like short-sellers. I think they bring some accountability to the market and many companies need it.

However, often times short-sellers use fantastical statements to get attention, and those statements then tumble into false conclusions.

In this case, we get two of those fantastical conclusions: "What's Invitae Really Worth? [] How About ZERO?"

And, just so it gets everyone's attention, the short-seller adds "The laboratory diagnostic testing space doesn't need another Theranos."

So, to be clear, this person is not only bearish, but the mountain he has climbed on requires the company to go bankrupt, literally, and to do so as an outright fraud. He takes this position anonymously.

Today we will review the short thesis from a still anonymous author, but we will address it with fact. We do so because a thorough analysis helps the bullish thesis.

But, without getting tangled in a long story we can answer one part easily:

Evidence That Invitae is Not a Fraud
This is totally absurd that I have to write this, but I said I would refute the short seller point by point, so let's start with the biggest claim: Invitae is Theranos (a fraud).

First, United Health Care, the largest insurer in the world, has been a customer for years, makes up 10% of Invitae's revenue, and in April 2019 that company announced it was elevating Invitae to a special status called "Preferred Laboratory Network (PLN)." That designation was given to just six other companies. "These labs were selected based on a rigorous quality review process."

United Health Care is the largest healthcare company in the world by revenue, with 2018 revenue of $226.2 billion and 115 million customers. The company is ranked 6th on the 2019 Fortune 500. Insurers are for profit enterprises. They don't cover diagnostic tests out of benevolence. They do it because in their calculations it saves money over the long-term. That's in early detection and proper care.

We wrote a full dossier on it, here: Invitae Gets a Huge Boost from a Mega Insurer.

Second, Invitae has repeat business from hospitals, and clinicians. There is no repeat business from institutions or clinicians if there is a fraud.

Third, Invitae has had 50 biopharmas use them as their test facility, including Biogen and Merck. This point has much more import than one sentence and we discuss it at length later in this dossier.

Fourth, Invitae has ongoing relationships with some of the most respected institutions in the world including the Mayo Clinic and Stanford Health Care. Those institutions, if doing their own due diligence properly, are fraud busters.

Finally, Invitae's Chief Medical Officer, Dr. Robert Naussbaum is one the great leaders in this space of our time. He is not a party to fraud.

* From April 2006 to August 2015, he served as a member of the UCSF Institute for Human Genetics.

Prior to joining UCSF Health, Dr. Nussbaum was chief of the Genetic Disease Research Branch of the National Human Genome Research Institute, one of the National Institutes of Health, from 1994 to 2006.

He is a member of the Institute of Medicine and a fellow at the American Academy of Arts and Sciences.

Dr. Nussbaum is a board-certified internist and medical geneticist who holds a B.S. in Applied Mathematics from Harvard College and a M.D. from Harvard Medical School in the Harvard-MIT joint program in Health Sciences and Technology.

For the record
Finally, I do not submit price targets, but seven of the remaining eight analysts do. And their target is not "zero."



The 7 analysts offering 12-month price forecasts for Invitae Corp have a median target of 30.00, with a high estimate of 34.00 and a low estimate of 28.00.

The median estimate represents a +66.76% increase from the last price of 17.99.



They are not a fraud. Just stop it.

I'll take Harvard, MIT, the largest health care provider in the world, The Mayo Clinic, Stanford Health, and 50 biotechs over an anonymous seeking alpha writer. The truth comes out, today.

There is much to discuss, and risk to be aware of. Don't get sloppy. Don't get angry. Understand the risk.

The Real Goal The real goal this short seller is attempting to attain is to turn Invitae and all of its shareholders, that's likely you, into an one day investor.

If he can turn the narrative away from the long-term, then he can create fear, especially if he is lucky enough to get an earnings miss.

If you understand the motivation, then you will understand how someone can lie -- that is intentionally state falsified numbers -- and still remain credible in the eyes of the casual investor.

He is going after the longs and wants to scare them out of ownership before earnings to create the impression of an impending disaster.

OK, let's get to the actual research. We begin with a point that was brought up that is industry wide -- that's a good place to start.

I. Point by Point - Industry Wide Fraud
As genetic testing hit the mainstream, so too did fraud.

But to say a leading company in an industry, or an industry in whole is in trouble due to this would be like saying there's a risk that Toyota makes fake cars because some other used car hack sells lemons, or even grander, that car manufacturing will go away forever. The rational connection is totally void.

Every large industry has fraudsters.

The office of the inspector general actually issued a "Fraud Alert." Here is a portion of the alert, unedited (with our emphasis added):

The U.S. Department of Health and Human Services Office of Inspector General is alerting the public about a fraud scheme involving genetic testing.

Scammers are offering Medicare beneficiaries "free" screenings or cheek swabs for genetic testing to obtain their Medicare information for identity theft or fraudulent billing purposes. Fraudsters are targeting beneficiaries through telemarketing calls, booths at public events, health fairs, and door-to-door visits.

Conclusion: I bring the fraud up simply because the short-seller did. I don't see this impacting Invitae, since the alert clearly references "telemarketing calls, booths at public events, health fairs, and door-to-door visits," none of which impact Invitae.

This is alarmist behavior for the sake of... alarming. Using the word fraud with a stock ticker also makes it show in Google Search, which is clever.

II. Medicare Changes - Materially Impactful
The cancer business is the largest segment for Invitae, and it is in fact profitable as a stand-alone business as of Q1 2019. However, it is likely heavily dependent on medicare reimbursement.

In Q3 of 2018 (one-year ago), Invitae wrote in their 10-Q:

"In March 2018, CMS published a final national coverage determination, or NCD, for next generation sequencing, or NGS, tests for patients with advanced cancer. The final NCD establishes full coverage for FDA-approved or FDA-cleared NGS-based companion diagnostic assays when offered for their FDA-approved or FDA-cleared use(s), ordered by the patient's treating physician for Medicare beneficiaries with advanced cancer (recurrent, relapsed, refractory, metastatic, or advanced stages III or IV cancer) who have not have previously been tested with the same test for the same primary diagnosis of cancer or are seeking repeat testing for a new primary cancer diagnosis, and have decided to seek further cancer treatment.

[Snip]

If CMS interprets the final NCD to exclude coverage for patients with earlier stage cancers, MACs will no longer have discretion to cover our current tests when offered to such patients, notwithstanding historical Medicare coverage for such tests.

An interpretation of the NCD that results in Medicare non-coverage for our current and future assays would have significant negative impact on our business, financial condition and results of operations."

In English it reads that CMS might not cover cancer screening for early stage patients, and Invitae has told us now for a year that if such a decision were to come down, it would hurt the business materially.

In Q2 of 2019, Invitae disclosed that Medicare made up 22% of revenue for the first six months of that year under its "The Company's 10% or greater customers and their related revenue as a percentage of total revenue" section.

This is all fact -- disclosed by the company. There is nothing new here. But here's what is really happening, as opposed to this twisted story told by the short-seller.

This case was quickly reopened and that will likely (not surely) be a positive for hereditary testing. Things like this typically only get opened and reviewed because patients aren't getting access due to a lack of clarity and interpretation. The discussion is whether stage 1 and stage 2 patients will gain greater access, not less access.

If you want to go down the short-seller's sort of worst case scenario, here it is:

If CMS changes its HCT reimbursement the entire industry will get hurt. We don't know exactly how much of that 22% is from cancer tests, but we can assume, since it is Invitae's largest business, that it is 'most.'

We also don't know how much of that 22% is from patients that would be unaffected by a change (if there is one), and how many would, in fact, be impacted.

Remember, CMS is not considering halting reimbursement, it would be, if at all, a change to some of the reimbursement.

It will make cost even more critical in the election of a genetic test since payment would be out of pocket.

But, for that population where the worst case scenario is no reimbursement, it would mean friction, and that would mean fewer tests -- some, but certainly not all, will be made up by the patients, but some will elect to not do the test.

As Invitae states in every filing, "[w]e cannot predict whether future healthcare initiatives will be implemented at the federal or state level, or how any future legislation or regulation may affect us."

But, again, we believe this will make the market bigger. CMS will relax the rules. That's what we read at stake, not the other way around.

Conclusion: The short seller omitted facts to misrepresent. This is just one of those "brace yourself" moments, and the result could be far outside the expected binary result.

In the long-term, which is our view, this will end well. Medicare will cover cancer tests. In the short-term, this could get bumpy.

Now let us turn to Invitae specific issues.

III. Point by Point - Invitae vs Myriad
This short seller has a real issue with Myriad (MYGN) versus Invitae (NVTA), so let's address it.

Some facts to start:

* Myriad's market cap is $2.23 billion as of this writing, but when you factor in negative total cash (more debt and cash), the enterprise value (EV) company is $2.13 billion.

* Invitae's market cap is $1.66 billion as of this writing, but when in factor in cash, the enterprise value (EV) is 1.76 billion.

The argument from the short-seller is that MYGN should be worth much more than NVTA. Here is the word for word phrasing:



Myriad has $850m of ttm revenues, $125m of adjusted net income.

Invitae has $175m of ttm revenues, $150m of net LOSSES.

Which Business Would You Rather Own?



This is typical short seller fear tactics. This is misleading by omission.

The stock market prices future growth potential. Since I said I would use as little opinion as possible, let's go to consensus analyst estimates for both companies.

- MYGN -
The average estimate for revenue growth for MYGN is 5.5% for 2020 ($870M to $918M).

In the last year, MYGN has shown 14.4% revenue (TTM) growth. In 2017, MYGN showed revenue losses, that is -2.2% 'growth.'

- NVTA -
The average estimate for revenue growth for NVTA is 51% for 2020 ($221M to $333M).

In the last year, NVTA has shown 62.9% revenue (TTM) growth. In 2017, NVTA showed 172% revenue growth.

MYGN is priced at a price to sales of 2.4 for this year's forecasts for good reason. The company slipped into shrinkage two years ago, came out of it slightly in 2019, and will be on the cusp of it again in 2020.

NVTA is priced at a price to sales of 7.5 for this year's forecasts for good reason. Revenue growth is nearly 10-fold that of MYGN and it has never shown negative growth in its entire history.

Conclusion: This is a common misinformation tactic to convince uninformed readers that a statement must be true (Myriad must be worth a lot more than Invitae) by intentionally misleading readers with omission. This is how a hit piece works.

I remind members that NVTA has aspirational guidance of growth of 100% for 2020, but I leave this at the end of the analysis, because they have not yet made that official guidance. It will be made official, whatever the number is, during the JPM conference in January 2020.

As for the posed question "which Business Would You Rather Own?" I would rather own NVTA priced at only 3 times higher price to sales than MYGN with its 50% growth than MYGN and its 5.5% growth, with the recent history of revenue shrinkage. You can certainly chose otherwise.

IV. Point by Point - Cost of Goods Sold and Gross Margins
One of the first claims in the short thesis was that Invitae can grow revenue, but revenue at a loss without capturing operating leverage. But even further, before even turning to operating leverage, the author argues that all cost of goods sold (COGS) efficiencies are gone.



[T]he fact is that cost declines have all but disappeared – last quarter showed the LOWEST cost improvement that NVTA has ever recorded for a quarter with robust volume growth.



We can examine some factual charts from the company's financials to disprove this lie, and to further a bullish thesis that Invitae has great control over this critical margin.

First, we will look at the revenue (TTM) trend: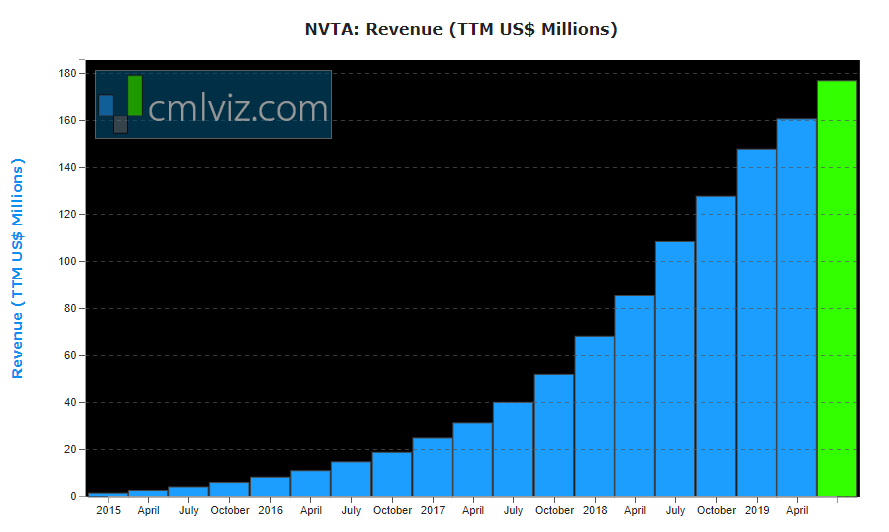 The author does take issue with any economies of scale. So, the next chart we look at is simply gross profit (TTM).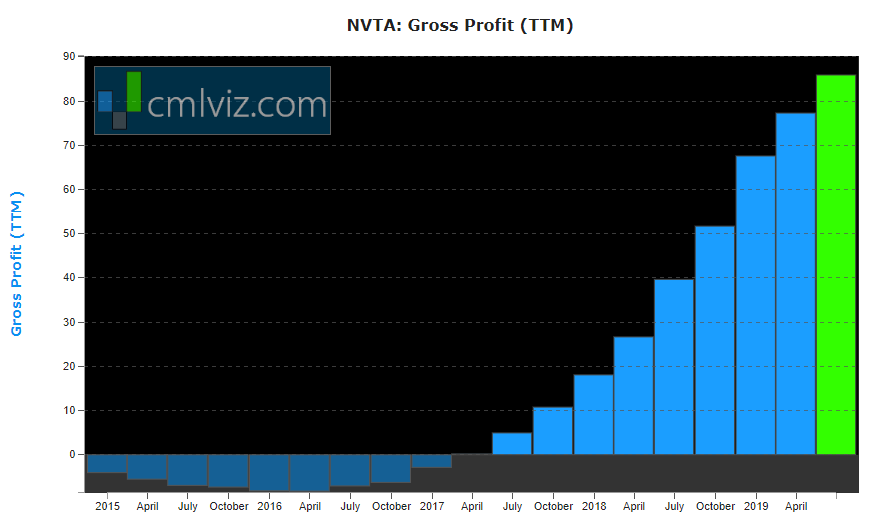 We can see the company swing from a gross loss to a booming gross profit. One-year ago gross profit (TTM) was $39.7 million. Gross profit (TTM) was $85.9 million for the twelve-months ending June 30th, 2019, for a 116% year-over-year rise.

These are the facts, and they are not disputed and the anonymous short-seller knows it.

In the short-seller piece, the anonymous author referenced cost of good sold (COGS), which for Invitae is really cost per test and how that number has stopped decreasing. Shame on him, he knows exactly why that is.

Invitae has long told the investing public that the COGS number will vacillate and even rise as more and more clinicians opt for its more expensive tests, like the genome, or exome. This is actually the goal. The company has further noted that the best way to measure gross profit is simply to look at gross margin percent.

Invitae's long stated goal has been to achieve gross margin percent of 50%. This is an operational goal that the company has been able to achieve rather quickly.

The point is that it doesn't matter what the cost of a test is -- it matters that Invitae, network wide, is taking its 50% gross profit.

Here is a chart of gross margin percent (TTM):




We can see that the company has all but achieved that 50% number and has been there for a while and is at an all-time high in the trailing twelve months.

These are the facts, and they are not disputed, and the short seller knows it.

The argument introduced by the short-seller in reference to COGS attempts to discombobulate Invitae's stated trajectory. The company will move to more expensive tests as clinicians and institutions alike move to more sophisticated testing.

The cost of the test doesn't matter -- the percent earned on the test does, and that number is going to be 50% and has been for a while now. Again, these are the facts, and they are not disputed, and the short seller knows it.

Even further, the company is explicit about this vacillation. This snippet comes from the company's feature presentation:





Again, nobody cares about the COGS, per se, what we care about is the percent earned on the cost of a test, and that number is consistent and exactly where the company claimed its long-term goal was.

Conclusion: The first point of the short thesis, that Invitae is losing its ability to gain traction with cost of goods sold, has been debunked with facts. The company has hit its long-term objective. These are the facts, and they are not disputed. The short seller has intentionally stated to the contrary with the same data that everyone has.

Let us move to the next point.

IV. Point by Point - Operating Leverage
The next point for the bearish piece was that even beyond gross margins, Invitae can't create a model that doesn't constantly require cash injections.



[I]t's very clear Invitae lacks the critical and unique Amazon financial model needed fund a virtuous cycle of investment.



Recall that CEO Sean George said openly that Invitae's largest business, cancer testing, has been profitable as a stand-alone business as of Q1 2019 and even before then, Sean disclosed that the company could be profitable at any time it chose.

They have chosen growth in the near-term over profitability, a common choice for growth companies.

But we want factual evidence, not circumstantial conversations. So, we want to examine operating leverage from the income statement to examine whether the company is able to grow revenue faster than it grows costs. If it cannot, then it does not have a sustainable business model.

In the next chart we visit operating revenue (TTM) divided by operating expense (TTM), or more clearly, the amount of revenue earned for every $1 of operating expense.

This data is factual and it is undisputed. The short seller intentionally falsified the facts. This data is freely available to everyone.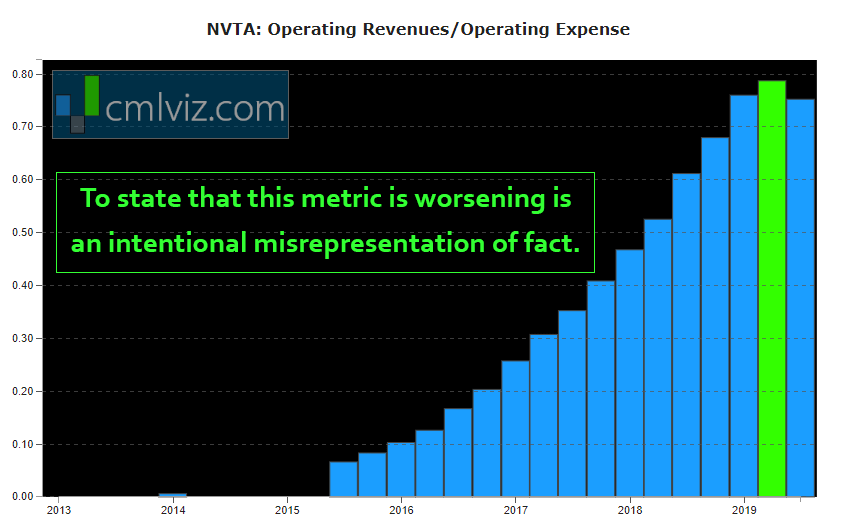 To state that this trend is not positive is a lie. It is an intentional misrepresentation that relies on the idea that readers will not look for these numbers.

What we see is a linear progression up and to the right. That last bar looks a little lower than the one before it. This is a little too detailed for the analysis, but let's go there.

There were $7 million of one-time operating expenses in the latest quarter due to two acquisitions so that last bar is impacted which even the short seller submits too. Here is another snippet from the company's feature presentation: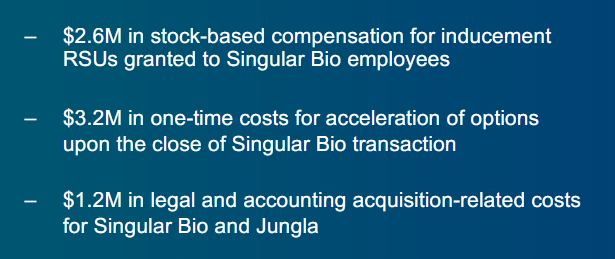 The trend shows that the company is earning more revenue for every $1 in expense, and that phenomenon is called operating leverage.

Make no mistake, the work is not done until that ratio gets above 1.0, as that would mean the company generates $1 in revenue for every $1 in operating expense -- the minimum for operational break even -- but the argument that the company is not demonstrating progress is, without opinion, simply wrong.

This argument:



[Invitae] desperately need to hit revenue targets [] essentially, they are locked into a growing volumes at any cost strategy.



The company grows revenue faster than expenses, and that isn't an opinion, it's a matter of fact and the short seller knows it. What the company will achieve in the future is unknown, but in finance all we have is the past, and it's trending exactly as it should.

Here is a final chart to make the point. This shows revenue (TTM) in the line and cash from operations (TTM) in bars: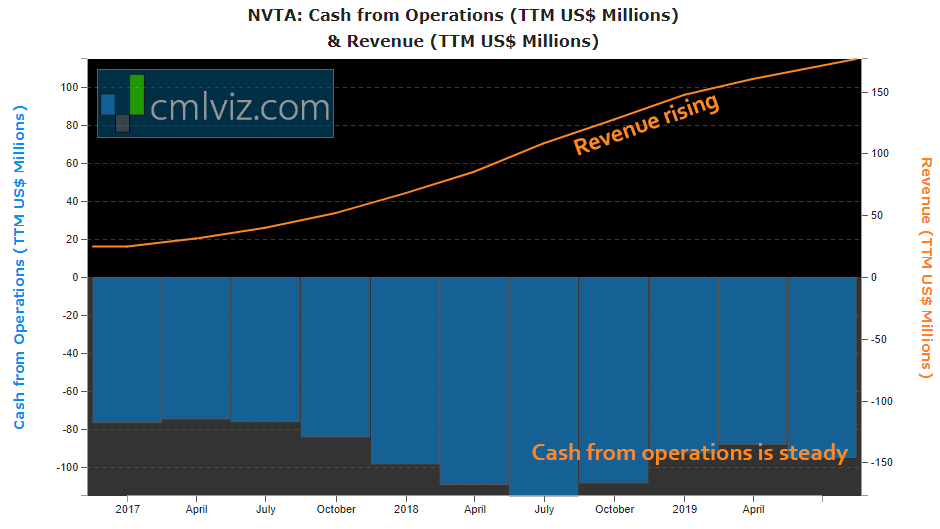 As revenue (TTM) rises, the negative cash from operations (TTM) holds steady.

Conclusion: Invitae is burning through cash but not as quickly as it is growing revenue. These are the facts and they are not disputed. The short seller knows this.

V. Point by Point - Invitae Lacks Differentiation
The next bearish point the short-seller discusses is the competitive strength or weakness of Invitae, or more specifically:



The genetic diagnostic testing space is a highly competitive market. So, volume growth for Invitae beyond what they have achieved in HCT would require significant operational differentiation, as pricing is already quite aggressive. Unfortunately, Invitae lacks this requisite differentiation and simply has chosen to focus on price.



Further, the short-seller compares Myriad to Invitae, saying:



Myriad presently has a unique (and controversial) data advantage. Even if Invitae catches up on the cost structure, Myriad will retain its data advantage. This advantage is so obvious and important that Invitae and other competitors/academic labs are publicly sharing hereditary cancer variant data to attempt to close the accuracy gap.



This point is often misunderstood by the public and the short-seller. He asks:



What's Invitae's Data Strategy? Who Owns the Data?

Importantly, the test data created by the company is immediately shared with a public database.

Thus, the genetic database, by definition, cannot be a competitive "moat."



This is factually wrong, and the short seller knows it.

Invitae does not share all of the data it collects from patients. Invitae shares the genomic variants, but the golden data -- the data that is monetizable through machine learning -- is the genomic data combined with the patient medical history. Invitae openly discloses that they do not share this data and the short seller knows it. These are the facts, and they are not disputed.

Genetic Tests are Not Like Normal Blood Tests
As we have noted so many times, genetic testing is not like a normal blood test - not even close. It is not about collecting blood, running it through an Illumina machine, and getting a test result.

It's vastly more complex, and requires exceedingly high expertise per scientist and even then, would be in sufficient without the addition of exceedingly strong technology to help the scientist.

Once the machine sequences the genome, the real work, and real differentiation begins. That differentiation comes, in part, from data. That's across people, but also across diseases. I will expand upon the disease data moat that Invitae has in the following sections. For now let's focus on the data part.

It's not just that Invitae has seen 10,000 people with the same genetic variant and then 'figured out' that the variant is likely a disease.

No, the company takes all of the patients' history, like a history and progression of MRIs, CAT scans, X-rays, blood test results, symptoms from prior doctor visits, and takes all of that data with all of the genetic data to create rather large data repository on which to build it's predictive artificial intelligence.

Just having the gene data isn't sufficient to become a definitive source for genetic testing. In fact, 23andMe has millions of more tests to work with than Invitae and that company has been openly questioned and taken to task for its cancer testing irregularities.

Here is a worthy link to a New York Times article, where the title makes it sound better than it is, and the title is pretty brutal: Don't Count on 23andMe to Detect Most Breast Cancer Risks, Study Warns

That article followed one just two months prior, but was an opinion piece: Opinion | Why You Should Be Careful About 23andMe's Health Test

The point is, it's not just the volume, it's the quality of the gene mapping and the quality of the dataset behind it.

Conclusion: The statement that "the test data created by the company is immediately shared with a public database" is erroneous. These are the facts, they are not open for argument, they are not disputed other than by the short seller.

While We're At It - Moat Exists With Clinicians
Once a clinician has chosen their go to lab for genetic testing, there is a switching cost. Switching costs are non-trivial in many industries. It's a triviality to switch from an iPhone to a Samsung Galaxy, yet quarter after quarter and year after year we see that people do not switch.

As Invitae grows its clinician base, it builds a moat. But the moat is built around much more than switching costs -- it's built around quality and uniqueness.

Let's start with the switching costs and then move the uniqueness of its lab.

Problem: Other clinicians don't know the difference between the companies and may overlook Invitae.

Solution to problem: There are three parts to this solution.

* First, getting coverage by insurers, then preferential status, makes the choice easier for clinicians. It goes from the wild west -- a field of immense genetic test providers - to three (or some small number).

But we need factual evidence and we got it April of 2019. We see this moat building when mega insurers like United Health Care (UNH) hand chose Invitae as a preferred network lab. (Note that UNH made up 10% of Invitae's revenue in that same Q3 report referenced earlier in this dossier, so they could have a large positive impact on the company's future growth.)

UnitedHealthcare's Triple Aim Focus Adding More Value for Lab Services.

United Health Care is the largest healthcare company in the world by revenue, with 2018 revenue of $226.2 billion and 115 million customers. The company is ranked 6th on the 2019 Fortune 500.

Here are a few snippets, directly from the announcement. Our emphasis has been added to the text below.

* The creation of the PLN is an advanced way to work with selected lab providers to deliver care that places a greater emphasis on patient outcomes and the total cost of a person's care.

* Launching on July 1, 2019, United Health Care has selected the following labs to participate in its PLN: AmeriPath/DermPath, BioReference, GeneDx, Invitae, LabCorp, Mayo Clinic Laboratories and Quest Diagnostics. These labs were selected based on a rigorous quality review process.

* We expect physicians who refer to labs in the PLN to notice prompt turn-around times for lab results, ease-of-use when ordering labs electronically as well as easy access to physician-to-lab medical director consultations to support patient care.

We can also look at other factual data. This chart comes from Invitae and demonstrates the number of lives covered under health insurance: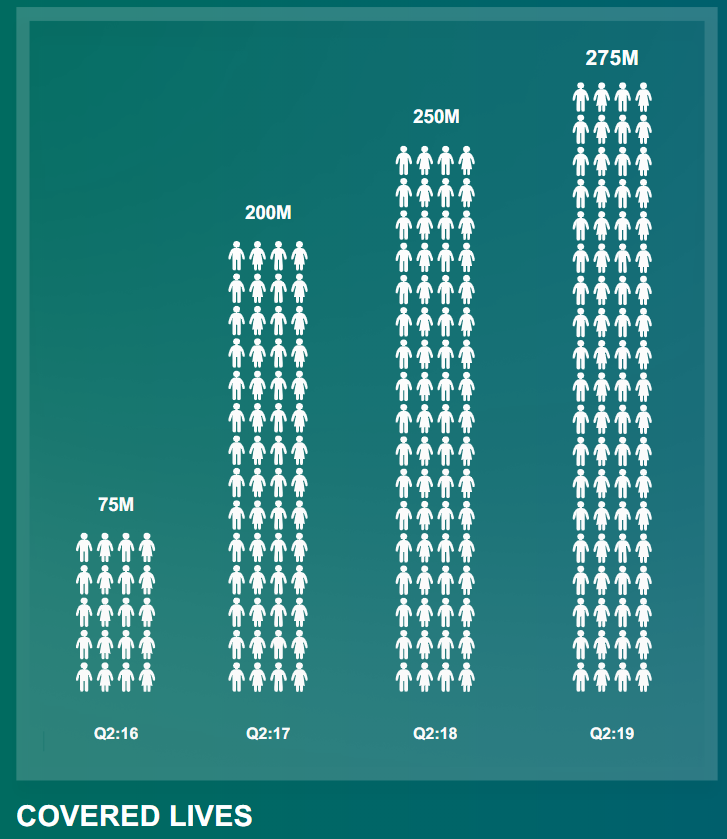 * Second, this comes from the imprimatur of the biotechs:

Doctors are not scientists, but they work in field that is based entirely on science. Doctors have to stay up to date on an immense amount of new research and it can be totally suffocating. Add a liability risk for trying somewhat "new" approaches to help patients, and we get the system we have now -- doctors are stuck, research is stuck, and that means patients are stuck (and worse).

In the end, doctors lean on the multi-billion-dollar research & development world of bio-pharmas. If it's FDA approved, it had to go through several rounds of rigorous testing, and that means the research is likely solid and the liability risk is reduced.

Recall now that Invitae announced 12 new bio-pharma partners in the first half of 2019 taking its total to over 50. Here's how that works:

In the past, Invitae has relied upon institutions or clinicians to initiate the genetic tests for patients. With 23% of the company revenue in 2018 coming from institutions (hospitals and biopharma).

That is, biopharmas with medication to treat rare diseases are pre-purchasing Invitae genetic tests in bulk and reaching out to doctors for patients that may be at risk. This is a sort of recurring revenue, since there will always be new drugs and always be biopharmas reaching out to find the appropriate audience.

The nice part about this trend is two-fold: First, this is truly a situation where everyone does better. Invitae sells the tests, patients at risk are checked and, if needed, care is taken to better outcomes, and of course the biopharmas get to sell their drugs.

The second part is that while no other Wall Street analyst has asked CEO Sean George, fear not, I did -- this part of the business is expected to grow faster than the overall company growth, which hit 107% last year.

In the dossier from 3-20-2019 Sean actually said:



That's a mix of institutional and pharma. Our general view is that will grow faster than the insurance bill.

So, I would imagine point by point over the next handful of quarters that ekes up 24%, 25% eventually 30% etc.



This is a moat. These institutional / pharma partners can drive volume and as you will read further below, make the Invitae network all the more powerful.

Here's the moat in action.

As more and more bio-pharmas pre-purchase genetic tests, and then they do the leg work, with their massive sales teams to get clinicians on board, a cognition in the clinicians' minds is forming, totally incidental to the bio-pharmas role.

That cognition is simple: Now doctors recognize Invitae as the 'researched' genetic testing company. That is, even after this one-off test for high risk patients of a rare disease get their tests, now doctors have the Invitae name in their heads and it is backed by the most trusted research facilities doctors turn to -- the bio-pharma.

Katherine Stueland (CCO) told me, "it's already happening."

By virtue of the bio-pharmas using Invitae, holding them up as the standard bearer, clinicians are now falling into line as well.

Moat - By Disease
You will notice, again, the short-seller's lack of company knowledge. While the focus has been on Cancer and pre-natal screening for the other genetic testing names, by virtue of its four dozen long list of biopharma partners, Invitae has been given an enormous moat -- multiple disease specialties.

That's right -- with each biopharma that pre-purchases genetic tests for rare diseases, Invitae becomes the defacto leader in the data for that disease and this goes well beyond cancer to diseases like:

* Spinal muscular atrophy (SMA) with Biogen

* Hereditary ATTR amyloidosis with Alnylam

* Child epilepsy with BioMarin

* Duchenne muscular dystrophy (DMD) with Sarepta

* Urea cycle disorder (UCD) with Horizon Therapeutics

* Primary Immunodeficiency Disease with X4 Pharmaceuticals

* AstraZeneca and Merck & Co

* Jazz Pharmaceuticals

... and three dozen more.

The next major biopharma will also come to Invitae, and again it will add to Invitae's moat -- with more imprimatur from the biotechs for more clinicians.

Invitae is already the defacto leader in these rare diseases, the count is growing, the biopharma partners are growing, the biopharma business is growing, and Invitae is going to dominate the rare disease market.

Where is Myriad in this world? A cancer panel? No, Invitae is after all of it, telling the investing public and science space that is has methodical precision and comprehensive coverage.

But it's not just people at risk of rare diseases that impact the business. Where will 'healthy' people go to test their genes? Where would you go given the enormous state of fraud the industry is in?

Will it be the place that does that one test that your doctor has heard of? Or will it be that place that 50 biopharmas use and covers all of the diseases with superior accuracy?

That is what Invitae is building.

This is a moat where the winner takes all because a genetic test has a purpose -- it needs to deliver answers. Soon enough, the answer will be Invitae.

Conclusion: Invitae has earned the imprimatur of United Health Care -- the largest healthcare company in the world by revenue, with 2018 revenue of $226.2 billion and 115 million customers. The PLN is an exclusive group and is therefore a moat by definition. These are the facts and they are not disputed other than by anonymous.

Will the stock go up?: I don't know what the stock will do, I know the statements above are true and the omissions made by the short-seller are fatal to the argument.

VI. Point by Point - A Dying Industry The short seller points out that the genetic test by test industry is dying. He says:



The Overall Economic Landscape of the Space Is Unappealing and Serious Questions Are Being Raised About the CLINICAL Usefulness of These Tests.



This is absolutely true (and this is a part of the MYGN decline in growth and valuation). In fact, one of the first times I spoke with CEO Sean George, he told me that this trend was coming. Here are his exact words:



The genetic diagnostic industry, as we know it, is dead. The [old] space is dead and we are building a new model of it.

The future is a network, in which there will be essentially one winner, where information is used by the entire network and patients are treated throughout their lifetimes, likely, for some, from birth to death. Not to address just an one-time fear or event, but an entire life cycle.

When technologies disrupt, it happens way faster than anyone thinks, and the stable denizens are the last to know.



The short-seller furthers his point when he writes:



Also, clear financial evidence of a deflating bubble is mounting...



The conclusion is fast here -- yes, the cookie cutter test-by-test menu genetic testing is dead. Those companies are going bankrupt, likely up to three dozen a year.

At the same time as dozens of companies go bankrupt, Invitae has seen revenue grow from $25 million at the time of the comments from Sean, to $176 million in the trailing twelve months with company guidance to "at least" $220 million by year end. Gross profit has gone from negative to a positive $90 million.

Gross margin percent has gone from negative to hitting the long-term goal of 50 percent.

These are the facts, and they are not disputed, other than by the anonymous short-seller.

You can map out the fundamentals of the business. You can map out the volume, map the revenue, map the operating expenses, and you can see that the leverage is there. No matter the bear thesis, facts are facts.

This doesn't mean the future will absolutely hold a continued improvement.

Conclusion: Yes, the test-by-test genetic testing industry is dying, and rather quickly. That is to Invitae's benefit. While the company may very well get caught in a swoon when some of these dying lab companies potentially turn to fraud, in the long-term it focuses regulators, doctors, biopharma, and individuals to look for quality. There is differentiation, they are not all the same, and it really does matter.

Will the stock go up?: I don't know what the stock will do, I know the statements above are true. Further, we know that Invitae is banking on the fact that the genetic testing industry as we have known it is dying.

Not from the Short Seller - Ophir's Opinion How Invitae Can Prove Its Network Value Explicitly There is a metric called 'net-dollar based expansion.' This metric is most often used in the software space.

The metric measures the revenue that comes from existing customers and its growth. Specifically the metric is calculated by taking the revenue driven by a group of customers of a certain size (there is a size threshold to make it material) one-year ago, and then reporting the revenue in percent terms for that same group the next year.

If that number is zero, or near zero, it means there are no repeat customers -- there would be no network effect. This is the position that all of the bankrupt genetic test companies are suffering. But, we know that Invitae has repeat customers and the company refers to them as "same store sales" on the earnings calls.

I urge Invitae to demonstrate the value of the network and the moat of gaining traction with clinicians by reporting the net-dollar based expansion. If this number is even 25%, it would mean that all the effort (read: money) spent to acquire a clinician or hospital customer does in fact have a recurring revenue portion.

If Invitae were to explicitly demonstrate this, a portion of its revenue would get a higher multiple, as recurring revenue always does.

It is this number that is missing from the final analysis, and if revealed would change the perspective of the investing world from one of a test-by-test company, to one of a network.

There are only so many times the company can say the words -- now is the time for the company to share the numbers. I believe that change in perspective would dramatically improve the bullish thesis.

To be clear, I would like to see Invitae share the amount of revenue it gets from prior customers of a certain size (clinicians and hospitals) every year. A metric that is often used in the software business and is a proxy for recurring revenue.

The rest of the points - Conclusion
There were more arguments brought up by the short-seller, but at some point it comes down to a fundamental decision, which I have now repeated for a year.



Someone is Very Right and Someone is Very Wrong.

Either you believe Invitae is right, or you do not. Either you believe that Invitae is creating a moat surrounding brand, bio-pharmas, test cost, test quality, content specialty, data, machine learning, and insurance coverage, or, you do not.

Either belief is perfectly reasonable. A belief in false statements, introduced by the short-seller as facts, is not reasonable.

If you are long Invitae stock, you believe the company is right and Wall Street is wrong.

That's it. It's a belief system. No more and no less.

This is not religion.



I can't tell you what will happen in the future, but I can tell you what I think will happen in the future.

* I believe that Invitae saw the implosion of the test-by-test world early on. I believe that because the CEO told me early on, which is to say it is a fact that he believes it.

* I believe building a genomic network, powered by institutions, particularly biopharmas, along with clinicians, means generating and leveraging a pool of unique data.

* I believe going after the consumer before these steps are taken puts companies in a point of no differentiation, other than brand. That's why Invitae didn't do it.

* I believe the forecasts from virtually every research platform that shows genetic testing will reach from ten million last year, to hundreds of millions within ten years.

* I believe that the exponential increase in genetic testing, combined with increased scrutiny by regulators, and therefore increased scrutiny by consumers, is to Invitae's advantage.

* I know that Invitae beat analyst estimates last quarter, that the stock rose due to that report, and that some questions on the call from analysts came directly from their short seller clients. I was told that. That is fact.

* I know that the last piece of financial performance data we got from Invitae was that last quarter noted above. It was a beat. The stock rose. Full year guidance was maintained.

* I do not believe in dying on a hill for a stock. Stocks are our vehicles for investment. That's what we're doing here at CML Pro -- we're discussing research on investments, without making recommendations. If something changes my mind, I say it. I have said it for many other companies before. But I am not saying it now. Not today. Not because of a hit piece.

These are the things I think. You can feel free to think differently. I urge you to dig out factual errors from your cognition, which is a fancy way of saying, I urge you not to believe lies. They are easy to swallow whole when an impassioned short-seller presents them and distracts you from them by putting shiny objects in every corner of the room, like "Theranos" and "Stock is going to zero."

That's all I have. For now, we maintain our number one position in Spotlight Top Pick status for Invitae (NVTA). Please be aware of the risk inherent in a company that is still cash flow negative.

The author is long shares of Invitae and call options.

Thanks for reading, friends.

More Like This
If enjoyed this type of analysis, long or short, we invite you to try CML Pro: Find the technology stocks we are most bullish on, and why. We have an audited track record that crushes the market that is being published in October that covers years of performance versus a benchmark.

Legal The information contained on this site is provided for general informational purposes, as a convenience to the readers. The materials are not a substitute for obtaining professional advice from a qualified person, firm or corporation. Consult the appropriate professional advisor for more complete and current information. Capital Market Laboratories ("The Company") does not engage in rendering any legal or professional services by placing these general informational materials on this website.

The Company specifically disclaims any liability, whether based in contract, tort, strict liability or otherwise, for any direct, indirect, incidental, consequential, or special damages arising out of or in any way connected with access to or use of the site, even if we have been advised of the possibility of such damages, including liability in connection with mistakes or omissions in, or delays in transmission of, information to or from the user, interruptions in telecommunications connections to the site or viruses.

The Company makes no representations or warranties about the accuracy or completeness of the information contained on this website. Any links provided to other server sites are offered as a matter of convenience and in no way are meant to imply that The Company endorses, sponsors, promotes or is affiliated with the owners of or participants in those sites, or endorse any information contained on those sites, unless expressly stated.