The Technology Company Ready to Explode Higher


Fundamentals

PREFACE
Make no mistake, while there is risk here, this is the kind of company that could quadruple, with a market cap today of just $2.25 billion as it introduces a revolutionary and disruptive technology.
First, some housekeeping, when we discuss the technology we will use the short-hand OLED, but when we refer to the company we will refer to it as Universal Display (ticker: OLED).
THE STORY
Organic light-emitting diode (OLED) technology is on the verge of enormous adoption, and Universal Display, with the aptly derived stock ticker, OLED, may well be ready to explode higher. The company claims to have over 3,500 issued and pending patents worldwide covering OLED technologies, materials and processes. This is exactly how technology dominance is created.
TECHNOLOGY: OLED
OLED the technology is the enabler for "roll up phones," incredibly high quality resolutions on phone and TV screens and another segment that may be larger than all of them. It's also the technology that allows for the creation of TVs that are 4
millimeters
wide.
Compared to the predominant LCD technology OLED offers better performance, more
energy efficiency
, a thinner and flexible form factor, and better color and contrast. In short, this is a a
radically
disruptive technology.
TECHNOLOGY: COST
Before we get into the enormous growth opportunity, which includes Apple's new phones, here's a quick look at how the cost to manufacture the technology is plummeting.
COST REDUCTION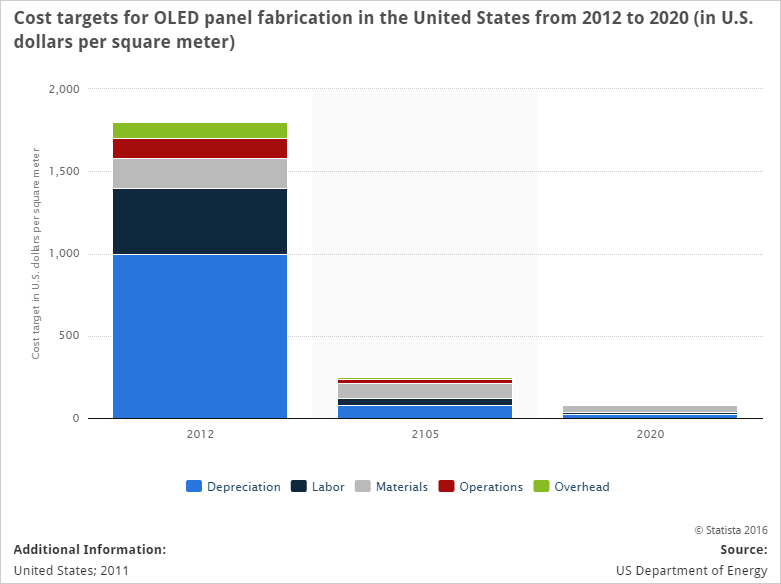 We're looking at 99% cost reduction. Now, the opportunity that lies ahead.
I. OPPORTUNIY: TV
The revenue forecasts for the overall Organic light-emitting diode TV segment is so astounding, that the chart looks like a mistake. Here it is:
GROWTH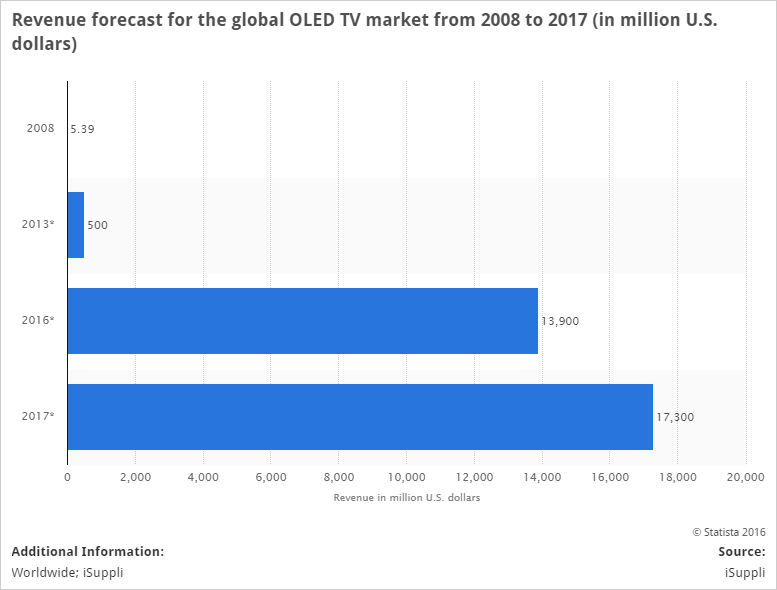 We're looking at a 2,680% revenue increase from 2013 to 2016, and another 25% leap from 2016 to 2017. Already, two of the largest TV makers Samsung and LG are pushing Universal Display (ticker: OLED) technology in their television product lines.
Yes, Samsung and LG are already customers and LG signed a long-term license and material supply agreement through the Dec. 31, 2022 (Source:
Motely Fool
.)
II. OPPORTUNIY: PHONES
The next evolution for OLED technology is plastic and flexible displays. Here's the forecasted growth of the flexible technology for all displays:
GROWTH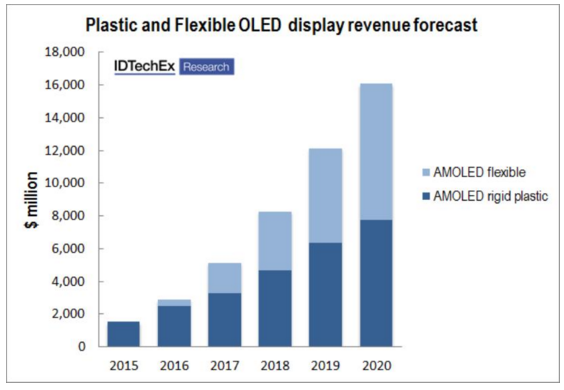 We're looking at revenue growth from under $2 billion in 2015 to $16 billion by 2020 for just this small subset of the technology.
Apple has long been the crown jewel for Universal Display (ticker: OLED) and rumors have swirling for months that Apple will use the company for its newest iPhones. We note that Apple Watch already uses OLED. On December 30th we got this:
Shares of Universal Display Corp. (OLED) are jumping 7.18% to $56.12 early Wednesday afternoon after a report said Apple (AAPL) would begin using organic light emitting diode (OLED) screens in its iPhones.
OLED develops and commercializes OLED technologies and materials for displays of wearables, smartphones, tablets, televisions and solid-state lighting applications.
LG Display Co. (LPL) and Samsung Electronics Co.'s (SSNLF) panel-making unit are said to be close to finalizing a deal with Apple to begin supplying OLED screens for iPhones, the Electronic Times reports.
Source:
The Street
Before that December report, a report in the Korea Times on November 22nd already intensified the iPhone speculation:
"Samsung Display has recently renewed talks with Apple to supply its small-sized OLED displays for the next iPhones to be released in a few years, which I believe is around 2018," a high-ranking industry executive told The Korea Times last week.
Source:
Korea Times
Better yet, during the 2015 Goldman Sachs U.S. Emerging/SMID Cap Growth Conference, Universal Display (ticker: OLED) CFO Sidney Rosenblatt stated he believes "it's only a matter of time" before Apple introduces an OLED iPhone. After all, he noted, longtime Apple supplier Foxconn has ordered equipment for OLED manufacturing in 2017, and earlier this year (Source:
Motley Fool
).
Even if Apple does go with OLED technology and Universal Display (ticker: OLED), that revenue won't hit until 2017. But there is massive growth ahead, even for 2016.
STOCK: UNIVERSAL DISPLAY (OLED)
As we note prior, the stock that could benefit the most from this seismic shift to the new technology is Universal Display (ticker: OLED). With a wall of patents as its defense and cutting edge technology, there is so much upside to this company it's almost unthinkable.
While TV adoption of the OLED technology is seen to grow at a staggering 27% compounded an annual growth rate (CAGR) through the year 2025, believe it or not, the automotive and aerospace segment is projected to grow at a 42% CAGR (Source:
IDTechEx
).
But still, there is one
other
segment even larger that Wall Street has not caught onto that the CML Pro research dosier has found is likely to hit over
$100 billion in market size by 2020
. Even more staggering, the company
already
has partnerships in place with the largest companies that will bring this new market forward and in fact, some are already available for sale.
THE FUTURE UPSIDE
Identifying the most critical themes that will shape the world and then finding the best companies inside those segments that will benefit is critical to successful investing. This is what we do at CML Pro: create our 'Top Picks' list with the precious few companies that will lead the future.
Universal Display (ticker: OLED) simply licenses technology and sells materials into a booming smorgasbord of markets. It doesn't matter if LG or Samsung wins in TV, or if Samsung or Apple wins in mobile, as long as OLED technology becomes the de facto standard for displays, Universal Display wins, huge.
HUGE SHIFT
Universal Display (ticker: OLED) is evolving into a licensing model rather than manufacturing model and the results are staggering. Here is the chart of Revenue per Employee in $ millions.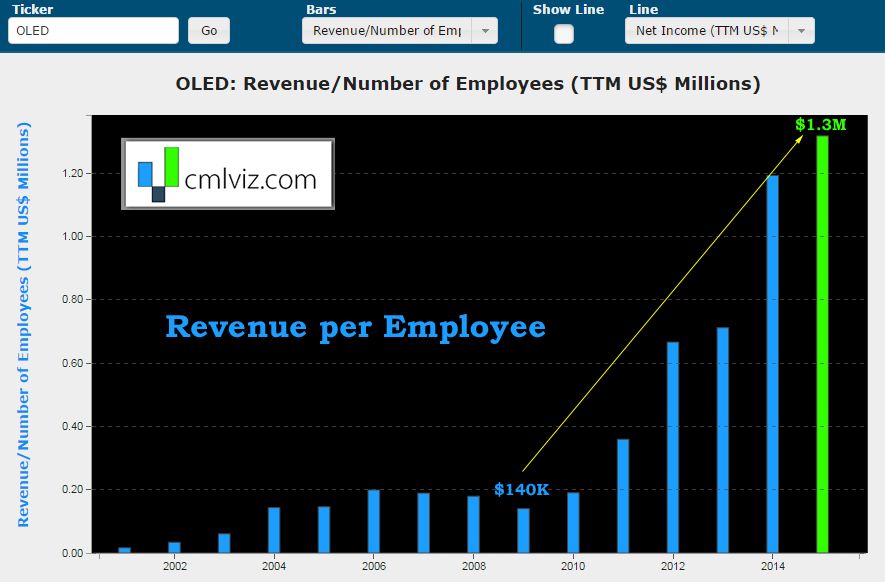 Revenue per employee has grown from $140,000 in 2009, to now over $1.3 million.
It's easy to see why analysts are excited about the prospect of renewed revenue growth powered by iPhone adoption of OLED. Thanks to its licensing and royalty model Universal Display (ticker: OLED) has become far more efficient at generating cash and new revenues should fall to bottom line at increasingly high rates.
While there is risk here, this is one of the few technology gems sitting inside one of the fastest growing markets in any industry with a legitimate chance of seeing its enterprise value rise several fold over the next five years.
We break news every day. Discover the Undiscovered.
Get Our (Free) News Alerts Once a Day.
WHY THIS MATTERS
If any of the information we just covered feels like a surprise, in many ways it is. The mainstream media doesn't have the vocabulary to understand breaking technology and the top analysts that represent the wealthiest 1% of Americans have no interest in sharing the data they are
keenly
aware of.
In fact, institutions already own more than 50% of Universal Display's (ticker: OLED) stock.
CML Pro research sits by side-by-side with research from Goldman Sachs and the rest on professional terminals but we focus on thematic investing, then pick the top companies in each booming trend, like artificial intelligence, the Internet of Things, drones, cyber security, driverless-car technology, apparel and more.
This is just a snippet of the fantastic reports CML Pro members get along with all the visual tools, the precious few
top picks for 2016
that cover all of the rule breaking segments of our future, research dossiers and alerts. For a limited time we are offering CML Pro at a 90% discount for $10/mo. with a lifetime guaranteed rate.
Join Us: Get the most advanced premium research delivered to your inbox along with access to visual tools and data that until now has only been made available to the top 1%.
Thanks for reading, friends.