The King of Cyber Security May Have Been Decided



Fundamentals
Written by Ophir Gottlieb, 01-12-2016
PREFACE
There's one area of technology that is growing so quickly, and so urgently, that even a stock market correction may not be enough to derail the winners.
PALO ALTO NETWORKS
Palo Alto Networks (PNAW) is the company CML Pro has earmarked as the soon to be crowned champion of cyber security. The company could start to decouple from the market's noise because its growth opportunity is so large, that even a recession might not stop it. Check this image out.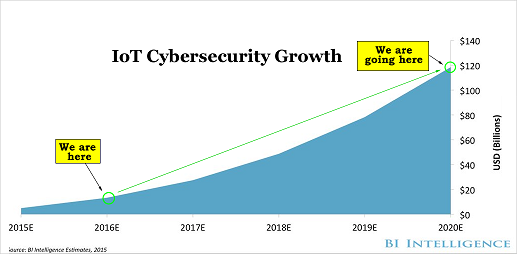 Yes, just cyber security for the Internet of Things (IoT) segment is growing from $20 billion to $120 million in five years. Total market size should cross $170 billion by 2020.
Market correction or not, recession or not, the growth in this area is a near certainty, even if projections come down, this is happening.
We write one story a day to uncover new opportunities and break news.
Come on in: Get Our (Free) News Alerts Once a Day.
GROWTH
PANW has realized revenue, operating margin, net income and R&D increases over the last year. Let's start with its impressive all-time revenue chart: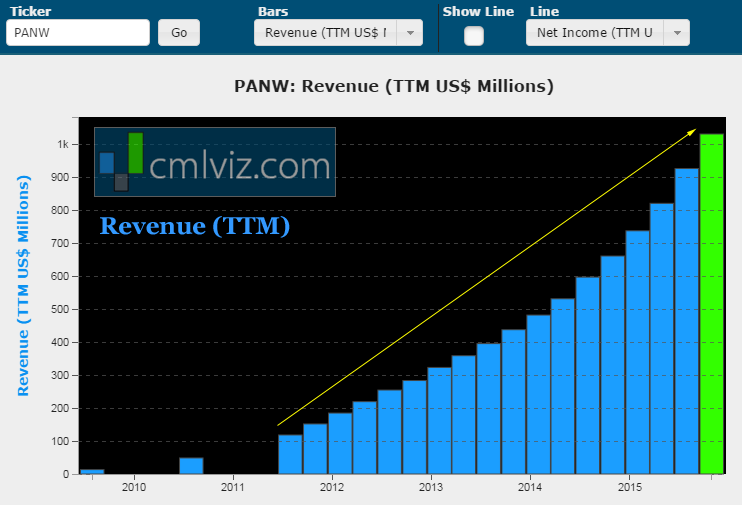 Revenue in the trailing-twelve-months broke $1 billion for the first time ever off of last earnings report's blow-out. The company has seen its revenue (TTM) rise and break new all-time highs every single quarter it has been public. We see 56% year-over-year growth and 136% revenue growth over the last two-years.
While the company is yet to turn a profit, it has now broken an all-time high in levered free cash flow (FCF) which is up 29% year-over-year and an astounding 360% in the last two-years.
Finally, the company has increased its expenditures (investment) in research and development (R&D) every single quarter is has been public, for 21 consecutive quarters. Here's the chart: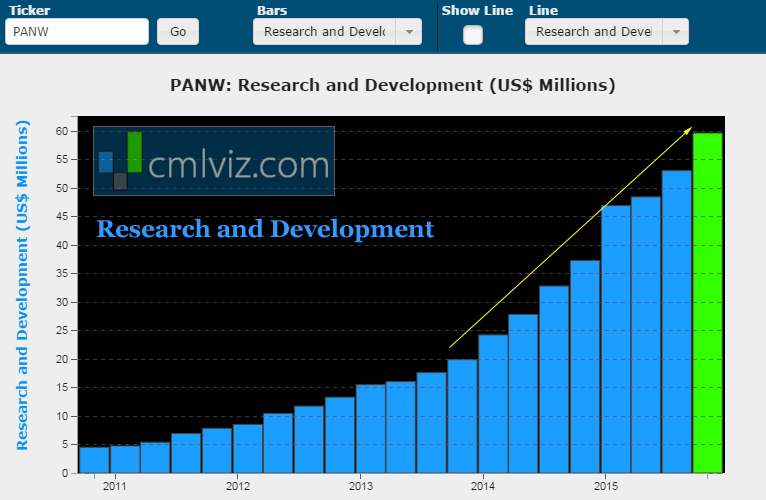 Get one stock gem a day:
Try CML Pro. No credit Card. No Payment Info. Just the Power.
THE STORY
The company beat earnings on November 23rd and Barron's Tech reporter Tiernan Ray noted that "the company did much better than did some peers this earnings season, in particular, the disappointing report on November 5th of FireEye (FEYE)" (Source:
BARRON'S
).
To some, this is evidence of a shake-out in the security market, with Palo Alto one of the survivors. [Further] Analysts are saying they see a larger addressable market for the company than they had thought.
Yes, it's time to get bullish.
Losses aside, William Blair analyst Jonathan Ho takes the cake when he wrote that Palo Alto Networks, alone,
stands the greatest shot at becoming the largest vendor in the cyber security space.
The Internet of Things space will see over 50 billion devices by 2020, and every single one will need security as we integrate our driving, phones, contacts, email, payments, fitness and everything else into every device we own. Checkout the IoT growth that is projected.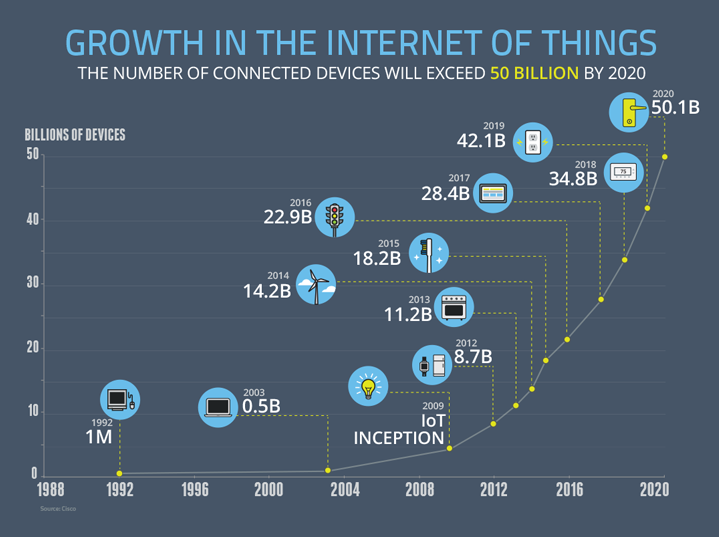 WHY PANW IS DIFFERENT
The company has what its CEO has called "fundamentally and disruptively different" technology. To really understand this company, we need to get into the guts of its inner workings. The full research dossier that puts us beyond headlines is available in CML Pro.
PANW is actually taking business away from CSCO, JNPR and other companies and now stands with over 26,000 enterprise customers are the reference point for beating rivals. That's a customer base growth of 35%.
It's also the company's differentiated technology that has created a firm that now serves approximately half of the Forbes Global 2000. This is not a US pure play — this is an international giant.
And, perhaps my favorite research note from William Blair's Jonathan Ho read like this:
In our view, the framework for evaluating Palo Alto is likely to shift from market share gainer to scenarios in which the company can become potentially the largest vendor in the cybersecurity space, driven by its market share gains.
MORE
The stunning growth for PANW comes from its largest customers. There's just no other way to say it, the company is growing market share and beating rivals.
To read the full professional research dossier for Palo Alto Networks, and to really understand its differentiation and growth you can read it in CMl Pro.
WHY THIS MATTERS
The information asymmetry that exists between pros and non-pros has transferred massive wealth to the top 1%. That information asymmetry is no longer acceptable to us. In fact, it infuriates us.
Cyber security is just one of the trends and segments we look to invest in to profit. There are others, like artificial intelligence, virtual reality, drones, smart cars and the Internet of Things (IoT). CML Pro members have access to the single top pick in each of these segments.
This is just one of the fantastic reports CML Pro members get along with all the charting tools,
top picks for 2016
, research dossiers and alerts. For a limited time we are offering CML
Pro
at a 90% discount for $10/mo. with a lifetime guaranteed rate.
Join Us: Get the most advanced premium research delivered to your inbox along with access to visual tools and data that until now has only been made available to the top 1%.
Thanks for reading, friends.