Quintiles Transitional Holdings Inc, Q, earnings, option, swing, short-term
Swing Trading Earnings Bullish Momentum With Options in Quintiles Transitional Holdings Inc

Quintiles Transitional Holdings Inc (NYSE:Q) : Swing Trading Earnings Bullish Momentum With Options
Date Published:
2017-07-30

Preface
This is a short-term swing trade, it won't be a winner forever, and it can easily be derailed by a couple of down days in the market irrespective of Quintiles Transitional Holdings Inc (NYSE:Q) news, but for now it has shown a repeating success that has not only returned 364% over the last 3-years, but has also shown a win-rate of 90.9% over those 3-years, and has won all the last 4 earnings cycles.

According to NASDAQ, Quintiles IMS Holdings is due to have earnings on August 3rd, before the market opens, and that means "3-days before earnings" would be July 31st.

IDEA
The idea is quite simple -- trying to take advantage of a pattern in short-term bullishness just before earnings, and then getting out of the way so no actual earnings risk is taken. In the meantime, the position will have a better chance of succeeding if the broader market doesn't fall in a wave of short-term selling that would disrupt everything.

The Short-term Option Swing Trade Ahead of Earnings in Quintiles Transitional Holdings Inc
We will examine the outcome of going long a monthly call option in Quintiles Transitional Holdings Inc just three calendar days before earnings and selling the call one day before the actual news. (Quintiles IMS Holdings, Inc. provides integrated information and technology-enabled healthcare services in the Americas, Europe, Africa, and the Asia-Pacific.)

This is construct of the trade, noting that the short-term trade closes before earnings and therefore does not take a position on the earnings result.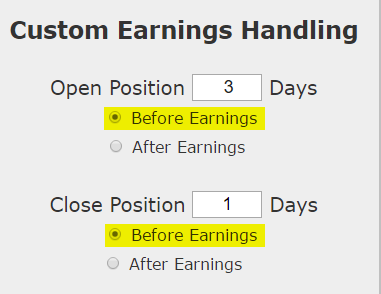 Below we present the back-test stats over the last three-years in Quintiles Transitional Holdings Inc:


We see a 364% return, testing this over the last 11 earnings dates in Quintiles Transitional Holdings Inc. That's a total of just 22 days (2-day holding period for each earnings date, over 12 earnings dates).

This short-term trade hasn't won every time, and it won't, but it has been a winner 11 times and lost 1 time, for a 90.9% win-rate and again, that 364% return in less than one-full month of actual holding period.

The trade will lose sometimes, and since it is such a short-term position, it can lose from news that moves the whole market that has nothing to do with Quintiles Transitional Holdings Inc, but over the recent history, this bullish option trade has won ahead of earnings.

Setting Expectations
While this strategy has an overall return of 364%, the trade details keep us in bounds with expectations:


➡

The average percent return per trade was 25.5%.

Looking at More Recent History
We did a multi-year back-test above, now we can look at just the 13-months (to capture 4 earnings cycles):


We're now looking at 41.5% returns, on 4 winning trades and 0 losing trades.


➡

The average percent return over the last year per trade was 22.4%.

THINGS TO NOTE
This company's options are not very liquid -- in fact it only averages 570 option contracts traded a day. The execution price is critical to all trades, but in particular when trading options with wide spreads. We note the possibility that a good fill may turn out to be quite difficult, and if that's the case, then this trade would likely just be a "don't trade" for some investors.

WHAT HAPPENED
Bull markets tend to create optimism, whether it's deserved or not.

The pattern of this bull market reveals a bullish run up before earnings in the very short-term -- independent of the realized earnings result. This has been a tradable phenomenon in Quintiles Transitional Holdings Inc.

To see how to do this for any stock we welcome you to watch this quick demonstration video:
Tap Here to See the Tools at Work

Risk Disclosure
You should read the Characteristics and Risks of Standardized Options.

Past performance is not an indication of future results.

Trading futures and options involves the risk of loss. Please consider carefully whether futures or options are appropriate to your financial situation. Only risk capital should be used when trading futures or options. Investors could lose more than their initial investment.

Past results are not necessarily indicative of future results. The risk of loss in trading can be substantial, carefully consider the inherent risks of such an investment in light of your financial condition.