Qualcomm versus Intel: this Chip Giant is the Best Buy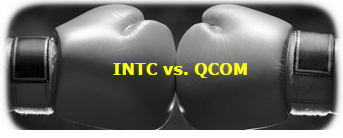 Chip Giants
Our purpose is to provide institutional research to all investors and break the information monopoly held by the top .1%.
PREFACE
Intel is the world's largest chip maker while Qualcomm comes in at number three. Intel is the dominant force in PCs and laptops, which means it now has a wide open market into cloud computing. Here's how large that thematic trend will grow to:
CLOUD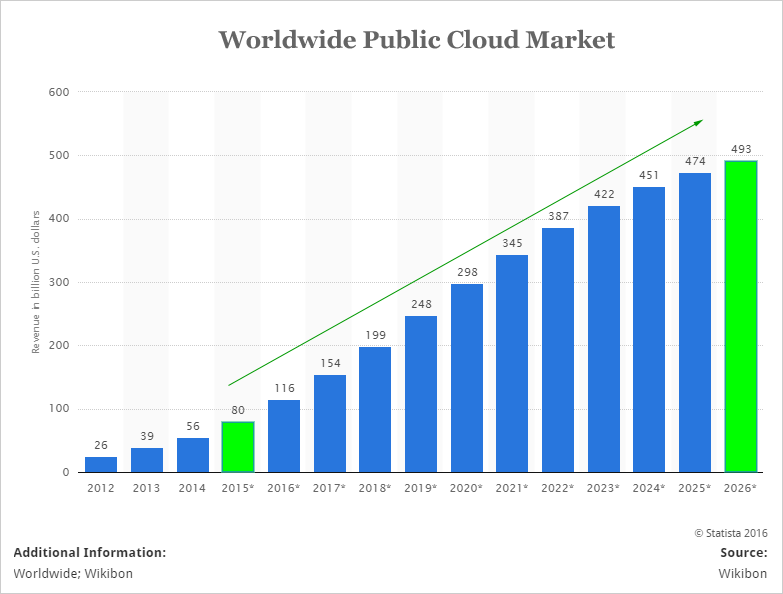 Friends, we're looking at the trend in this theme that is going to grow from $80 billion in 2015 to nearly half a trillion dollars in 2026. It will nearly triple from last year to 2020. If we slice that down to what Goldman Sachs calls cloud "platform" market share, we get this: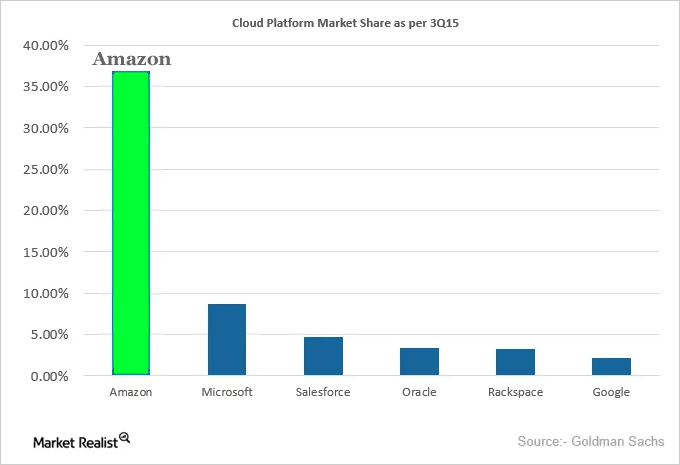 We see Amazon (AMZN) and Microsoft (MSFT) as the leaders right now. But, the beauty behind Intel's bullish thesis is that it really doesn't matter which firm dominates the cloud because over 95% of the chips in
every
cloud come from Intel.
Remember, Alphabet / Google (GOOG, GOOGL) just snatched $500 million of Apple's cloud business away from Amazon and soon Apple will have its own cloud business. So, yes, the long lost and forgotten behemoth that is Intel is now directly in line to take a massive growth market. The cloud side of the business already accounts for 25% of Intel's revenue.
On the other side, we have Qualcomm. There are two tremendous thematic shifts this firm is chasing. First, simple as can be -- smartphones:
SMART PHONES
We're looking at 44% growth in the smart phone market and India is just now coming to the forefront -- a smartphone market that will eclipse the United States as of this year. Here is the market share chart via Statista from 2014:
SMART PHONE CHIP MARKET SHARE
Again the beauty behind QCOM lies in the reality that it doesn't really matter which phone company wins because the guts behind most of them are the Qualcomm chips, save for Apple (AAPL) and its own 'A chips.'
Not to be undersold, QCOM is making gentle but legitimate headway in to the drone market. Here's how that theme looks to play out:
DRONES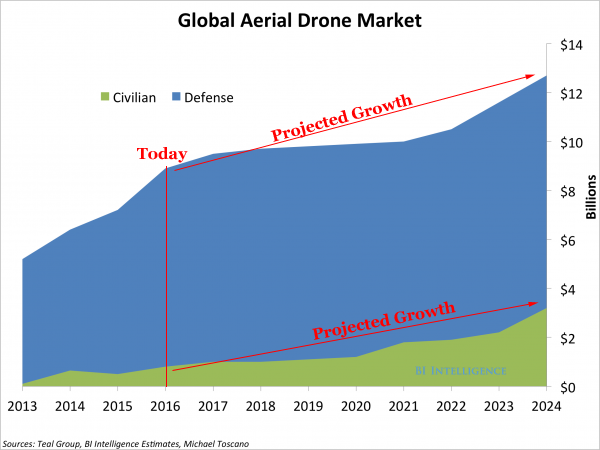 Drones were named as one of the four critical new technologies at the Consumer Electronics Show (CES) this year and we can see how the market has legs to grow. Qualcomm is competing here with some incumbents as well as a gorgeous smaller tech company named Ambarella (AMBA).
Both Intel and Qualcomm have seen very tough times of late but also have potentially bright futures. So which stock has more upside potential?
HEAD-TO-HEAD
When it comes down to it, both of these companies are fortunate enough to be in the middle of thematic trends that will drive revenue for almost all participants higher. But, let's do a head-to-head comparison and see if we can't nail one down as having more potential than the other.
➤ Income Statement
* Revenue: INTC has substantially higher revenue in the last year than QCOM. Raw revenue comps do not affect the head to head rating, but the trends do. Check out the chart of revenue for Intel, followed immediately by the chart for QCOM:
INTC REVENUE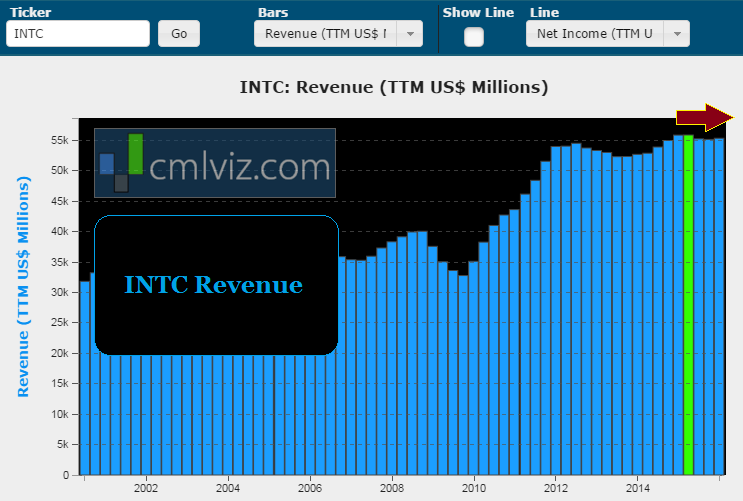 If flattening revenue looks ugly, then friends this next Qualcomm chart needs a new adjective:
QCOM REVENUE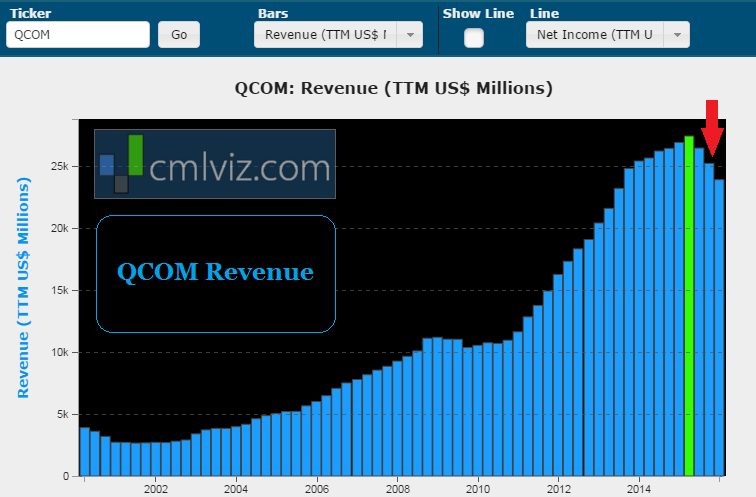 Yikes. The edge here goes to Intel, the trend has flattened but we see a legitimate turnaround in the makings with an established position in the cloud boosting a PC business that is dropping.
* Revenue per Employee: QCOM generates notably larger revenue per employee ($766,000) than INTC ($516,000). Here's the chart:
That revenue per employee number is critical and the edge is decidedly in Qualcomm's favor.
➤ Margins
* Operating Margin: INTC generates $1.40 in revenue for every $1 of expense, very similar to QCOM's $1.35. Here's the side-by-side chart: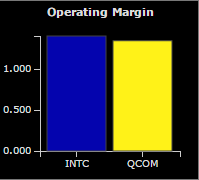 We'll call it a draw.
* Free Cash Flow: QCOM generates $0.24 in levered free cash flow for every $1 of revenue, substantially higher than INTC's $0.15. QCOM shows the upper hand here and it's far from trivial. But the growth rates are going to turn this comparison on its ear.
➤ Growth
* Revenue Growth: Both companies have shrinking revenue. QCOM revenue is shrinking faster than INTC. Here's the side-by-side chart: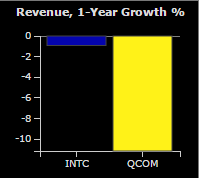 We can see Intel has held it together, but QCOM has not. There is a tiny whiff of desperation for the QCOM camp -- that revenue shrinkage is not trivial, nearing -12% year-over-year.
* Net Income Growth: Both companies show shrinking net income (after tax earnings), but again, QCOM is getting walloped. Here's the side-by-side chart: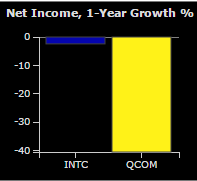 * Valuation: For every $1 in revenue, the stock market prices in $2.76 in market cap for INTC and $3.19 in market cap for QCOM. Here's the side-by-side chart: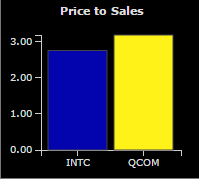 Intel shows a price to sales of ~2.76 versus Qualcomm's 3.2. A part of that difference comes from the dip in QCOM's revenue and the market pricing in a recovery. That's likely true, but certainly not a sure thing.
Ultimately, while both of these companies are colossal powerhouses in the semi-conductor world, we see Intel with a clearer path to recovery than Qualcomm, although we do see Qualcomm moving into more diverse areas. We think Intel has greater upside right now based on the analysis above, including the dominant position in the cloud.
WHY ANY OF THIS MATTERS
Of course, this is just the start of analysis, not the end. But the thought process is what's critical. Look to the companies that will power transformative shifts in technology regardless of the brand that ultimately wins the headlines. So, to find the 'next Intel' or 'next Qualcomm,' or even better, the 'next Apple' or the 'next Google,' we have to get ahead of the curve. This is what CML Pro does. Our research sits side-by-side with Goldman Sachs, Morgan Stanley and the rest on professional terminals, but we are the anti-institution and break the information advantage the top .1% have.
Each company in our 'Top Picks' is
the single winner
in an exploding thematic shift like artificial intelligence, Internet of Things, drones, biotech and more. In fact, here are just two of the trends that will radically affect the future that we are ahead of: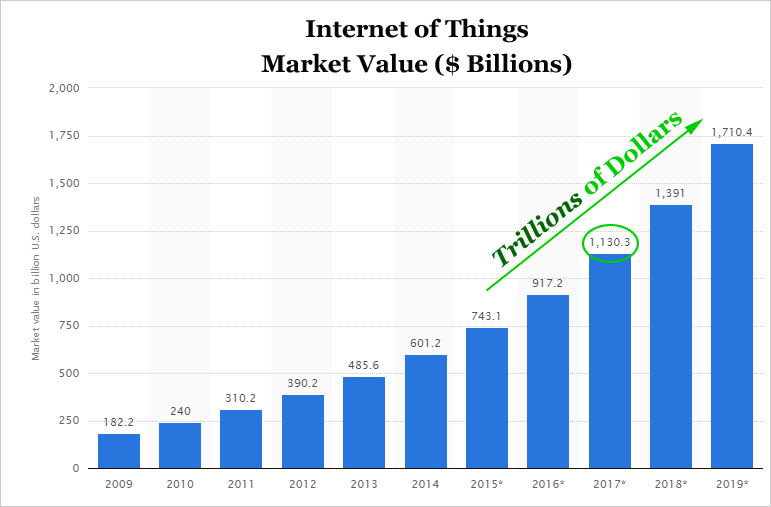 The Internet of Things (IoT) market will be measured in
trillions
of dollars as of next year. CML Pro has named the
top two companies
that will benefit. Then there's cyber security: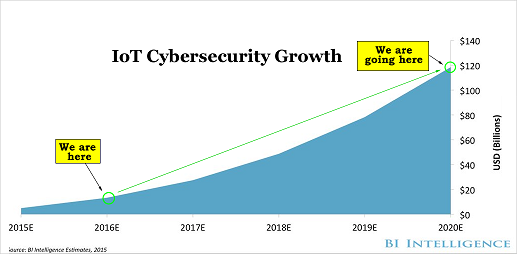 Market correction or not, recession or not, the growth in this area is a near certainty, even if projections come down, this is happening. CML Pro has named
the single best
cyber security stock to benefit from this theme.
These are just two of the themes we have identified and this is just one of the fantastic reports CML Pro members get along with all the visual tools, the precious few
thematic top picks for 2016
, research dossiers and alerts. For a limited time we are offering CML Pro at a 90% discount for $10/mo. with a lifetime guaranteed rate.
Join Us: Get the most advanced premium research delivered to your inbox along with access to visual tools and data that until now has only been made available to the top 1%.
Thanks for reading, friends.