The Secret's Out: This Tech Gem Warring with Apple, Google and Microsoft


Fundamentals

Our purpose is to provide institutional research to all investors and break the information monopoly held by the top .1%. Thanks for standing with us.
PREFACE
For the longest time the operating system (OS) world existed in two places: Microsoft and Apple. Then Google stunned the world by not only introducing Android, but by making it open source. That move has made Android the single most used OS in the world.
The problem, of course, is that the OS ecosystem still sat with the mega giants in technology. But if we lean in and listen, really closely, like it's a secret, we'll be reminded of another company with an open source OS that has seen revenue growth for 56 straight quarters.
THE COMPANY
Red Hat (RHT) is the world's largest provider of open-source solutions, providing software to 90% of Fortune 500 companies. It is the inventor of the Linux operating system (loosely speaking). The company has a stated goal of becoming the single leader of enterprise cloud computing and of course, Linux is its weapon. Here is the company's incredible revenue chart:
We can see is up 15% year-over-year and 34% over two-years. But there's so much more.
The success of Redhat has created an entire line of new businesses dedicated to an open source foundation. Here's a chart that shows the massive build in VC money going to open source start-ups: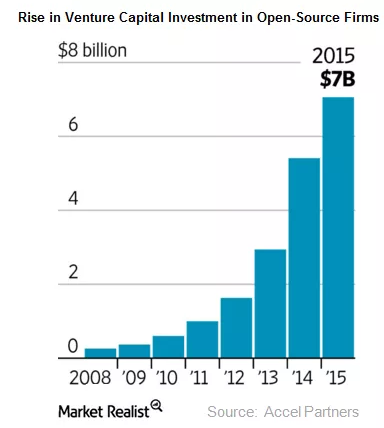 In fact, Open-source software provides the foundation for Facebook (FB) and Twitter (TWTR), not just Google (GOOG) (GOOGL). Even further, Red Hat's OS powers various corporate servers, financial trading platforms, and Android phones (Source:
Market Realist
).
But it's muc bigger than that. Here comes the real story:
THE BIG TIME
Cloud computing is the backbone to one of the largest thematic trends in all of technology -- and really all of the world. Here is the expected growth in the world of the cloud: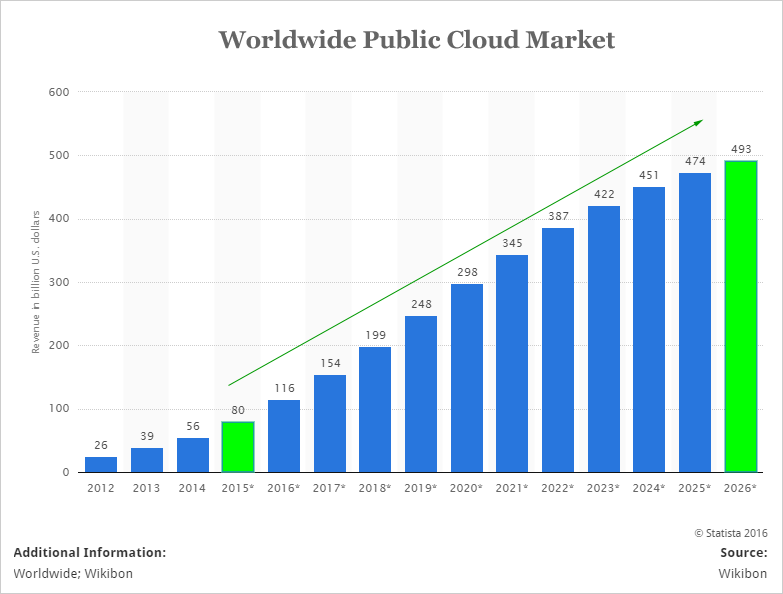 Projections see the market growing from $80 billion last year, to half
a trillion
within a decade, according to a study by Wikibon. Red Hat has become so prominent in this area, that it actually made Microsoft blink: The inventor and defender of Windows announced support for Linux on its cloud-computing platform Azure. Here is how the cloud world breaks down by market share: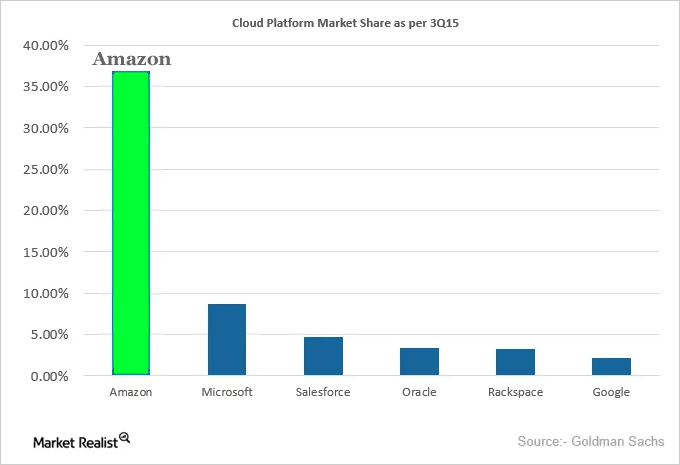 Amazon is highlighted as the largest player, famously known for hosting Netlfix (NFLX) and its cloud computing colossus allows for Linux servers. But don't lose sight of number two -- that's Microsoft and their hand has been forced as well, also offering the Linux in its cloud.
We write one story a day using visuals to break critical news.
Get Our Free News Alerts Once a Day.
Even further, Red Hat has a strong product pipeline and partnerships with IBM and Intel (INTC).
THE FINANCIAL GUTS
Red Hat is a money maker, it's not some hopped up new comer that generates revenue at the expense of running a real business. Here is the company's net income (TTM) chart: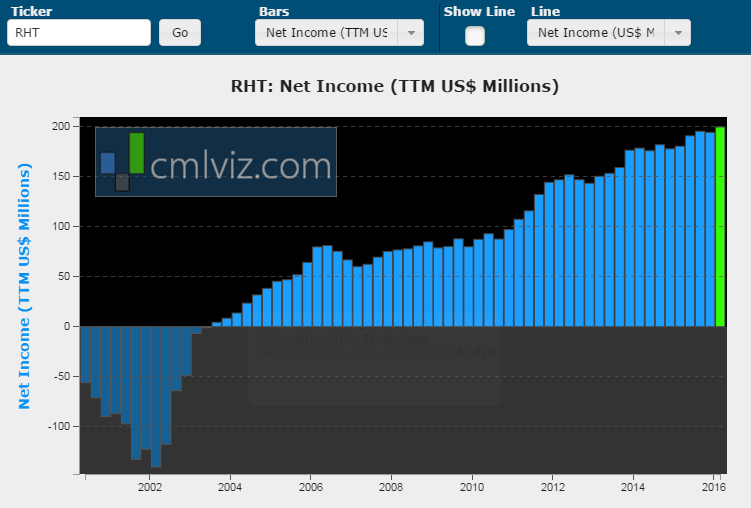 Net Income (after tax profit) over the trailing twelve months (TTM) is up 11% and has been positive since 2003. But there's yet more.
The world of cloud computing is just one thematic trend Red Hat is pushing in to. There's also the ever so desirable world of Software as a Service (SaaS). Here's how red Hat's revenue breaks down: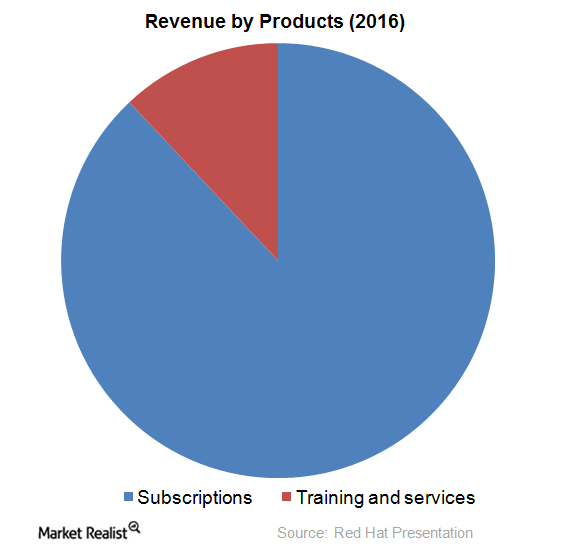 Now this is the reality of a serious threat to Microsoft.
The company's forecasts are actually ahead of Wall Street forecasts for both revenue and EPS for 2017.
But there is another opportunity in the cloud that we must discuss.
THE OTHER PLAYERS: FACEBOOK AND APPLE
We know that as early as 2012, Facebook announced it was entering the cloud storage realm.
Back in 2006, Facebook faced an existential threat because it was growing so quickly -- just its 10 million users almost brought the company down:
"its mere 10 million users faced serious problems as its servers were overwhelmed by user requirements."
Here's a chart of Facebook's users which goes back to 2008. Remember, 10 million almost brought the company down, today we are looking at nearly
2 billion
.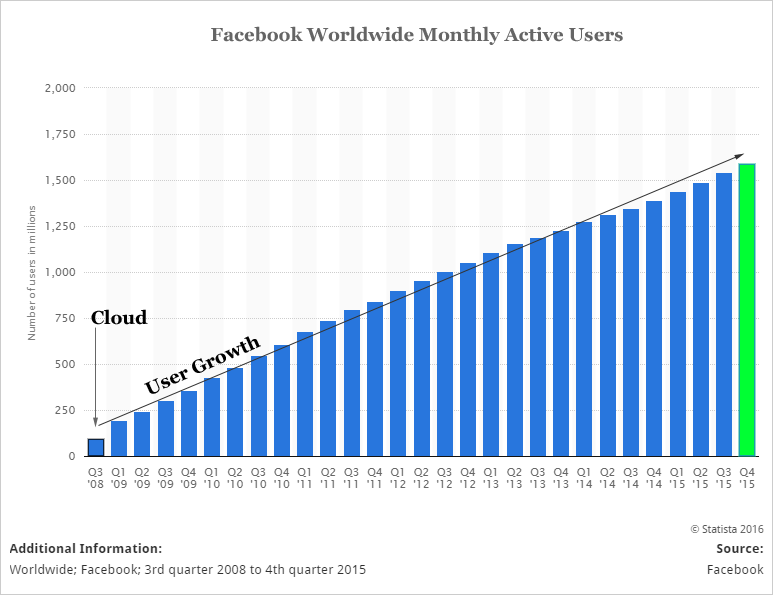 The success wasn't an accident -- Zuckerberg and Facebook were early to grasp the potential and need of Cloud Computing space.
"Now with one billion profiles and counting, Facebook has finally resolved this headache by entirely moving its myriad of operations to the cloud"
Less than a week ago we learned that Apple would be moving a part of its iCloud to Google. This is a massive competitive shift by Apple which signals not only a recognition of Amazon's clear and present danger to Apple's ecosystem, but also likely an imperative for Apple to enter the cloud business itself.
It also now reminds us that there is another company, a transformative technology that may be the biggest winner in the cloud business.
THE SHOVELS FOR THE GOLD MINERS
The cloud theme can be invested in through either the actual cloud providers: Google, Amazon, Microsoft, Verizon and Salesforce, or we can be a bit more shrewd. Rather than bet on which company will own the cloud world, or even which company will become the defacto operating system, we can go one step further.
We first must together understand that the "cloud" is really just the beginning of a fundamental change in the economy, away from providing services to each other – accounting, haircuts, interior design – and toward technologies providing services to other technologies.
We're moving out of the Ice Age, the Iron Age, the Industrial Age, the Information Age, to the age of the Cloud.
Source: Forbes
So why not invest in the company that will power every cloud, and every operating system, regardless of OEM. That's our focus. What's that saying about the gold rush?:
You can mine for gold hoping to be one of the lucky few to win the gold rush lottery, or you can sell pickaxes and shovels to the gold miners and guarantee you've won the lottery several times over.
If you're looking for safe and steady, you can stop with Intel: the company reported that it sold $4.1 billion in chips for cloud data centers compared to $8.5 billion for PCs in the recent quarter.
We can also look at a company called BOX: In July of 2015, the company announced that "Airbnb, LinkedIn, Spotify, Twitter and Zenefits have chosen Box to power secure collaboration and to enable mobile access to information. These companies join Box's growing technology customer base, which includes Cisco, eBay, Avago Technologies, Flextronics, Symantec and others."
But we must recognize that BOX is not a hardware maker and a lot of that business is about cloud collaboration.
THE FUTURE CROWN JEWEL
The real winner behind the radical cloud computing boom is a mid-sized technology company based in the US and trading on the NASDAQ. Its chips enable artificial intelligence which can learn and improve without the assistance of human programmers.
Chips are being used to teach machines to think like humans.
Intel's standard central processors are limited when it comes to doing multiple things in parallel, and one company that will power the cloud literally invented the technology that allows for the fastest and most reliable parallel computing. This is the company we are focused on. This crown jewel of technology's future is one of our few "Top Picks" for 2016. To find out which company we think will be the true winner in the massive cloud computing trend,
join us at CML Pro
and get the full research dossier.
WHY THIS MATTERS
Red Hat is a spectacular company flying under the radar but as Google has shown, open source can work, it is working, and Red Hat's preposterous revenue growth is the empirical evidence we needed to defend that belief.
Red Hat is on our "companies to watch" list, but the real winner behind the cloud is one of our precious few "Top Picks." To find the 'next Apple' or 'next Microsoft' we have to get ahead of the curve and idenitfy the companies that will be the internal workings of the technological wave we are about to experience. This is what CML Pro does. Our research sits side-by-side with Goldman Sachs, Morgan Stanley and the rest on professional terminals, but we are the anti-institution and break the information advantage the top .1% have.
Each company in our 'Top Picks' is
the single winner
in an exploding thematic shift like artificial intelligence, Internet of Things, drones, biotech and more. In fact, here are just two of the trends that will radically affect the future that we are ahead of: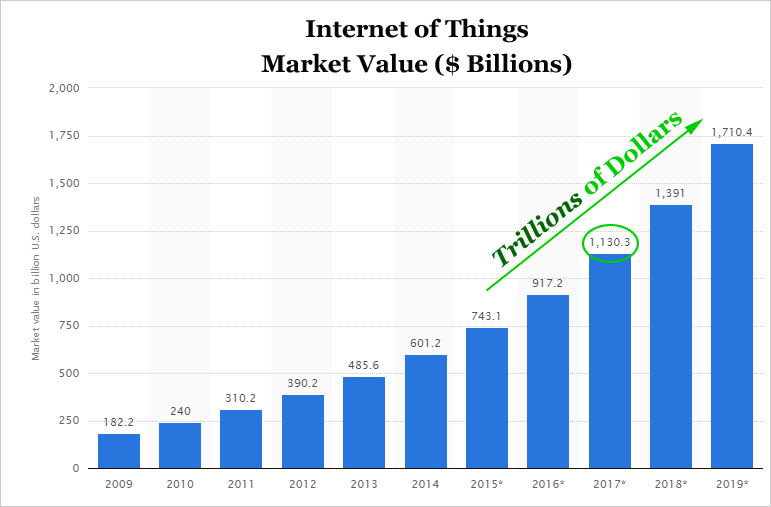 The Internet of Things (IoT) market will be measured in
trillions
of dollars as of next year. CML Pro has named the
top two companies
that will benefit. Then there's cyber security: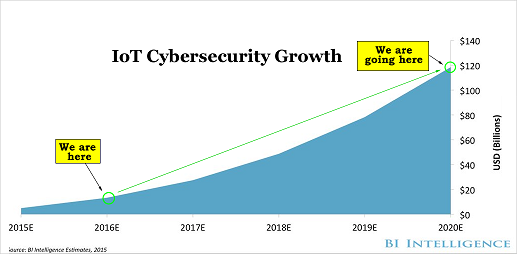 Market correction or not, recession or not, the growth in this area is a near certainty, even if projections come down, this is happening. CML Pro has named
the single best
cyber security stock to benefit from this theme.
These are just two of the themes we have identified and this is just one of the fantastic reports CML Pro members get along with all the visual tools, the precious few
thematic top picks for 2016
, research dossiers and alerts. For a limited time we are offering CML Pro at a 90% discount for $10/mo. with a lifetime guaranteed rate.
Join Us: Get the most advanced premium research delivered to your inbox along with access to visual tools and data that until now has only been made available to the top 1%.
Thanks for reading, friends.