One-on-One with Roku CEO, He Notes: There is Huge Upside in Account Growth
One-on-One with Roku CEO, He Notes: 'There is Huge Upside in Account Growth'
Date Published:
2018-11-08

Written by Ophir Gottlieb and Tiernan Ray

This is a snippet from CML Pro.




LEDE
Spotlight Top Pick Roku (NASDAQ:ROKU) beat earnings estimates for revenue, EPS, active accounts, gross margins, and raised estimates for revenue and gross margin, but guided down for EPS and missed average revenue per user, slightly. That meant a slight miss in platform revenue.

The market's reaction has been violently bad. We spoke with the CEO, and he is as bullish as ever. So are we.


EARNINGS

We'll first cover the actual earnings numbers, then turn to the interview.

* Revenue: Total net revenue was up 39% YoY to $173.4 million versus estimates of $170.44 million.

* Hardware revenue: beat Wall Street estimates at $73.3 million versus $67 million.

* Platform revenue: $100.1 million (up 74% year-over-year) versus analyst estimates of $103.2 million. That was the miss. It did represent 58% of total revenue vs. 46% a year ago with over two-thirds coming from advertising services.

* The company saw 100% video ad sales growth in the quarter.

Platform revenue is, correctly, where Wall Street should be focusing. Roku is now a full-blown ecosystem play, not a hardware play.

* EPS: -$0.09 vs estimates of -$0.12.

Active Accounts: 23.8 million, up 43% year-over-year, versus estimates of 23.1 million, with more than half of new accounts coming from licensed sources, primarily Roku TVs.

* Average revenue per users (ARPU): $17.34 (up 37% year over year) versus analyst estimates of $17.44.

* User engagement: Engagement increased this quarter with users streaming 6.2 billion hours, up 63% year-over-year.

* Guidance: Roku raised full-year revenue guidance to a range of $722 million to $732 million, which is above the fiscal year forecast by analysts of $722.84 million.

That forecast moves 2018 revenue to increase 42% year over year. That's up from Roku's target of 40% given just last quarter and the 31% forecast growth at the start of the year.

* Gross Margin Guidance: The company raised full-year gross profit outlook growth to 63% year-over-year, up from 61% previously and from 43% year-over-year when the company provided its outlook at the beginning of 2018.

Those were all facts.


Interview

Tiernan got on the phone with CEO Anthony Wood for us, and here is that conversation, along with some statements he made during the earnings conference call itself.

On the conference call Wood noted the company's continued double-digit growth in subscribers, he remarked, "There is huge upside there." And regarding the company's monetization of those users, via fees and ads and sponsorships, he added ""we still have a ways to go there till we tap that out."

Mr. Wood went on to say (our emphasis is added):



We had a really great quarter, we beat our outlook for the fifth quarter in a row, meaning that in all five quarters now since we went public, we've beaten.

And, I would say, they should focus on some of the metrics that matter most, including active accounts and average revenue.

We're executing really well, the business is fundamentally strong.



Wood also boasted of the company's software continuing to be the "number one licensed TV OS in U.S.," shipping one in four smart televisions sold in the U.S. He noted that video ad sales, the single biggest component of Roku's platform revenue, had more than doubled, and that:



Ad sales continued the steady and strong growth they've seen over the last several quarters.



Roku counts as clients two thirds of Ad Age's top advertisers, he noted.

With respect to active accounts Wood was quite pleased, remarking that "active accounts growth has been in mid-40s for a while now," adding with respect to the 23.8 million number, "I think that's great."

Another important metric, average revenue per user, or ARPU, rose by 37%. That is attributable both to growth in active accounts, and also the ways Roku is able to monetize the accounts.

On both scores, Wood emphasized what he sees as substantial upside.



There is huge upside there [in active account growth].

There are a billion broadband subscribers, worldwide. [And] monetization per user grows as people watch more TV; we still have a ways to go there till we tap that out.

And it [monetization] grows as we create more ways to upgrade our software, with new forms of advertising and advertising measurement. That has also a ways to go.



The Roku Channel, a free, advertising-supported collection of programming, introduced a year ago. His comments surrounding that were:



[The Roku Channel has] become very important part of ad inventory, and of how we deliver ads, and as a source of engagement.



Asked about the Web-based version of the Roku Channel, which went live a quarter ago, Wood said it is "going well," but that it was "still too early to tell" what kind of contribution it is making, or will make, ultimately.



The strategy for the Channel is to keep adding more platforms, and regions, and content categories, including the recent addition of news channels.



Wood commented on the rising activity in linear television advertising initiatives. For example, a venture-backed startup called EDO that analyzes millions of TV spots to try and correlate them with consumer behavior. He seemed unfazed by the competition.



We are confident that OTT [over-the-top] advertising that is one-to-one targeted, that native internet advertising, is a superior solution to the legacy advertising available on linear TV.

OTT brings things such as measurement and knowledge of the customer that are so important, that linear TV just can't offer.




Analysis
The bullish thesis for Roku appears to be stronger, not weaker, after this earnings report.

Every advertisement on ROKU to its users is custom for that individual user. Further, according to Nielsen, 10% of 18 to 34-year-olds in the U.S. are only reachable on the Roku platform in the living room.

Not only are tens of millions of people totally unreachable by traditional TV, even the ones that are, if they are on ROKU, they get personalized ads. That reminds me of two other companies that did this to create two of the six largest companies in the world: Google and Facebook.

And the evidence that this is working, again from the CEO (our emphasis added):



"A recent study by IPG and MAGNA concluded that ads on the Roku platform are 67% more effective per exposure at driving purchase intent compared to traditional linear TV ads."



So, yes, we can see, from a third-party verification, that the idea of personalized TV ads, which a few years ago seemed like an absurd proposition, are working.


A Booming Market
We learned in the first week of November that:

Over the past 12 months, streaming TV services have seen a 292% increase in plays and a 212% increase in viewing hours, while publisher apps have seen declines of 16% and 19%, respectively, across those fronts.

And right when people thought mobile was everything and streaming TV in the living room was in trouble -- no.

Connected TVs - such as those connected to Roku players, Amazon Fire TV, Apple TV, etc. - now account for as many streaming TV plays (38% on TVs) as mobile devices (39%). They also account for more than twice the viewing hours, with a 56 percent share to mobile's 25% share.

Research firm Conviva noted that Roku accounted for 40% of viewing hours, while Amazon fast growing still only made up 18%.

Here is a chart of the average weekly time spent with over-the-top TV in the United States (in hours):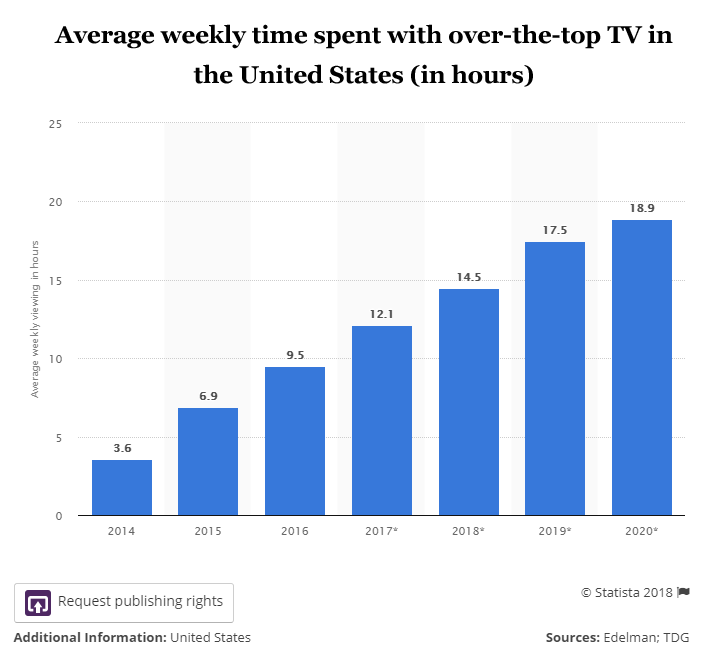 That's a 30% increase in hours viewed from 2018-2020, alone.

Another way to see this thematic is through the pay TV penetration rate in the United States.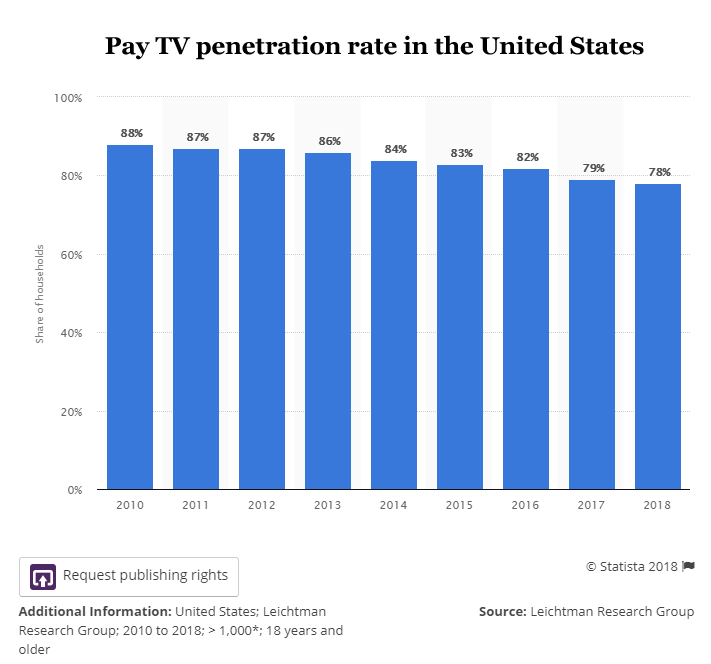 There are so many ways to show it -- that streaming OTT devices are the future and that traditional pay TV cable is not. Remember, now this is critical, not only are consumers pushing away from cable TV, but advertisers actually prefer the streaming model.

When consumers move in a direction that pleases the money (the advertisers), it happens faster. Roku is the undisputed leader, is growing faster than its own forecasts, and has yet to even scrape the tip of the iceberg for this massive thematic shift.


Conclusion
We are looking well beyond the next few years with Roku - toward a tectonic shift away from linear TV, where streaming is everything. A world where content is so rich, that Netflix, Amazon, Google, Disney, Apple and many others will compete for eyeballs, while Roku simply gives them access to the eyeballs.

It's no certainty that Roku will win, but we try to find companies that are ahead of the curve, that play a vital role in the guts of technological themes, and for now, we see Roku as one of those small companies with the potential to grow substantially.

We're not sure Wall Street understands the company, but when we look under the hood, we see a robust hardware, advertising, and platform business. We see a company that happily gives up gross margin on hardware, because the real gold mine is simply getting people to stream video -- because, in the company's view, there is a very good chance they will be streaming with Roku powering the platform.


WHAT HAPPENED
It's understanding technology that gets us an edge to find the "next Apple," or the "next Amazon." This is what CML Pro does. We are members of Thomson First Call -- our research sits side by side with Goldman Sachs, Morgan Stanley and the rest, but we are the anti-institution and break the information asymmetry.

The precious few thematic top picks for 2018, research dossiers, and alerts are available for a limited time at a 80% discount for $29/mo. Join Us: Discover the undiscovered companies that will power technology's future.

Thanks for reading, friends.

The author is long shares Roku, at the time of this writing.

Please read the legal disclaimers below and as always, remember, we are not making a recommendation or soliciting a sale or purchase of any security ever. We are not licensed to do so, and we wouldn't do it even if we were. We're sharing my opinions, and provide you the power to be knowledgeable to make your own decisions.

Legal
The information contained on this site is provided for general informational purposes, as a convenience to the readers. The materials are not a substitute for obtaining professional advice from a qualified person, firm or corporation. Consult the appropriate professional advisor for more complete and current information. Capital Market Laboratories ("The Company") does not engage in rendering any legal or professional services by placing these general informational materials on this website.

The Company specifically disclaims any liability, whether based in contract, tort, strict liability or otherwise, for any direct, indirect, incidental, consequential, or special damages arising out of or in any way connected with access to or use of the site, even if we have been advised of the possibility of such damages, including liability in connection with mistakes or omissions in, or delays in transmission of, information to or from the user, interruptions in telecommunications connections to the site or viruses.

The Company makes no representations or warranties about the accuracy or completeness of the information contained on this website. Any links provided to other server sites are offered as a matter of convenience and in no way are meant to imply that The Company endorses, sponsors, promotes or is affiliated with the owners of or participants in those sites, or endorse any information contained on those sites, unless expressly stated.