The Genius of Starbucks


Fundamentals

Written by Ophir Gottlieb, 01-14-2016
PREFACE
Starbucks is a marvel as it grows in an industry that's facing more and more competition. It has brand recognition and pricing power like that of a high powered technology company and is just now pushing large scale expansion into China.
The company recognizes that old school "branding" is dead, and in fact, the new version of branding is
social connections
. This has been a brilliant recognition and equally brilliant execution. This is what Apple has done.
Now is the time to pay attention to Starbucks and we are adding it to the CML Pro "2016 Top Picks" list today.
POWER
While we have a wonderful story to walk through together here, I remind everyone that the scanner in CML Pro is so powerful, that within 30 seconds we could have identified SBUX as the single top pick in consumer services, and here's how.
Source:
CML Pro
We simply looked for consumer services companies above $25 billion in market cap that had a star rating of 4.5 or greater (the star rating goes from 0 to 5 by half star steps). I ran the scan, and what do you know, only one company appeared:
Starbucks
.
Now, here's why Starbucks is that company:
STORY
Starbucks has "side-stepped" the "bad" big-brand issues by raising wages and continuing to be at the forefront of some pretty cool payment technologies. The company also has a killer social media strategy. "MyStarbucksIdea" is an on-line community based on crowd-sourcing where customers and employees can make suggestions and ideas for new products, improve products and services, and enhance the Starbucks experience.
The company is also expanding Mobile Order & Pay that was first introduced at the end of 2014. It's a wonderful example of a company understanding its customer base and making them feel taken care of. That's very "un-big-brand" like in the food industry.
FUNDAMENTALS
Before we get into the very exciting news about Starbucks entering China, let's take a look behind the curtain at the financials. Starbucks is seeing revenue, net income, and capital expenditures all rising to record highs.
Here is the all-time revenue chart: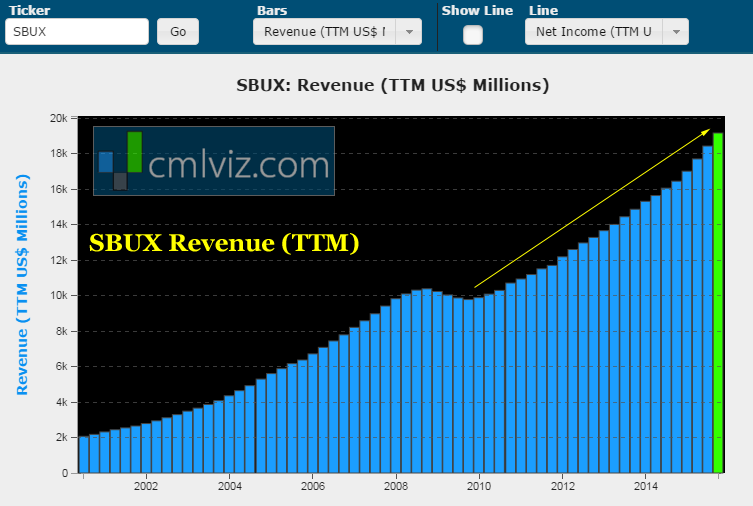 Revenue over the trailing twelve months (TTM) for SBUX is up 16.5% year-over-year and 29% over the last two-years. The company now sits at an astonishing $19.1 billion in revenue over the trailing-twelve-months (TTM).
Net income is also at an all-time high. But the most interesting fact is the coincidence of those two metrics rising as capital expenditures continue to to rise to all-time highs: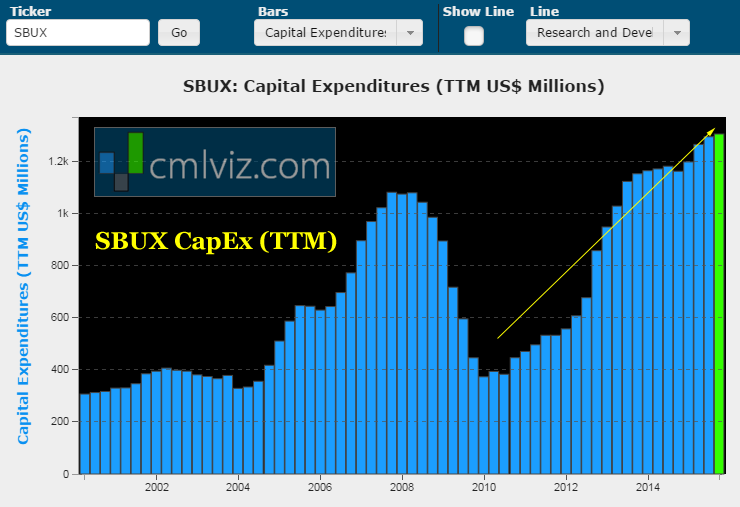 GROWTH
Starbucks continues to see same store sales growth and expansion in the United States. But the biggest news is its entry into China. Starbucks has 14,800 stores in what it calls the 'Americas,' with a total store count now topping 23,000 in 68 countries.
As of right now, Starbucks has 2,000 stores in China, but the company just announced a plan to open 500 more in 2016 and 500 more for every year through 2019. Eventually the company will reach 3,400 stores by 2019 (Source:
IBD)
.
It should be no surprise that China is now the second largest market for Starbucks and its fastest growing, and while new store openings are a part of the story, the headlines have missed the bigger part of the story:
Starbucks same stores sales growth in China and Asia Pacific were up 9%, which is faster growth than all other regions in the world. Yes, the 'dying' China is growing faster than everywhere else.
GENIUS
People like to throw the word genius around a lot when it comes to technology, but friends, if there ever was a genius, it's Starbucks CEO Howard Schultz. He has created brand recognition and loyalty
not only
for customers, but for employees.
His branding is a social connection which means its defined and defended by tweets, status updates, content shares, conversations between customers and customers with employees (Source:
How Starbucks Became the Apple of Coffee
.
More specifically, when he was addressing his employees in China (yes, he does that), here's what we learned:
Schultz announced [] generous housing subsidies and sabbaticals, at an event that featured a guest appearance by China's most prominent businessman, Alibaba founder and Executive Chairman Jack Ma. (Last month, Starbucks opened an e-store on Alibaba's Tmall.)
Source:
Fortune
But he didn't stop there. In a truly brilliant move, Schultz hosted a "Starbucks China Partner-Family Forum" where the company actively wooed employees' parents, in acknowledgement of the strong role parents play in Chinese culture, even for adult children.
He said:
"We will do everything we can to continue to build a great and enduring company that you and your parents can be proud of."
That's genius, friends. Howard Schultz just gets it. He's not putting the word China on a white board and putting an arrow next it with a tag line, "growth." He is actively engaged in the community and the culture and that is exactly what he did in the United States.
MORE GENIUS
There's more to understanding the culture and getting loyalty. It's not a 'trick' or a 'scheme,' it's truth.
Schultz said the company would give full-time Chinese baristas and shift supervisors a monthly housing allowance that would cover half of their monthly housing expenditures on average and will also offer one-year sabbaticals, called "career coffee breaks," to workers with 10 years of service.
This is a revolutionary man that has built a revolutionary customer base and employee base, very similar to, dare I say, Apple.
If you're wondering about the US, fear not. Starbucks offers assistance with college costs to employees in some instances, and free tuition to spouses and children of its employees who serve in the military (Source:
Fortune
).
TECHNOLOGY
More than 20% of the transactions in the U.S. are now via mobile technology.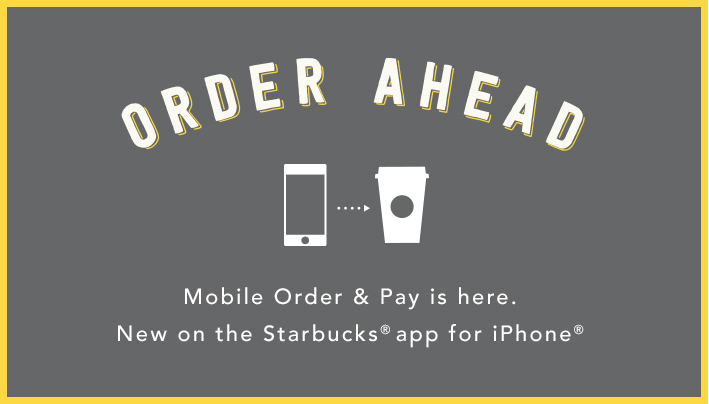 Starbucks discussed its Mobile Order & Pay initiative and its phased launch in the U.S. proved successful. We learned that the app is now on iOS and Android devices. The company also began its international roll out to 150 London locations and 300 Toronto-area locations.
We write one story a day to uncover new opportunities and break news.
Come on in: Get Our (Free) News Alerts Once a Day.
INITATIVES
Starbucks is testing out a new model to deliver drinks in dense urban areas called 'Green Apron.' The first test was launched within the Empire State Building in New York.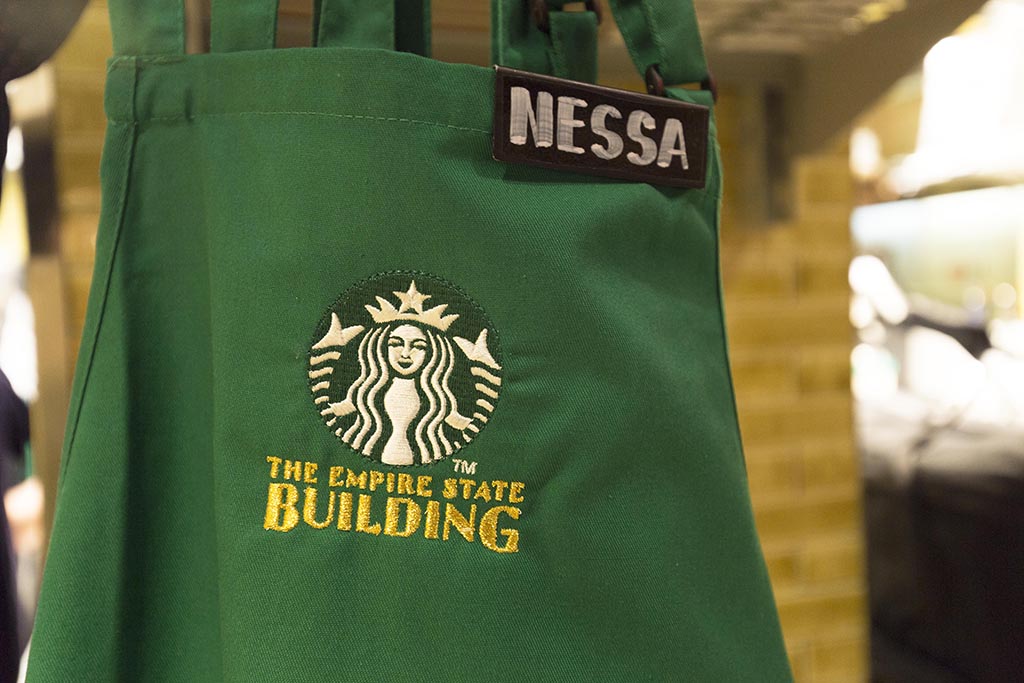 The program is quite ambitious. Here's what TheStreet.com wrote:
The pilot is designed for a dense urban environment and will allow tenants to order from a select menu online, whereupon beverages will be handcrafted by Starbucks baristas in a designated kitchen within the building and delivered to a designated drop-off location.
Source:
TheStreet
CONCLUSION
Starbucks has a brand recognition and loyalty equalled only by some of the great giants in technology. The company has laser focus on growth in various regions and a CEO that is a genius, at least with respect to execution.
As of today, Starbucks is added to the CML Pro 2016 Top Picks.
WHY THIS MATTERS
Headlines miss everything and journalists are not trained to be experts. But, the top analysts, asset managers and hedge fund managers are keenly aware of the data that will move markets and they know
exactly
when retail traders are selling everything they own. This is how they pick their stocks even if the market goes sideways or down.
The information asymmetry that exists between pros and non-pros has transferred massive wealth to the top 1%. That information asymmetry is no longer acceptable to us. In fact, it infuriates us.
This is just one of the fantastic reports CML Pro members get along with all the charting and scanning tools,
top picks for 2016
, research dossiers and alerts. For a limited time we are offering CML
Pro
at a 90% discount for $10/mo. with a lifetime guaranteed rate.
Join Us: Get the most advanced premium research delivered to your inbox along with access to visual tools and data that until now has only been made available to the top 1%.
Thanks for reading, friends.