Starbucks Corporation (NASDAQ:SBUX) Made a Genius Move
Starbucks Corporation (NASDAQ:SBUX) Made a Genius Move
Date Published:
7-14-2016

BREAKING
According to report published by the BUSINESS INSIDER, Starbucks Corporation (NASDAQ:SBUX) just made a genius move to expand its heavily visited stores into a coffee shop with a fresh bakery.

STORY
Starbucks Corporation (NASDAQ:SBUX) is famously known for its impeccable management as it has grown the coffee business to huge heights. Here is a sixteen year revenue chart for the company.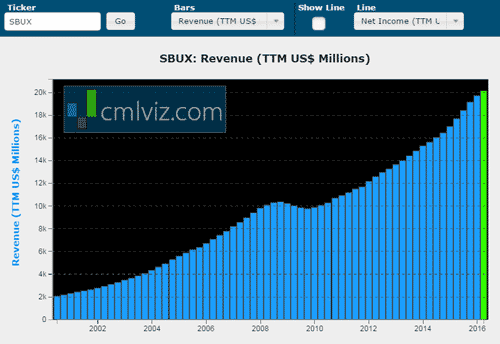 For the most recent (annual) period the company reported $20.16 billion up from $17.70 billion a year ago, or a 13.9% rise. Two years ago revenue (TTM) was $15.64 billion which is a 28.9% rise.

But the company isn't sitting on its laurels. Starbucks Corporation CEO, Howard Schultz, has made a strong move into China with perhaps the most genius plan of expansion any company, food or technology has ever made. Without reliving the details too much, Schultz's plan gets in to the heart of Chinese culture and family, taking in a holistic approach to the country's norms as opposed to simply opening coffee shops and expecting pay dirt.

But Starbucks Corporation plan for the United States just a got lot tastier as well. Here's a snippet from the BI article:



"

Starbucks is opening a new type of store and, for the first time, baking food in-house at certain locations, thanks to a partnership with a trendy Italian bakery.

On Wednesday, Starbucks announced a partnership with Princi, an artisan Italian bakery and restaurant.

"


Schultz commented that "This will be the first time in our 45-year history that we will actually be baking in a store. The Roasteries in New York and Shanghai, and others that will be announced in coming months, will have a fully-integrated bakery operation in the facility, not unlike what we're doing in terms of roasting."

We note the emphasis that Schultz put on mentioning China.

PRINCI AND STARBUCKS CORPORATION
While Starbucks Corporation stores are known for nearly around the clock access, so too is Princi known for its around-the-clock menu. With the staggering foot traffic that Starbucks already gets, the addition of a fresh on site bakery with a menu that ranges from breakfast to dinner, Howard Schultz may be on track to turn Starbucks Corporation (NASDAQ:SBUX) into an even bigger player, this time in the restaurant business.


WHY THIS MATTERS
Starbucks is one of the most innovative companies in the world, even when compared to technology companies. In fact, it's one of CML Pro's precious few Top Picks. At CML we identify the revolutionary thematic transformations that are coming and then the companies that will benefit most from them to find the "next Apple" or the "next Google." Twitter is one of those precious few companies. Our research sits side-by-side with Goldman Sachs, Morgan Stanley and the rest on professional terminals, but we are the anti-institution. Our purpose is to break the information monopoly held by the top .1%.
Each company in our 'Top Picks' is
the single winner
in an exploding thematic shift like artificial intelligence, Internet of Things, drones, biotech and more. In fact, here are just two of the trends that will radically affect the future that we are ahead of: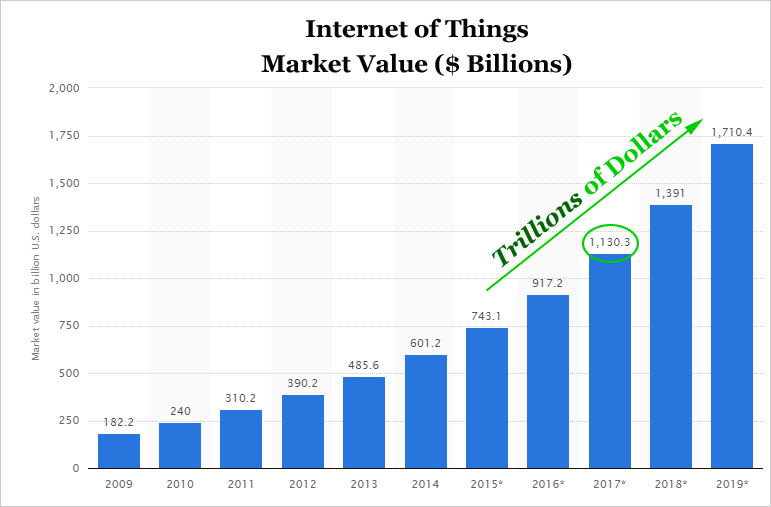 The Internet of Things (IoT) market will be measured in
trillions
of dollars as of next year. CML Pro has named the
top two companies
that will benefit. Then there's cyber security: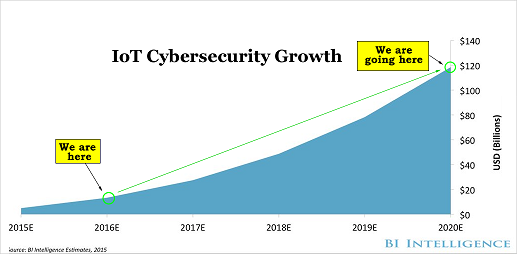 Market correction or not, recession or not, the growth in this area is a near certainty, even if projections come down, this is happening. CML Pro has named
the single best
cyber security stock to benefit from this theme.
These are just two of the themes we have identified and this is just one of the fantastic reports CML Pro members get along with all the visual tools, the precious few
thematic top picks for 2016
, research dossiers and alerts. For a limited time we are offering CML Pro at a 90% discount for $10/mo. with a lifetime guaranteed rate.
Join Us: Get the most advanced premium research delivered to your inbox along with access to visual tools and data that until now has only been made available to the top 1%.