Starbucks Corporation (NASDAQ:SBUX) Falls On Earnings Miss
Starbucks Corporation (NASDAQ:SBUX)
Date Published:
7-21-2016

BREAKING
Starbucks Corporation released earnings after the market close and the company missed on revenues and earnings per share. The stock is dropping slightly in the after-hours trade.

STORY
Starbucks reported $5.24 billion in revenue for the quarter which was a miss to analysts' expectations of $5.33 billion. The revenue miss appears to have come from slower same store sales growth than expected. Starbucks Corporation reported same store sales growth of 4% in what the firm refers as the "Americas," while expectations where as high as 6% and last quarter's number showed a robust 7% growth.

Earnings per share came in right on analyst expectations of $0.49.

THE GOOD
While the revenue miss and slowed same store sales for Starbucks Corporation have pushed the stock down about 4% in the after-hours trade, there was good news. The company's loyalty program grew 18% year-over-year and now stands at over 12 million members. But that number is meaningful.

Starbucks Corporation has more money on cards than some large banks have on deposit.




As of fiscal 2016, "41% of Starbucks transactions in the U.S. and Canada were conducted using a Starbucks card" (MarketWatch). If we add into the equation the new cold brew coffee and the addition of a fresh bakery, Starbucks Corporation still has room to grow by expanding its store productivity.

While the company has the morning commute taken care of, the new drink menu including cold brew and the fresh bakeries have broadened the time window for productivity of stores and as that trend catches on, Starbucks Corporation (NASDAQ:SBUX) could find itself with a growing revenue and earnings base with the same infrastructure.
The author is long shares of SBUX.
WHY THIS MATTERS
Though it may seem odd, Starbucks is actually one of the most innovative companies in the world when it comes to mobile payments. While companies like Apple, Google and PayPal come to mind, Starbucks is equally as innovative. But, there is one company, one technology, that is powering all of mobile payments, and it doesn't matter if it happens on an iPhone, Apple Watch, Google Watch, Samsung Pay, or anything else. It's this company that invented and patented the technology behind it and already has 1.5 billion chips in devices.
It's identifying trends and companies like this that allows us to find the 'next Apple' or the 'next Google.' This is what CML Pro does. Our research sits side-by-side with Goldman Sachs, Morgan Stanley and the rest on professional terminals, but we are the anti-institution and break the information advantage the top .1% have.
Each company in our 'Top Picks' is
the single winner
in an exploding thematic shift like artificial intelligence, Internet of Things, drones, biotech and more. In fact, here are just two of the trends that will radically affect the future that we are ahead of: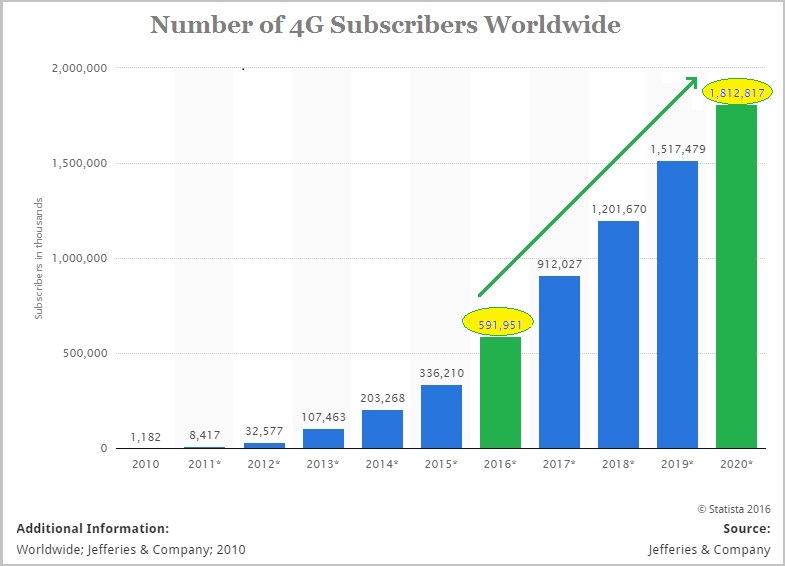 That chart plots the growth in 4G usages worldwide and how it will grow from 330 million people today to nearly 2 billion in five years. This is the lifeblood fueling every IoT and mobile device on the planet and CML Pro has named the single winner that will power this transformation. Then there's cyber security: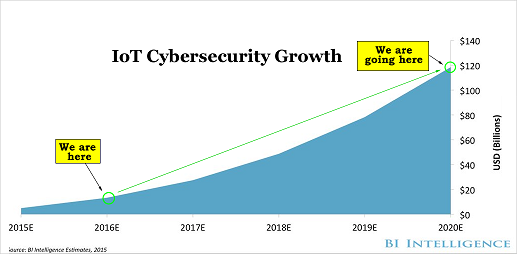 Market correction or not, recession or not, the growth in this area is a near certainty, even if projections come down, this is happening. CML Pro has named
the single best
cyber security stock to benefit from this theme.
These are just two of the themes we have identified and this is just one of the fantastic reports CML Pro members get along with all the visual tools, the precious few
thematic top picks for 2016
, research dossiers and alerts. For a limited time we are offering CML Pro at a 90% discount for $10/mo. with a lifetime guaranteed rate.
Join Us: Get the most advanced premium research delivered to your inbox along with access to visual tools and data that until now has only been made available to the top 1%.