Shopify, commerce, FTC
Shopify - The Bullish Thesis Grows

Shopify - The Bullish Thesis Grows
Date Published: 2018-01-11
This is a snippet from a full CML Pro dossier published on January 2nd, 2018.
LEDE

Spotlight Top Pick Shopify had a big run but was up ended at the end of the year by short-seller Andrew Left (Citron Research).

While there may be more stock shaking news to come soon from the FTC, the Holiday shopping season proves yet again that e-commerce is gigantic, it's growing by leaps and bounds, it is still a tiny portion of total commerce in the United States and Shopify has a growing moat.

STORY - BACKGROUND
We added Shopify to Top Picks on 6-Feb-16 for $66.50 and as of this writing the stock is trading at $104.22, up 58%.

In our Top Pick dossier, we refer to Shopify as The Pick-Axe to the E-commerce Gold Rush.

Unlike Amazon, which holds inventory, runs a logistics operation, and tries to scrape out 1% margins after shipping, Shopify is a platform for business to enter the e-commerce world, and that business has high margins and a lot of growth.

Retail e-commerce sales worldwide from 2014 to 2020 are pegged to grow from $2.3 trillion in 2017 to over $4 trillion by 2020. Here's the first chart from our friends at Statista: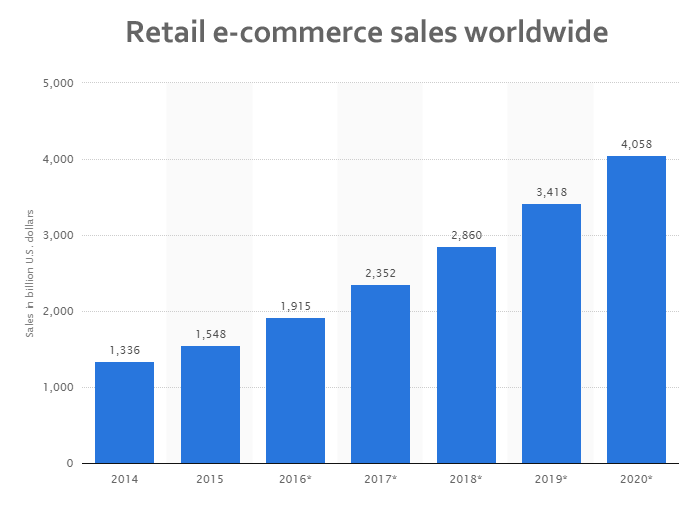 But, the real gem here is that even in today's world, the share of commerce that is done online is still tiny, even in the United States.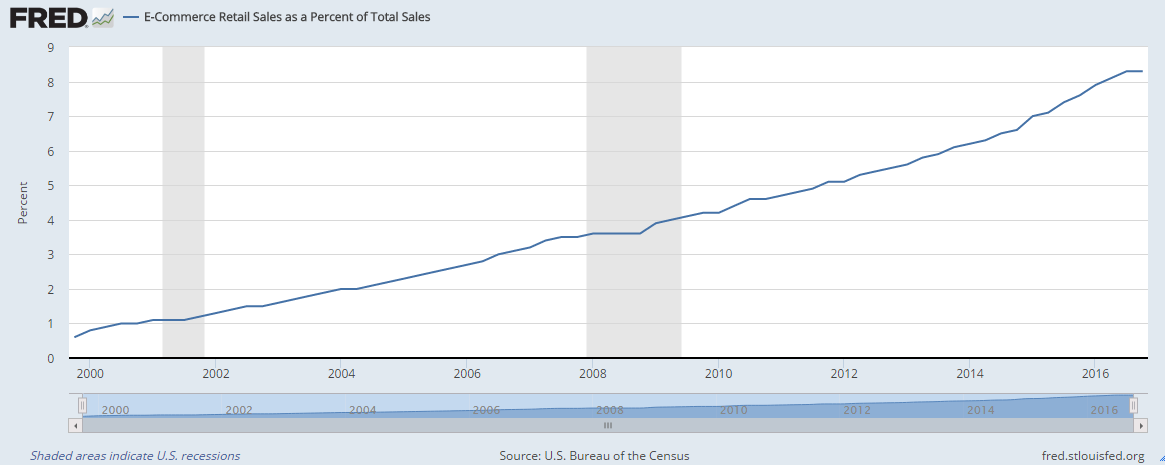 That chart comes to us from the Federal Reserve Bank of St. Louis (FRED). You're reading that right - even in the US, we're still at less than 9% of retail sales done online. eMarketer projects that number rising from 8.7% today, to 14.6% in four years.

THE PICK-AXE
Shopify isn't just an investment in e-commerce - that would never make our Top Picks list - it's an investment in the guts of the online shopping trend - the part that's actually growing.

Shopify is the leading cloud-based commerce software for small- and medium-sized businesses. But the company makes money from more than e-commerce sales, it makes money from businesses coming online.

Here are some quick facts about the company from the latest earnings call, before we turn to the news over the Holiday season.

Nearly 500,000 businesses now rely on Shopify for their sales and back-office software needs. That's up from 375,000 in the third quarter and 243,000 in the fourth quarter of 2015. Here is the revenue trend: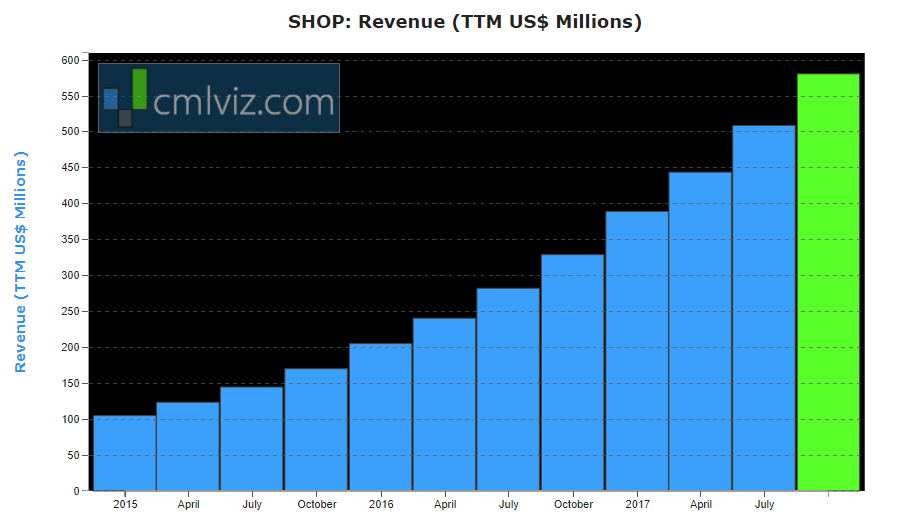 But even that chart doesn't fully encapsulate the growth and adoption. Here is what the company had to say a couple of months ago:

* Every 90 seconds an entrepreneur makes their first sale on our platform.

* We've added shopping in Instagram as a channel to tens of thousands of merchants and the channel SDK we made available last year continuously leverage by new channels.

* Subscription solutions revenue grew 65% to $82.4 million; the underlying monthly recurring revenue also grew 65% and ended the quarter at $26.8 million.

* Merchant solutions revenue grew 79% to $89 million.

* GMV [Gross Merchandise Volume] grew to $6.4 billion, up $2.6 billion or 69% from last year's third quarter.

* We added Facebook Messenger as a channel.

* We added Apple Pay as an option for merchants.

* Lyst, the global fashion search engine is now integrated to Shopify allowing our merchants to access their 60 million shoppers from 200 countries.

We remind everyone of the moat. The biggest threat was once Amazon'sWebStore, a similar platform which was launched in 2010. But WebStore eventually failed, and Amazon shut the service down in 2015 and integrated its marketplace with Shopify's platform.

So, yes, Shopify is integrated into Amazon, and Amazon already failed here.

After all of that news, bears turned to the lack of profitability but Shopify reported an operating profit of $1.7 million last quarter.

But even that is not the needle moving news for 2018. This is where we are focused:

NEWS
First, we start with Cyber Monday, which is the Monday after Thanksgiving. In the quarter last reported, Shopify noted $6.4 billion in GMV -- a fancy acronym for the amount (in dollars) that its customers sold.

Black Friday through Cyber Monday (BFCM), that is -- a long weekend -- saw over $1 billion in GMV alone. First, to put that number into perspective to last year we get this from the company (our emphasis is added):



[Shopify] announced more than $1,000,000 in sales went through the platform per minute at the peak, beating last year's high of $555,716.



BFCM saw worldwide reach, too. Here is a great graphic that shows comparisons of GMV to the average for both Black Friday (BF) and Cyber Monday (CM) across the globe.




Note that while the growth is fantastical, that is international sales -- it excludes the United States. Shopify notes that since its inception in 1959, Black Friday has been largely regarded as an American holiday. But in the past few years, and due in large part to the ever-increasing popularity of online shopping, the frenzy has started to catch on worldwide.

But that's not the needle mover either. With the integration into Instagram, Shopify must turn to mobile, and that is exactly what we found (data from Shopify regarding Black Friday):



Mobile continued to grow with 66% of orders being made with a phone or tablet, up from 58% in 2016.



But there's more data.

AMAZON AS PROXY
There is no company like Amazon in the e-commerce world. While the company can't make money selling things online, it can drive volume, and from that we can see the appetite of worldwide consumers for any holiday period.

GBH Insights head of technology research Daniel Ives estimated online sales were up 18% overall in November and December. He also noted that he expects Amazon to continue to aggressively expand into key international markets.

The National Retail Federation, the industry's trade group, anticipated that holiday retail sales rose 4%, so that e-commerce number coming in at 18% growth is more than 4x the total retail space.

It seems like the Internet has been around 'forever,' but the truth is, e-commerce is still, even now, just at the start. And remember, as Amazon expands, so does Shopify.

RISK
While there is certainly a risk that the FTC slaps Shopify on the wrist if there is any 'hype' surrounding its blog posts or a failure to disclose a paid relationship with the firm, that news is not a short thesis, not from what we can see.

We see e-commerce in general still, even now, in the early stages of growth, and we see Shopify's moat growing in the part of the business that actually makes money -- the platform.

CONCLUSION
We maintain our Spotlight Top Pick status on Shopify -- even though we allow for the possibility of a FTC warning. We see Shopify turning a profit this year, expanding through partnerships with eBay and Instagram, and riding the high tide of e-commerce in general.

SEEING THE FUTURE
It's understanding technology that gets us an edge on finding the gems like Shopify that can turn into the 'next Apple,' or 'next Amazon,' where we must get ahead of the curve. This is what CML Pro does.

Each company in our 'Top Picks' has been selected as a future crown jewel of technology. Market correction or not, recession or not, the growth in these areas is a near certainty. We are Capital Market Laboratories. Our research sits next to Goldman Sachs, JP Morgan, Barclays, Morgan Stanley and every other multi billion dollar institution as a member of the famed Thomson Reuters First Call. But while those people pay upwards of $2,000 a month on their live terminals, we are the anti-institution and are breaking the information asymmetry.

The precious few thematic top picks for 2018, research dossiers, and alerts are available for a limited time at a 80% discount for $29/mo. Join Us: Discover the undiscovered companies that will power technology's future.

As always, control risk, size appropriately and use your own judgment, aside from anyone else's subjective views, including my own.

Thanks for reading, friends.

The author is long shares Shopify at the time of this writing.

Legal
The information contained on this site is provided for general informational purposes, as a convenience to the readers. The materials are not a substitute for obtaining professional advice from a qualified person, firm or corporation.
Consult the appropriate professional advisor for more complete and current information. Capital Market Laboratories ("The Company") does not engage in rendering any legal or professional services by placing these general informational materials on this website.
The Company specifically disclaims any liability, whether based in contract, tort, strict liability or otherwise, for any direct, indirect, incidental, consequential, or special damages arising out of or in any way connected with access to or use of the site, even if we have been advised of the possibility of such damages, including liability in connection with mistakes or omissions in, or delays in transmission of, information to or from the user, interruptions in telecommunications connections to the site or viruses.
The Company make no representations or warranties about the accuracy or completeness of the information contained on this website. Any links provided to other server sites are offered as a matter of convenience and in no way are meant to imply that The Company endorses, sponsors, promotes or is affiliated with the owners of or participants in those sites, or endorse any information contained on those sites, unless expressly stated.