How to Profit from This Tumbling Market


Investing in a Toppy Market
PREFACE
We're in a toppy market. Valuations are stretched and monetary policy is no longer accommodating. But, there is a way to invest in this market to profit -- it's focused around identifying the central themes (trends) that will power the future.
These trends, regardless of a recession, a bear market, a slowing China, and nearly anything else, are coming and the wave of change they bring is inevitably enormous.
TRUTH
Owning stocks has been a wealth creating strategy for a century. No matter how bad the stock market has gotten, it has always gone higher after a collapse. Further, we know that the stock market is the single greatest wealth redistribution mechanism created by man to take money from the impatient and transfer it to the patient. But,
patience does not mean inaction.
THEMES
There are a number of themes underneath which lie gems, companies ready to rise on a seismic shift and a wave of technological innovation.
I. Cyber Security
This is the forecasted growth in cyber security: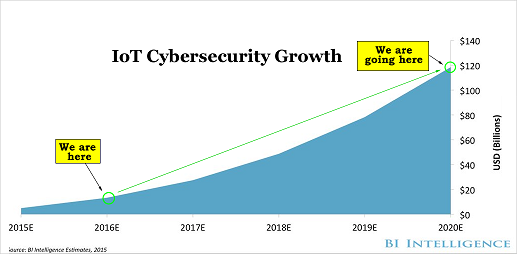 Yes,
just the Internet of Things (IoT)
security segment is growing from $20 billion to $120 billion in five years. In total cyber security is seen reaching $170 billion by 2020.
Here's a market segment looking to grow 6-fold in five years. Now, identify the best company in this segment, and you have found a winner -- bear market, recession, it doesn't matter. While its price will vacillate in the short-term, the long-term trend is obvious -- up.
The company best positioned to be the winner in cyber security is one of the precious few on the
CML Pro 'Top Picks' list.
II. Internet of Things (IoT)
We are going from 4.9 billion IoT devices in 2015 to 25 billion by 2020. Here's the trend: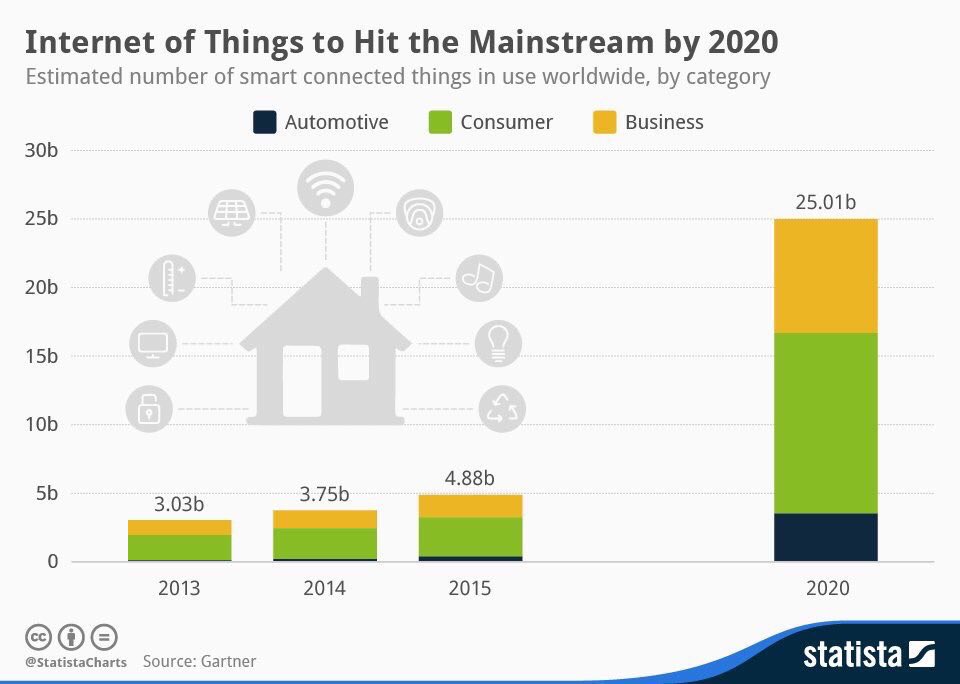 And those devices will turn into $1.7
trillion
within four years. Here's the monetization chart: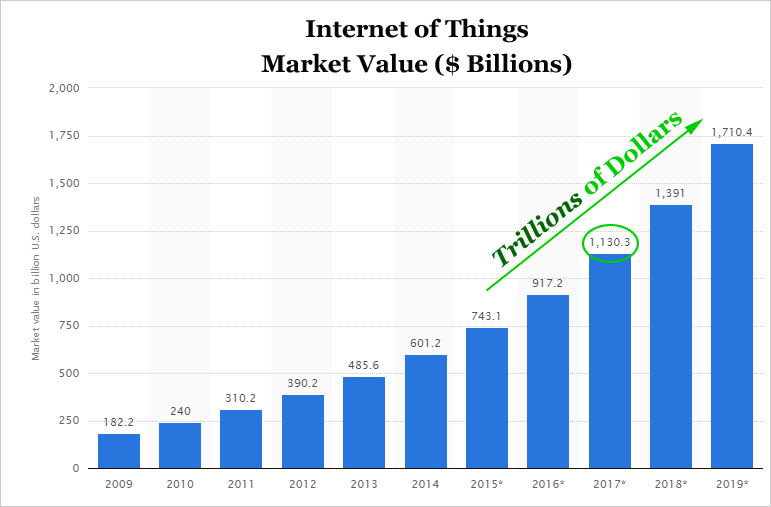 Again, while there will be bumps in the road in terms of the broader market, if you can identify the best of breed in this area, you're likely looking at a remarkably successful investment. The two companies poised to be the winners are on CML Pro 'Top Picks' list.
III. Mobile Pay
Mobile transactions through products like Apple Pay are going to see values rise from $431 billion in 2015 to $721 billion by 2017. Here's the chart: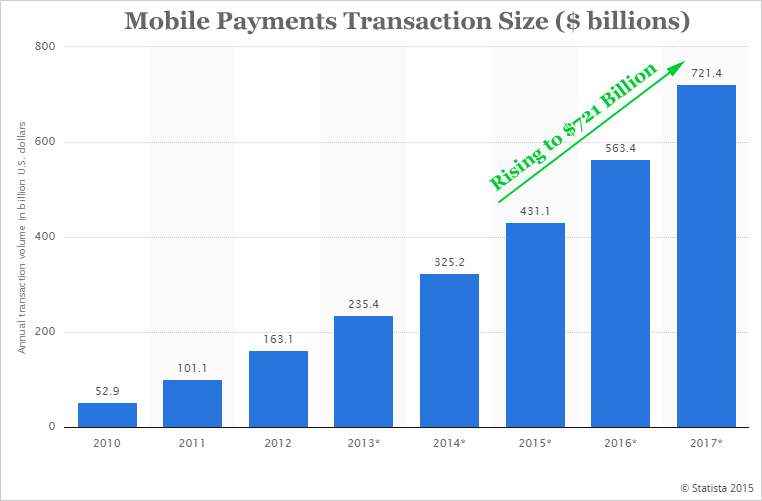 Further, Bank of America has taken forecasts out further, and believes by 2022, this market will reach $3
trillion
. Now, figuring out which pay system will dominate the area is one task, but finding the technology that will own
all of it,
is yet another task. The company thatowns the technology behind mobile pay is one of the precious few on the CML Pro 'Top Picks.'
IV. Drones
At the international consumer electronics show (CES) that just ended last month, drones were earmarked one of the four critical technologies moving forward. Here is the expected growth: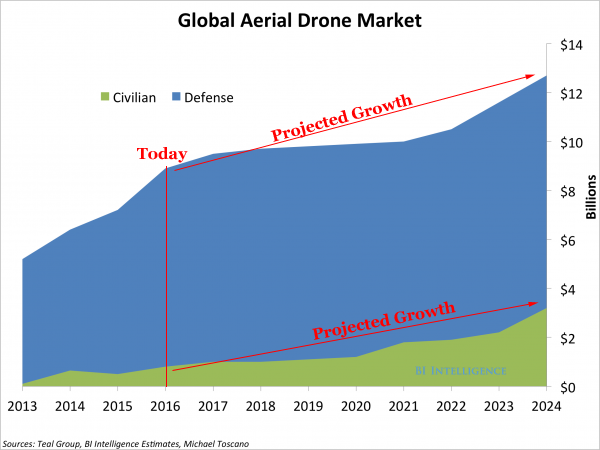 But, as we have discussed here before on CML Pro, Amazon already has 173 logistics facilities worldwide, and has already launched "Prime Now" in several US cities, including San Francisco.
The drone market could be substantially larger than those forecasts. While we can try to pick the single best drone manufacturer, we instead try to choose the company that provide the chip-sets (the eyes) to the drones. This company too, is on our CML Pro 'Top Picks' list.
V. More
This is just a taste of the trends moving forward and if we can identify them, and then find the best of breed companies, we have a window into profiting regardless of short-term trends in the stock market.
There are trends in self-driving technology, biotech, apparel and even restaurants. Each are in the 'Top Picks' list for CML Pro.
But in order to invest for the long-term, we must have the right mindset.
Get CML Pro for $10 / month: The first and only institutional research available for the retail public.
THE POWER OF THE MIND
The single greatest risk to our own wealth creation in the stock market is ourselves. I won't get existential, just know that perspective and mindset are
more important
than which stocks you own.
As people, we simply tend to fill empty space with negativity -- they call it human nature. What the hell am I talking about? Try this:
Your family is on a flight to Europe for vacation. You catch news that a commercial airliner has crashed over the Atlantic. What are you thinking when you hear that news?
The vast majority of us (certainly me) immediately go to tragedy -- our families have died. Rarely do we think, "on a typical day there are around 30,000 flights across European airspace, so it's very unlikely the worst case scenario just happened."
It's the same thing with stocks.
We can and must change our perspective to one of so that:
1. We can limit our losses with rules based trading.
2. We can maximize our profits with rules based trading.
Understand the companies you are invested in. Understand that prices can fluctuate wildly, but businesses rarely do. A good business tends to stay a good business, no matter what its stock price does.
It takes more than click bait and a 140 characters to be an expert and journalists aren't trained to understand the market. Get
free
news alerts (once a day) from us and you will be the expert in the room.
STEP 1: MAKING THE RULES
We have a dedicated CML Pro dossier that walks through the rules of how to invest in this market after the themes have been identified. A systematized approach so our crocodile brain's, fear-based perspective don't get in the way of our investing.
We break news every day. Discover the Undiscovered.
Get Our (Free) News Alerts Once a Day.
CONCLUSION
There is a way to trade a toppy market. Mindset and perspective are important. A plan is not just a word -- it's an action.
One last thing to remember: No matter how bad the stock market has gotten, it has always gone higher after a collapse. We have not had our Japan moment, nor is there any reason to believe that we will. A sour, nasty, bloody red market has always turned into a sweet, beautiful Irish green market, and it has done it relatively quickly.
Don't panic. Owning stocks has been a wealth creating strategy for a century. But you must be
diversified
, risk conscious and knowledgeable.
WHY THIS MATTERS
The top analysts, asset managers and hedge fund managers are keenly aware of the data that will move markets and they know
exactly
when retail traders are selling everything they own by looking at the average trade size. This is how they pick their stocks even if the market goes sideways or down.
The information asymmetry that exists between pros and non-pros has transferred massive wealth to the top 1%. That information asymmetry is no longer acceptable to us. In fact, it infuriates us.
This is just one of the fantastic reports CML Pro members get along with all the charting tools,
top picks for 2016
, research dossiers and alerts. For a (very) limited time we are offering CML
Pro
at a 90% discount for $10/mo. with a lifetime guaranteed rate.
Join Us: Get the most advanced premium research delivered to your inbox along with access to visual tools and data that until now has only been made available to the top 1%.
Thanks for reading, friends.