Enough Panic: These Companies Will Power Higher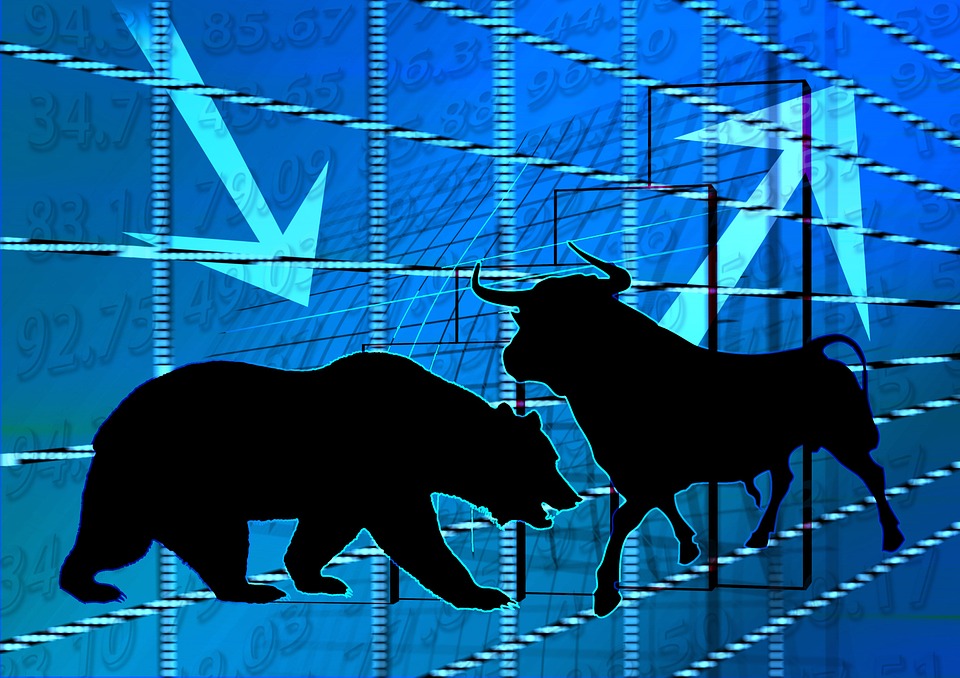 The Market
PREFACE
This is a follow up piece to our research dossier posted yesterday on Yahoo! Finance and with more detail in CML Pro.
The stock market has tumbled and has already hit the official 'bear market' level for some segments. But contrary to the headlines and the pundits, all is not lost; far from it.
THE MARKET
While bear markets go down
faster
than bull markets rise, bull markets rise more than bear markets fall. The stock market is the greatest wealth redistributor from the impatient to the patient. Remain patient, own quality stocks and be properly diversified -- this too shall pass.
CONSUMER
The U.S. consumer is the backbone of not only the American economy, but the world economy. We just got data from the Commerce Department that reported U.S. retail sales rose a better-than-expected 0.2% in January, while core sales rose a healthy 0.6%.
Even better: December's poor numbers, originally reported as 0.1% decline, was revised up to a 0.2% gain. (Source:
IBD
). It's interesting how that revised headline did not get broadly published.
That doesn't mean the stock market is done falling, it just means the sky isn't falling.
WHAT NOW
The market is toppy, valuations are stretched and worldwide monetary policy is not at all aligned. But, owning stocks has been a wealth creating strategy for a century. No matter how bad the stock market has gotten, it has always gone higher after a collapse.
WHY IT'S ALL OK
While
stock prices
will vacillate rather substantially, the truth is, core
businesses
rarely change that much. Yes, Ambarella (AMBA) stock as an example is down 70% from its highs, but the business hasn't changed -- it's still growing quite quickly. Here is the all-time revenue (blue bars) and earnings (orange line) chart for perspective: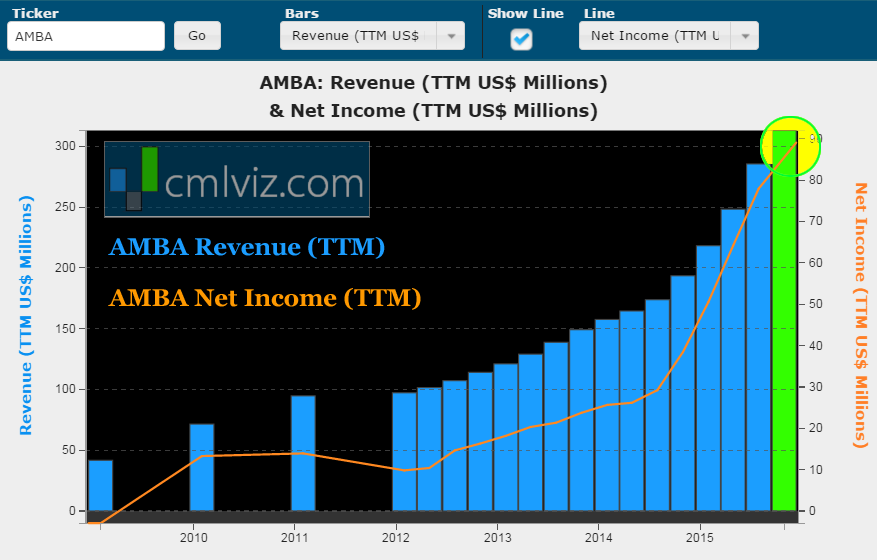 The
stock
is tumbling, the
business
is not. CML Pro members got into AMBA for $35. The stock is trading just below $40 as of this writing.
Celgene, the large cap biotech that CML Pro has pinned as the single best biotech in the world has seen its stock price tumble. Here is the all-time revenue chart: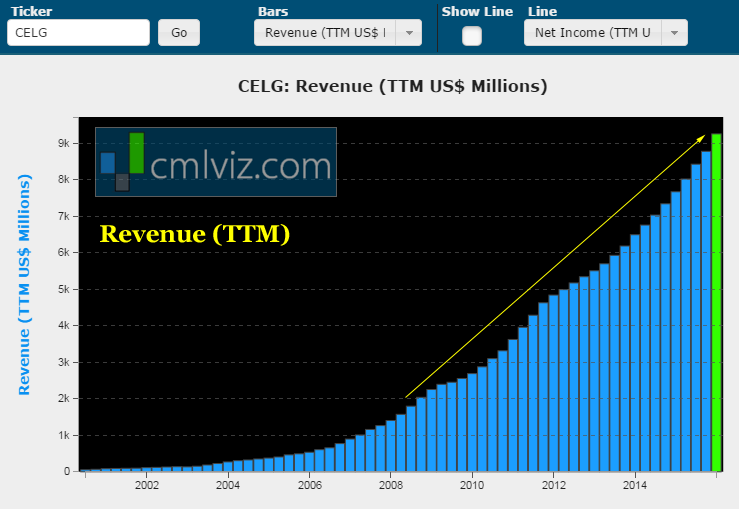 That mountain of revenue is not only at an all-time high, it has increased consecutively to new all-time highs every quarter for the last ten years. Further, the company has raised guidance for revenue by the year 2020 to $21 billion, up from $9.2 billion in 2015. The
stock
is tumbling, the
business
is not.
Cyber security is one of the most urgently growing segments of technology. Here's the explosive growth that segment will realize: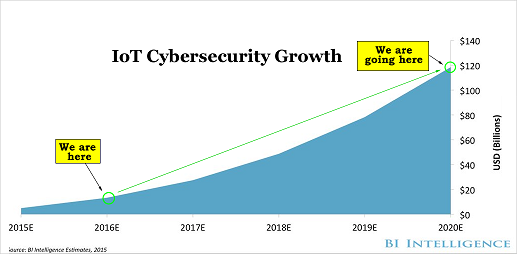 Market correction or not, recession or not, the growth in this area is a near certainty, even if projections come down, this is happening.
Palo Alto Networks (PANW) is one of the leaders in cyber security, and while its stock has dropped from $190 to $120, this is the company's all-time revenue chart: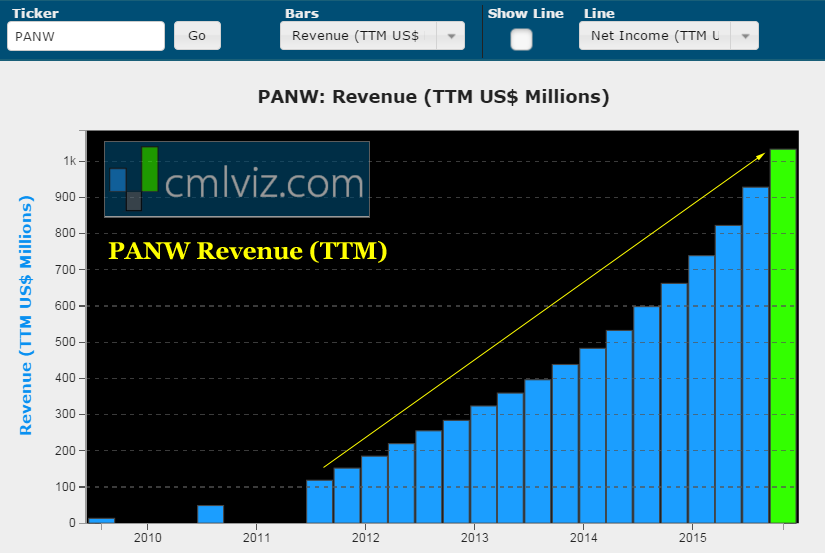 That's 56% year-over-year revenue growth with rising operating margins, earnings and free cash flow. The
stock
is tumbling, the
business
is not.
Apple stock has dropped from $135 now down to $95. Wall Street will have you believing that all hope is lost. On CML Pro we pubished a research dossier that outlines not only how Apple willl grow, but how a seismic shift in its business could see the stock double (yes, double) within three years.
Here is Apple's revenue (blue bars) and net income chart (orange line) over the last sixteen years: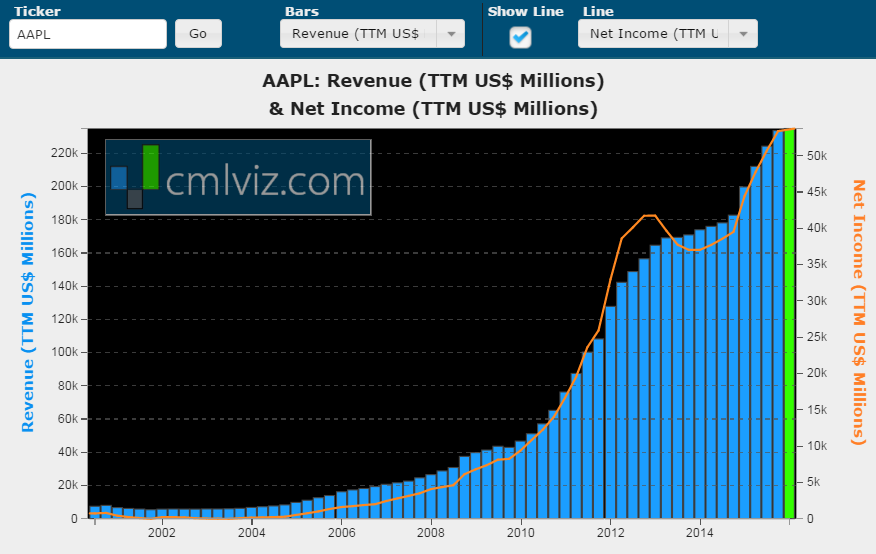 CML Pro also just published the article "The Apple Car Will Change Automotive History." That is available to
CML Pro members
. Again, the stock is tumbling, the business is not.
We could do this exercise for hundreds, if not thousands of high profile companies, and we will see the same thing: The
stocks
are tumbling, the
businesses
are not.
WHAT TO BUY AND WHY
Having said all of that -- watching portfolio values go down is sickening. It turns out there are a few themes leading the future that are simply unstoppable.
Whether or not we hit a recession, the Internet of Things (IoT) is going to be the largest market in the history of the world, measured in trillions of dollars within a year, and then several fold that in the years to follow. Here's the revenue chart for IoT.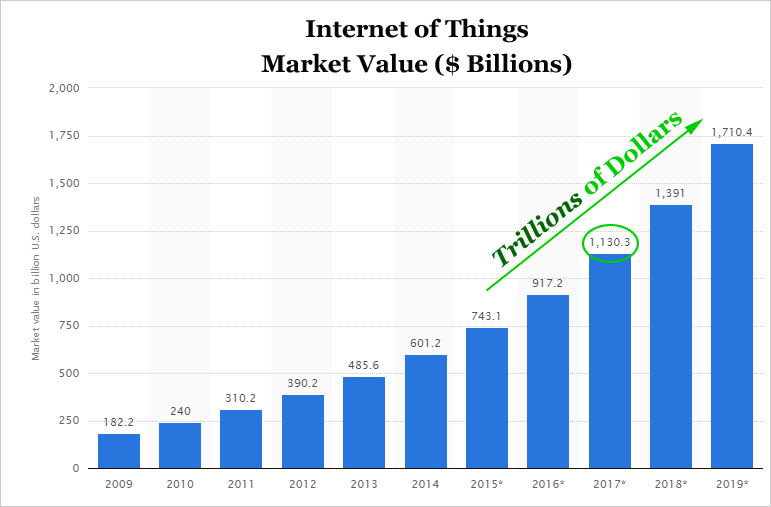 All we need to do is identify the top companies in this field and watch the market value grow. CML Pro has selected three.
Here's the cyber security market image again.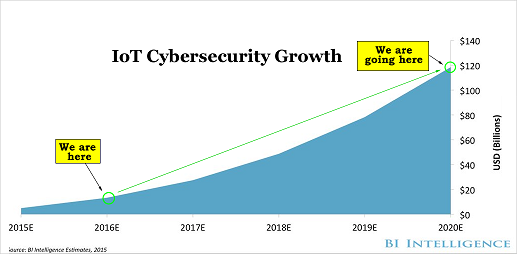 CML Pro has identified the single best company to benefit from this trend. Next, here's the growth in the driverless car realm: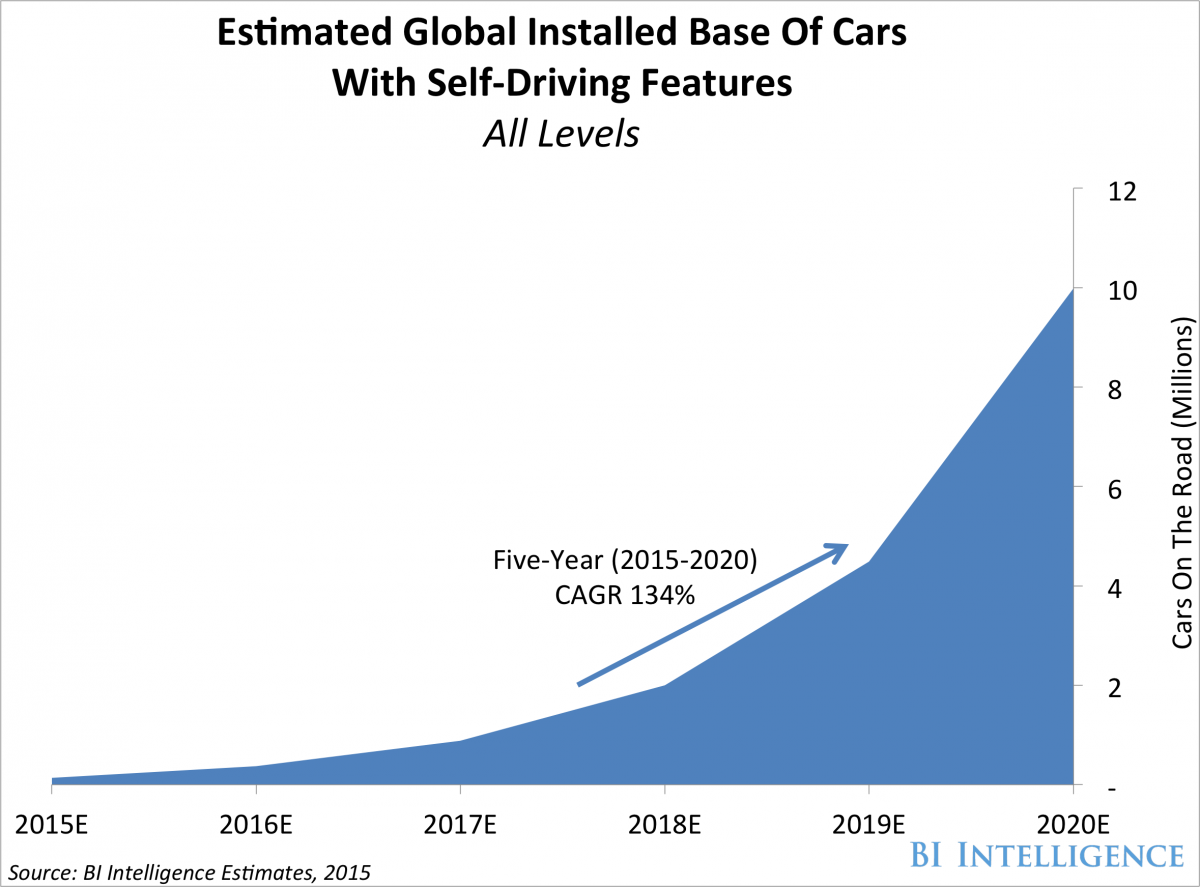 We're looking at 134% growth every year, for the next six-years. It turns out artifical intelligence is the key driver behind this trend, and there is one company that simply dominates this field -- it too is a 'Top Pick' for CML Pro.
Here's how virtual reality (VR) will grow: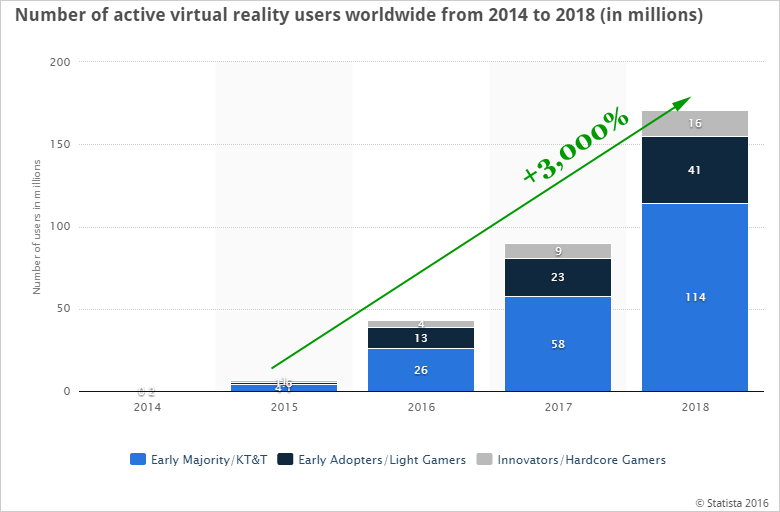 Here's how mobile pay will grow: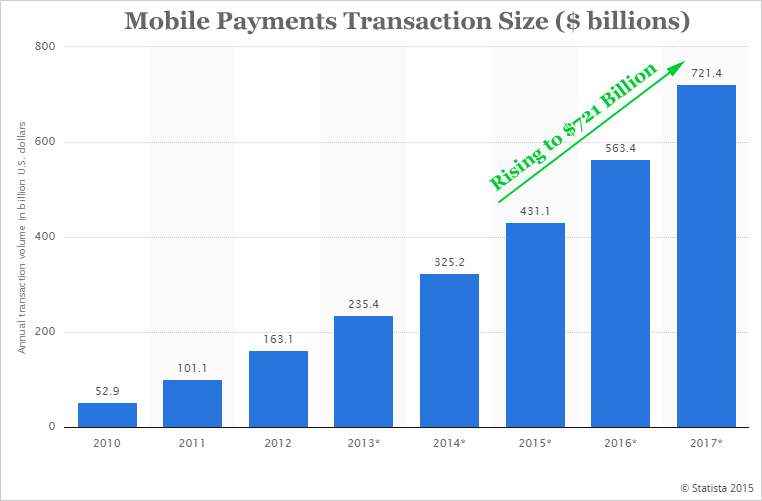 There are other themes that will simply happen -- no matter what -- like drones, artifical intelligence and many others. These charts should ease some fears, these are trends that cannot be stopped as our world and technology move forward.
THE KEY
The key here is rather simple: Identify the trends that are truly unstoppable, then find the best company or companies in those segments that will rise. There are such companies -- in fact, at CML Pro we call them our 'Top Picks.' There are 14 of them right now -- we will uncover 20.
THE GOOD NEWS
Capital Market Laboratories ('CML' for short), research does sit side-by-side with research from Goldman Sachs, Morgan Stanley, Merrill Lynch and the rest as part of the famed Thomson Reuters 'First Call' service.
But, while institutional research costs tens of thousands of dollars a year, CML Pro was created for the anti-institution. We invite our retail family to all the data, all the visualizations and all the research for just $10 a month.
If you're feeling uneasy about this market and would like to share a voice of reason, patience and knowledge -- join us. The information asymmetry is now broken.
This is just one of the fantastic reports CML Pro members get along with all the charting tools,
top picks for 2016
, research dossiers and alerts. For a limited time we are offering CML
Pro
at a 90% discount for $10/mo. with a lifetime guaranteed rate.
Join Us: Get the most advanced premium research delivered to your inbox along with access to visual tools and data that until now has only been made available to the top 1%.