These Technology Trends are Erupting


The Future

PREFACE
Once in a great while, when enough powerful actors throw their weight in the same direction, a movement drives forward that is nearly unstoppable. It was true of the personal computers in the 80s, it was true of the internet in the 90s. It was true of mobile technology in the 2000's.
Now it's time to look forward.
SEEING THE FUTURE
Here come the themes that will radically change our futures -- and the companies that will benefit.
I. NFC
Near-field communication (NFC) is the technology that powers the interaction between two devices that are 'near' each other. We're talking about mobile pay, personalized and self-driving cars, the wave of your smartwatch to open a garage door, and so many other fascinating applications. Here's the chart of projections just for smartphones enabled with NFC technology: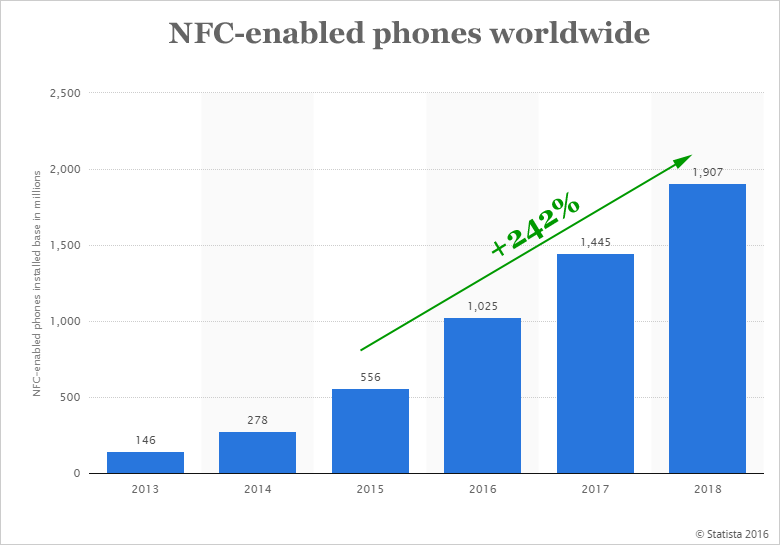 That's
1.9 billion smartphones
alone, showing 242% growth from 2015 through 2018. But remember, NFC technology will exist in all devices, not just phones - the Apple Watch is famously one of them.
In fact, Apple's (AAPL) recent launch of Apple Pay in its new iPhones and smartwatch with NFC technology was the final seal of approval needed. We now know, NFC will be as commonplace as WiFi, Bluetooth and GPS (Source: Reuters).
And there's
one company
that is not only the market share leader, but holds over 3,000 patents to defend its position. It already generates over $6 billion in revenue and it hasn't even scratched the surface.
II. IoT
The Internet of Things (IoT) actually is more than a catch-phrase. This is perhaps the first segment in human history that will be measured in
trillions
of dollars this quickly. Here are the projections for sales: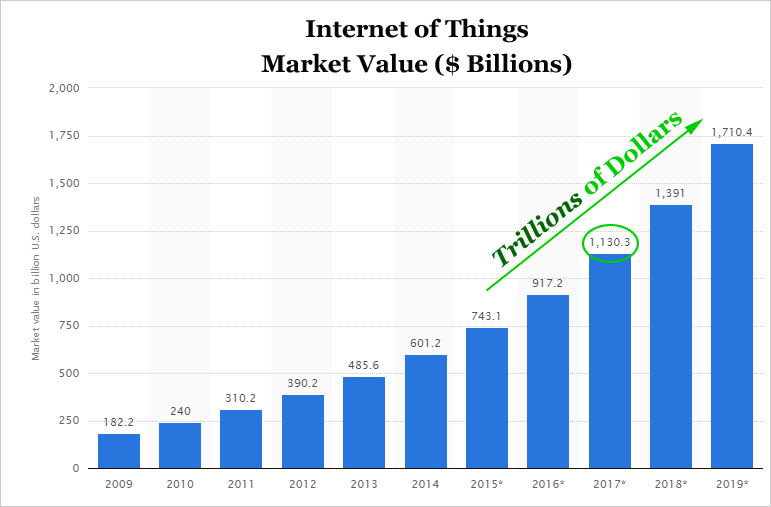 The CML Pro 'Top Picks' list has named
the three companies
that will dominate this theme -- and it doesn't matter if Apple (AAPL), Alphabet/Google (GOOG), Facebook (FB), Samsung, or any other firm becomes the most desired brand because they will each rely on these three gems that will power the world of IoT.
III. RF and 4G
Inside the world of IoT sits radio frequency (RF) and wireless 4G capabilities. They are now the standards of technology's future. Here's a great image of the opportunity for 4G inside China: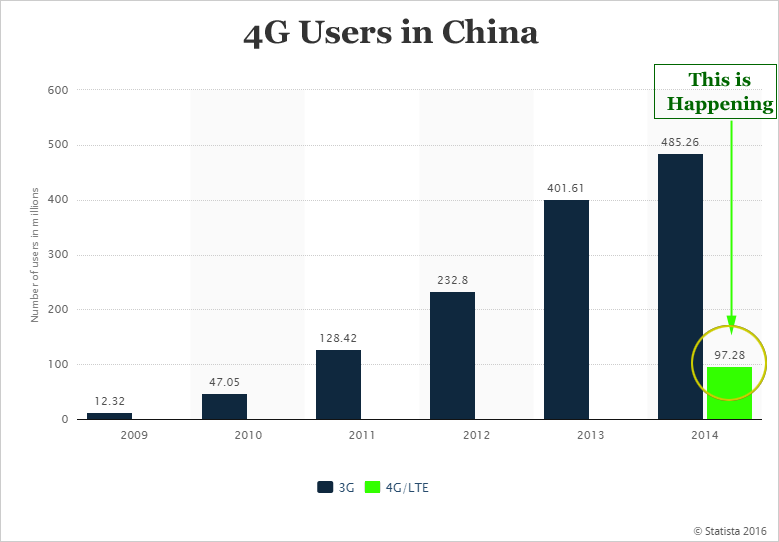 That light green colored bar (4G) is soon going to be larger than the dark colored bar (3G). Again, this is the marvel of thematic investing -- the trend is happening and nothing can stop it. CML Pro has named
the single company
that will lead this charge across the globe in its 'Top Picks' list.
IV. Mobile Pay
Mobile payments will totally transform the way money is used across the world. While NFC technology will power it, there are other players that will also benefit. Here are the astounding projections of payment volumes from Statista, in billions of dollars.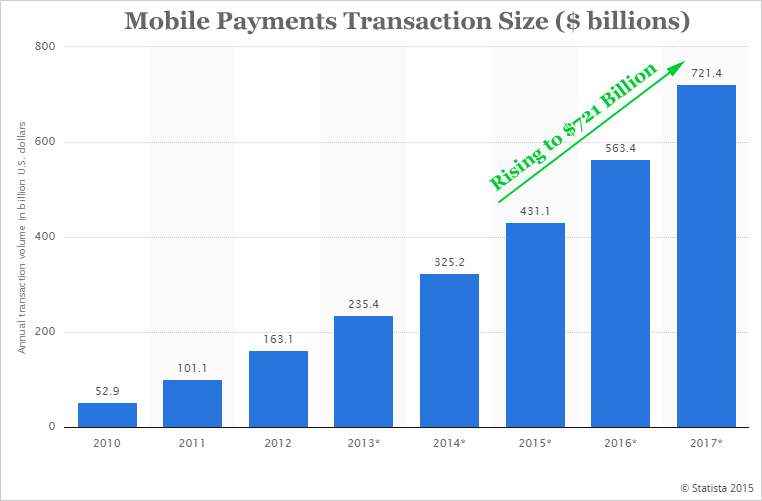 If hundreds of billions sound small, try this: Bank of America forecasts the market to reach
$3 trillion
by 2022. We're talking about a staggering 200-fold growth.
Apple (AAPL) Pay, Google (GOOG) Wallet and Samsung Pay and don't forget about Facebook (FB), which explicitly stated it wants to turn Facebook Messenger into a dominant player for mobile pay. With 800 million active users -- that's a great start.
CML Pro has identified the
two firms
that will most benefit from this world changing trend, and they are on the 'Top Picks' list.
V. SELF-DRIVING CARS
Self-driving features as well as fully automated self-driving cars are absolutely the future. Here's the forward looking chart of cars with self-driving features from BI Intelligence: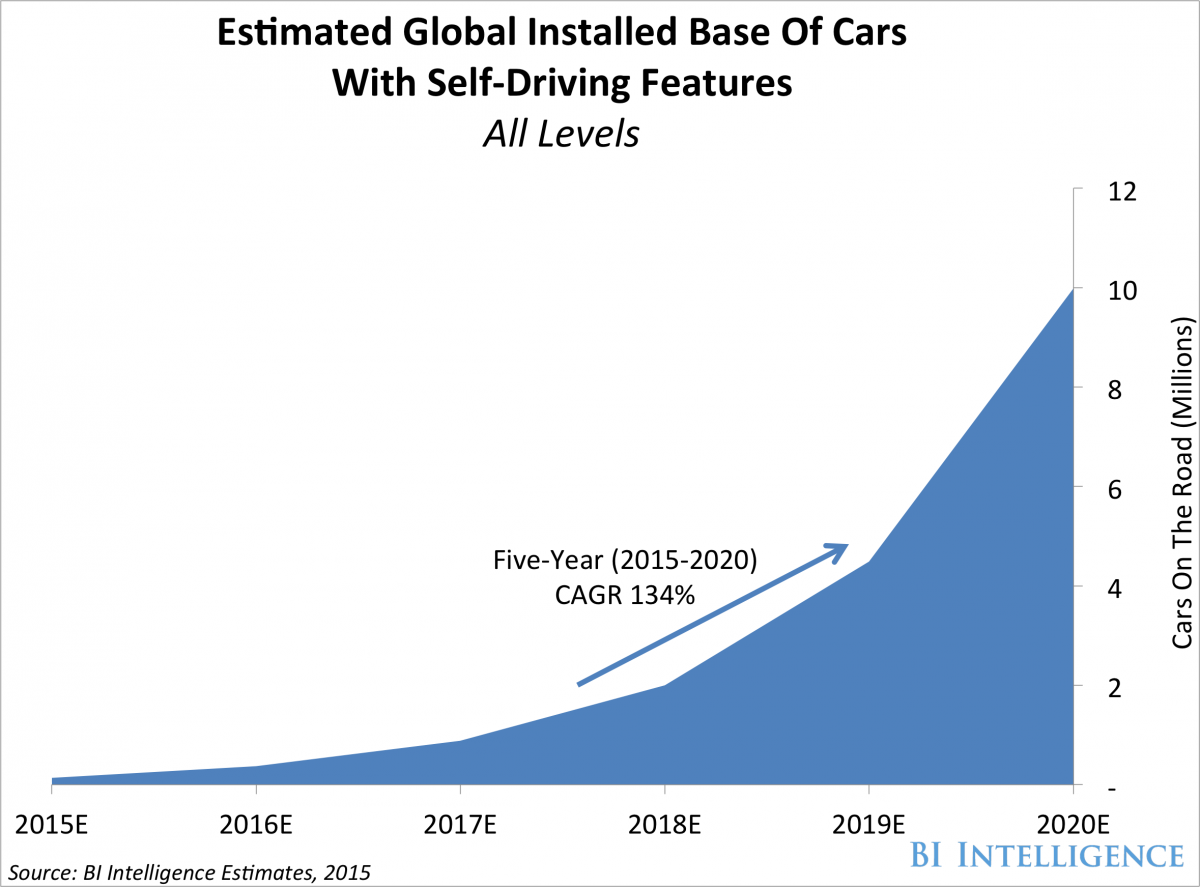 We're looking at 134% compounded-annual-growth rate for the next five years ending at 10 million cars by 2020. You don't want to see the projections after 2020 -- they'll scare the living daylights out of you.
Tesla (TSLA), General Motors (GM), Toyota (TM), Apple (AAPL), Google (GOOG), BMW, and many others are racing to be the winners.
But if you take a step back, there's one company --
a single gem
, that will power all of them. In fact,
it already has 50 auto-manufacturers
as customers and it actually invented the rip roaring technology behind the parallel computing power that is required for this trend to survive.
This single company is on CML Pro's 'Top Picks' list and we believe the stock could tripe within five-years.
VI. CYBERSECURITY
If there's one trend other than IoT that is just breathtaking, cybersecurity is it. As a taste for what we're about to see, this is the forecasted growth in cyber security just for the Internet of Things: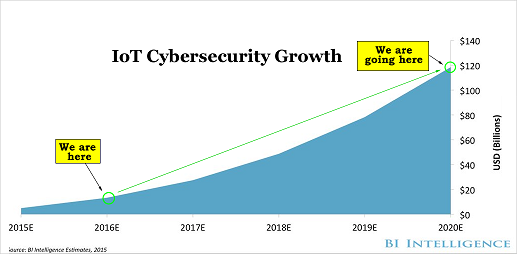 Yes, just the IoT segment is going to grow from $20 billion to $120 million in five years. In total cybersecurity is seen reaching $170 billion by 2020.
While there are many firms like FireEye (FEYE), Fortnet (FTNT), CheckPoint (CHKP), Cisco (CSCO) and others trying to grasp the brass ring, CML Pro has identified the single best positioned company in its 'Top Picks' list, and it's none of those firms.
VII. DRONES, WEARABLES, VIDEO SURVEILLANCE
Drones, wearables and video surveillance are also run away trends that are coming our way. CML Pro has its singe picks in each theme on it's 'Top Picks.' Here are the trends we are looking at, we'll start with drones: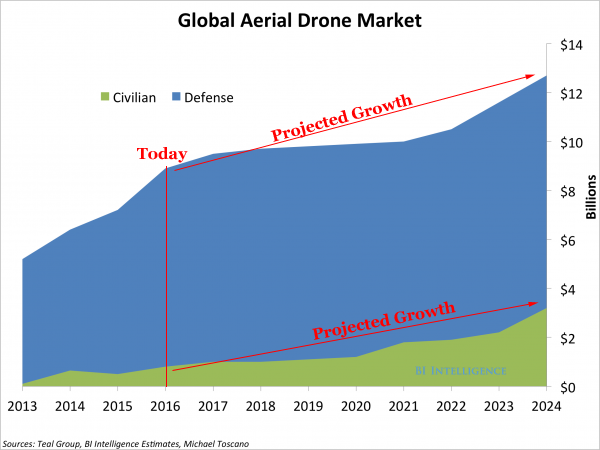 Next, we'll move to wearables: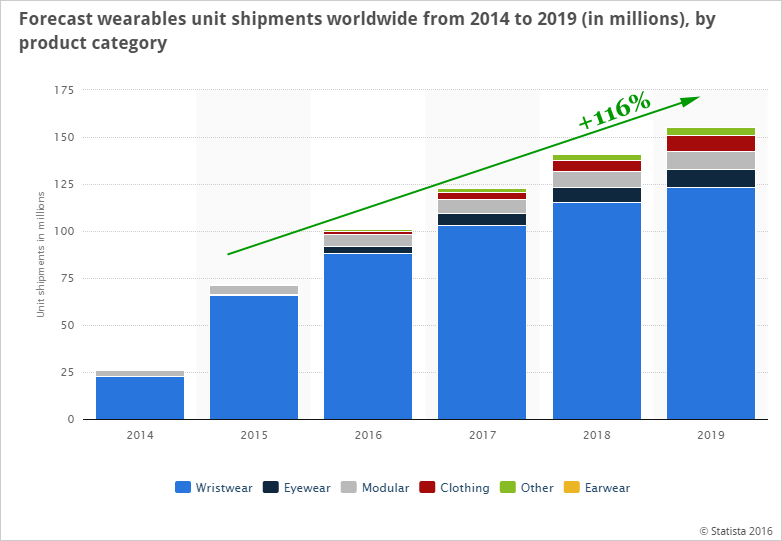 The bright blue portion of the bar charts are watches (yes, Apple Watch is going to be huge). IDC expects the number of smart wearable devices to grow at a 84.1% compound annual growth rate through 2019 and the growth hasn't even started, yet. We will be measuring wearable devices in fractions of billions within five years.
Video Surveillance sounds boring, but it's far from it. Gone are the days of grainy black and white surveillance cameras at our local 7-Eleven. Video chipsets to power video surveillance for the military, drones and other devices will explode. Here is the trend: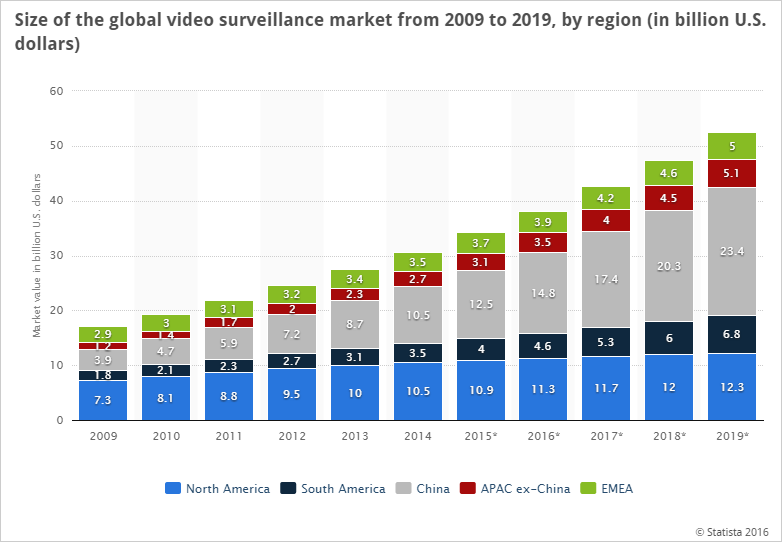 The critical element here is the chipset maker -- the guts of the technology. CML Pro has identified the single chipset maker that benefits from video surveillance and drones.
VIII. BIG DATA
This has become a catchphrase as well, but the reality is the amount of data created and stored just in 2015 and 2016 alone will be on par with the amount of data that has been created
throughout the history of the world
.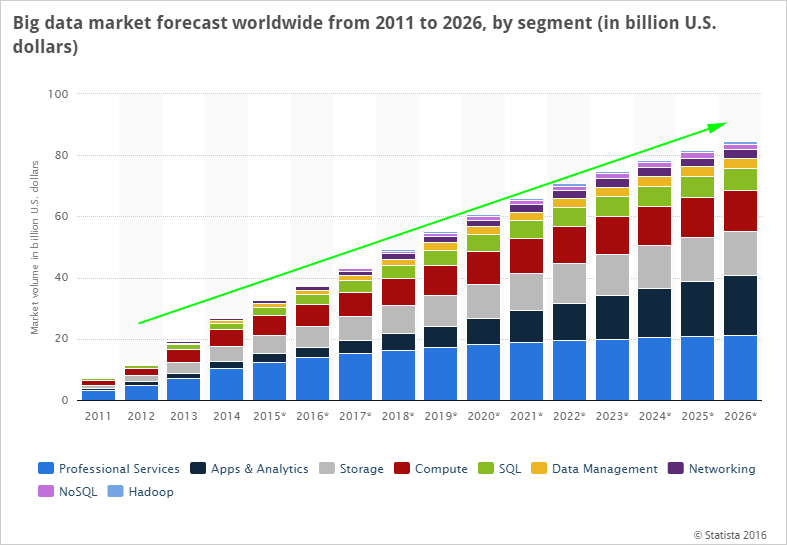 Big data is often associated with 'cloud computing,' and that leads to firms like Amazon (AMZN) and its dominant AWS (Amazon Web Services) cloud. It also leads to discussions about Microsoft (MSFT) and its cloud computing platform called Azure. Even Apple (AAPL) and it's iCloud are discussed here.
But we have little interest in picking the cloud computing champion -- we want to own the company that will be powering every cloud -- the guts of the technology. It's a 'Top Pick' for CML Pro -- in fact,
if there was a "top" 'Top Pick' -- this company may be it
.
WHY THIS MATTERS
Believe it or not, there more themes, like biotech, that are driving the future and CML Pro has a top pick for each: a collection of companies for the long-term investor that will benefit from a radically changing landscape.
But while CML Pro research sits side side-by-side with research from Goldman Sachs, Morgan Stanley, and the rest, we are the anti-institution, and make this type of research available to our retail family
for just $10 a month
.
This is just an example of the fantastic reports CML Pro members get along with all the visual tools, the precious few
thematic top picks for 2016
, research dossiers and alerts. For a limited time we are offering CML Pro at a 90% discount for $10/mo. with a lifetime guaranteed rate.
Join Us: Get the most advanced premium research delivered to your inbox along with access to visual tools and data that until now has only been made available to the top 1%.