SPX
N
The CML Close - Stocks Up, Supply Chain Improving, Shipping Costs Down, Target Issues a Profit Warning

Markets
Stocks were up, possibly driven by a good reading from the Logistics Managers Index (LMI) which showed that supply chain snarls in the US are easing.
All major indices were up while VIX dropped slightly and Crude was up again.
| | | | |
| --- | --- | --- | --- |
| • SPX | 4,160.68 | +39.25 | (+0.95%) |
| • NASD | 12,175.23 | +113.86 | (+0.94%) |
| • DJIA | 33,180.14 | +264.36 | (+0.80%) |
| • R2K | 1,919.56 | +29.68 | (+1.57%) |
| • VIX | 24.02 | -1.05 | (-4.19) |
| • Oil | 119.56 | +1.06 | (+0.89%) |
• Supply chain problems are easing.
• US import
demand is dropping off a cliff
and Drewry's container spot rates from China to the West Coast have plunged 41% month-over-month to $9,630 according
Freight Waves
.
•
Target (NYSE:TGT)
issued a profit warning as it faces inflation and sells of excess inventory.
• Market awaits CPI and Core CPI inflation readings on Friday.
Headlines of the Day
The Logistics Managers Index (LMI) Showed that Supply Snarls in the US Are Easing
A gauge of supply-chain pressure in the U.S. economy fell to the lowest level since December 2020.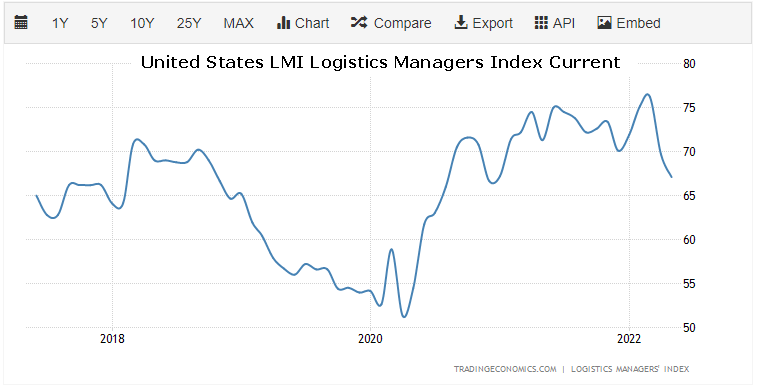 Target plans markdowns to get rid of excess inventory, expects weaker profit
Target Corp. has a new plan to rid itself of excess inventory, as well as to navigate supply chain issues and control costs, but it's expected to cut more into its profits this quarter.
JPMorgan's Kasman Sees No Recession as Dimon's 'Hurricane' Ebbs
Firm's chief economist sees slowdown yet no contraction. Fed has more to do, but 'does not want to create a recession.'
Trading in Russian debt stalls as US spells out ban
Under the rules, US firms are not allowed to buy Russian securities, including corporate or government bonds or equities, but may continue to hold them or sell them to a non-US counterparty.
The latest ocean container bookings data reveals that despite the strong levels of inbound cargo during the first five months of 2022, import demand is not just softening — it's dropping off a cliff. Because capacity on the trans-Pacific has remained relatively stable, Drewry's container spot rates from China to the West Coast have plunged 41% month-over-month to $9,630.
Economic Data Results for 6-7-2022
United States LMI Logistics Managers Index Current
The Logistics Manager's Index in the US fell for a second month to 67.1 in May of 2022, the lowest since December of 2020 and down considerably from March's all-time high of 76.2. The reading showed the supply pressures are easing.
United States Redbook Index
Redbook Index in the United States increased by 12.40 percent in the week ending June 4 of 2022 over the same week in the previous year.
United States Consumer Credit Change
Consumer Credit in the United States decreased to 38.07 USD Billion in April from 52.43 USD Billion in March of 2022.
Economic Data Due Tomorrow on 6-8-2022
MBA Mortgage Applications
MBA Purchase Index
Wholesale Inventories
Legal
The information contained on this site is provided for general informational purposes, as a convenience to the readers. The materials are not a substitute for obtaining professional advice from a qualified person, firm or corporation. Consult the appropriate professional advisor for more complete and current information. Capital Market Laboratories ("The Company") does not engage in rendering any legal or professional services by placing these general informational materials on this website.
The Company specifically disclaims any liability, whether based in contract, tort, strict liability or otherwise, for any direct, indirect, incidental, consequential, or special damages arising out of or in any way connected with access to or use of the site, even if we have been advised of the possibility of such damages, including liability in connection with mistakes or omissions in, or delays in transmission of, information to or from the user, interruptions in telecommunications connections to the site or viruses.
The Company makes no representations or warranties about the accuracy or completeness of the information contained on this website. Any links provided to other server sites are offered as a matter of convenience and in no way are meant to imply that The Company endorses, sponsors, promotes or is affiliated with the owners of or participants in those sites, or endorse any information contained on those sites, unless expressly stated."