Sarepta Could Crush It, Even with a Broken FDA


Sarepta Therapeutics
Written by Ophir Gottlieb, 11-18-2015
Without getting paranoid, there is evidence (albeit circumstantial), that an FDA committee was pushed in a way that is at the very least odd, and at the very most, outright tampering and fraud.
FIRST An Update
The risk in SRPT stock is exploding as reflected by the option market. Here is the IV30® (via Livevol) which is a fancy way of saying the expected future volatility in the stock price for the next 30 calendar days.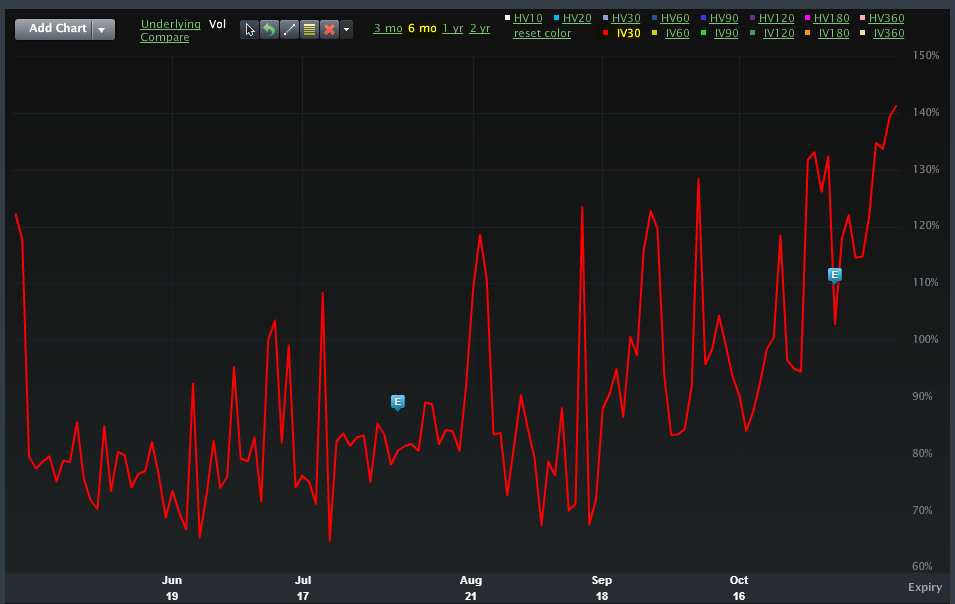 The risk is refelection of the news coming out in a matter of days from BMRN and this news:
On November 17th, Sarepta Therapeutics revealed that a peer-reviewed medical journal, the Annals of Neurology, published the results from a midstage trial testing its treatment for a fatal form of muscular dystrophy (Source:
WSJ
). The stock is finally rising after a catastrophic drop.
The study found that at three years of treatment, patients experienced a slower rate of disease progression when compared to untreated matched historical controls and the investigational drug continued to be well-tolerated.
Source:
BusinessWire
In English, SRPT is on the clock for an FDA committee meeting on January 22nd to recommend its drug to treat Duchenne muscular dystrophy (DMD), a disease which affects around 1 in 3,600 boys, which results in muscle degeneration and premature death.
There are no cures or treatments available but SRPT has one and so does (maybe) BioMarin (BMRN). The incredible story is included below, and it's not only mind blowing, it may point to FDA member tampering, malfeasance and an incredible opportunity.
The main stream media doesn't have the vocabulary to understand breaking biotechnology and technology. Get
free
news alerts (once a day) from us and you will be the expert in the room.
Get Our (Free) News Alerts.
There's just no ther way to say it, the stock market reaction for SRPT of late has been abrupt and utterly bizarre if not confounding. Here's the stock chart, and note the wild collapse in the stock.
I originally posted an article on SRPT on July 9th, 2015 and October 15th.
The mainstream media doesn't have the vocabulary to understand breaking technology and biotech.
Join Us: Try free breaking news alerts once a day.
WHY SRPT Stock Collapsed
Two things have happened.
First, in an odd twist, the date expected for the FDA committee to meet was Nov. 23 and 24th and all parties believed that both BMRN and SRPT would
both
be reviewed on those days so the FDA could get a real handle on the two drugs and certainly approve at least one.
But... It turned out BMRN will in fact meet with the FDA committee on Nov 23rd, but SRPT has been bumped to Jan. 22, 2016. That's not because the drug is less promising.
Nothing has changed
and tentative FDA schedules surprise people all of the time. In fact, by most accounts, SRPT's drug candidate is far superior to BMRN's.
However, the fact that SRPT has been bumped back crushed the stock and does smell, even if it sounds paranoid, of some back channel FDA committee agreement. Parent and doctor advocacy groups almost immediately protested the date change, not because of the stock price, but because of the dire need for the medicine for children.
If you enjoyed this story, you simply won't believe the fantatsic reports and tools CML Pro members get for just $10 a month.
Get CML Pro, become the most powerful investor simply by having knoweldge.
The oddity and potential smoking gun of impropriety here is that the FDA committee had a wonderful opportunity to listen to and examine the data behind the only two drug candidates in the world to treat this disease
at the same time
, and make a recommendation based on all the data. But they didn't... and SRPT stock got hammered.
Second, SRPT offered 3.25 million shares in a public offering at $39 per share. Sarepta plans to use the net proceeds from the offering for product and commercial development and general corporate purposes. That's a good thing.
The main stream media simply doesn't have the lexicon to understand breaking biotechnology. It just doesn't.
Get free news alerts (once a day) from us and you will be the expert in the room.
THE Bizarre Over Reaction
The market punished SRPT because its drug (if approved) will be two-months behind BMRN for release. Friends, this is a public company with a remarkable drug that will likely get approved and two-months means nothing to the stock price. This is not a one-time drug sale, it's a magnificent pipeline and treatment with decades of sales ahead of it. But again, all evidence points to SRPT having a superior drug, why has this date change happened, anyway?
Even more bizarre, the PDUFA date (not the committee hearing date), which is the date that the drug gets an actual approval or disapproval status, was
always going to be two-months behind BMRN
. This was a known entity for now more than three-months and was never disputed. Yes, this two-month gap has always been known. I quote myself from the prior article in September:
"BioMarin Pharmaceutical (BMRN) also has a drug under FDA review called drisapersen (from Prosensa in acquisition). Interestingly, Drisapersen's PDUFA date is Dec. 27, 2015 two months before SRPT gets its big day."
Source:
A Small Cap Biotech Ready to Explode
The main stream media simply doesn't have the lexicon to understand breaking biotechnology. It just doesn't.
Get free news alerts (once a day) from us and you will be the expert in the room.
Since the PDUFA date was already behind BMRN, the changing of the dates for SRPT's FDA committee hearing feel yet more manipulated; in the bad and potentially illegal way.
DETAILS about SRPT and its Drug
Sarepta Therapeutics is a biopharmaceutical company that has no products out to market and no revenue, but has a market cap of $1.2 billion.
SRPT has a drug candidate called eteplirsen that addresses Duchenne muscular dystrophy (DMD), a rare disease that affects the protective sheath surrounding muscle fibers and it's fatal.
The FDA announced that it had in fact accepted Sarepta's new drug application filing for eteplirsen, granting it
priority review status
and setting its PDUFA decision date for Feb. 26, 2016. "Priority Review Status" is designated to drugs that offer benefit over existing therapies, or provide a treatment where no adequate therapy exists.
Do you want to get news like this every day when it breaks?
Get Our (Free) News Alerts Once a Day.
SRPT has had its ups and down, seeing its stock price trade as low as $11 and as high as $37 in the last year, alone. It's management appears to have totally botched an advisory committee request and in a rather unusual moment, the FDA itself clarified its points on the development timeline. But after a very (very) long trial for its DMD drug, things look good. When I say "good," I mean, it has reached the final endpoint and the data looks promising.
An FDA advisory committee will judge the drug and the FDA will take that into account and make a final decision. The addressable market for this drug has been estimated to be about $700 million in sales which isn't quite blockbuster status, but it's a non-trivial win if it goes through and the $1.2 billion market cap as of today would represent less than a 2:1 price to sales.
SRPT would instantaneously become a takeover candidate for any number of mega cap biotechs.
The stock drop of off the FDA committee date change both apprears to be a bizarre over-reaction and feels like a nasty case of potential tampering with the FDA process.
Disclosure: I am long SRPT shares.
Get one report a day just like this.
Try free news alerts from us.