Silver Spring Networks Inc (NYSE:SSNI) Continues Forward
Silver Spring Networks Inc (NYSE:SSNI) Continues Forward
Date Published:
2016-11-20
Written by Ophir Gottlieb



Preface

Silver Spring Networks Inc (NYSE:SSNI) is one of a precious few Spotlight Top Picks for CML Pro, a portfolio that has more than doubled the S&P 500. The company is engaged in creating, building and deploying networks and solutions enabling the Internet of things (IoT) for critical infrastructure.

In English, an investment in this company is an investment in the smart and connected city phenomena which show promise of great growth moving forward. The company reported earnings about a week ago and it's time to review the progress.

EARNINGS
Silver Spring Networks reported a loss of $0.29 per share, but adjusted for non-recurring costs and stock option expense, reported a $0.13 EPS profit beating Wall Street estimates of $0.04. Revenue came in at $76.1 million for the quarter, also beating estimates, which were at $74.8 million.

SILVER SPRINGS NETWORKS THEMES
To motivate the discussion, let's first look at the themes SSNI is pursuing in a broad context. First, we can look at the install base of 'connected things' within the utilities sector of smart cities from our friends at Statista: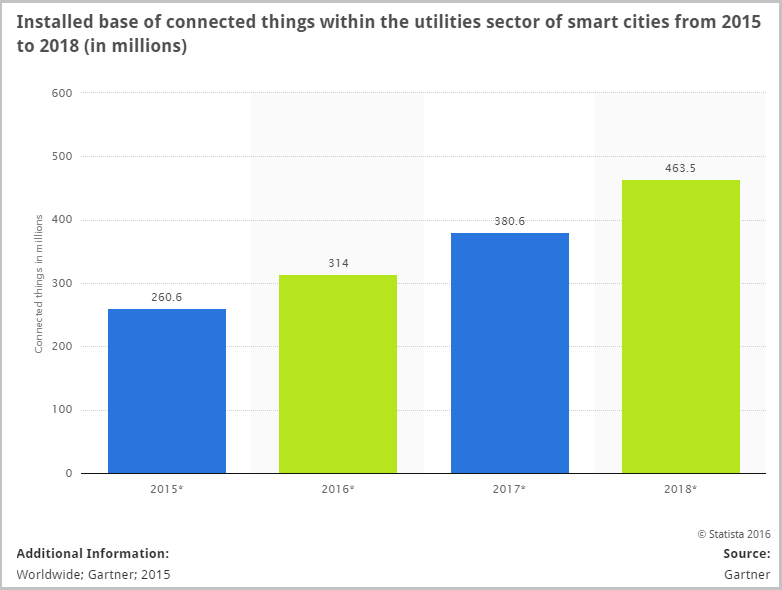 The install base of "connected things" in the utility sector is going to hit over 460 million within three years. Further, SSNI lives in the smart LED lighting world - an absolutely explosive trend for the future: According to research firm Gartner, smart LED lighting will grow from 6 million units in 2015 to 570 million units by 2020. Yes, basically a 100-fold increase.

Finally, we can look at the trend in LED lighting systems control component market: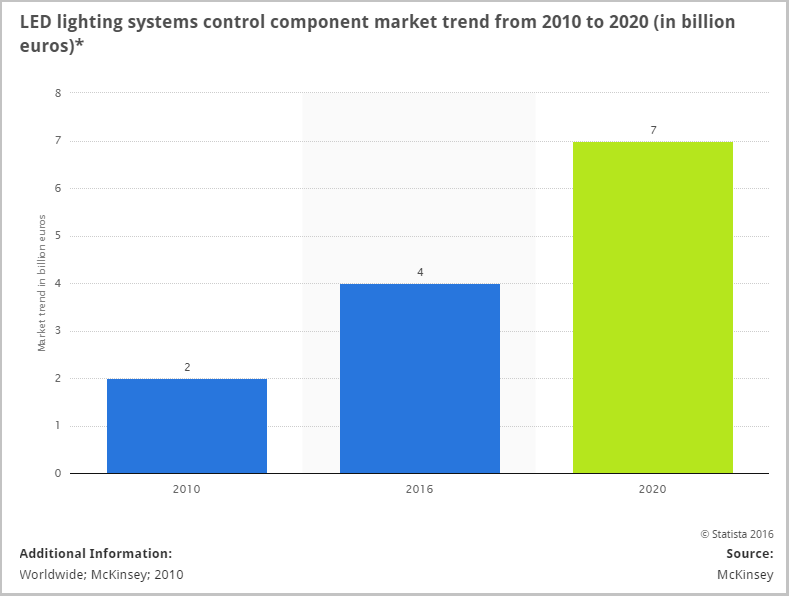 SILVER SPRINGS NETWORKS PROGRESS
Now, lets dive into the company's results and look at progress. We can start with revenue rolled up into trailing-twelve-month (TTM) periods.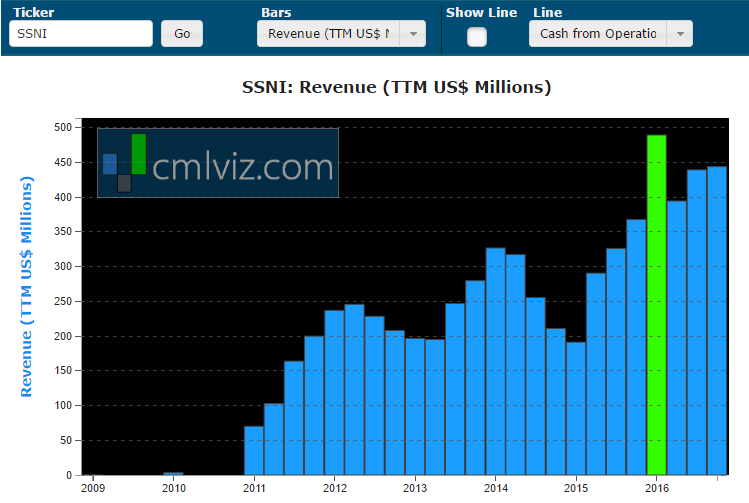 We need to smooth out that peak in calendar Q4 of 2015 to really see the progress.

The revenue trend is decidedly upwards, even though this company is in its infancy. The company measures its success by something called "endpoints," which are "the 'things' on a network which comprise the Internet of Things." In English, any device, sensor, or meter that requires connectivity that then communicates data.

Perhaps the most important piece of information we got from the earnings call was this gem from Mike Bell, President and CEO:



"

Our win-rate this year has been quite impressive, for the U.S., we estimate

we have won approximately two-thirds

of the total electric endpoints, which have been awarded in 2016. On a global basis, we estimate

we have won approximately 75%

of all the electric endpoints awarded in 2016 for which we competed.

"



Those are tremendously high win rates and could be the beginning of a moat as this entire world moves forward.

The company now claims:

Over 24.9 million cumulative network endpoints delivered from inception through September 30, 2016, up 12% from a year ago.

SSNI also highlighted a number of wins, awards and moves toward progress in its release:

Strong gross margin on billings driven by start of large US AMI program and continued production efficiencies.

Entered a new collaboration agreement with Singapore Power to expand its AMI deployment by an additional 200,000 electric customers, and to open the platform to other third-party IoT devices in support of Singapore's "Smart Nation" initiative.

There are several other breakthroughs which we discuss in the CML Pro dossier.

SSNI VISUALS
We can turn to some of the visuals that the company presented as well. First, we can note the broadly applauded move from product revenue to services revenue, which generally demand a higher price to earnings ratio (i.e. a higher stock price):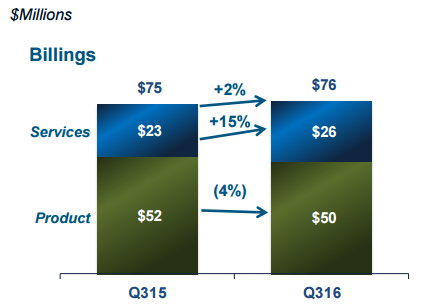 While that chart looks less than impressive, with just 2% top line growth, look at that services growth, up 15% year-over-year.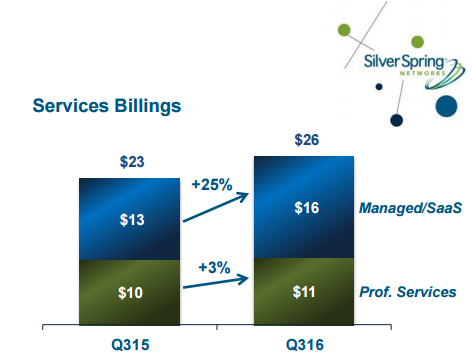 We can see an ever more impressive 25% growth in Managed/SaaS (Software as a Service), and that's exactly where we want them to go. Now the company has some of the most difficult to understand reporting procedures for gross margins and billings as opposed to revenue, but here is a breakdown per their preferred mode of operation, specifically with respect to gross profit on billings: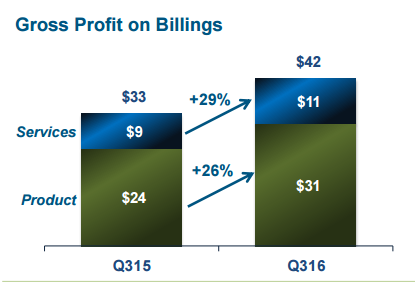 With that 25% growth year-over-year in managed/SaaS and over 27% increase in gross profit, we can see the growth potential. In fact, gross margins are up across the board on billings: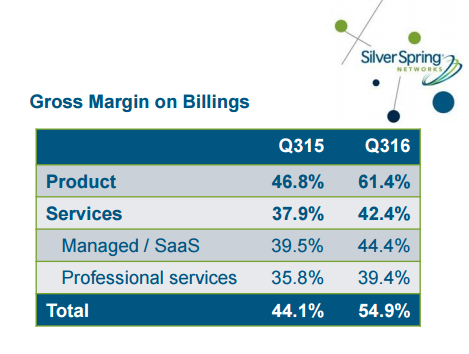 SSNI also has made strong push in to the international markets seeing a 88% rise year-over-year even as the U.S. market contracted by 18%. But, here's the reason for some of the renewed excitement in the short-term.

ELECTION
With Donald Trump winning the presidential election, Wall Street is starting to get the feeling that a large push for infrastructure spending is coming, and that's exactly what Silver Springs Networks wants to hear. While SSNI is a technology company fitting into some powerful technological themes, it's still an infrastructure play.

As local, state and national governments look to spend on infrastructure, the next wave is a technical innovation as well, and that's where SSNI fits in.

CONCLUSION
SSNI is a very long-term investment that will wait for the world to catch up to technology. The connected cities revolution has hardy begun, but in its infancy, SSNI is emerging as a substantial player. Having won 75% the business it competed for worldwide this quarter, we maintain a bullish outlook on the company and the technology in general.

Thanks for reading, friends.

The author is long share of Silver Spring Networks Inc (NYSE:SSNI).

WHY THIS MATTERS
Our research sits side-by-side with Goldman Sachs, Morgan Stanley and the rest on professional terminals. Of our Top Picks, Nvidia is up 180% since we added it. Ambarella is up 70% since we added it. Relypsa was taken over for a 60% gain and we are already up on Twitter when we added it to Top Picks for $15.60.

To become a CML Pro member it's just $19 a month with no contract. It's that easy -- you cancel at any time, instantly.

Each company in our 'Top Picks' portfolio is the single winner in an exploding thematic shift like self-driving cars, health care tech, artificial intelligence, Internet of Things, drones, biotech and more. For a limited time we are offering CML Pro for $19/mo. with a lifetime guaranteed rate. Get the most advanced premium research along with access to visual tools and data that until now has only been made available to the top 1%.