The Secret is Out: The Technology Gem Driving the Internet of Things



Fundamentals

PREFACE
Skyworks Solutions (SWKS) is a chip maker with heavy in-roads to the wireless world and the Internet of Things. With a stock price down nearly 50% from its highs, now may be the time to take a closer look at this technology marvel.
STORY
Leveraging its core technologies, Skyworks supports automotive, broadband, wireless infrastructure, energy management, GPS, industrial, medical, military, wireless networking, smartphone and tablet applications.
One of the most prevalent themes in technology today surrounds radio frequency (RF) complexity and content. Both Avago (AVGO) and Skyworks (SWKS) have proven to be leaders and many consider both to be the best diversified plays in this realm. The 4G reference design share with China's major baseband suppliers represents one of many growth opportunities.
THEME
At Capital Market Labs (CML) we always take a thematic approach to investing. We have named the single to picks in artificial intelligence, the Internet of Things (IoT), drones, cyber security, apparel, disruptive technology and others.
With SWKS, we are again looking at IoT. Here is the wonderful trend we need to be in front of. We will start with the growth in devioces: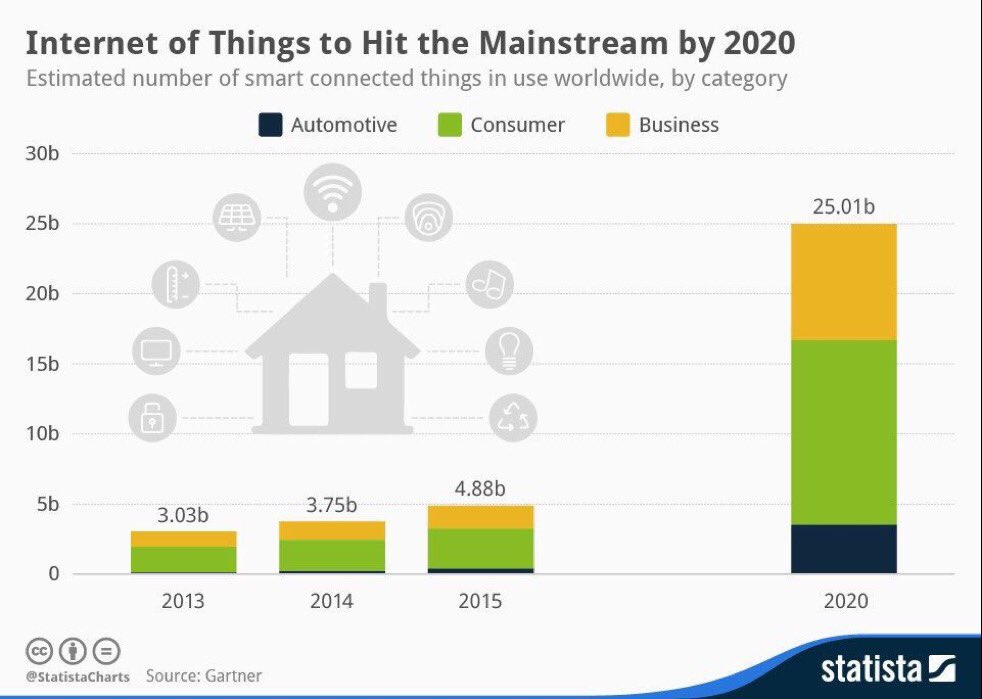 There's reason people refer to this segment as the next
wave
of technological innovation. Forecasts call for 25
billion
devices in the IoT by 2020, up from 5 billion in 2015. But, the real excitement comes from the revenue potential. Here are the forecasts for IoT sales figures: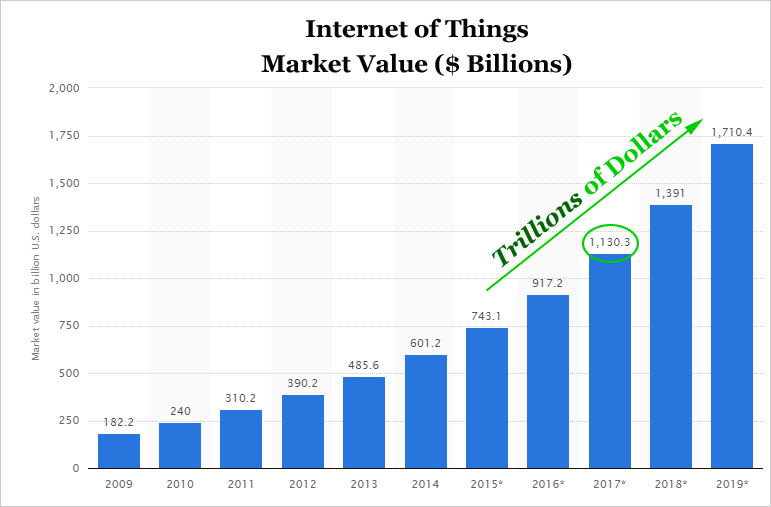 This is likely the first time ever that a new technology is getting measured in
trillions
of dollars even as we are in the infancy of its evolution. This is where SWKS fits in.
WHY SKYWORKS
SWKS has seen revenue, operating margins, net income, free cash flow and R&D all rise year-over-year. In fact, revenue and net income are at all-time highs. Here is a chart with revenue (TTM) in the blue bars and net income (TTM) in the orange line: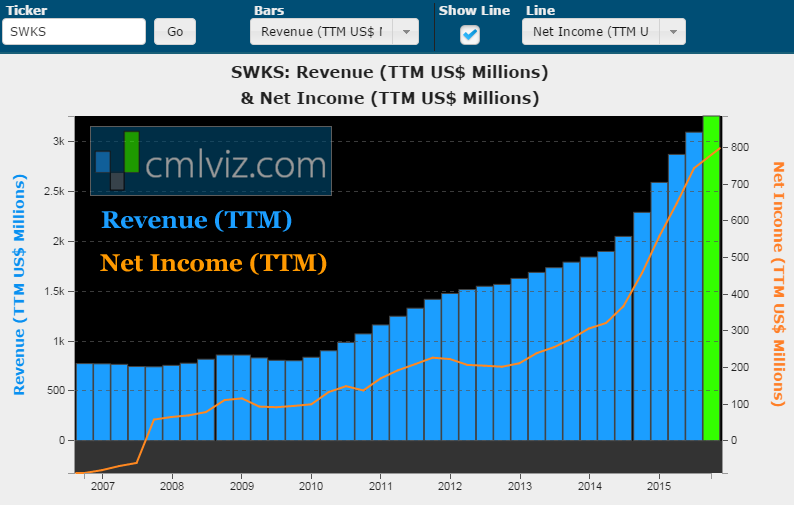 We're looking at 42% revenue growth year-over-year and consecutive quarterly all-time highs measured in trailing-twelve-month increments for seven consecutive years. Net income is up 74% year-over-year and that too has broken all-time highs for several consecutive years.
The stock price has tumbled to $64 from an all-time high of $112. Here's the two-year stock price: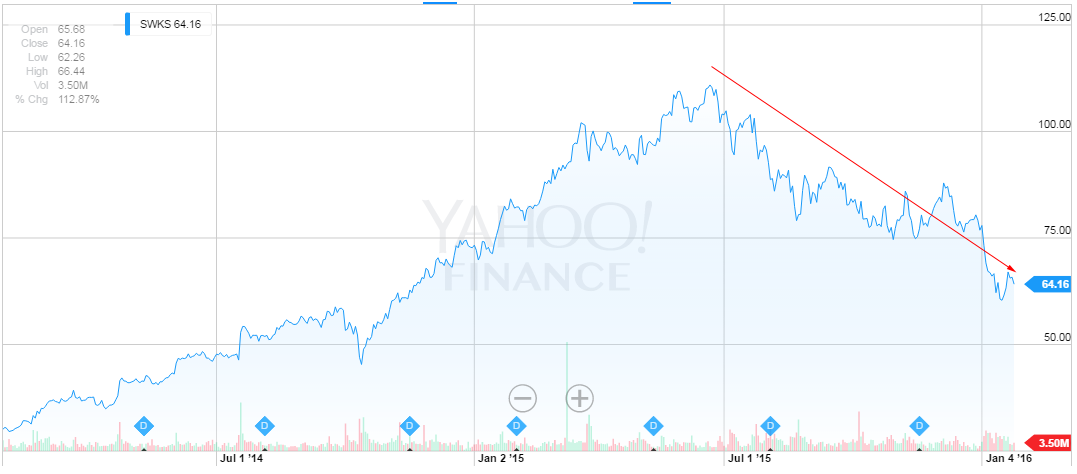 Oddly, as almost every chip maker has brought down expectations, SWKS has not. In fact, in the earnings call last quarter management guided for revenue to fall between $925 million and $930 million, which, if achieved, represents double-digit growth from the $805 million it produced in the year-ago period (Source:
Motley Fool
).
Further, in that same call the company forecasted $1.60 in EPS, up from $1.26 a year earlier.
We break news everyday. Discover the Undiscovered.
Get Our (Free) News Alerts Once a Day.
RISKS
While SWKS is bullish as ever in the face of an apparent global slowdown, Wall Street is less optimistic. The average estimate now calls for EPS of $1.58 and revenue of $915 million per
Yahoo! Finance
.
More risk comes from Skyworks' reliance on Apple, which may account for more than 30% of its revenue.
Finally, yet more risk comes from new competition. On January 19th, news broke that Qualcomm (QCOM) and Japan's TDK announced their joint venture to deliver RFFE (radio frequency front-end) modules into integrated systems for mobile devices and other segments, including Internet of Things (IoT).
THE OPPORTUNITY
The semi-conductor realm is all about margins, especially as we expect to see volumes increase dramatically in the next five years to keep up with that trend in IoT demand.
Here is the chart of SWKS gross margins through time: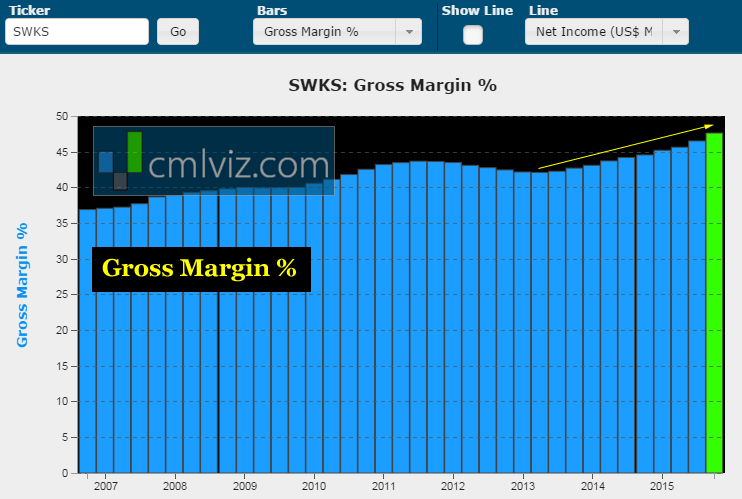 While this trend looks nice and neat -- it's actually rather breathtaking. It's quite rare for a company to grow this fast and see margins increase. In fact, we have heard other hardware and semi-conductor companies bemoan margin pressure -- but not Skyworks.
If we dig deeper to the most critical margin of them all -- operating margins -- we see the same hardly believable result: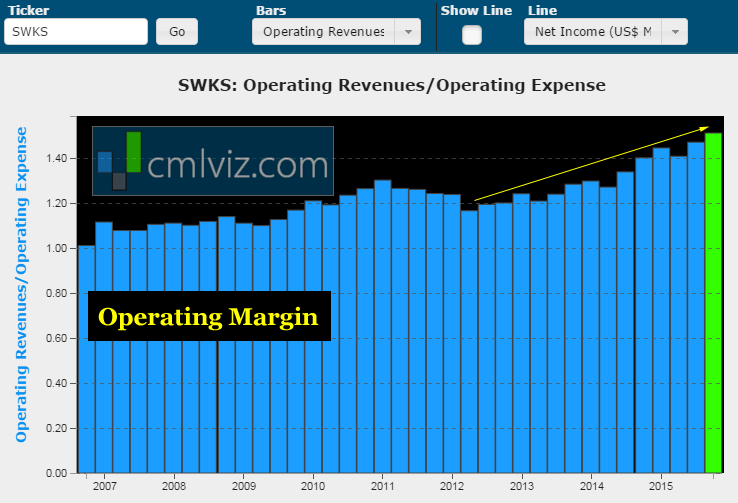 Not only has the company seen its operating margin rise, its actually at all-time highs. SWKS generates $1.51 in revenue for every $1 in expense, which is very high and above the sector average of $1.09.
IoT
Skyworks' R&D is also at all-time highs because it's pursuing organic growth that will diversify its product offerings to mobile devices, wearables, smart home technology, automobile, healthcare and defense. The IoT device explosion provides a growing wave of different designs that the company believes will diversify its portfolio.
Here is the company's R&D chart through time:
Do you enjoy using visualizations to understand what's really going on in a company?
Get Our (Free) News Alerts Twice a Week.
That's a 50% increase in two-years to go along with a 21% increase year-over-year.
China
Now, don't roll your eyes on yet another mention of China. This is different -- this is a shift that is certain to happen, regardless of a slowing economy. China is converting from 2G & 3G capability which as of mid 2015 still represented about 80% of the country.
The move to 4G has created new Chinese giants Xiaomi and Huawei, which should rather easily hedge SWKS from slowing growth in Apple and Samsung products. Here is the breakdownof coverage for 3G and 4G in CHina by year through 2014: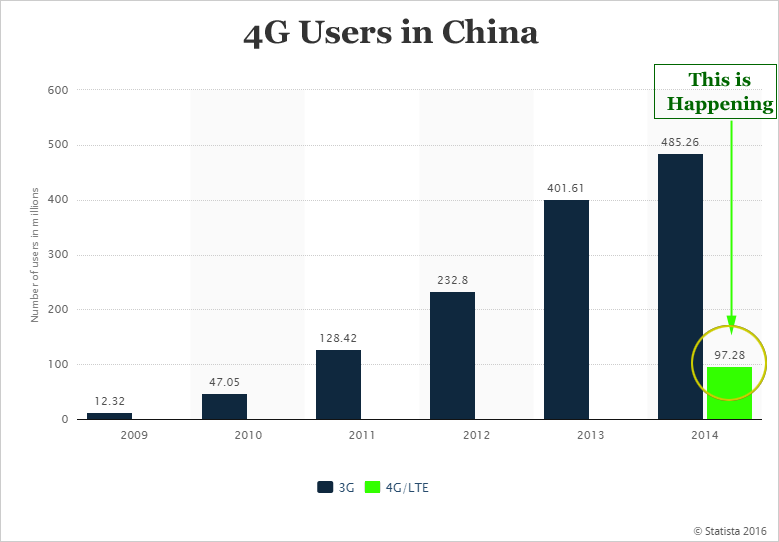 Friends, this is happening, regardless of an economic slowdown.
This is the marvel of thematic investing, we don't need to pick the winner, we need to pick the company that will supply all of the companies and become a de-facto winner simply by participating in the technological change.
Goldman Sachs declared that SWKS generated 83% of its revenue from China, but I'm going to have to side with the CEO on this one, and have no idea what Goldie was referencing. Here's what CEO David Aldrich said on the last earnings call:
Skyworks derives approximately 20 to 25 percent of its revenue from China. In 2014, there were under 100 million LTE phones shipped to China. In 2015 that rate has increased dramatically to a quarter of a billion.
Source:
Seeking Alpha
That's not 83%, but it is a
huge
opportunity in the quickly developing technological landscape in China. In that same earnings release SWKS called out breathtaking new design wins in...
Get the full research dossier in CML Pro:
Why Skyworks Will Be the IoT Winner
WHY THIS MATTERS
If any of the information we just covered, like China's move from 2G/3G to 4G feels like a surprise, in many ways it is. These charts, data and trends are known by analysts that represent the wealthiest 1% of Americans but they have no interest in sharing.
SWKS was just added to the precious few CML Pro 'top picks.' Can you imagine the other 12 names on the list that cover artificial intelligence, Internet of Things, cyber security, automotive technology, biotech, apparel and more.
This is just one of the fantastic reports CML Pro members get along with all the charting tools,
the top picks for 2016
, the single top companies in Artificial Intelligence, the Internet of Things, Cyber Security, Biotech, Banking, Consumer Services, Apparel and more. For a limited time we are offering CML
Pro
at a 90% discount for $10/mo. with a lifetime guaranteed rate.
Join Us: Get the most advanced premium research delivered to your inbox along with access to visual tools and data that until now has only been made available to the top 1%.
Thanks for reading, friends.