A Crown Jewel of Technology: Skyworks Solutions Inc (NASDAQ:SWKS)

Skyworks Solutions Inc(NASDAQ:SWKS)
Date Published:
2017-01-25
Written by Ophir Gottlieb

Preface
We added Skyworks Solutions Inc (NASDAQ:SWKS) to Top Picks for $66 back in January of 2016 as a crown jewel of technology.

Spotlight Top Pick Skyworks Solutions reported strong earnings on January 19th and the stock has popped higher.

We will walk through the details but first let us recall from our dossier published on November 28th, 2016, It's Time to Pay Attention to Skyworks Solutions, that Skyworks is a long-term investment playing in an almost unbelievable world of growing technology.

THE THEMES
The themes here are simple: more data, more people with devices, more bandwidth required and more chips needed to power all of it. These next few charts are going to feel almost impossible, but I assure you -- these are the legitimate projections going forward.

First we start simply with the number of connected "things" in the realm of the Internet of Things (IoT):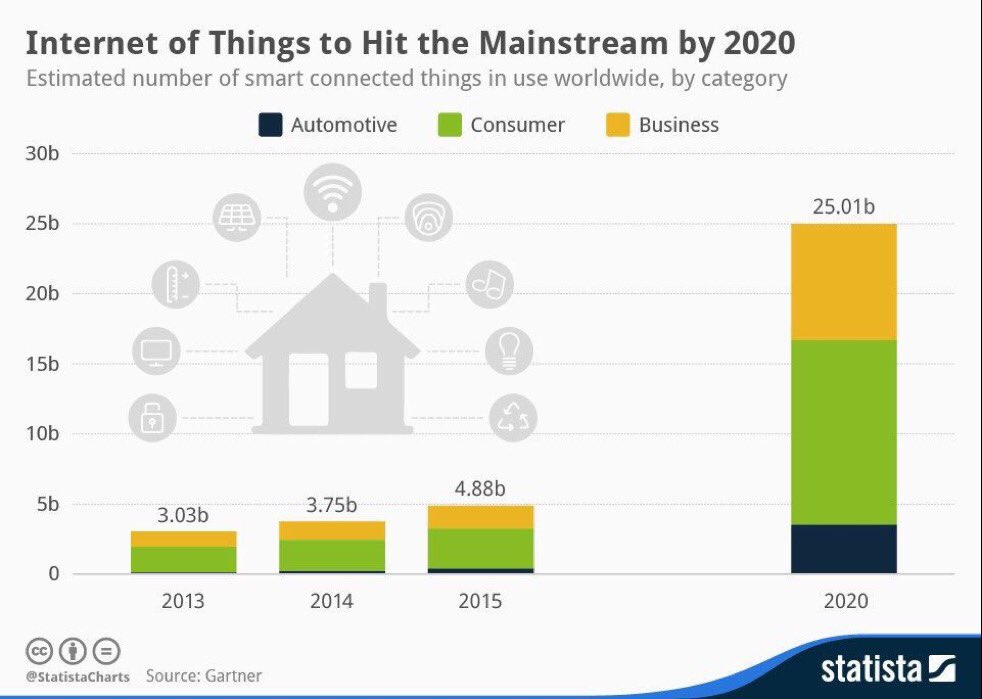 That's more than 25 billion devices within four years. Next we move to the proliferation of 4G -- here are the number of subscribers, heading for 1.8 billion people by 2020.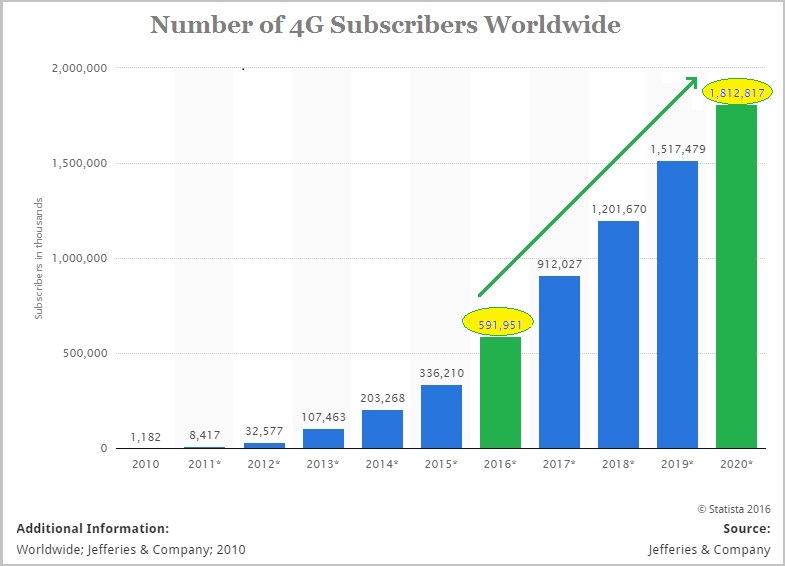 Now we turn more broadly to mobile smartphone subscription growth projections:




I know this seems like it flies in the face of everything you've read from the main stream media, but, the main stream media often times has no idea what it's talking about. In fact, it's that reality that likely led you to CML Pro.

So, to be clear, projections call for nearly 75% growth in mobile subscriptions within six-years. Another easy way to look at this is to simply go year-by-year and examine mobile broadband subscriptions by region, by year: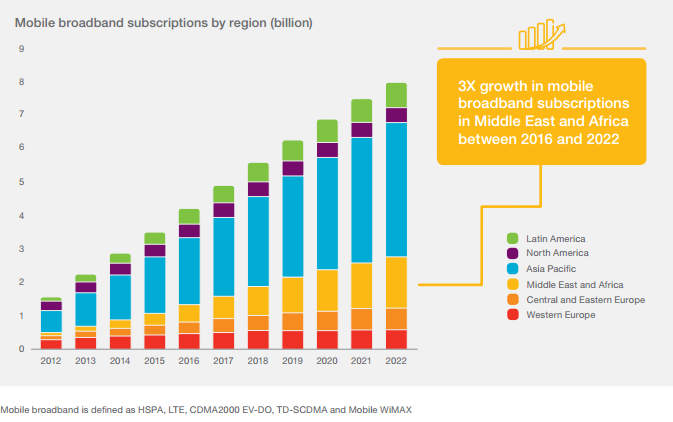 More broadband mobile subscriptions means more mobile devices and more mobile data usage. Check out this next chart for data usage per smartphone: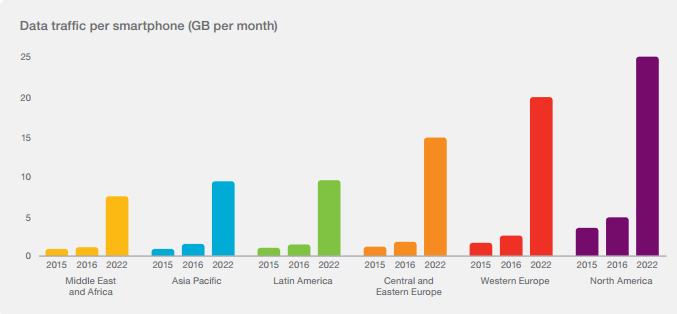 Keep in mind, that is per smartphone, so it's not just data consumption rising due to more subscriptions, but rather each subscription in and of itself is going to show massive growth. Here's that same information in a single chart - note the dark orange area is data from smartphones: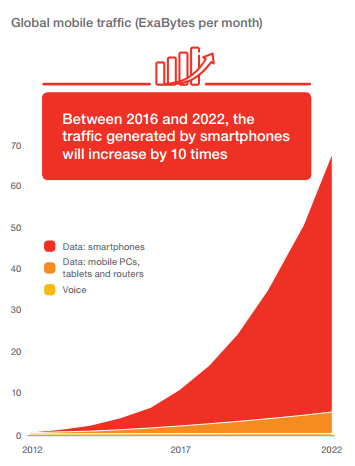 As the caption reads, "between 2016 and 2022, the traffic generated by smartphones will increase 10 times."

Now, further projections tell us that 80% of all our content consumption by 2020 will be video.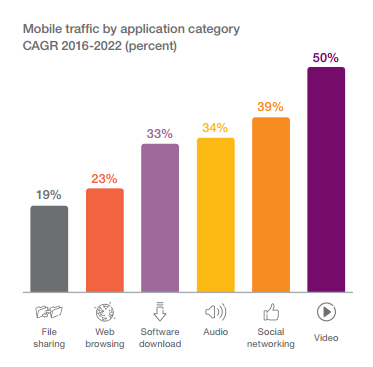 That is 50% year-over-year compounded annual growth for six straight years for video data traffic. That translates into over 1,100% growth in six years. All of this information we just looked at is predicated on something very big - it is the next generation (often time called 'G') of mobile networks.

5G is coming and the need to power it and all of these trends we looked at will be gigantic. This is where Skyworks Solutions fits in to our Top Picks.

Not just 5G, but the complex radio frequency (RF) chips that are needed to power all of it. And, just for a little perspective, when we say this is a long-term hold, this is what we mean. Checkout the time for 5G to even scratch the surface: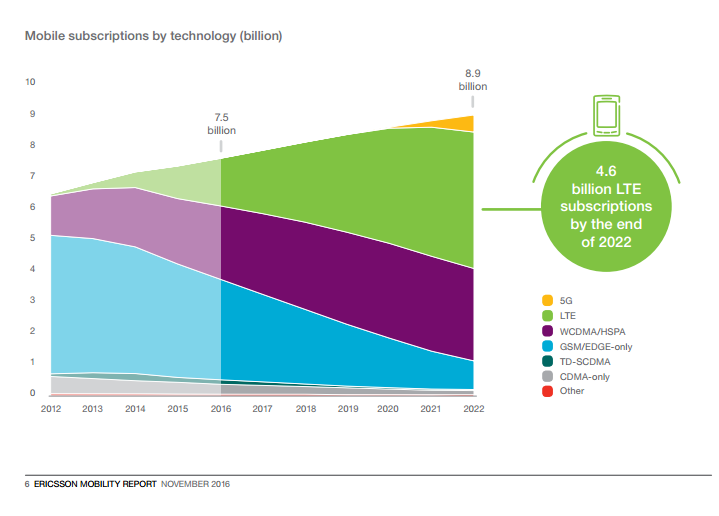 That little yellow area at the top is just barely starting by 2022, which means the real impact will be felt a little later than that.

Now onto Skyworks and earnings.

Skyworks Solutions Inc (NASDAQ:SWKS) AND EARNINGS
Skyworks Solutions Inc will benefit from 5G (and all of these trends) by being the hardware provider at the guts of each device that will connect to this world. It is a niche player, and it does have a deep reliance on Apple Inc indirectly through Foxconn right now, but things are expanding and the future looks bright.

We also note, of critical importance that in addition to mobile phone chips, Skyworks is providing processors for virtual assistant devices running Amazon (AMZN) Alexa, Alphabet's (GOOGL) Google Home and Microsoft (MSFT) Cortana. This company has the imprimatur of the largest tech companies in the world.

Skyworks earned $1.61 in earnings per share (EPS) excluding items versus estimates of $1.58 EPS. Revenue came in at $914 million for the quarter beating Wall Street estimates of $903 million.

The company guided to $840 million for the current quarter versus Wall Street estimates of $817 million. So, things are going well. But, the huge risk in Skyworks is that 40% of its revenue still comes from one company: Apple. Now, let's turn to the earnings call and what the CEO had to say:



"

Skyworks delivered exceptional financial results in the first fiscal quarter of 2017 fueled by global demand for ubiquitous mobile connectivity and the Internet of Things.

We are enabling the next phase of the wireless revolution. []

With the proliferation of 4G/LTE and advent of 5G, system-level performance requirements are intensifying, driving the need for substantially higher data rates, improved efficiency and reduced latency across an exponentially growing scope of networked devices.

Leveraging our innovative portfolio, carrier aggregation leadership, operational scale and demonstrated ability to deliver highly integrated solutions, Skyworks is uniquely positioned to capitalize on this connectivity megatrend.

"



And now the highlights:

We produced record earnings per share of $1.61.

We generated nearly half a billion in cash flow from operations in the quarter, another record for Skyworks.

The success we are demonstrating is part of a secular multiyear fee and we are still in the early innings.

Further 5G represents a massive growth opportunity for our industry and certainly for Skyworks.

[T]he connected car is yet another catalyst that offers significant opportunity for Skyworks.

RISK
The elephant in the room is Apple which some analysts believe makes up 40% of revenue. If Apple stumbles, then for the next couple of years, so will Skyworks Solutions Inc. Of course, the opposite is true as well -- if Apple gains ground so will Skyworks Solutions Inc (NASDAQ:SWKS).

Thanks for reading, friends.

The author is long shares of Skyworks Solutions Inc (NASDAQ:SWKS) at the time of this publication.

WHY THIS MATTERS
If you enjoyed learning about Skyworks but actually being ahead of the curve, this may be up your alley: Our research sits side-by-side with Goldman Sachs, Morgan Stanley and the rest on professional terminals. Of our Top Picks, Nvidia is up 250% since we added it. Ambarella is up 60% since we added it. Relypsa was taken over for a 60% gain and we are already up nearly 50% on Skyworks.

To become a CML Pro member it's just $19 a month with no contract. It's that easy -- you cancel at any time, instantly.

Each company in our 'Top Picks' portfolio is the single winner in an exploding thematic shift like self-driving cars, health care tech, artificial intelligence, Internet of Things, drones, biotech and more. For a limited time we are offering CML Pro for $19/mo. with a lifetime guaranteed rate. Get the most advanced premium research along with access to visual tools and data that until now has only been made available to the top 1%.