Capital Market Laboratories One-on-One Interview With Talend (TLND) CEO Tuchen: Cloud business is a 'freight train'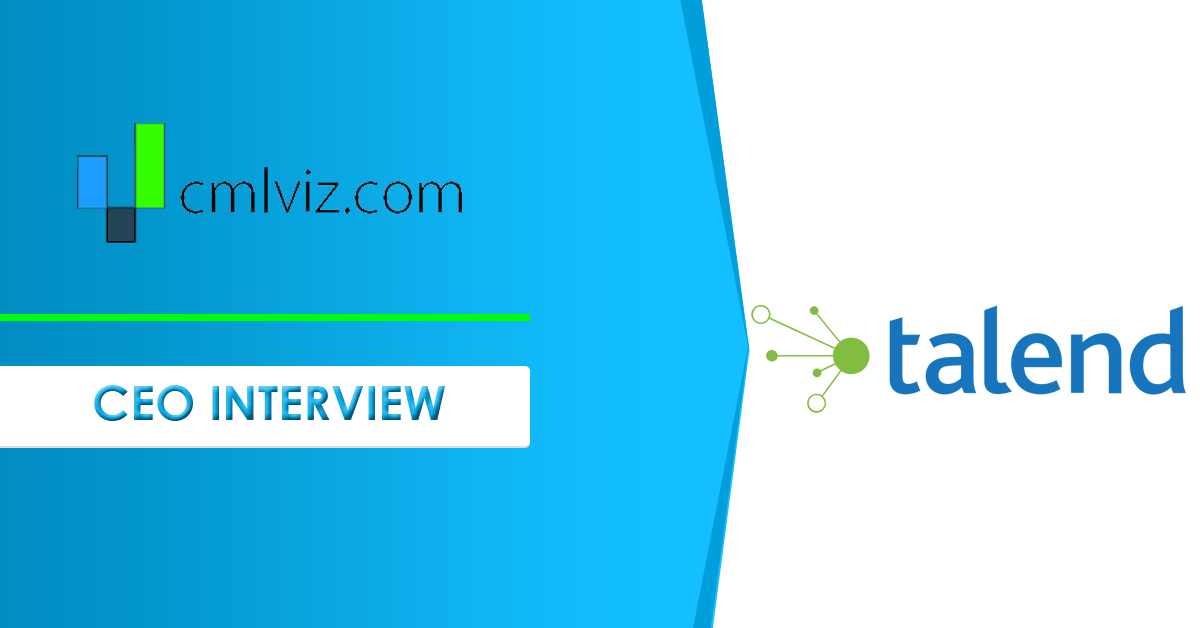 Capital Market Laboratories One-on-One Interview With Talend (TLND) CEO Tuchen: Cloud business is a 'freight train'


Date Published: 2019-08-12

Written by Tiernan Ray

Preface
Shares of enterprise data management software maker Talend traded up 9% on Wednesday evening August 7th, in late trading, after reporting Q2 results featuring big upside on the bottom line, and a smaller-than-expected net loss per share, despite the company forecasting this quarter, and the full year, below consensus, a consequence of an expanding cloud computing business that drives lower services revenue and the impact of looming Brexit action on its European customers.

Chief executive Mike Tuchen took some time to talk with CMLviz following the company's conference call, and emphasized that his company's cloud business is developing with the intensity of a "freight train."

With the acquisition last fall of startup Stitch, he said, it's even easier for his customers to dump a whole bunch of data in a cloud repository such as Amazon Red Shift or Snowflake and get started with data analysis - often in the middle of the night, he posited, just by plunking down a credit card.

To recap, revenue in the quarter of $60.6 million topped the company's own forecast for $58.8 million to $59.8 million, and consensus for $59.3 million, and a net loss of 21 cents per share was above consensus for a 33-cent loss.

The outlook for $61.5 million to $62.5 million was below consensus for $63.12 million, and the outlook for the full year of $246 million to $248 million is below the average $248.6 million.

CEO Interview
CML: Congratulations, it looks like the stock is up about 9%.

Mike Tuchen: Yes, it should be an interesting day tomorrow. There was a lot of negative sentiment in the stock the last month or two and now hopefully people are having a chance to revise those views.

CML: What are the most important things you think people should take away from the results and outlook.

MT: The most important thing going on in our business is the thing that is also the most important in the market, it's the move to the cloud. You just look at cloud-based revenue growing at 43% this past quarter, that's up from 36% in the prior quarry and 25% in the quarter before that. When you've got that streak of 25%, followed by 36%, followed by 43%, that business is moving like a freight train. [Tuchen was referring to the percentage of new annualized recurring revenue that came from its cloud-computing-hosted offering, Talend Cloud.] We had 3,500 customers this past quarter after adding another five hundred customers, and we went from 1,000 customers for cloud to 1,500 in cloud.

CML: What things in particular contributed to that jump in cloud customers?

MC: There are a couple of things there. One is that the cloud environment is very strong, the overall data analytics move to the cloud is exploding, so we are in very strong market context. And then, two very important things are happening. The market is looking for a combination of speed and trust. They want to get live quickly, but then they want to scale that up quickly and get to point where they can trust their data for things like compliance applications. We are the only ones that can give them both of those things, that can enable them to get it live in minutes with Stitch Data Loader and then scale up to their biggest tasks, it's "land and expand," rapidly, for customers.

CML: Tell us about where you're going with Stitch, since it's a relatively recent acquisition. [Talend acquired software startup Stitch last fall for $60 million in cash.]

MT: It really is designed to solve exactly what I just mentioned, around a very fast, easy land and expand ability in getting to the cloud. Customers can get started just grabbing data from Salesforce and putting that into Snowflake or [Amazon] Red Shift or [Microsoft] Azure Data Warehouse. And you don't need hand-holding, you can do it by yourself at nine o'clock at night with a credit card. It's a really easy on-ramp to solve your data analytics problem. As soon as you get data from Salesforce and Marketo and ZenDesk and Google Ad Words, all your data is inconsistent, it has to be cleaned up to make sense of it for the sales and marketing teams. Well, guess what, we can solve that for you with the rest of the Talend Cloud. So, it's become a very high-velocity business for us.

We've been continuing to focus on that around the world, and we are finding that all three regions are really leaning in. The U.S. is always first in these transitions, and then A-Pac [Asia-Pacific] and Europe tend to follow. We saw exactly that play out, with our U.S. team lead - their customers are really early adopters in the cloud, and then European customers start to hear about it, from their customers, and it builds from there.

CML: You had set a goal for this year to have 50% of new annualized recurring revenue coming from cloud, and this quartet you were at 43%, so is it reasonable to assume you'll exceed your goal by the end of this year?

MT: It's possible. The way we are phrasing it is they we are pleased with our progress, and so you can draw your own conclusions.

CML: Another number that stands out is the "net customer expansion rate," of 118%, which continues to hold up for several quarters now. Was there anything in particular that contributed to that rate in this quarter?

MT: It's just the continued healthy expansion from our base. Cloud is a new cohort, so it's supporting that number, but that number was boosted last year by a new accounting standard that came in, in 2017, ASC 606, which was a new treatment of revenue recognition.

Well, this is a revenue-based expansion, so you get this free bang last year from that change. This year, though, without the benefit of that accounting change, it's apples to apples, and so it's a really nice boost from cloud this year.

Most of the cloud business is entirely new customers for us. We are landing new customers at a very rapid rate, and they form a new base for us, and then they turn around and expand with us. They are early in the expansion versus our on-premise customers we may have had for ten years now.

CML: We are hearing a lot these days about startups that are applying A.I. to change the sales and marketing and customer support process, the whole "revenue pipeline," if you will. Is that having an impact on what your customers want to do with your products?

MT: All of that is an opportunity, all of it. All of those are data-hungry applications, and there is a need to feed data into them or combine them into other systems. There's just an explosion of new point-cloud solutions to solve new problems, or subsets of new problems that hadn't been done before. The more that ecosystem expands, the more the opportunity there is for us.

We have two dozen helper apps that sit around core systems of Marketo or Salesforce or Netsuite, two dozen helper apps that are sitting around those systems, for machine learning and A.I., and blah, blah, blah, that we enabled by partners in our ecosystem, that vendors bring to our platform. Every company is doing this. They are stitching together this constellation of apps to build a modern pipeline like sales and marketing.

CML: And what happens when that market for those new applications consolidates?

MT: Right now, we are in an expansion phase, so it's not a factor. As much as we see Salesforce buy solutions - we just saw them do a deal today [Salesforce announced it will acquire ClickSoftware for $1.35 billion.] And Marketo was bought by Adobe - as much as we see that, at the same time the rate of new company formation is expanding right now. So, we are in a pretty rapid expansion phase in the industry overall.

CML: The outlook for this quarter's revenue, and the year, is below consensus. What's behind that?

MT: We pinged out three things going on. One is the cloud moving faster than we thought. We have less services business attached to that, and you saw that in the fact that overall revenue growth was 22% in the quarter versus a subscription [revenue growth] rate of 30%, and so that's - as you move to cloud, that services business is a drag on growth.

The other thing is, we are more cautious on the European outlook than we were before. We have a new leader who is pursuing a Brexit that is going to make things really tough for business.

CML: Any impact from tariffs and trade, in terms of your customers who need to sell into China and are seeing it impact their business, and, consequently, they're spending, or their spending plans?

MT: No, China hasn't shown up yet, we really don't see anything from that.

What's Happening
It's understanding technology that gets us an edge to find the "next Google," or the "next Amazon." This is what CML Pro does. We are members of Thomson First Call -- our research sits side by side with Goldman Sachs, Morgan Stanley and the rest, but we are the anti-institution and break the information asymmetry.

The precious few thematic top picks, research dossiers, CEO interviews, and alerts are available for a limited time. Join Us: Discover the undiscovered companies that will power technology's future.

Thanks for reading, friends.

Legal The information contained on this site is provided for general informational purposes, as a convenience to the readers. The materials are not a substitute for obtaining professional advice from a qualified person, firm or corporation. Consult the appropriate professional advisor for more complete and current information. Capital Market Laboratories ("The Company") does not engage in rendering any legal or professional services by placing these general informational materials on this website.

The Company specifically disclaims any liability, whether based in contract, tort, strict liability or otherwise, for any direct, indirect, incidental, consequential, or special damages arising out of or in any way connected with access to or use of the site, even if we have been advised of the possibility of such damages, including liability in connection with mistakes or omissions in, or delays in transmission of, information to or from the user, interruptions in telecommunications connections to the site or viruses.

The Company makes no representations or warranties about the accuracy or completeness of the information contained on this website. Any links provided to other server sites are offered as a matter of convenience and in no way are meant to imply that The Company endorses, sponsors, promotes or is affiliated with the owners of or participants in those sites, or endorse any information contained on those sites, unless expressly stated.