Talend (NASDAQ:TLND) CEO Interview – Someday, all of Talend's New Recurring Revenue will be from the Cloud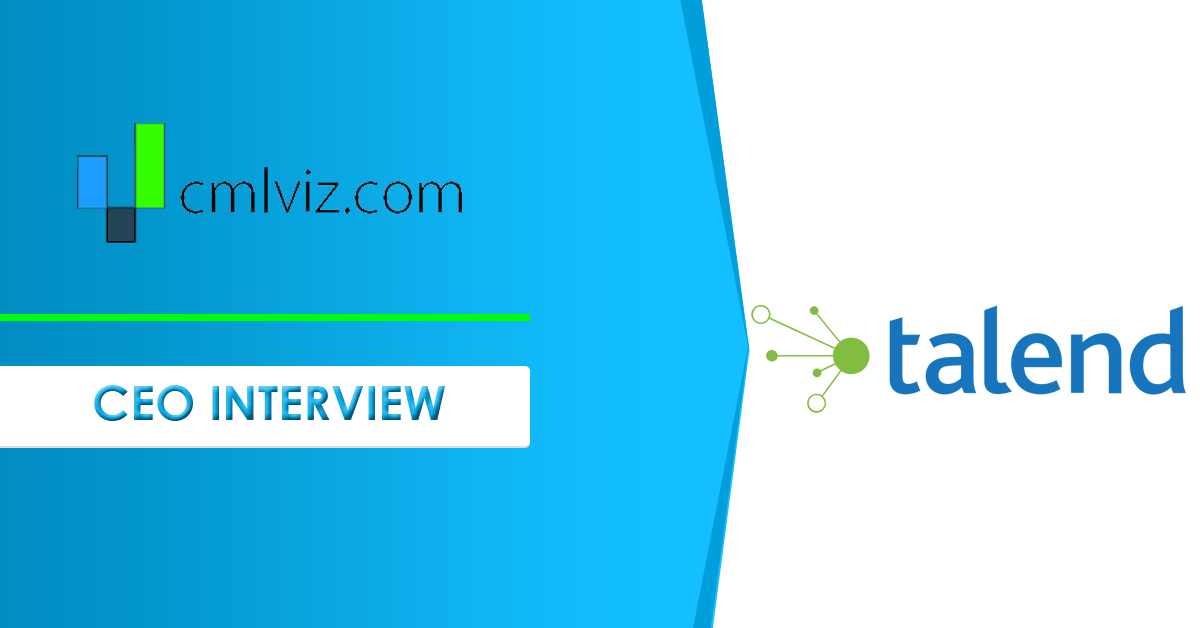 Hello, all. This is Ophir writing the top of this article before we get to Tiernan's interview with Talend's CEO Mike Tuchen.
Lede
In an interview with Capital Market Laboratories (CMLviz), Chief Executive Officer of Talend S.A. (NASDAQ:TLND) Mike Tuchen had a clear message: The cloud business is exploding; it grew 100% again this quarter. The deal sizes are growing and within the next few years, 100% of new sales will be in the cloud.
Preface
For the full story behind Talend, and the opportunity we see for a rather abrupt rise, please visit the most recent CML Pro dossier:
Talend Delivers; Inches Closer to Substantial Stock Rise Potential (Paywall).
tldr;
For those that are not in the reading mood, the takeaway from the prior dossier was this:
Talend is one of those rare few software stocks that is simply given no credit and its valuation measured as price to sales is remarkably low relative to virtually any peer in the entire software ecosystem of any market cap.
With 2019 revenue expected to be about $250 million for the full year, the stock trades at a $1.09 billion market cap, or virtually a 4 to 1 price to sales at the time of this writing.
A part of this disparity is simply revenue growth rates. Talend is a mid 20's percent grower, right now, while other software companies that grab the headlines and the higher valuations are over 40%.
But another part of this disparity is Talend's continued progress in turning its revenue into subscriptions — that is annual recurring revenue (ARR). Recurring revenue rightfully gets a higher price to sales valuation because it gives visibility into the company's future as opposed to one-off sales or service revenue.
We said exactly these words last quarter: "[A]s the company moves to a cloud-based model, it will look as though revenue growth is slowing because it will have less service revenue. While recurring revenue is the kind we like to see, and moving to cloud is even better, Wall Street may not understand this trend and the stock could get punished for it."
When (or if) Talend completes this transition, which is well underway, we believe there will be a quick and abrupt adjustment to its valuation, or in simpler terms, the stock price will rise. Of course, the company has to deliver the goods first.
Interestingly, as Talend progresses to greater ARR, and greater revenue from the cloud, Wall Street still treats it as though it has not. For more about this company we do encourage a read from CML Pro.
Tiernan Ray's Interview and Summary
Talend founder and chief executive Mike Tuchen was kind enough to spend a little time talking with Capital Market Labs the following the company's conference call with analysts. The focus of his remarks, as has been the case all year in his conversations with CML, is moving customers more and more to cloud-based subscriptions, to boost the overall percentage of revenue coming from cloud. That percentage, described as the "percentage of new annualized recurring revenue from cloud" was 49% last quarter, up from just 14% five quarters ago.
Someday, all of Talend's new recurring revenue will be from cloud, he says, as customers move en masse to doing all their Big Data work in the cloud.
CML asked Tuchen when all of this will turn into profit, given that Talend is expected to lose 81 cents per share this year and another 60 cents the year following before possibly breaking even in 2021. Tuchen indicated that the migration of its revenue to cloud is the most important thing, "the most important driver of long-term value in the business," as he put it.
CML interview with Talend CEO Mike Tuchen:
CML: Mike, tell us first what things you think are most important for investors to focus on in the results and outlook?
Mike Tuchen: The conversation that the analysts were asking about [on the call] is really where lot of the interest has been, which is, What's going on in cloud?
The cloud business is exploding. It grew 100% again this quarter. We now have more than 2,000 cloud customers, more than half of the customers now are based in the cloud [Talend had over 4,000 total customers in Q3].
The deal sizes are growing. We had 74 customers in cloud with over $100K in ARR [annualized recurring revenue] this quarter. The Azure cloud offering is live. We really talk about this freight train that is happening.
We are at 49% of new ARR bring cloud now. Just a year ago, that was 14%, then 25% then 36%, then 43%, and then 49%. That progression really speaks to the progress
CML: Can you keep up that pace of incremental growth?
MT: For sure it will. This quarter — we broadcast a year ago that we would be over 50% this quarter, and we will. And at the end of this year, when we announce Q4, we will put another guideline out for next year, but we expect to continue to grow that figure. The next couple years, it becomes 100% of sales.
CML: what's the impact of these partnerships with cloud systems such as Snowflake, Azure?
MT: The trends we talked about in the past continue to hold, we are seeing a lot of business now with Azure in addition to Amazon, a lot of Snowflake business, for sure. This concept of people building data lakes in the cloud is very much of a hot topic right now. So, I wouldn't say there was a big shift this quarter, it's a continuation.
CML: When should investors expect this starts to add up to profit?
MT: For right now, the most important driver of long-term value in the business is getting the entire company in cloud, rotating the sales force as you've seen, helping all our customers take advantage of cloud and becoming fully a cloud customer, is by far the biggest value driver.
In terms of the long-term financial model, I'd say Adam [Meister, Talend's CFO] is best positioned to speak to that. As we give guidance for next year, next quarter, you'll see some visibility into that. What we have right now is we give one-year guidance, and then we have a long-term model that we expect to be over a much longer set of time, but we haven't given that yet. We did it at the end of last year.
CML: How do you think about commanding the spend of your customers when they have other priorities for data, for integration, for cloud?
MT: It's a good question, but the way we look at it is, ultimately, customers will do all their business in the cloud. Cloud is not a subset, it becomes the IT budget over time. So really the question is, Who is the best to solve the data part of your problem, what are the best choices? Our job is to make sure we are the best choice.
CML: When you refer to that movement to cloud as being the entirety of a company's operations, how fast does that happen? Is it something that happens over the next decade?
MT: That's hard to forecast. When you look at these long-term trends, it's easier to pick the trends than to time the trends. There is rapid adoption today of cloud, but different offerings mature at different paces. The direction is clear, but the timing is difficult to call.
CML: The stock made a big move after last quarter's results, in August. It's up, after-hours, though it looks like less of a move this time around. How do you expect investors will respond tomorrow?
MT: The continued momentum [of cloud] is something all investors will see very positively. That's by far the most important thing for us to do. We have been very clear in our goals for how to measure us in that respect.
CML: And what are your most immediate priorities?
MT: We talked about the goal a year ago of having half or more of new ARR in the cloud in Q4 of this year. So, we have been very, very heavily focused on that, and we have continued to scale our cloud offering.
We announced on the call that we will talk about the size of our cloud business after Q4, and give forward guidance of how to think about that in the next 12 months. So, scaling cloud is our number one goal. For me personally, there are always other things that are unique to me. As the CEO, the team is the thing that falls directly on me, anything team-related.
CML: Thanks, Mike. Keep up the good work!
THE FUTURE
It's understanding technology that gets us an edge to find the "next Apple," or the "next Amazon."
This is what CML Pro does. We are members of Thomson First Call (Refinitiv) -- our research sits side by side with Goldman Sachs, Morgan Stanley and the rest, but we are the anti-institution and break the information asymmetry. We have a third party audited performance track record.
The precious few thematic top picks, research dossiers, and alerts are available for a limited time.
Join Us: Discover the undiscovered companies that will power technology's future
.
Thanks for reading, friends. Neither author has a postion in Talend on the date of publication.
Legal
The information contained on this site is provided for general informational purposes, as a convenience to the readers. The materials are not a substitute for obtaining professional advice from a qualified person, firm or corporation. Consult the appropriate professional advisor for more complete and current information. Capital Market Laboratories ("The Company") does not engage in rendering any legal or professional services by placing these general informational materials on this website.
The Company specifically disclaims any liability, whether based in contract, tort, strict liability or otherwise, for any direct, indirect, incidental, consequential, or special damages arising out of or in any way connected with access to or use of the site, even if we have been advised of the possibility of such damages, including liability in connection with mistakes or omissions in, or delays in transmission of, information to or from the user, interruptions in telecommunications connections to the site or viruses.
The Company makes no representations or warranties about the accuracy or completeness of the information contained on this website. Any links provided to other server sites are offered as a matter of convenience and in no way are meant to imply that The Company endorses, sponsors, promotes or is affiliated with the owners of or participants in those sites, or endorse any information contained on those sites, unless expressly stated.