Tesla Just Started a New Multi-Billion Dollar Business


THE TESLA PROMISE
The was originally published to
news.cmlviz.com
.
BREAKING
Tesla has earnings due out today after the market closes and it's easily one of the most anticipated earnings calls we have ever seen.
While the focus will be on deliveries for the Model S and Model X, which together are
supposed
to hit between 80,000 and 90,000 units for the full year, Elon Musk slipped in a new opportunity and it's quite shrewd.
THE SET UP
Tesla (NASDAQ:TSLA) is expected to be profitable and cash flow positive by the end of this year. That's the line towed by Elon Musk and his CFO. Perhaps even more attention grabbing has been the firm's incredible demand for its Model 3 -- the mass market vehicle that it hopes will push the firm to 500,000 deliveries in total by the year 2020, a 10-fold increase from 2015.
But other news broke today which reminds us that the Gigafactory is not an auto-plant, it's a battery plant, and that means a lot of opportunity for Tesla.
POWER
Tesla has long been discussing a home power storage product called Powerwall and today
Bloomberg
reported that the first wave of residential installations has started in the U.S.
Residential customers that have solar power have long been pumping their extra power back into the grid and they have been paid handsomely for it. It has pushed the solar home boom forward. But, as SolarCity (NASDAQ:SCTY) and others will tell you, the great benefit and selling point to consumers has been slashed by several states and it has crushed the stock.
While that's bad news for many, it has opened the market up for storage. According to a Tesla job opening for the Powerwall group:
"The business unit will be a multi-billion dollar per year one in the near term."
But we don't have to take Tesla's word for it. This is what Bloomberg published back in March of 2015:
By 2020, the annual global investment for stationary-grid energy storage is expected to be $5.1 billion, more than 17 times higher than investments in 2013.

Source: Bloomberg New Energy Finance.
GIGA FACTORY
It's a little known fact that the Gigafactory itself is actually built to be replicated.
That is, the entire facility was built to be "copy and pasted" in other areas. So, while Tesla has its opportunity in the electric vehicle and self-driving featured car markets, it also has a facility to carry forward another multi billion business, and this time, no new capital is required to manufacture it.
A WELCOMED DIVERSIFICATION
Tesla is going to compete with Apple (NASDAQ:AAPL), Alphabet (NASDAQ:GOOGL) as well as Detroit and Japan's auto makers for the EV market -- it will likely not face competition from these same companies in the power storage world.
That's not to say that the field isn't jam packed with a host of competitors. In fact, many bears believe the Powerwall is in a business that will be a "race to zero." Of course, similar arguments were made for Amazon's (NASDAQ:AMZN) cloud computing business (AWS). AWS accounted for more than 60% of Amazon's operating income last quarter and has thrust the firm forward into a $300 billion juggernaut.
That's just a reminder, the "race to zero" businesses are often times not. Wall Street gets this wrong pretty often. In fact, those same bearish tones echo now in the smartphone market.
WHY THIS MATTERS
This is what institutional research reads like -- it spans all thematic trends -- it goes further than the headlines into the trends that will shape the next decade. Tesla is just one of CML Pro's precious few 'Top Picks.' But, to find the 'next Tesla' or further the 'next FANG stock,' we have to get ahead of the curve. This is what CML Pro does. Our research sits side-by-side with Goldman Sachs, Morgan Stanley and the rest on professional terminals, but we are the anti-institution and break the information advantage the top .1% have.
Each company in our 'Top Picks' is
the single winner
in an exploding thematic shift like artificial intelligence, Internet of Things, drones, biotech and more. In fact, here are just two of the trends that will radically affect the future that we are ahead of: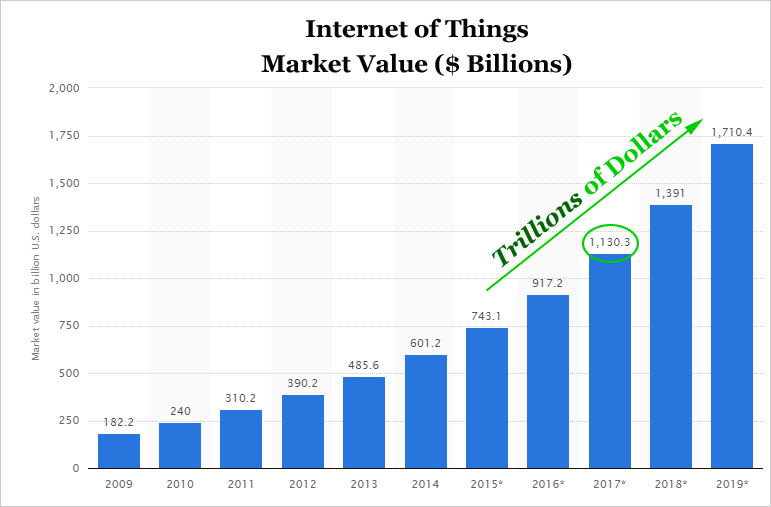 The Internet of Things (IoT) market will be measured in
trillions
of dollars as of next year. CML Pro has named the top two companies that will benefit. Here's cyber security: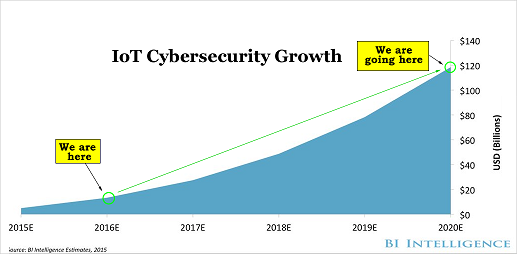 There's just no stopping the growth in the need for cyber security and we are right at the beginning. CML Pro has named the single best cyber security stock to benefit from this theme.
These are just two of the themes we have identified and this is just one of the fantastic reports CML Pro members get along with all the visual tools, the precious few
thematic top picks for 2016
, research dossiers and alerts. For a limited time we are offering CML Pro at a 90% discount for $10/mo. with a lifetime guaranteed rate.
Join Us: Get the most advanced premium research delivered to your inbox along with access to visual tools and data that until now has only been made available to the top 1%.
Thanks for reading, friends.
Please read the legal disclaimers below and as always, remember, we are not making a recommendation or soliciting a sale or purchase of any security ever. We are not licensed to do so, and we wouldn't do it even if we were. We're sharing my opinions, and provide you the power to be knowledgeable to make your own decisions.
Legal
The information contained on this site is provided for general informational purposes, as a convenience to the readers. The materials are not a substitute for obtaining professional advice from a qualified person, firm or corporation. Consult the appropriate professional advisor for more complete and current information. Capital Market Laboratories ("The Company") does not engage in rendering any legal or professional services by placing these general informational materials on this website.
The Company specifically disclaims any liability, whether based in contract, tort, strict liability or otherwise, for any direct, indirect, incidental, consequential, or special damages arising out of or in any way connected with access to or use of the site, even if we have been advised of the possibility of such damages, including liability in connection with mistakes or omissions in, or delays in transmission of, information to or from the user, interruptions in telecommunications connections to the site or viruses.
The Company makes no representations or warranties about the accuracy or completeness of the information contained on this website. Any links provided to other server sites are offered as a matter of convenience and in no way are meant to imply that The Company endorses, sponsors, promotes or is affiliated with the owners of or participants in those sites, or endorse any information contained on those sites, unless expressly stated.