Tesla Motors and Nordstrom Make a Brilliant Partnership
Tesla Motors Inc. (NASDAQ:TSLA) and Nordstrom Inc. (NYSE:JWN)
Preface

Recent news broke that Tesla Motors Inc. (NASDAQ:TSLA) and Nordstrom Inc. (NYSE:JWN) will be forming a brilliant partnership and while the mainstream media didn't cover it very broadly, this is actually a rather shrewd move by both firms.

WHAT TESLA AND NORDSTROM ARE DOING
This is starting small, but Tesla Motors will be opening one of its famed galleries in a Nordstrom store in Los Angeles. It takes a little snooping around, but if you look for it on the Tesla Gallery page, you find this:




You can see that the gallery is explicitly "Located within the Men's Department on the ground floor." It may seem innocuous, and as of right now it is, but the future potential is actually rather brilliant. Here's what each firm gets out of it. By the time we're done thinking about it, we'll realize this is a match made in heaven and one that could be easily as beneficial for each firm as a blockbuster technology to technology cooperative move.

WHAT TESLA MOTORS GETS
Tesla is famously known for skipping the dealership part of direct sales and instead using the low pressure, casual feeling gallery where customers feel like they are in partnership with an expert, rather than being sold to. Customer can look at the car, get inside one, ask questions, and generally become very comfortable with the vehicle before they purchase it.

This process is critical to the sale process because even though Tesla Motors Inc. (NASDAQ:TSLA) sells to wealthier individuals, its average selling price is about $100,000 for either the Model S or Model X, and that means people are going to want to touch and feel the car before they lay out that much money. Here is a chart of Tesla's current gallery lineup:




It turns out that finding a good location for a gallery isn't trivial. Tesla doesn't generally set up shop next to large auto rows, where most car dealers locate. Tesla has to pick and choose its locations. That takes significant time and it does bear a cost.

But, if a full-fledged partnership with Nordstrom Inc. (NYSE:JWN) rolls out, Tesla suddenly has access to Nordstrom's 329 stores located in North America and its 200 Nordstrom Racks (Source: Nordstrom). As of January 1st, 2015, Tesla Motors had just 159 sales and service centers worldwide.

All of a sudden, Tesla could have access to a 3-fold jump in galleries and likely at a substantial discount to building or leasing their own. Even further, Nordstrom brings in the wealthier shopper -- a perfect partnership for Tesla -- maybe even a brilliant fit.

WHAT NORDSTROM GETS
Nordstrom sales growth has been plunging. Whether it's the Amazon effect or not, revenue growth has slowed substantially, earnings is getting crushed the stock price for JWN has plummeted fully 50% in the last year. Here's a chart of net income rolled up into trailing twelve month periods for Nordstrom: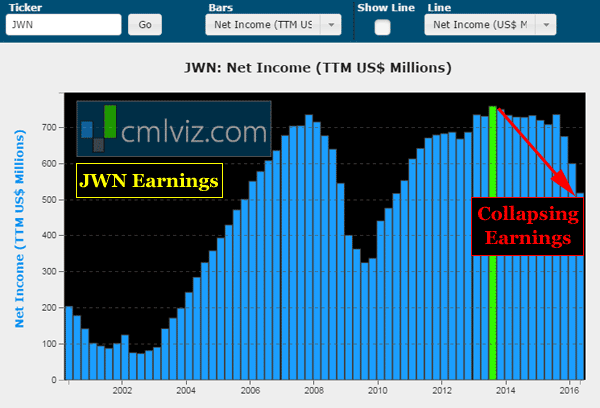 Nordstrom's is looking at a 30% drop in after tax earnings over the last two-years. But, if the go to locale for a Tesla gallery is a Nordstrom's store, the firm could easily see foot traffic jump. With the galleries strategically located within the depths of the Nordstrom store, it's not a big stretch to imagine foot traffic and sales climbing if for no other reason than "a Tesla gallery is in town."

In general we view the possibility of larger partnership between Tesla Motors Inc. (NASDAQ:TSLA) and Nordstrom Inc. (NYSE:JWN) as rather shrewd, if not brilliant.

WHY THIS MATTERS
Kudos to both firms for rolling out this partnership and if execution is done properly, this could be a needle mover for both. These are the types of nuggets of research that make the difference between having expert knowledge of an investment and having a cursory one. At CML we actually go further than this, to identify the revolutionary thematic transformations that are coming and then the companies that will benefit most from them to find the "next Apple" or the "next Google." Tesla Motors is one of our precious few Top Picks and it goes a lot further than just cars. Our research sits side-by-side with Goldman Sachs, Morgan Stanley and the rest on professional terminals, but we are the anti-institution. Our purpose is to break the information monopoly held by the top .1%.

Each company in our 'Top Picks' is the single winner in an exploding thematic shift like artificial intelligence, Internet of Things, drones, online video, biotech and more. In fact, here is just another of the trends that will radically affect the future that we are ahead of: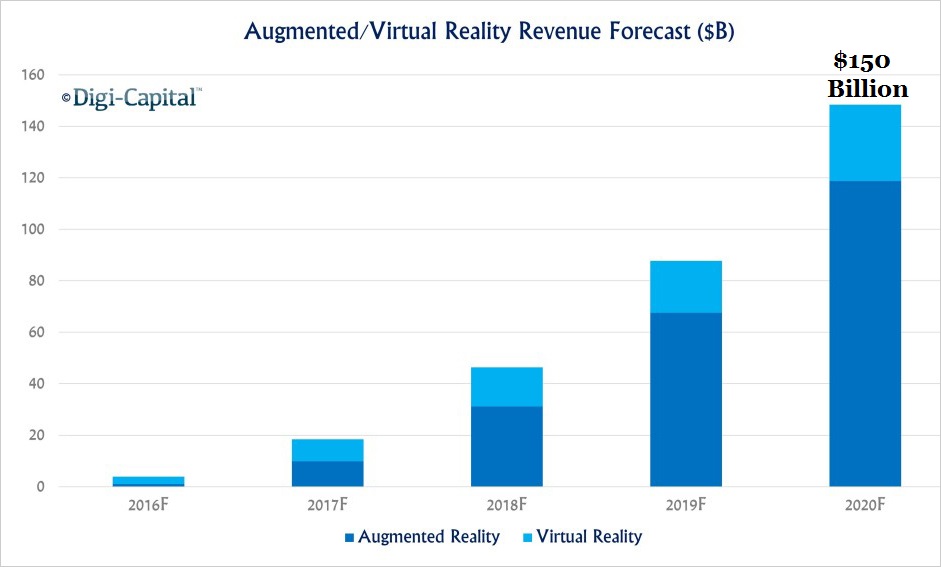 Virtual reality is one of the fundamental shifts coming in the very near future that will change how we live, work, and play. This is a technology whose consumer base looks increasingly like all of humanity. This is also the opportunity so many investors say they welcome – that say they search for. The opportunity to find the "Next Apple," or the "next Google." It lies in the depths of technology's core. It's not artificial intelligence, it's artificial super intelligence and there is one company that will rule all of it.

This just one of the themes we have identified and this is just one of the fantastic reports CML Pro members get along with all the visual tools, the precious few thematic top picks for 2016, research dossiers and alerts. For a limited time we are offering CML Pro at a 90% discount for $10/mo. with a lifetime guaranteed rate. Join Us: Get the most advanced premium research delivered to your inbox along with access to visual tools and data that until now has only been made available to the top 1%.