Tesla Motors Cut Prices Again
PREFACE: TESLA MOTORS INC (NASDAQ:TSLA)
Tesla Motors Inc (NASDAQ:TSLA) has set out ambitious goals to sell 500,000 vehicles by the year 2018. For context, Tesla sold 50,000 units last year, so the company is calling for a 1,0000% rise in sales in just five years. While much of that will come from the new Model 3, a less expensive sporty sedan with a starting price of about $35,000, Tesla Motors still needs to sell a large amount of its current line up, the Model S and the Model X.
While Model 3 sales are pegged to the enormous pre-order wave that came upon the launch of the prototype, the Model S and Model X may be in trouble and Tesla Motors has cut prices yet again on its high end vehicles.
BREAKING: TESLA MOTORS INC (NASDAQ:TSLA)
Reuters has
published a note
that Tesla Motors Inc will now be cutting the price of its SUV crossover Model X vehicle, which just began deliveries this year. The impetus for the cut to prices, according to Reuters, was a missed sales target.
Here's a snippet from the article:
"
Tesla said on Wednesday a new version of the Model X crossover, the 60D, will be priced from $74,000, $9,000 less than the Model X 75D. Equipped with a 60kWh battery, the 60D has less torque and a shorter range between charges than the 75D.
"
This cut to prices comes on the heels of a cut to prices on Tesla Motors Inc (NASDAQ:TSLA) other high end vehicle, the Model S. In a similar move, Tesla reduced the battery power and torque to the high end Model S to create a less expensive $66,000 Model S. That price cut comes out to about $9,000 from the base Model S that had been for sale. Of course, many Tesla Motors vehicles sell for over $100,000 once customized to the buyer's wants.
THE REALITY: TESLA MOTORS INC (NASDAQ:TSLA)
The reality that will drive Tesla Motors Inc stock higher (or lower) largely does not surround the demand for the Model S or Model X or various cuts to prices. There's a secret behind Tesla's goals to be the giant in the electric and self-driving vehicle world and the question analysts should be asking has no answer in the Model S or Model X. Tesla Motors will make or break its ambitious dreams with one very simple reality: demand for a vehicle that puts the company on a trajectory to be an actual seller of goods, rather than a luxury only, "product of the moment," distributor.
Supply problems are not the issue for Tesla Motors, but demand issues could be. Watch the Model 3 demand as it turns from pre-orders to actual orders. If Tesla Motors hits that goal, the rest is nothing but conversation.
WHY THIS MATTERS
Tesla is one of the precious few Top Picks for CML Pro, but there's a deep research dossier that explores knowledge rather than headlines. CML Pro identifies the most powerful thematic transformations that are coming and then identifies the companies best positioned to win. You see, to find the 'next Apple' or 'next Google,' we have to get ahead of the curve. This is what CML Pro does. Our research sits side-by-side with Goldman Sachs, Morgan Stanley and the rest on professional terminals, but we are the anti-institution and break the information advantage the top .1% have.
Each company in our 'Top Picks' is the single winner in an exploding thematic shift like artificial intelligence, Internet of Things, drones, biotech and more. In fact, here are just two of the trends that will radically affect the future that we are ahead of: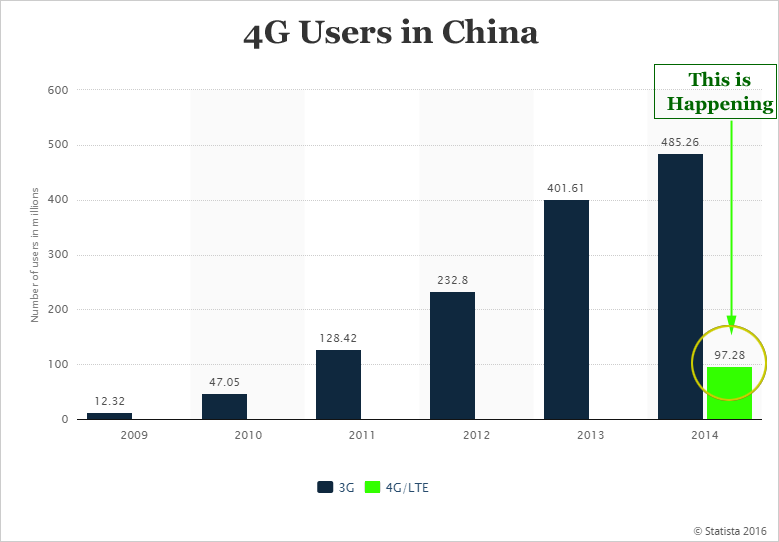 That light green colored bar (4G) is soon going to be larger than the dark colored bar (3G). 4G usage will grow from 330 million people today to nearly 2 billion in five years. CML Pro has named
the single winner
that will power this transformation. Then there's cyber security: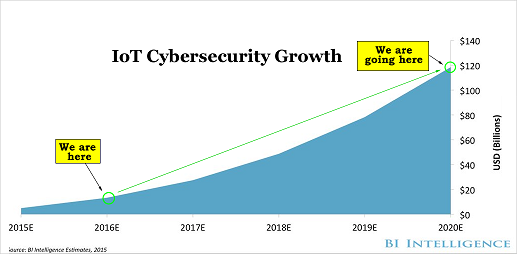 Market correction or not, recession or not, the growth in this area is a near certainty, even if projections come down, this is happening. CML Pro has named
the single best
cyber security stock to benefit from this theme.
These are just two of the themes we have identified and this is just one of the fantastic reports CML Pro members get along with all the visual tools, the precious few
thematic top picks for 2016
, research dossiers and alerts. For a limited time we are offering CML Pro at a 90% discount for $10/mo. with a lifetime guaranteed rate.
Join Us: Get the most advanced premium research delivered to your inbox along with access to visual tools and data that until now has only been made available to the top 1%.
Thanks for reading, friends. The author is long Tesla shares.