Tesla Inc, TSLA, earnings, option, advanced
Advanced Earnings Option Trade in Tesla Inc
Tesla Inc (NASDAQ:TSLA) : Advanced Earnings Option Trade
Date Published:
2017-07-1

Preface


There is an advanced option trade in Tesla Inc (NASDAQ:TSLA) before earnings that takes no stock direction risk, no earnings risk, and reduces even the volatility risk.

The strategy has won more than 50% of the time, has returned 370% annualized returns, but has also shown a high win-rate of 67%.

This is it -- this is how people profit from the option market. Identifying strategies that don't rely on a bull or bear market.

TRADE TIMING
This is for the advanced option trader, just note that this has a few steps to it. First we start with the timing:

We want to look at a very short window, specifically opening a trade six-days before an earnings announcement and closing it the day before. Here it is plainly: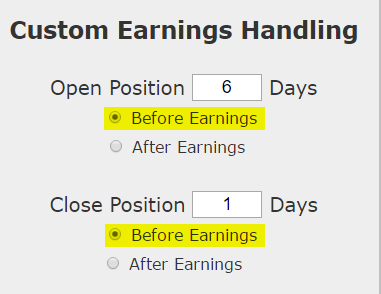 So, to be clear -- this trade does not take on the risk of earnings, it closes before earnings.



Option trading isn't about luck -- this four minute video will change your trading life forever:

Option Trading and Truth



TRADE SET-UP
With the timing set, we now construct the trade in with these rules:

* Buy the at-the-money straddle with a 30-day expiration (or closest to it)
* Sell an at-the-money straddle with a 7-day expiration (or closest to it)
* Both of these straddles have expirations after earnings.

Here's how this looks, plainly:





And here is the reasoning behind the trade, before we get to the results:





TRADE REASONING AND RESULTS
The idea is to own the straddle with a longer expiration and sell the straddle with the closer expiration to benefit from the time decay in the shorter-term options. It's a fine cut to make this work, but this trade does not take earnings risk, does not take stock direction risk and takes very little volatility risk.

Now, here are the results of this trade in Tesla Inc over the last three-years:


TSLA: Long & Short Straddle


% Wins:
67%
Wins: 8
Losses: 4
% Return:
72.9%

While the set-up took a while to describe, the results are easy. We see a 72.9% return over the last , which was 12 earnings cycles. This option trade won 8 times and lost 4 times.

Even further, each period of this trade is just six-days, so that 72.9% return is actually just 12 weeks of trading, and if we annualize that, it makes for a 370% return.

Checking More Time Periods in Tesla Inc
Now we can look at just the last year as well:


TSLA: Long & Short Straddle


% Wins:
100%
Wins: 4
Losses: 0
% Return:
43.4%

We're now looking at 43.4% returns, on 4 winning trades and 0 losing trades. It's worth noting again that we are only talking about six-days of trading for each earnings release, so this is 43.4% in just 4-weeks of total trading which annualizes to 660%.

WHAT HAPPENED
For the expert option trader, or the option trader that wants to take the next step in the evolution of trading, this is it. This is how people profit from the option market.

To see how to do this for any stock we welcome you to watch this quick demonstration video:
Tap Here to See the Tools at Work

Thanks for reading.

Risk Disclosure
You should read the Characteristics and Risks of Standardized Options.

Past performance is not an indication of future results.

Trading futures and options involves the risk of loss. Please consider carefully whether futures or options are appropriate to your financial situation. Only risk capital should be used when trading futures or options. Investors could lose more than their initial investment.

Past results are not necessarily indicative of future results. The risk of loss in trading can be substantial, carefully consider the inherent risks of such an investment in light of your financial condition.



Please read the legal disclaimers below.

Legal The information contained on this site is provided for general informational purposes, as a convenience to the readers. The materials are not a substitute for obtaining professional advice from a qualified person, firm or corporation. Consult the appropriate professional advisor for more complete and current information. Capital Market Laboratories ("The Company") does not engage in rendering any legal or professional services by placing these general informational materials on this website.

The Company specifically disclaims any liability, whether based in contract, tort, strict liability or otherwise, for any direct, indirect, incidental, consequential, or special damages arising out of or in any way connected with access to or use of the site, even if we have been advised of the possibility of such damages, including liability in connection with mistakes or omissions in, or delays in transmission of, information to or from the user, interruptions in telecommunications connections to the site or viruses.

The Company make no representations or warranties about the accuracy or completeness of the information contained on this website. Any links provided to other server sites are offered as a matter of convenience and in no way are meant to imply that The Company endorses, sponsors, promotes or is affiliated with the owners of or participants in those sites, or endorse any information contained on those sites, unless expressly stated.