Tesla Earnings: The Stock Could Move Huge, Here's Why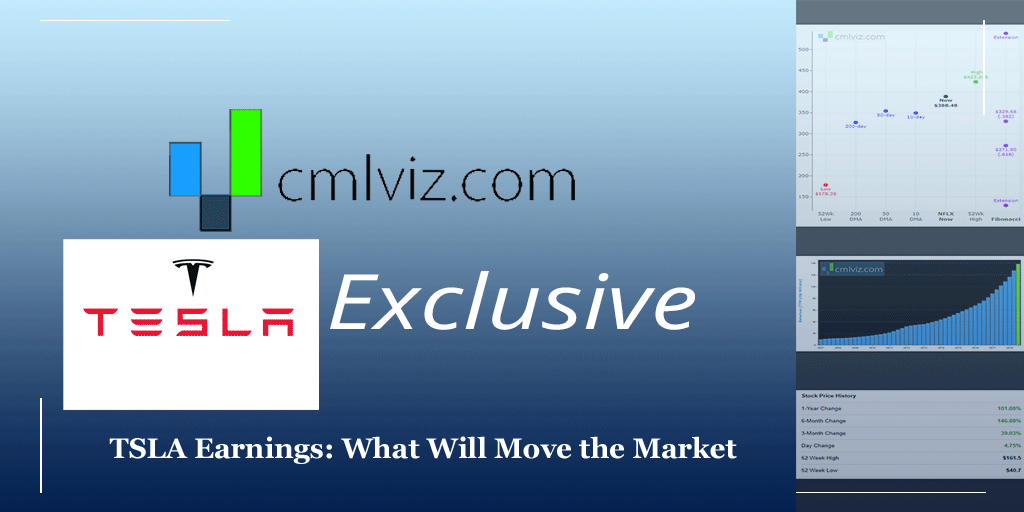 Tesla Earnings: The Stock Could Move Huge, Here's Why
Date Published:
10-24-2018

UPDATE: 10-24-2018
Tesla crushed earnings in a way that was almost unfathomable.

Adj EPS: $2.90 vs. -$0.07 -- yes, a $2.90 positive EPS versus an expected loss.

Revenue: $6.82B vs. $6.05B estimate.

Further: When speaking about the Model 3, we finally got the number:

"We stopped taking Model 3 reservations in North America in early July 2018 when we moved to a direct order system. Of the 455,000 net reservations that we reported in August 2017, less than 20% have cancelled."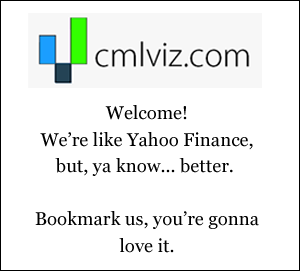 "Q3 2018 was a truly historic quarter for Tesla. Model 3 was the best-selling car in the US in terms of revenue and the 5th best-selling car in terms of volume."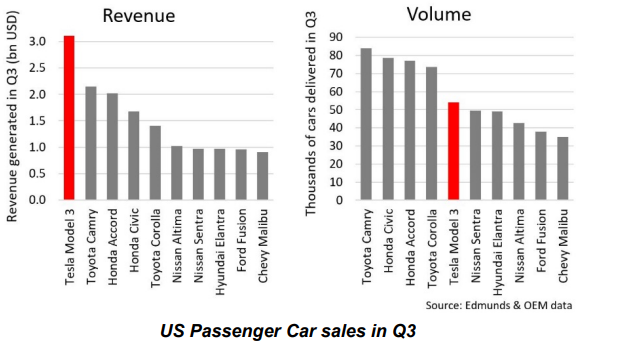 "In Q3, we delivered 56,065 Model 3s to customers. Based on trade-ins received from customers since the start of Model 3 production, more than half of those trade-in vehicles were priced below $35,000 when new. It is clear that customers are trading up their relatively cheaper vehicles to buy a Model 3 even though there is not yet a leasing option and the Q3 starting price of a Model 3 was $49,000."

* GAAP net income of $312M, non-GAAP net income of $516M
* Operating income of $417M and operating margin of 6.1%
* Free cash flow of $881M supported by operating cash flow of $1.4B
* $3.0B of cash and cash equivalents at Q3-end, increased by $731M in Q3
* Model 3 GAAP and non-GAAP gross margin > 20% in Q3
* Reaffirm expectation of continued GAAP net income and free cash flow in Q4

* Automotive revenue in Q3 increased by 82% sequentially over Q2, mainly due to a sharp increase in Model 3 deliveries.

* Cash flow from operating activities in Q3 was $1.39 billion. This was mainly due to significantly improved volumes and profitability of Model 3.

* Our cash position increased by $731 million in Q3 despite repaying $82.5 million of bonds.

If you like being in the know, bookmark this page. WWW.cmlviz.com, it's like Yahoo Finance, but, ya know, better, smarter, faster.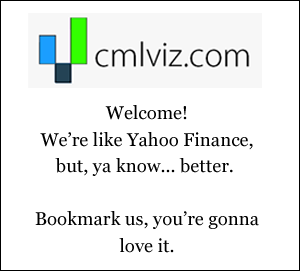 LEDE
Tesla reports earnings Wednesday, 10-24-2018, after the market closes. The company pushed the date up a week and the market has taken that as anticipation of good results.

Adding fuel to the burning bull-bear fire, Andrew Left of Citron Research, the famed Tesla bear and plaintiff in the lawsuit against Elon Musk for manipulating the stock price to harm shorts, has now turned bullish.

But there's more to this report and this company. One phenomenon that has been little reported is that Wall Street's consensus analyst estimate for next quarter is in fact a positive earnings per share (EPS) number. The estimate is for $0.79 per share, in fact.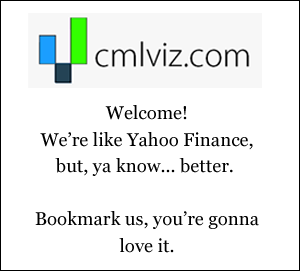 Oh, but there's more discord. For the current quarter, which we will see below, the range of estimates from the nearly 20 analysts that cover it, go from a quarterly loss of $1.75 a share to a quarterly profit of $0.88. So, while the mean estimate comes in at -$0.07, this company remains an enigma to Wall Street - bulls to bears.

But, if you want to know what will move the market as it happens, this it.

(Note: All of this data is available for free from the very site you are on -- CMLviz.com. Free. Forever. Period.)
Tesla - By the Numbers
There is an expectation set by Wall Street -- and there are numbers at the top tier of that expectation as well. Guidance, at times, moves the market more than the actual quarter being reported -- so watch those numbers as well.


Current Quarter Analyst Estimates
| | |
| --- | --- |
| Revenue | $6.05 Billion |
| Adjusted EPS | -$0.07 |


Now look at the discord between analysts:


What Constitutes the "Largest Beat" for the Quarter
* If TSLA reports a revenue number above $ 6.87 Billion , that would be ahead of even the highest estimates.
* If TSLA reports an EPS number above $ 0.88 , that would be ahead of even the highest estimates.


Yes, while the average estimate is for -$0.07 in EPS, an analyst is as high as $0.88 and one is as low as -$1.75. In other words, no one has any idea what to expect, other than volatility.



Next Quarter Analyst Estimates
| | |
| --- | --- |
| Revenue | $6.67 Billion |
| EPS | $0.79 |


This is the little covered data point -- while we see a huge range in analyst estimates again for the following quarter, this time the average is quite high, at $0.79 EPS.


What Constitutes the "Largest Beat" in Guidance
* If TSLA guides revenue above $7.78 Billion, that would be ahead of even the highest estimates.
* If TSLA guides EPS above $2.66, that would be ahead of even the highest estimates.


Again, the range in EPS estimate makes it feel like a random number, with a low of -$0.57 and a high of $2.66.

But here's where it gets interesting, yet more.


Implied Forward PE
| | |
| --- | --- |
| Current Fiscal Year | N/A |
| Next Fiscal Year | 101.63 |

You see that right -- if TSLA hits the mean estimates for EPS for next year, the company trades at a forward PE (for the next fiscal year) of 101.63.

The number is very high, but for the first time ever, it's actually a number.


Revenue and Levered Cash flow
No Tesla conversation is complete without a chart of revenue growth and cash from operations growth, in the backwards way.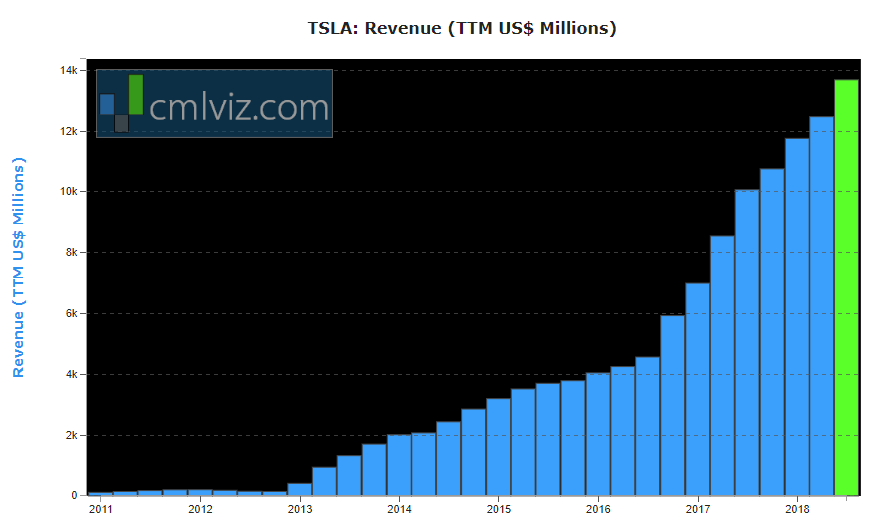 Yep, this chart comes from
CMLviz.com
as well. Free. Forever. Period.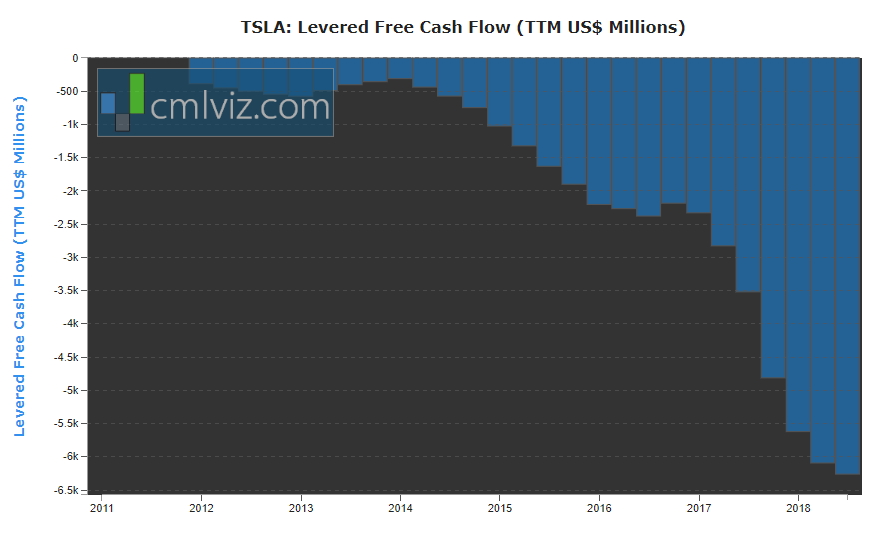 What Happened
You are on the better, smarter, faster version of finance portals like Yahoo! Finance. Welcome -- as one example, all of this data we just covered is available for any company, at any time, on the CMLviz.com Analyst Tab, for free: Right Here


Risk Disclosure

Bookmark the site -- this is -- Free. Forever. Period.

Risk Disclosure
The information contained on this site is provided for general informational purposes, as a convenience to the readers. The materials are not a substitute for obtaining professional advice from a qualified person, firm or corporation. Consult the appropriate professional advisor for more complete and current information. Capital Market Laboratories ("The Company") does not engage in rendering any legal or professional services by placing these general informational materials on this website.

The Company specifically disclaims any liability, whether based in contract, tort, strict liability or otherwise, for any direct, indirect, incidental, consequential, or special damages arising out of or in any way connected with access to or use of the site, even if we have been advised of the possibility of such damages, including liability in connection with mistakes or omissions in, or delays in transmission of, information to or from the user, interruptions in telecommunications connections to the site or viruses.

The Company make no representations or warranties about the accuracy or completeness of the information contained on this website. Any links provided to other server sites are offered as a matter of convenience and in no way are meant to imply that The Company endorses, sponsors, promotes or is affiliated with the owners of or participants in those sites, or endorse any information contained on those sites, unless expressly stated.