The Trade Desk May Have Its iPhone Moment

The Trade Desk May Have Its iPhone Moment
Date Published:
2018-09-27

Written by: Ophir Gottlieb

This is a snippet from the original CML Pro dossier published earlier.

LEDE
Spotlight Top Pick The Trade Desk (TTD) announced its "Next Wave platform" in August, but now Wall Street is picking up on the possibility that this could in fact be the launching point for The Trade Desk like the iPhone was for Apple.

It's these moments (after CML Pro finds a company) of recognition, or cognition if you prefer, for Wall Street that can turn a bullish narrative from a little-known story to widely known. We believe The Trade Desk is having that moment.

STORY
The Trade Desk is our newest Top Pick.

We'll start with the story before the thematics, then get into the full bullish narrative.

NEXT WAVE
The Trade Desk describes the Next Wave this way:



Two years in the making, and it's finally here. It's the Next Wave of digital advertising from The Trade Desk. It's a new way to plan campaigns and a new DSP experience - using next-generation AI.



It is in fact a multi-faceted solution that has:

* A new data-driven planning tool for advertisers (The Trade Desk Planner).

* An intuitive new user experience for media buyers (Megagon™).

* AI optimization -- The powerful predictive engine behind Planner and Megagon™ (Koa™).

TTD's CEO, Jeff Green, said "internally, we've likened this release to Apple's first launch of the iPhone."

RBC Capital analyst Mark Mahaney visited the company and he came away very bullish, raising his price target to $170 from $126.

Here was his takeaway:



Our due diligence and discussions with management leave us with the impression that client feedback has been very positive, with the potential for even greater client spend retention and new customer wins."



Jeff Green's (CEO) full video presentation is available on YouTube and for completeness, we have included it below (it's 45 minutes).



Since this is only the second time we have written about TTD, let's go backwards for a moment -- and re-establish the bullish narrative and thematics.

THE THEMATICS
This step forward for The Trade Desk is a crucial moment as the company goes after a huge opportunity in programmatic advertising as its own internal financials are exploding.

WHAT IS THE TRADE DESK, REALLY?
Trade Desk is the guts to the digital advertising revolution -- whether it be Facebook, Twitter, YouTube, Amazon, Roku, or almost any other firm - this company is playing a part in how the ad money gets dispersed.

This is exactly the type of company we look to add to Top Picks -- we don't look for the gold, we look for the pick-axe and shovel makers that serve the gold miners.

This all falls under the realm of "programmatic advertising," and is similar to a long time Top Pick TubeMogul (TUBE), which some of you, as long-time CML Pro members, saw get taken over by Adobe for a nice premium.

But Trade Desk has larger potential.

PROGRAMMATIC AD BUYING
Programmatic advertising helps automate the decision-making process of media buying by targeting specific audiences and demographics. Programmatic ads are placed using artificial intelligence (AI) and real-time bidding (RTB) for online display, social media advertising, mobile and video campaigns, and is expanding to traditional TV advertising marketplaces.

Customers use Trade Desk to place every type of ad, including display (images and text), video, in-app (including social media), web, audio, and search (yes, search).

These ads, therefore, can run on personal computers, mobile devices, and connected TVs. This process forgoes the usual ad-buying process that requires a request for proposal, price and placement negotiations, and manual insertion orders.

The market size is enormous and in the early stages of yet longer-term growth. Here is a chart from Statista which shows programmatic digital display advertising spending in the United States from 2013 to 2019, in billions of dollars: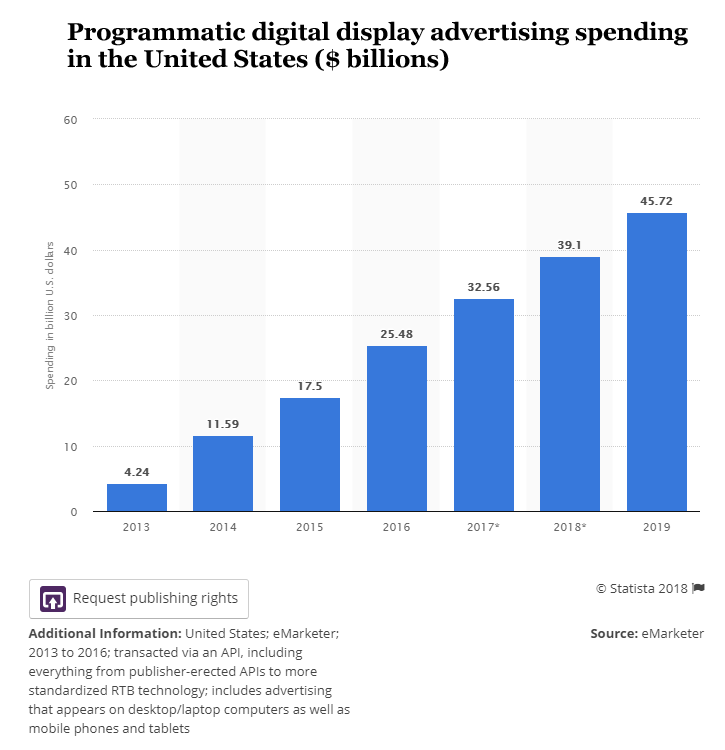 And, while a $45 billion market in just one-year looks good (in the United States, alone), never forget the underlying trend, which is digital ads in general:




The entire digital advertising world is on its way to an astounding $300 billion a year by 2019 and programmatic is likely going take a growing share of that already growing market. Don't let the $45 billion number for 2019 distract you -- programmatic ads will likely be a $100 billion segment within several years.

THE PICK-AXE
Digital ad dollars go to Alphabet's Google, and Facebook. But a soon to be a respectable third place will be Amazon, and then there comes Roku as well.

But why choose a winner when we can just pick the company that has its sights set on playing for all the winning platforms. The Trade Desk created its own cloud-based software platform that uses computer programs to automate digital advertising campaigns in real time -- by placing ads where they will be most effective at the lowest cost to buyers.

In fact, just hovering over a menu on the actual corporate site yields some benefit:




This is a technology company, in a booming technology segment (programmatic ads), inside a larger booming technology segment (digital ads), with access to every major digital media platform in the United States.

BUT IT'S BIGGER
Trade Desk loudly proclaims that there is a fundamental shift happening in advertising. And it's bigger than just a move to digital. I just can't find a better quote than this from the CEO of a global media investment management group that Trade Desk likes to share:



The future of all media is digital and programmatic... eventually all media will be digital and it will be transacted by machines.



So how large is that market? Well, Trade Desk has it pegged at nearly one trillion dollars.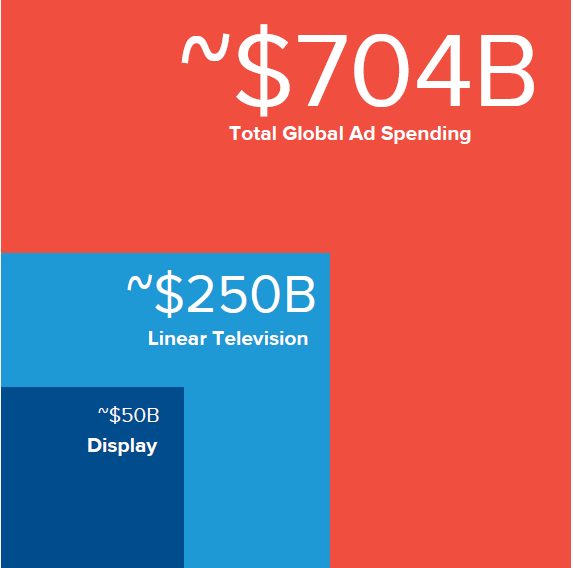 A WORD ABOUT THE CONNECTED TV
We have another Spotlight Top Pick, Roku which is in this area -- the connected TV. Here is what the CEO of Trade Desk had to say about this segment (CTV):



Arguably, the most important channel for our company is Connected TV.

Last quarter, we shared the most bullish number that I think we've ever shared as a public company.

Q1 2018 CTV spend increased by over 21x over Q1 2017. This quarter, I'm excited to report that Connected TV more than doubled from last quarter.



For the record, Trade Desk saw 2,100% (not a typo) growth in CTV ad spend over the last year. This is just a piece of the bullish thesis on Roku, but today we focus on TTD.

THE COMPANY
All the thematics are there, but it's the execution that is simply staggering.

The company likes to say that "the pie is getting bigger while the waste is being pushed out." And while we're at it, we note that the company is already global:




Or, another way Trade Desk likes to put it:



We buy the whole internet.






Here's how that gross spend looks like in a chart: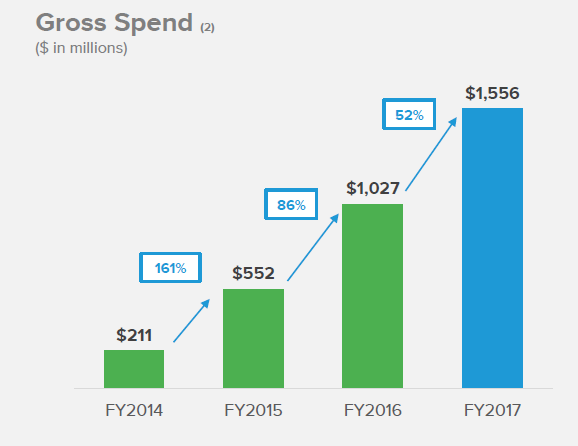 And, for 2017, the company had ~50% gross spend expansion in 2017 from existing customers with 95%+ customer retention.

FINANCIALS
Let's just look at revenue (TTM), it's that time:




Since the company runs at an operating profit, it has reserved room for future growth. Here is a clever visual the company uses:




RISK
We do note concentration risk of large customers: In 2017, TTD's 3 largest customers accounted for 22%, 11% and 10%, respectively, of Gross Billings.

We also note that while the mega players like ad spends from everywhere, they prefer to control it themselves. But, much like Roku's incredible marketplace that it just built (from where TTD buys), not being the giant is an advantage here.

For a full review of the risk, we direct you to the original Top Pick dossier New Top Pick – The Pick-Axe to Technology's Crown Jewel


WHY THIS MATTERS
It's understanding technology that gets us an edge to find the "next Apple," or the "next Amazon." This is what CML Pro does. We are members of Thomson First Call -- our research sits side by side with Goldman Sachs, Morgan Stanley and the rest, but we are the anti-institution and break the information asymmetry.

The precious few thematic top picks for 2018, research dossiers, and alerts are available for a limited time at a 80% discount for $29/mo. Join Us: Discover the undiscovered companies that will power technology's future.

Thanks for reading, friends.

The author is long shares of The Trade Desk at the time of this writing.

Legal
The information contained on this site is provided for general informational purposes, as a convenience to the readers. The materials are not a substitute for obtaining professional advice from a qualified person, firm or corporation. Consult the appropriate professional advisor for more complete and current information. Capital Market Laboratories ("The Company") does not engage in rendering any legal or professional services by placing these general informational materials on this website.

The Company specifically disclaims any liability, whether based in contract, tort, strict liability or otherwise, for any direct, indirect, incidental, consequential, or special damages arising out of or in any way connected with access to or use of the site, even if we have been advised of the possibility of such damages, including liability in connection with mistakes or omissions in, or delays in transmission of, information to or from the user, interruptions in telecommunications connections to the site or viruses.

The Company make no representations or warranties about the accuracy or completeness of the information contained on this website. Any links provided to other server sites are offered as a matter of convenience and in no way are meant to imply that The Company endorses, sponsors, promotes or is affiliated with the owners of or participants in those sites, or endorse any information contained on those sites, unless expressly stated.