The Trade Desk Growth Cycle: The Monster News That Nobody is Paying Attention To
The Trade Desk Growth Cycle: The Monster News That Nobody is Paying Attention To
Date Published:
2019-04-11

Written by Ophir Gottlieb

Hello, all. This is Ophir writing. This is a snippet from a CML Pro dossier from 3-26-2019.

LEDE
Spotlight Top Pick, The Trade Desk (NASDAQ:TTD), just announced a huge success in its move to gain access to China. It has, as of right now, kicked Facebook and Google in the teeth, and succeeded where they have not. But further, the scale of the opportunity appears to have been simply missed by Wall Street.

As the numbers come out in the next year and beyond, there will be no ignoring the results.


We added TTD to Top Picks on 3-Sep-18 for $141.88. As of this writing it's trading at $202.61, up 42.8% in six-months.

We highly encourage a read of our dossier on The Trade Desk which presents our one-on-one interview with the CEO. One-on-One CEO Interview: The Trade Desk.

STORY
The thematics behind The Trade Desk are laid out in great detail in our dossier simply named The Trade Desk is a Monster.

Today The Trade Desk has added the word 'international' in front of the word 'monster.'

In response to global marketers' focus on China as a key growth market, The Trade Desk has officially launched its programmatic ad buying platform in China.

There is One Way into China
Before we get to the details, we need to start with the single most important part. If you are a technology company trying to do anything in China that requires partnerships, it begins and ends with three companies: Tencent, Alibaba, and Baidu. You can loosely think of that triumvirate as the Facebook, Amazon, and Google of China, respectively.

If there is no partnership with at least one, there is no business. The Trade Desk did not announce a partnership with one of these giants, rather it announced a partnership with all three.

The Trade Desk's programmatic offering allows marketers to reach millions of connected consumers in China by providing:

* Partnerships with China's premium media companies, including Baidu Exchange Services, iQIYI, Tencent Marketing Solution, and Youku integrations with leading data, brand safety and anti-fraud partners to ensure their campaigns' reach, scale, and performance.

Wall Street is Simply Blind to Scale
While Netflix and YouTube are kings of the palace in the United States, never forget the reach of the Chinese giants. As a point of context, Netflix recently announced 139 million subscribers.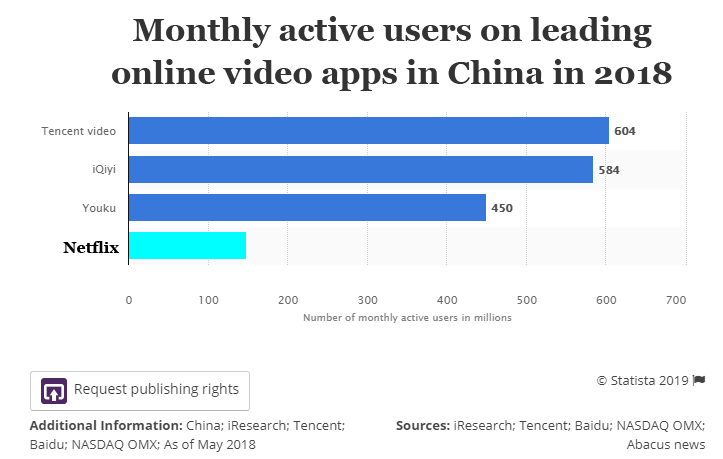 Just to be clear -- iQIYI is the video service owned by Baidu has 87.4 million paying subscibers (growing 72% year-over-year) and 584 million monthly active users since it also has an ad supported business.

Youku is the video service owned by Alibaba. While Alibaba hasn't released specific viewing figures for Youku, the platform was estimated to have 450 million monthly active users as of December 2018.

Tencent Marketing Solution is a collection of users. Just its video portion is larger than both IQ and Yoku. TenCent Video reached 62.59 million paying subscribers at the end of February, according to company stats which is an astounding 45% growth in just five-months.

Tencent video also claimed 137 million daily active users and data from the company puts it at 604 million monthly active users.

Tencent's messaging app, called QQ, has a estimated 807 million monthly active users.

That means all of the video platforms that matter in China -- that cover virtually everyone that's online, now give The Trade Desk the opportunity to sell ad inventory with its artificial intelligence based programmatic ad buying machine.

WHY DOES TRADE DESK GET SPECIAL TREATMENT?
As we noted in our Spotlight Top Pick dossier, The Trade Desk is the antithesis of Google -- the antithesis of Facebook -- it is independent of an U.S. giant.

Benson Ho, the Chief Data Strategy Officer, Tencent Marketing Solutions said this (our emphasis added):



The Trade Desk's independence, objectivity, and global reach were important reasons we partnered with them.



That was not just a vote of confidence for The Trade Desk -- but it was, ever so subtly, a shot at Google and Facebook. Ho went on to say that:



We value our partnership with The Trade Desk and the benefits it will provide both of our companies as well as brands around the world for years to come.



SO CHINA IS BIG, BUT HOW BIG?
These next charts are just mind boggling, but here they come (and they are included in the IQ Top Pick dossier as well):

* Jaw dropping growth in Internet adoption: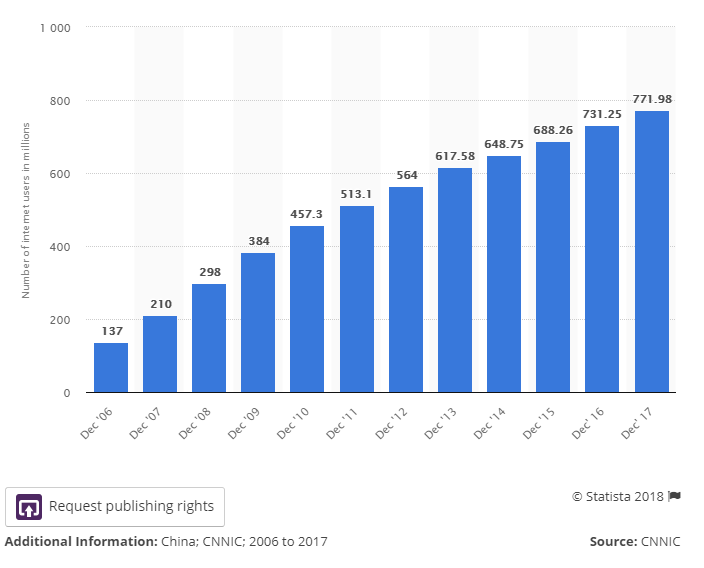 Source:

Statista



China is looking at about 800 million Internet users in 2018 and growing. That's more twice the entire population of the United States.

China's middle class is exploding. In fact, it's so large, it is soon to be larger than the entire population of the United States. We discuss that phenomenon and the changing generational spending habits in CML Pro.

BACK TO THE THEMES
The best place to start with the future is to look at the present. This may take a couple of reads to fully fathom the impact:



[A] recent study by advertiser perceptions showed The Trade Desk ranked third right after Amazon and Google in overall demand side platform usage last year by surveyed marketers and advertising agencies.



On 9-3-2018, when we added TTD to Top Picks, we called it The Pick-Axe to Technology's Crown Jewel.

Then we published a dossier The Trade Desk May Have Its iPhone Moment. In that dossier we detail why The Trade Desk is an artificial intelligence company and it recently released its company changing technology; it's "iPhone."

We know that programmatic advertising is used in nearly 80% of U.S. digital ad purchases, according to eMarketer.

And according to The Trade Desk CEO Jeff Green:



The Trade Desk is better positioned than anyone else to prosper as the world moves to programmatic.



Remember, TTD believes that number will eventually hit 1 trillion dollars.

Trade Desk is the guts to the digital advertising revolution - whether it be Facebook, Twitter, YouTube, Amazon, Roku, or almost any other firm – this company is playing a part in how the ad money gets dispersed.

Customers use Trade Desk to place every type of ad, including display (images and text), video, in-app (including social media), web, audio, and search (yes, search).

The market size is enormous and in the early stages of yet longer-term growth. Here is a chart from Statista which shows programmatic digital display advertising spending in the United States from 2013 to 2019, in billions of dollars: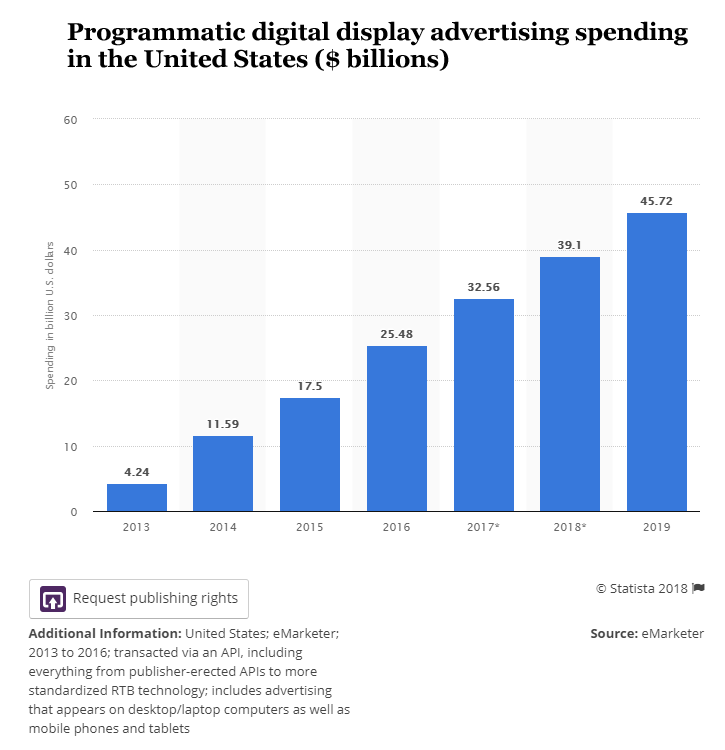 And, while a $45 billion market in just one-year looks good (in the United States, alone), never forget the underlying trend, which is digital ads in general:




The entire digital advertising world is on its way to an astounding $300 billion a year by 2019 and programmatic is likely going take a growing share of that already growing market. Don't let the $45 billion number for 2019 distract you -- programmatic ads will likely be a $100 billion segment within several years.

BUT IT'S BIGGER
Trade Desk loudly proclaims that there is a fundamental shift happening in advertising. And it's bigger than just a move to digital. I just can't find a better quote than this from the CEO of a global media investment management group that Trade Desk likes to share:



The future of all media is digital and programmatic... eventually all media will be digital and it will be transacted by machines.



So, how large is that market? Well, Trade Desk has it pegged at nearly one trillion dollars.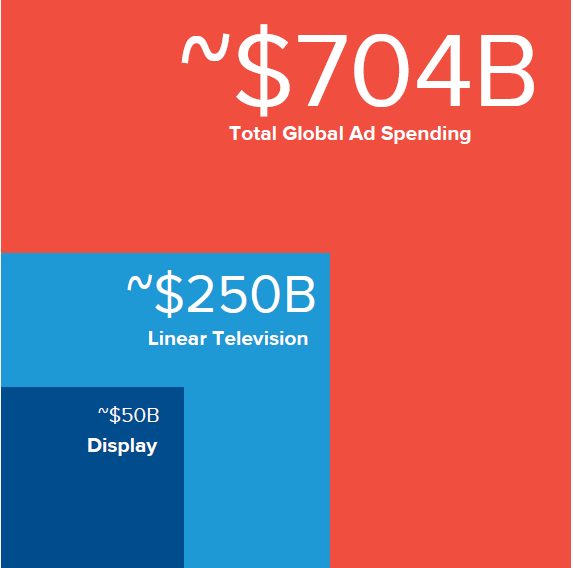 Even further, CEO Jeff Green noted:



We also started to build a solid base of trust with the largest companies in China such as Baidu, Alibaba, Tencent and ITV.



CONCLUSION
It's understanding technology that gets us an edge to find the "next Google," or the "next Amazon." This is what CML Pro does. We are members of Thomson First Call -- our research sits side by side with Goldman Sachs, Morgan Stanley and the rest, but we are the anti-institution and break the information asymmetry.

The precious few thematic top picks for 2018, research dossiers, and alerts are available for a limited time at a 80% discount for $29/mo. Join Us: Discover the undiscovered companies that will power technology's future.

The author is long shares of The Trade Desk in his personal account and is short put options and long call options at the time of this writing.

Thanks for reading, friends.

Legal The information contained on this site is provided for general informational purposes, as a convenience to the readers. The materials are not a substitute for obtaining professional advice from a qualified person, firm or corporation. Consult the appropriate professional advisor for more complete and current information. Capital Market Laboratories ("The Company") does not engage in rendering any legal or professional services by placing these general informational materials on this website.

The Company specifically disclaims any liability, whether based in contract, tort, strict liability or otherwise, for any direct, indirect, incidental, consequential, or special damages arising out of or in any way connected with access to or use of the site, even if we have been advised of the possibility of such damages, including liability in connection with mistakes or omissions in, or delays in transmission of, information to or from the user, interruptions in telecommunications connections to the site or viruses.

The Company makes no representations or warranties about the accuracy or completeness of the information contained on this website. Any links provided to other server sites are offered as a matter of convenience and in no way are meant to imply that The Company endorses, sponsors, promotes or is affiliated with the owners of or participants in those sites, or endorse any information contained on those sites, unless expressly stated.