The Five-Year Repeating Momentum Pattern into Earnings in Take-Two Interactive Software Inc
Take-Two Interactive Software Inc (NASDAQ:TTWO) : Trading Momentum into Earnings Optimism With Options
Date Published:
2018-07-14




Preface
We look at momentum patterns a lot, but this one is quite impressive. Take-Two Interactive Software Inc (NASDAQ:TTWO) has been in a different stratosphere than even its peers and that rise has resulted in a powerful pattern of momentum right before of earnings, for a trend that has lasted five-years.

The company has earnings due out 2018-08-02 after the market closes (according to Wall Street Horizon), and 14-days before then would be 7-19-2018.

Here is a three-year stock chart of TTWO, versus EA (in blue) and the Nasdaq 100 QQQ ETF (in orange):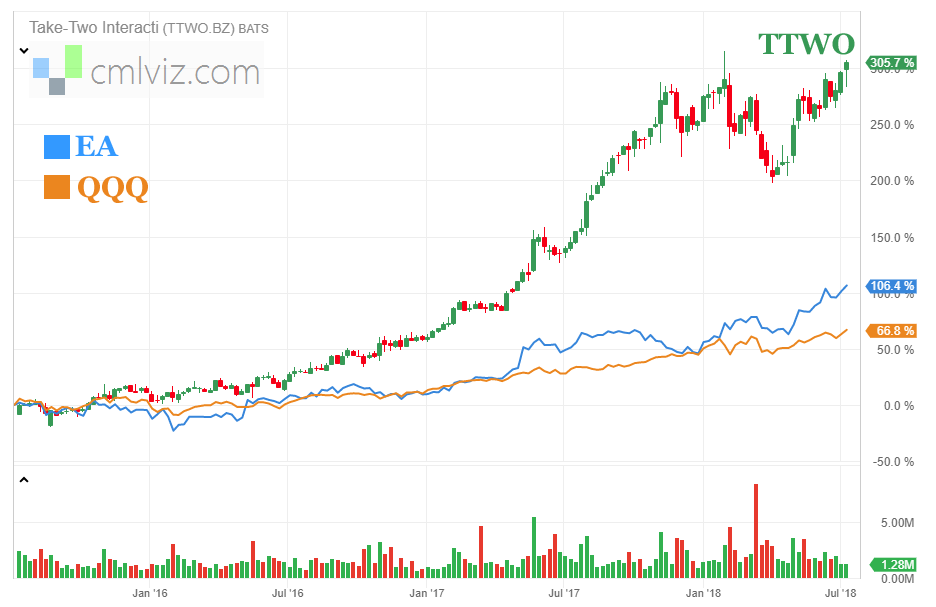 The Options Optimism Trade Before Earnings in Take-Two Interactive Software Inc
Let's look at the results of buying a 3-week to expiration out of the money (40 delta) call option in Take-Two Interactive Software Inc two-weeks before earnings (using calendar days) and selling the call before the earnings announcement.

Here's the set-up in great clarity; again, note that the trade closes before earnings, so this trade does not make a bet on the earnings result.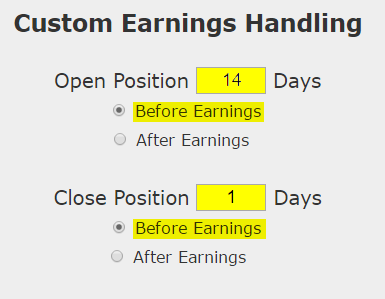 RISK CONTROL

Since blindly owning calls can be a quick way to lose in the option market, we will apply a tight risk control to this analysis as well. We will add a 40% stop loss and a 40% limit gain.





In English, at the close of every trading day, if the call is up 40% from the price at the start of the trade, it gets sold for a profit. If it is down 40%, it gets sold for a loss. This also has the benefit of taking profits if there is a stock rally early in the two-week period rather than waiting to close 14-days later.

Another risk reducing move we made was to use 21-day options and only hold them for 14-days so the trade doesn't suffer from total premium decay.

Here are the results over the last five-years in Take-Two Interactive Software Inc:


The mechanics of the TradeMachine® Stock Option Backtester are that it uses end of day prices for every back-test entry and exit (every trigger).




Track this trade idea. Get alerted for ticker `TTWO` 14 days before earnings


We see a 3,522% return, testing this over the last 21 earnings dates in Take-Two Interactive Software Inc.

We can also see that this strategy hasn't been a winner all the time, rather it has won 19 times and lost 2 times, for a 90.5% win-rate.

The trade will lose sometimes, but over the most recent trading history, this momentum and optimism options trade has won ahead of earnings.


Setting Expectations
While this strategy had an overall return of 3522%, the trade details keep us in bounds with expectations:

➡ The average percent return per trade was 48%.
➡ The average percent return per winning trade was 55.9%.
➡ The average percent return per losing trade was -26.6%.

Checking More Time Periods in Take-Two Interactive Software Inc
Now we can look at just the last year as well:


➡ The average percent return over the last year per trade was 70.8%.


WHAT HAPPENED
You can guess stock direction -- guess momentum -- guess anything. Or, you can be empirical. But there's a lot less luck to successful option trading than that -- and every professional trader knows it. To learn more watch this quick demonstration video -- the first 70 seconds alone could change your view of trading, forever:
Tap Here to See the Tools at Work

Risk Disclosure
You should read the Characteristics and Risks of Standardized Options.

Past performance is not an indication of future results.

Trading futures and options involves the risk of loss. Please consider carefully whether futures or options are appropriate to your financial situation. Only risk capital should be used when trading futures or options. Investors could lose more than their initial investment.

Past results are not necessarily indicative of future results. The risk of loss in trading can be substantial, carefully consider the inherent risks of such an investment in light of your financial condition.

Please note that the executions and other statistics in this article are hypothetical, and do not reflect the impact, if any, of certain market factors such as liquidity and slippage.