Why Twitter's Earnings Report Became An Assault on Management




##Symbol##TWTR

This morning I authored a note:
Why Twitter Earnings Previews Don't Matter; The Stock Will Double

I do remind all readers that a report just like this one is available for any company for free on CMLviz.com. Yes, literally for free. No e-mail. No login. Free. Forever. Period.

Twitter reported earnings on July 28th, 2015. While the stock initially rose on the top line and EPS beats, it quickly sank more than 10% on concerns (panic) over user growth. Interestingly, the company seemed to hyper focus on this phenomenon, almost urging the stock lower. It wasn't a pretty earnings call after the initial report was released.

Before we get into the numbers, I note that the estimates called for essentially zero user growth and that's what happened. Or did it?

8 million new users particpated on Twitter from SMS. These are people that are not logged in. The entire operational thesis for Twitter has surrounded finding a compelling and differentiated opportunity for its uers and therefore its advertisers. Real-time is that differentiator for Twitter and the company has embraced that newly found core competency with Periscope and most importanty, with the addition of Project Lighting.

Lighting is a direct avenue aimed at attracting non-logged in users to particpate in live events. Twitter is focusing its future and differentiation on non-logged in users. So the perplexing reality now becomes, if non-logged in users are the growth avenue, and we have strong circumstantial evidence that such an aveneue has legs even before Lighting has even launched, then why did Jack Dorsey (CEO) and Anthony Noto (CFO) fall on the knife during the earnings call with regard to user growth?

The company finally found something that works, that can grow, that is different and doesn't require the company to change the core underlying product that has nearly a third of a billion people on it already.

Revenue
$502 million vs estimates of $482 million. That's 61% growth from the year earlier period.

This is the revenue (TTM) chart for Twitter before today's announcement.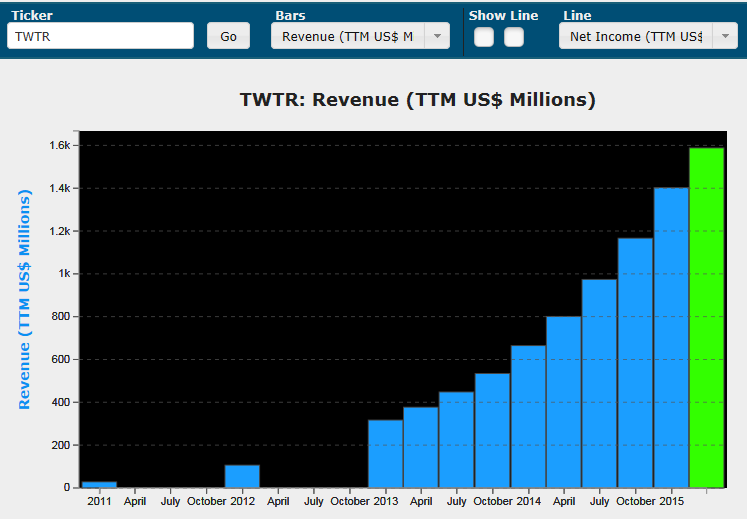 Click Here to Interact With This Chart

EPS
$0.07 vs estimates of $0.04.

MAU (monthly Active Users)
316 million vs estimates of 313 million. But, if we take out SMS users, that number was actually 304 million. It's this distinction that has the CFO and Wall St. realing. More on that in a sec.




User Growth
8 million users added vs estimates of anywhere from 0 to 10 million. But, if SMS users are taken out, users grew less than 1%. In my opinion, expect non-logged in user growth to grow rapidly once Project Lighting is released and as international expansion grows. The delineation between these two types of users could become less important. This is being taken as a negative right now, and I believe that sentiment will flip 180 degrees within a matter of hours.

All of the new users in Q2 came from international regions as US growth literally just stopped. But it was a sort of compulsion for Jack Dorsey and Anthony Noto to hyper focus on the growth. Here's a snippet from MarketWatch.


We don't expect to see sustained meaningful growth in MAUs until we start to reach the mass market. - @anthonynoto #TWTRearnings $TWTR

— TwitterIR (@TwitterIR) July 28, 2015
Stock Based Compensation
$175 million in stock based compensation vs total losses of $137 million. This expensehas been totally out of control for some time and is slowly becomng a critical focus and question as to whether the company can retain talent without enormous stock based comp.
Executives
Two more high level executives depart including the "head of growth." The company said it had nothing meaningful to share on the CEO search.
Twitter's head of Growth leaving twitter. https://t.co/7fbcxJPwQU

— ಠ_ಠ (@MikeIsaac) July 28, 2015
Mobile
Mobile advertising revenue accounted for 88% of total ad revenue.
Forecasts
Revenue forecasts have come down to the lower part of the range for next quarter.
Expenses
The company is looking to cut capital expenditures to improve margins.
My Take
The MAU growth will come from non-logged in users as we saw this quarter already. The company has focus with real-time event driven content that will roll out with Project Lightning and allow non-logged in users to particpate. That growth in users that came from non-logged in accounts is already a sign that the untapped growth sits right there. This was not a miss, this was a beat on all fronts.
Regardless of the stock market's reaction (which has been up and down), this was a good quarter for Twitter, with all-time highs in revenue and MAUs. The company actually recognizes its competitive advantage and has made it its core competency. Periscope, Project Lighting and "real-time" in general are the compelling and differentiated products that Twitter
had to show advertisers
that Facebook (FB) and Google (GOOGL) do not have.
The stock market decline is not a reflection of low growth today, it's a reflection that the market doesn't believe anything Twitter management is saying about the future. It's an all out assault (sorry, regardless of headlines, Wall St. does
not
trust Jack Dorsey) and if the equity market is right that Twitter is soon to be shrinking, then yes, this is a $15 stock. But we have factual, unbiased evidence
totally to the contrary
.