Watchlist: Is Twitter Poised for Growth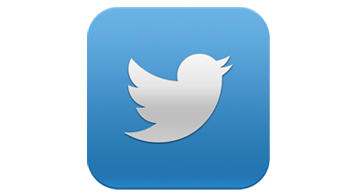 Fundamentals

Our purpose is to provide institutional research to all investors and break the information monopoly held by the top .1%. You're now a part of that change.
DIRECT LINE
As a part of our CML Pro research dossiers, we have discussions with the top management at the firms we consider for 'Top Picks.' We have opened the door of communication with Twitter leading up to our decision of whether or not to add Twitter as one of our precious few 'Top Picks,'. We will make the full transcript available to CML Pro members.
FINDING THE NEXT GEM
Everything we do here focuses on the future — we don't particularly care for analysis that dissects $0.03 of EPS or a 1% vacillation in revenue forecasts for the next year. In order to find the 'next Apple' or 'next Google' we have to get ahead of the curve. That phrase refers to finding booming themes and trends, and then identifying the companies best positioned to show out-sized growth in the theme's colossal shift forward.
This is what CML Pro does. Our research sits side-by-side with Goldman Sachs, Morgan Stanley and the rest on professional terminals, but we are the anti-institution and break the information advantage the top 1% have.
THEMES
With Twitter we are looking at several thematic trends that have already and will continue to radically affect the way the world communicates. Let's walk through them one at a time, and then discuss Twitter's bullish and bearish thesis.
I. SOCIAL MEDIA
Social media is the largest communications technology transformation we have seen since the advent of the telephone. Here are some wonderful charts. First, the number of social media users worldwide through 2018 via Statista:
As of 2015, the world saw just under 2 billion social media users and that number will rise by 25% through 2018. But it's really only the beginning.
Here's a chart from 'we are social:'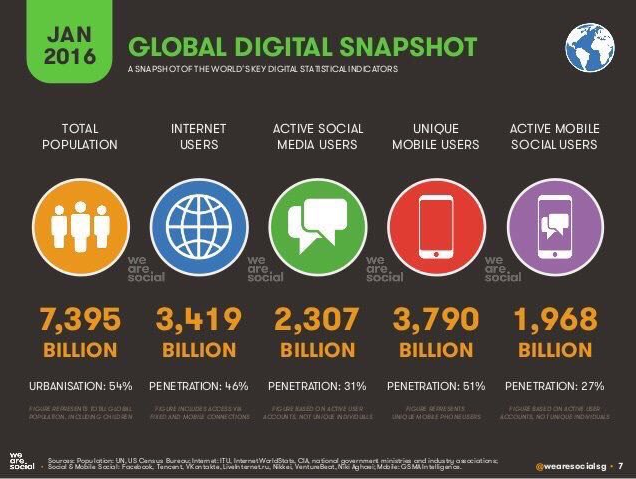 With 3.4 billion people on line and 3.7 billion unique mobile phone users, still only 46% of the world is connected to the Internet. Active social media users are only reaching 31% of the globe.
As technology proliferates, there is yet more room for growth in a segment that we are already measuring in multiples of billions.
China has by far the largest social media user base, topping half a billion people, but the country has effectively blocked U.S. social media firms.
India and Japan have become the hot spots for growth. India is the second largest social media market. Here is the tremendous growth:
India is easily Facebook's second largest market at 125 million users and the entire country will near a quarter billion users within three-years.
Twitter:
While it pales in comparison to Facebook, India is also a bastion of growth for Twitter. Forecasts from eMarket put total usage up to 34 million users by 2019 — fully a 100% gain from 2015. Here's the growth chart: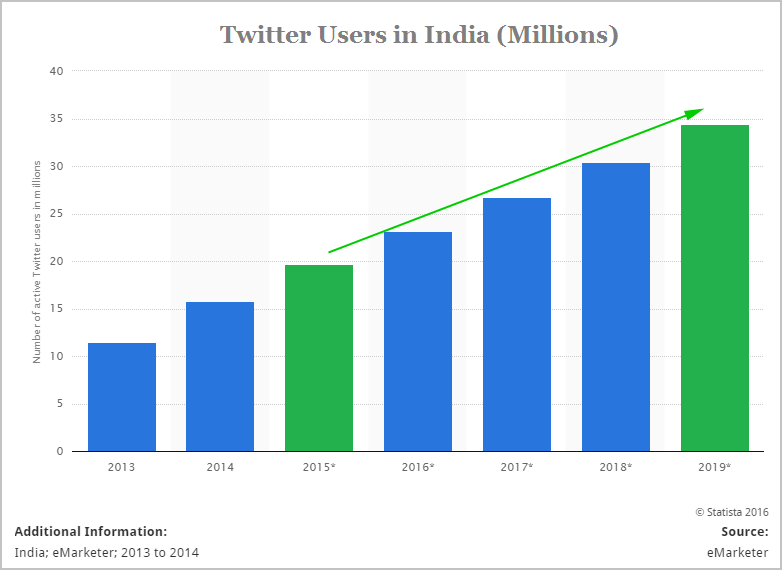 Twitter currently has 24 million active users in Japan and that number is expected to rise to 28 million by 2019.
For our final look at the social media usage theme, we can see the penetration of participation by region of the world: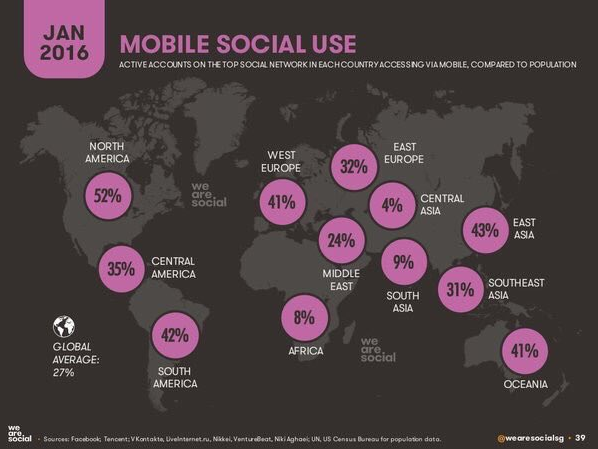 Even in the most advanced locations in the world, we only see 52% penetration in the North America and 41% in Western Europe. Friends, these numbers will grow, and active social media users will cross above half of the entire human population within a matter of years.
II. DIGITAL ADVERTISING
The vast majority of social media monetization occurs through adverting. In fact, in its latest earnings call, Facebook revealed that 96.5% of revenue came from ads — 80% of that from mobile ads.
Twitter: Here is Twitter's incredible all-time revenue (TTM) chart via Capital Maret Labs (CML Pro):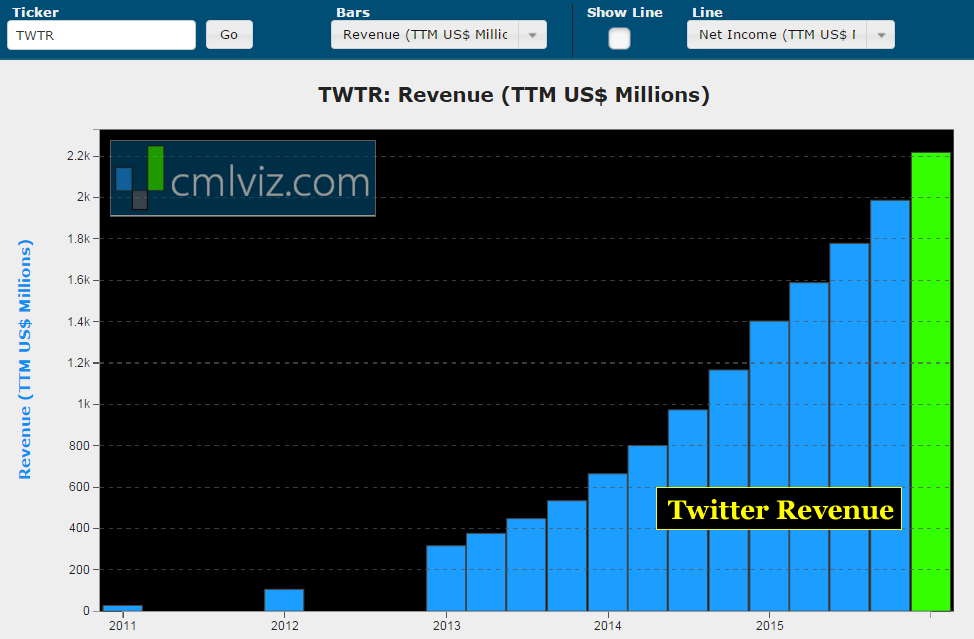 Best estimates put $1.8 billion of that $2.2 billion in revenue coming directly from ad sales.
Here is a chart that compares Twitter's revenue (TTM) growth over the last year with other technology companies of similar market caps: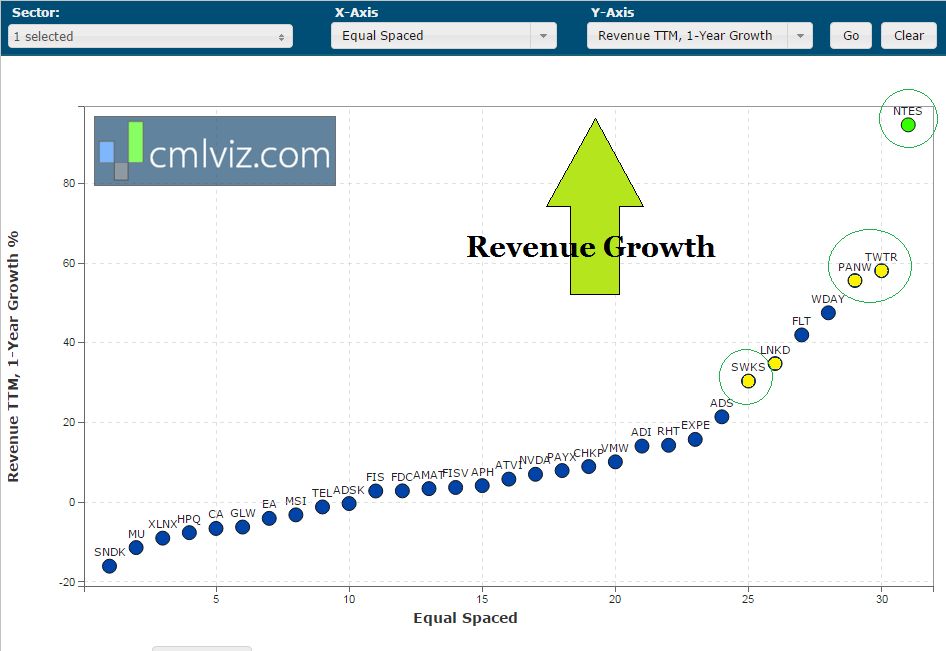 Twitter is growing faster than all but one other technology company in this peer group. Remember, there is a difference between user growth, which Twitter lacks, and revenue growth, which Twitter has a lot of.
Here is the worldwide digital advertising market, projected out to 2018 via eMarketer and Statista.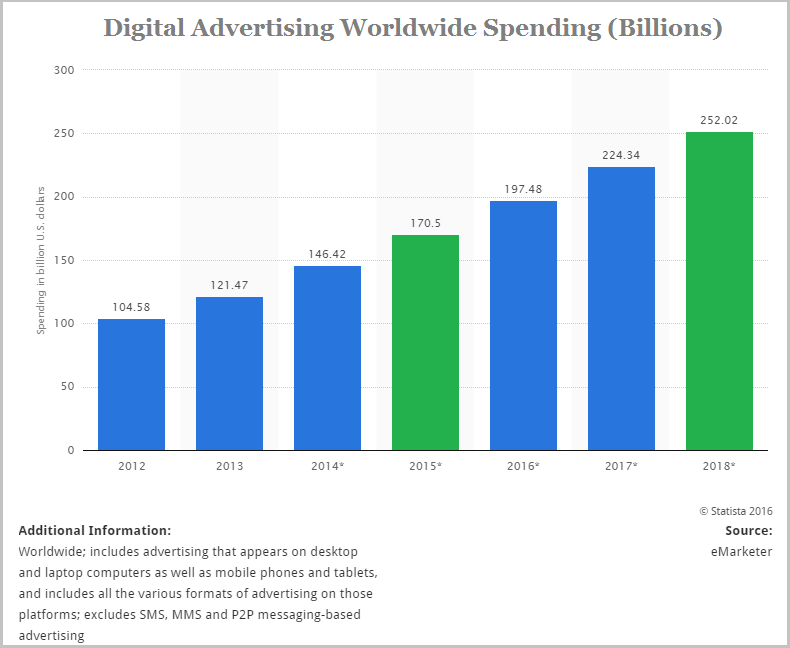 When we say the opportunity is enormous, we mean it. By 2018 we're looking at over a quarter trillion dollars in digital ad revenue. As a point of reference, the world changing Virtual and Augmented Reality market is estimated to reach $150 billion by 2018.
III. ONLINE VIDEO ADVERTISING
Not all digital ads are created equal and the hot spot right now is video. Facebook and Snapchat recently reported that 8 billion videos are viewed every day on their platforms.
Video streaming and video ads are the fastest growing segment in advertising. Via Statista: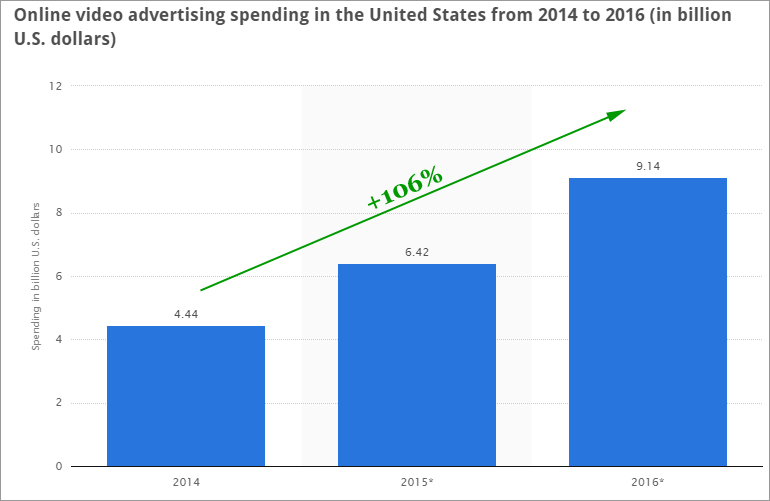 Online video advertising spending in the United States will hit $9.1 billion in 2016, up from $4.4 billion just two years ago.
As for Goliath, on the earnings report on 7-16-2015, Google disclosed that watch time for YouTube rose 60% in the second quarter and the video service had more viewers aged 18-49 on mobile alone than any U.S. cable network.
Twitter: In January Periscope was made available to stream inside Twitter feeds, instead of needing to follow a link. Periscope already boasts 10 million active users and hosted more than 100 million active broadcasts.
This is the battlefield, and it could breathe yet another massive revenue flow into Twitter.
TWITTER
Social media, online adverting and video streaming are areas we must have exposure to for our CML Pro 'Top Picks.' The trends are too large and too important to overlook. We've got the themes, now let's dive into Twitter.
TWITTER: THE BULLISH CASE – SOCIAL NECESSITY

Social media is just a phrase, in the guts of it come many different kinds of flavors. Facebook Proper has 1.55 billion MAUs. Facebook's WhatsApp, a messaging service, comes in at 1 billion MAUs. Facebook's Messenger comes in at 800 million MAUs, and finally Facebook's Instagram comes in at 400 million MAUs.
Twitter comes in at 320 million MAUs — well below all of Facebook's properties. But Twitter, in its core DNA, is not a messaging service, not a photo sharing service and not a personal friend and family timeline service.
We believe Twitter comes in, not so much as fun, but as necessity. Almost all of human history will tell us that selling what people 'want' is a much larger business than selling what people 'need,' but Twitter's dominant footprint in 'need,' is a part of the bullish thesis:
TWITTER: NEED
Twitter is real-time communiques. It is the enabler of social movements, the creator of the hashtag that actually matters.
In an interview with Canada's BNN (Business News Network), our CEO, Ophir Gottlieb, loudly proclaimed that Twitter has the opportunity to become the most important communications innovation in decades that could follow in the lines of the Telegraph and the Telephone.
Here's a taste of what Ophir was referring to, Twitter movements that have changed the world:
#BlackLivesMatter
This hashtag has been emblazoned across signs held among the thousands of protesters who are calling for an end to police brutality and the killings of African-Americans in the U.S.
#BringBackOurGirls
After Boko Haram militants kidnapped hundreds of girls from a Nigerian boarding school on April 15, an international campaign was raised to pressure the Nigerian government to "Bring Back Our Girls."
#Jan25th
During the Egyptian uprising, this hashtag was used to mobilize protesters to join the demonstration on Jan 25th on Tahrir Square.
#TweetLikeANeurotypical
Though mental illness is extremely common—and developmental variations like those on the autism spectrum are becoming better understood—a massive amount of stigma still surrounds it. The very idea of "neurotypical" (and "neuro-atypical'") is unknown to most people. Hashtags like this are only beginning to raise awareness.
And there are many, many more. If Twitter maintains this position as the provider of need, in real-time, it has a niche in the colossal social media realm that will be unmatched.
TWITTER: BIG CHANGES
We can talk about need, and even praise it, but Twitter is now a public company and it goes nowhere near our 'Top Picks' if it doesn't compel us with a financial story as well.
The firm has made four large changes of late, and they are starting to feel very bullish. Here we go:
I. PROGRESS: MASSIVE AUDIENCE GAIN
The news released on December 10th is enormous.
Twitter announced Thursday that it will start showing ads to its "logged out" audience, a group of roughly 500 million people who visit Twitter every month but who don't have active user accounts.
Twitter has long been telling us that the 320 million monthly average user (MAU) number is vastly understating its user appeal. And by vastly, we mean, the number looks more like 800 million users.
As of December 10th we now know that Twitter is going to start monetizing this base.
On Twitter's last earnings call, COO and head of revenue, Adam Bain, said that the company believes these ads will monetize at about half the rate of usual Twitter ads (Source: re/code).
Those 500 million more logged out users would mean an additional $1.5 billion in revenue or 75% more revenue with essentially no additional development for the product needed.
This is genius, but it isn't the truly brilliant move that changes everything.
II.PROGRESS: INDIA
We touched on it earlier, but India is now on the radar for Twitter. Here's news from December 28th:
Twitter recently struck a partnership deal with India-based chat app – Lookup. Users in the country can now tweet on @lookuplite to get information and also make purchases (and book appointments) from a range of retail services.
Source: ZACKS
We're talking about payments and transactions, but there's more. Twitter is also providing free delivery during the holiday season. As of this writing, the service has been rolled out to Delhi, Bangalore, Mumbai and Pune.
We reprise the growth in India's social media consumption:
This is enormous, but it isn't the brilliant move that we feel could change everything.
III.PROGRESS: STREAMING VIDEO AND GOPRO
With a $12 billion market cap, down from $35 billion, and $2.2 billion in revenue growing still at 58% (TTM), Twitter's valuation has reached the point of market madness. This contradictory state exists because the market is confused about Twitter's path. Changes were needed desperately, and changes have arrived.
On January 25th we learned that Twitter and GoPro would be partnering through Twitter's wholly owned live streaming service, Periscope. This is a change for GoPro, which until now had focused on the competing service Meerkat. With what has been named, "GoLIVE," GoPro and Periscope/Twitter users can engage in real-time. GoPro's website reads:
Beginning today, Periscope users can now broadcast live directly from their GoPro HERO4 Black or Silver camera. Live broadcasts from GoPro can now be shared directly to Twitter's home timeline.
Again, we reprise the trend in online video advertising for convenience: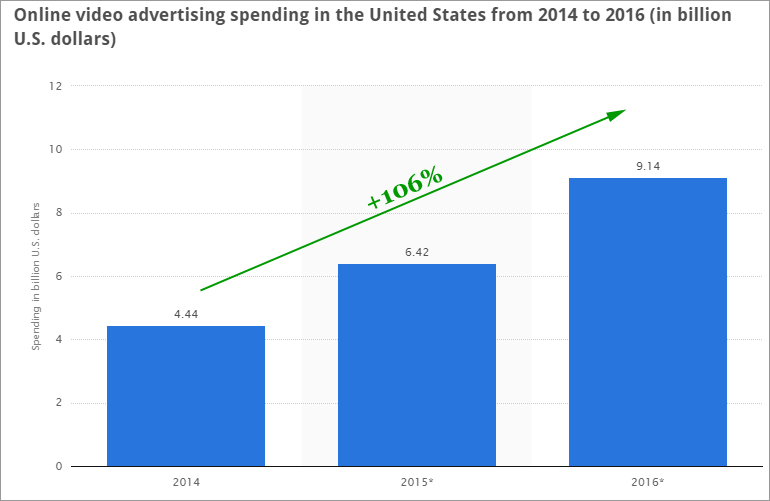 106% growth in two-years and booming. Now it's time for Twitter to make some room for itself with Periscope and partnerships like the one with GoPro.
This too is quite clever, but it isn't the brilliant move that changes everything.
IV.PROGRESS: THE BIG CHANGE
It's the smallest things, sometimes, that signal a change in thought process — a change in understanding and approach. It's one of these small things that just happened, and it means Twitter's management has finally turned off the over intellectualizing of its social media property it thinks people need and turned to what people want.
The brilliance behind Facebook and (soon Apple's (AAPL) social media called "social groups"), said in a very simplified way, is its ability to give people what they want. Facebook won't affect the Arab Spring or the political vernacular, but it will let people watch cat videos, share fun memes and generally be social in a digital environment.
Twitter has not done that. It's quippy, intellectual, and up until now, has felt "too good" for memes, cat videos and generally, "fun."
FUN IS HERE
Very recently, Twitter added a little button on its mobile app to find animated gifs. Here's a screenshot:
Now if you're starting to roll your eyes, hold on one second and read this comment from Facebook, when it allowed animated gifs to appear:
We built support for animated GIFs to help people express themselves in fun new ways on Facebook.
Source: Facebook
Animated .gifs are now dominating social media because they increase engagement. Increased engagement means more users, more time on the platform by users and more social interactions between users. All three of those descriptions are weaknesses for Twitter and all three translate into revenue from ad sales.
Further, some people claim that GIFs are the future of photojournalism (About Tech).
WHY THIS IS HUGE
The animated .gif library Twitter offers is not a game changer in and of itself. But it is a radical first time move that shows Twitter has addressed the difference between what people need and what people want.
For Twitter to grow it must go further than its overly intellectualized, pedantic and at times confusing interface and general attitude toward Facebook, Instagram, Snapchat, etc. Those firms are exploding in growth — Twitter is shrinking. These are the facts and they are not disputed.
Twitter finally gets it, and if the company can make its spectacular intellectual social media company into one that is also welcoming, fun and engaging, well that deserves a .gif:
WHOA!
TWITTER: THE BEARISH CASE
There is another side to this coin, and we need twitter's top brass to help us figure out the direction.
While we see tremendous user growth worldwide for the social media segment, user growth for Twitter has stagnated.
The company reported 320 million MAUs last quarter excluding SMS text users and that's actually lower than the 324 MAUs that were previously reported.
Further, Snapchat and Facebook are now needling their ways into real-time communiques.
BEARISH ATTACK
To this day, Twitter exists solely because of its incredible ability to deliver timely content.
Facebook's ad content is extraordinarily appropriate — let's be honest, the company has so much information on its users we might as well call it the human genome product ex-biology. They have created a digital fingerprint.
But, even with all of that, Facebook cannot compete with Twitter's timeliness. Or that was the conventional thinking until right about now.
BEARISH ATTACK: REALTIME
Facebook now gets 8 billion video streams views a day, and while much of that is cat videos, some of it is turning into real-time communiques. It was Facebook, not Twitter, that sponsored the majority of GOP debates.
On December 3rd 2015, Facebook introduced Live Video and Collages. Here's the press release Facebook made:
Today we're beginning to test the ability for people to share live video on Facebook. While watching a live video, you can tap the Subscribe button to get notified the next time the broadcaster goes live.
Source: Facebook
And in late Janaury, Twitter got thunderous news. Facebook is entering the world of real-time sports with "the Facebook Sports Stadium".
Today we're launching the Facebook Sports Stadium, a dedicated place to experience sports in real-time with your friends and the world.
With 650 million sports fans, Facebook is the world's largest stadium. With Facebook Sports Stadium, all the content on Facebook related to the game is in one place, and it comes in real time and appears chronologically.
Source: Facebook
Facebook has taken the gloves off and smells blood. Twitter is in trouble, it can't grow users, and if Facebook can step in with real-time delivery of content, Twitter may see its 'slow user growth' turn into 'shrinking users.' If that happens, Twitter will be a single digit stock overnight and Facebook will get its pot of gold, no clown car included.
WHAT NOW
Now we speak with the top management at Twitter and hear their take. We're ready to be compelled to make Twitter a 'Top Pick,' as it has carved out quite a unique portion of social media that is still rather large.
We want the vision for the next three-years; the next five-years. The next decade.
THE REAL WINNERS
The social media giants battle for position and MAUs -- but the net outcome could be equal sized gains.
To find the 'next Apple' or 'next Google' we have to get ahead of the curve. This is what CML Pro does. Our research sits side-by-side with Goldman Sachs, Morgan Stanley and the rest on professional terminals, but we are the anti-institution and break the information advantage the top .1% have.
Each company in our 'Top Picks' is
the single winner
in an exploding thematic shift like artificial intelligence, Internet of Things, drones, biotech and more. In fact, here are just two of the trends that will radically affect the future that we are ahead of: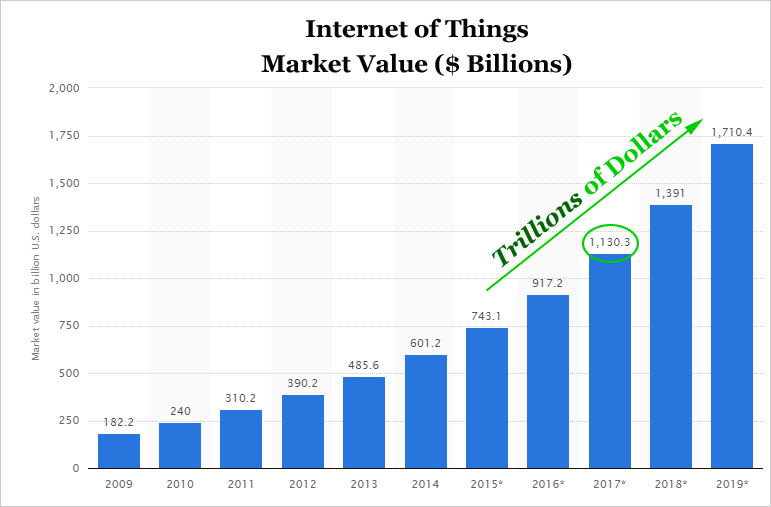 The Internet of Things (IoT) market will be measured in
trillions
of dollars as of next year. CML Pro has named the
top two companies
that will benefit. Then there's cyber security: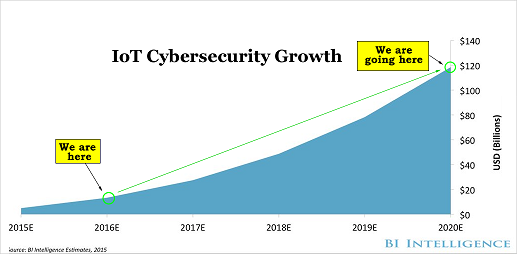 Market correction or not, recession or not, the growth in this area is a near certainty, even if projections come down, this is happening. CML Pro has named
the single best
cyber security stock to benefit from this theme.
These are just two of the themes we have identified and this is just one of the fantastic reports CML Pro members get along with all the visual tools, the precious few
thematic top picks for 2016
, research dossiers and alerts. For a limited time we are offering CML Pro at a 90% discount for $10/mo. with a lifetime guaranteed rate.
Join Us: Get the most advanced premium research delivered to your inbox along with access to visual tools and data that until now has only been made available to the top 1%.
Thanks for reading, friends.
The author and the author's household hold shares in Twitter as of this writing.
Legal
The information contained on this site is provided for general informational purposes, as a convenience to the readers. The materials are not a substitute for obtaining professional advice from a qualified person, firm or corporation. Consult the appropriate professional advisor for more complete and current information. Capital Market Laboratories ("The Company") does not engage in rendering any legal or professional services by placing these general informational materials on this website.
The Company specifically disclaims any liability, whether based in contract, tort, strict liability or otherwise, for any direct, indirect, incidental, consequential, or special damages arising out of or in any way connected with access to or use of the site, even if we have been advised of the possibility of such damages, including liability in connection with mistakes or omissions in, or delays in transmission of, information to or from the user, interruptions in telecommunications connections to the site or viruses.
The Company make no representations or warranties about the accuracy or completeness of the information contained on this website. Any links provided to other server sites are offered as a matter of convenience and in no way are meant to imply that The Company endorses, sponsors, promotes or is affiliated with the owners of or participants in those sites, or endorse any information contained on those sites, unless expressly stated.