Is Google About to Buy Twitter?



Our purpose is to provide institutional research to all investors and break the information monopoly held by the top .1%. Thanks for standing with us.
PREFACE
According to April research from Goldman Sachs, about
20%
of Google's total revenue came from mobile and most of that came from search ads displayed on rival Apple's phones (Source:
Business Insider
).
On the other hand, fully
80%
of Facebook's revenue comes from mobile while Twitter realized an astonishing
89%
.
RECENT COLLABORATION
Google and Twitter are getting cozy. StreetInsider just posted this:
Over the past 12 months, TWTR and GOOG have together established a number of collaborative and joint initiatives," analyst Alex Arnold commented. "All have represented improvements for users and advertisers, but these engagements also demonstrate a level of "coopetition" (=cooperation + competition) that we have not before seen."
Source:
Street Insider
Further, the article notes, thatthe coopetition started first last year when Double Click Bid Manager announced that it would be including Twitter inventory in its exchange. Additionally new levels of accountability have been announced through the inclusion of 3rd-party tracking and attribution. CML also noted lastyear that Twitter results are lready given exclusive real estate in Google search results.
Further, last week, Twitter announced an integration with AMP, Google's Accelerated Mobile Program.
It' getting cozy, but weneed tounderstand the 'why' before the idea of an acquistion makes any sense. And thereis a very loud and clear 'why.'
SOCIAL MEDIA
Google has totally failed at social media, and here's what it's missing:
Social media is the largest communications technology transformation we have seen since the advent of the telephone. Here are some wonderful charts. First, the number of social media users worldwide through 2018 via Statista:
As of 2015, the world saw just under 2 billion social media users and that number will rise by 25% through 2018. But it's really only the beginning. Here's a chart from 'we are social:'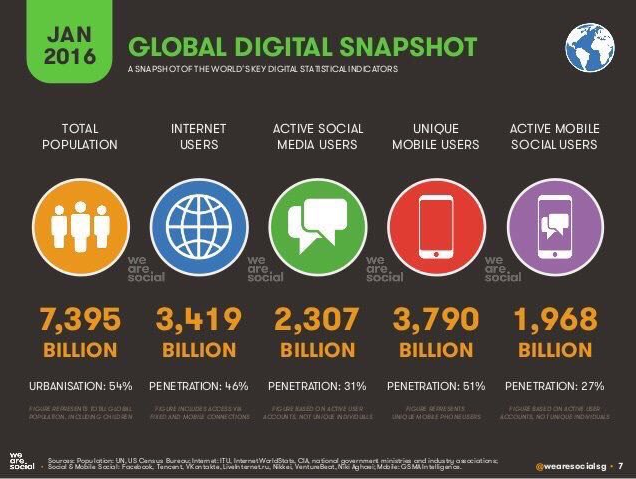 With 3.4 billion people on line and 3.7 billion unique mobile phone users, still only 46% of the world is connected to the Internet. Active social media users are only reaching 31% of the globe.
Google will not be shut out from this for long.
LANDSCAPE
An on-line advertiser has to do at least one of three things to be successful (in no particular order): (1) Have appropriate content, (2) be timely, or (3) have a broad audience. These are the three crown jewels that define the success of Google, Facebook and Twitter. I have numbered them 1, 2 and 3 for convenience.
Google
Google is by far the most successful advertising company ever, generating nearly $55 billion in ad revenue (out of a total of $70 billion firm wide) and that makes it the second most valuable company on planet Earth (by market cap). It's literally the prefect advertising engine. Here's why:
When a user clicks the "search" button on Google, she automatically gets (1) appropriate content (tied to the search phrase), (2) perfect timeliness (search results are
immediate
) and (3) Google reaches an enormous audience. Game, set and match. Simply the best of the best, ever. But, Google
does not
have a social presence. Its latest attempt, Google+, fell by the wayside as a total failure... except for one thing (more on that "thing" in a bit).
Facebook (FB)
While Facebook (FB) doesn't do
(2)
advertising timeliness very well (ads just sort of show up), it collects so much information on its users, we might as well call it the human genome project ex-biological matter. That means Facebook (FB) ads are (1) content rich, and at a daily reach of a billion users, (3) the audience is very broad.
But, while Facebook's weakness is timeliness, it's reach on mobile is impossibly large and the firm dominates the space at a radical level. Further, it's entirely social, something that Google has failed at. Let us also remember that Facebook the firm also includes Facebook Messenger (social chatting), What's App and Instagram (social photos) along with social videos in each of those pieces.
Here is Facebook's all-time revenue chart: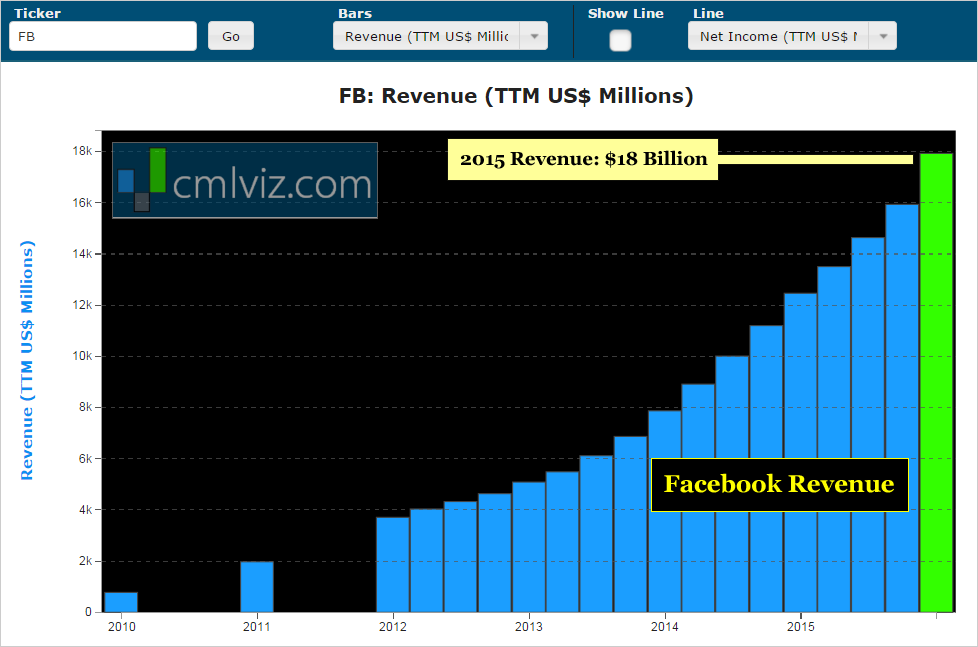 Twitter
So where does that leave Twitter? The firm does not have as much information on its users as either Facebook or a Google search, so
(1)
content richness is weaker than the two behemoths. The firm does not have anything near
(3)
the broad audience that either Facebook (FB) or Google (GOOGL) have. It's essentially failing in two of the three crown jewels.
But, Twitter has (2) timeliness. In fact, it is the real-time social machine that drove the Arab Spring, and so many other worldwide events. It's a real-time social event and news connector. That is the firm's compelling and differentiated product for its users and therefore for its advertisers (and potential acquirer).
Here is Twitter's all-time revenue chart: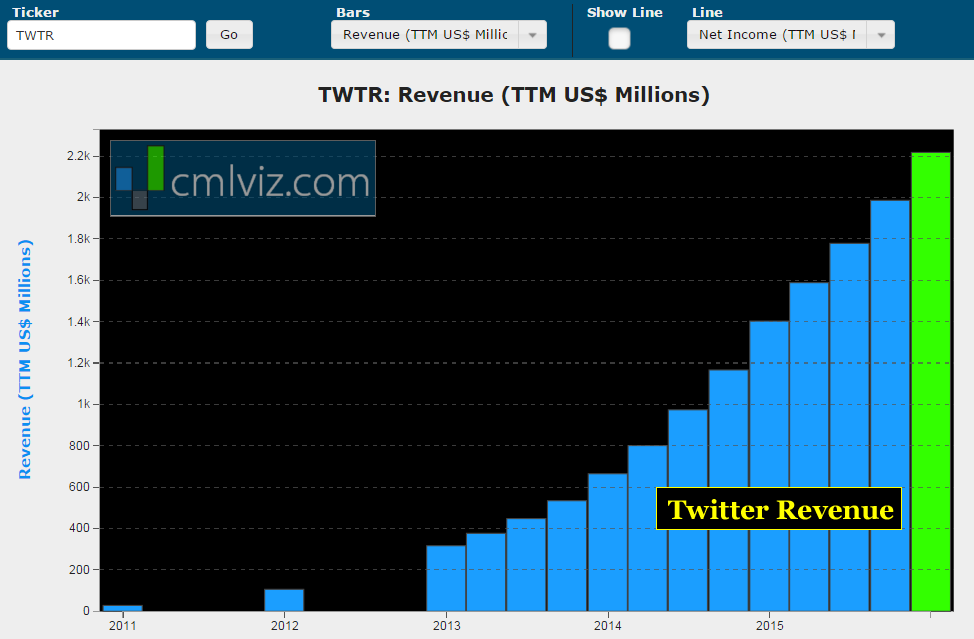 There are scores of data pointing to Twitter engagement surrounding events whether they be sporting events, political events, geo-political happenings or entertainment events outside of sports. Like, there were 25.1M total tweets and 9.1B impressions globally surrounding the NCAA tournament last year (Source: Twitter to me in an e-mail). Twitter simply works with real-time delivery. The addition of Periscope (real-time
social
video streaming) is so obvious a fit that Twitter bought Periscope
before Periscope even launched its product
. Here are two charts pointing to the rapid growth in Periscope.


WHY GOOGLE COULD BUY TWITTER
Google needs to get into social before it's totally locked out. Snapchat now also claims to have 8 billion video views a day. Google has already implemented Tweets into both mobile and desktop search results. An acquisition and full integration by Google would give Twitter (1) content appropriateness and (3) broad audience. Yeah, Google can suddenly and abruptly give Twitter the two components Twitter is missing to be a successful advertiser.
On the other hand, When Google acquires Twitter, Google will create its first true avenue into social content
and then further
build on its competitive advantage over Facebook, which is timeliness. Google needs to get social and it needs to do it fast.
THE NEXT HUGE WINNERS
We actually have an
entire research dossier
dedicated to Twitter and its future.
But to idenitfy Twitter and then go beyond, to find the 'next Google' or 'next Facebook' we have to get ahead of the curve. This is what CML Pro does. Our research sits side-by-side with Goldman Sachs, Morgan Stanley and the rest on professional terminals, but we are the anti-institution and break the information advantage the top .1% have.
Each company in our 'Top Picks' is
the single winner
in an exploding thematic shift like artificial intelligence, Internet of Things, the cloud, drones, biotech and more. In fact, here are just two of the trends that will radically affect the future that we are ahead of: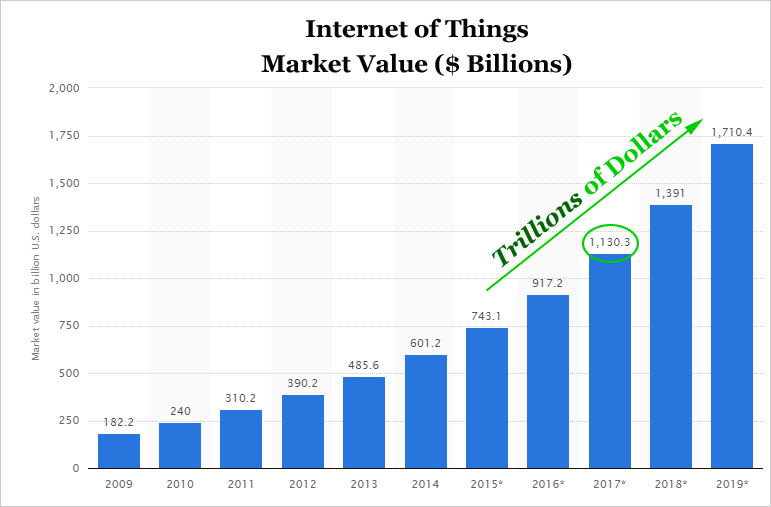 The Internet of Things (IoT) market will be measured in
trillions
of dollars as of next year. CML Pro has named the
top two companies
that will benefit. Then there's cyber security: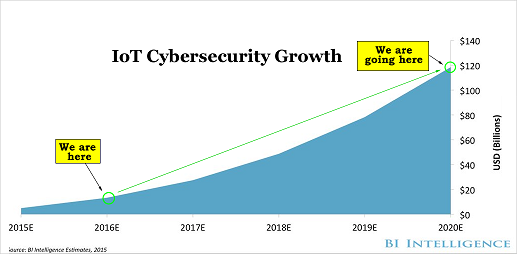 Market correction or not, recession or not, the growth in this area is a near certainty, even if projections come down, this is happening. CML Pro has named
the single best
cyber security stock to benefit from this theme.
These are just two of the themes we have identified and this is just one of the fantastic reports CML Pro members get along with all the visual tools, the precious few
thematic top picks for 2016
, research dossiers and alerts. For a limited time we are offering CML Pro at a 90% discount for $10/mo. with a lifetime guaranteed rate.
Join Us: Get the most advanced premium research delivered to your inbox along with access to visual tools and data that until now has only been made available to the top 1%.
Thanks for reading, friends.