Twitter's Secret Weapon is Finally Attacking Facebook and Google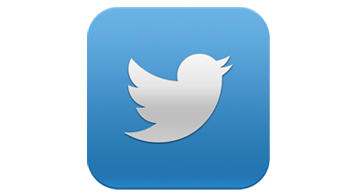 Fundamentals

Our purpose is to provide institutional research to all investors and break the information monopoly held by the top .1%. You're now a part of that change.
PREFACE
Online video consumption is exploding. In fact, both Facebook and Snapchat have separately noted that they now receive over 8
billion
video views
a day
.
But there's a smaller player -- one that has been thrown away -- a busted model -- a busted company. But here's the secret, it's not busted, it's winning. Here comes Twitter's Periscope.
STARTING LINE
First, CML Pro research reveals evidence that there is a substantial turnaround occurring at Twitter, one that addresses some of the critical concerns surrounding the stock. We've gone to the source, digging through Twitter statements in earnings calls and publications. Here's a taste:
Twitter says that it has seen across-the-board increases in likes per-user favorites, retweets, replies, tweets and daily usage following the new timeline's debut.

Source: TechCrunch via Twitter
Discover the undiscovered:
Get Our (Free) News Alerts Once a Day.
SVOD
We can start with streaming video on demand (SVOD) as the introduction, and then we'll dive head first into Twitter.
The SVOD market is set to rise to $27 billion. Here's the image from Statista: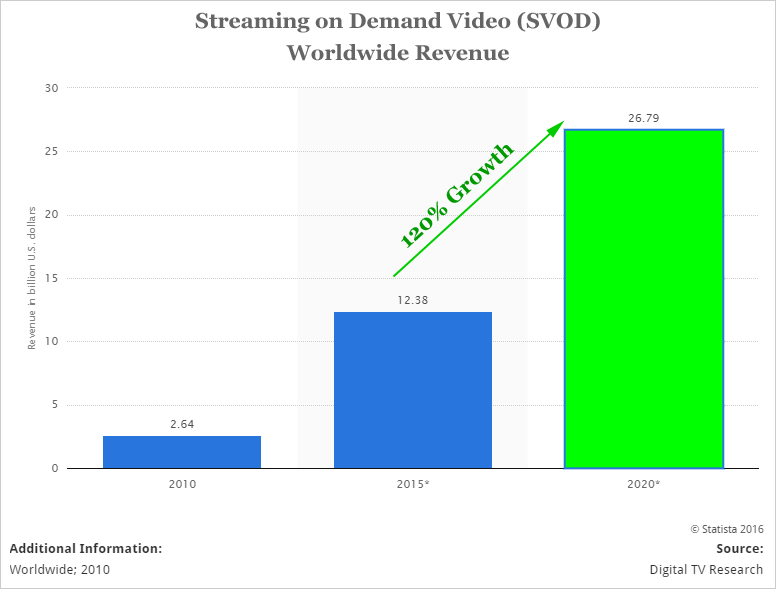 This is where Netflix and Amazon Prime come in. Netflix has over 90% penetration in the United States for homes that have access to SVOD while Amazon has about 40%. But, less than half the United States even has access to SVOD -- so the growth here is huge. Here is Netflix's global reach via Statista: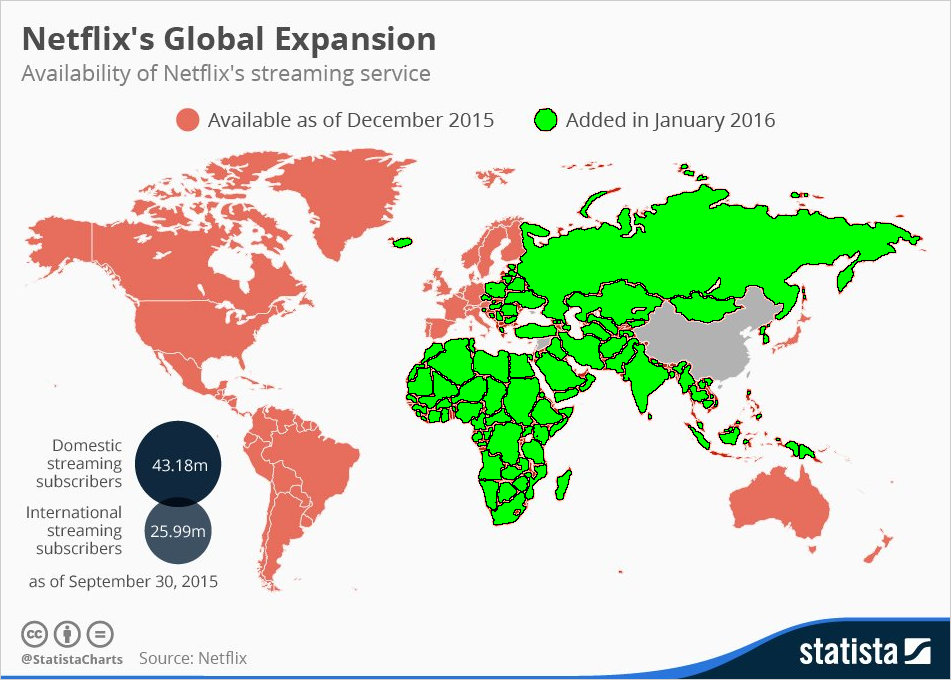 Now, SVOD isn't really what Twitter and Facebook are after -- but it was the genesis of an enormous thematic trend. It opened our minds and technology to the idea of streaming video and lead to the new battlefield:
Streaming Online Video
.
ONLINE VIDEO
Both online video and online video advertising are booming themes just now gaining tremendous momentum. These are the most popular video streaming sites.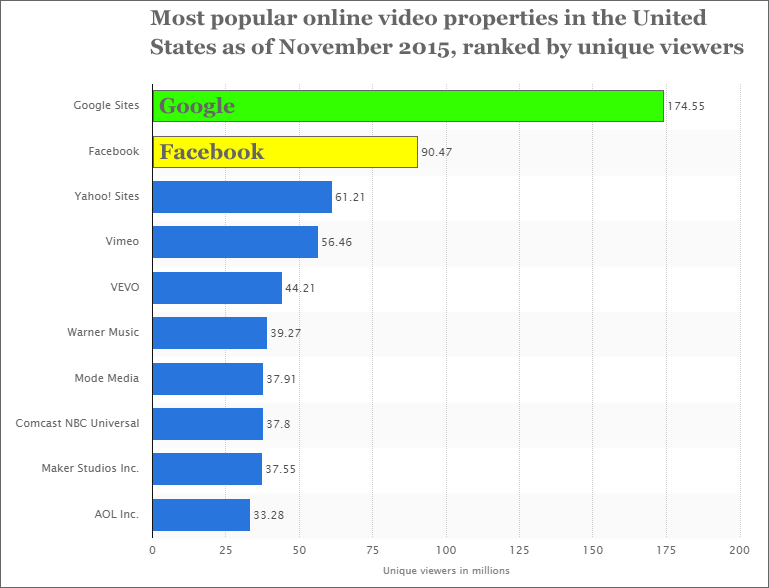 And here is the revenue growth that's being generated: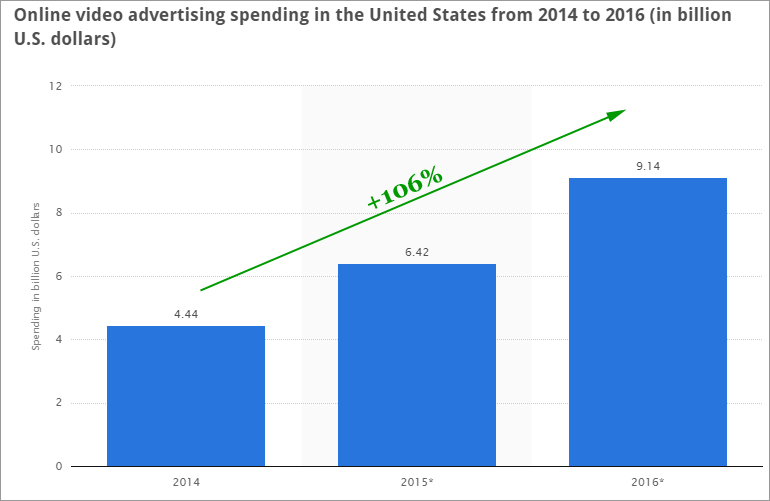 While our first image showed the dominance of Google and Facebook -- there's a quiet shift happening at Twitter's Periscope, and the rattle may soon turn into a cacophony of growth.
TWITTER
First, we learned that Periscope users can now broadcast live directly from their GoPro HERO4 Black or Silver camera. OK, not that exciting. But this is:

Everyone has been waiting for Twitter to show growth -- anywhere. We hear staggering numbers from Facebook, Google and Snapchat and we wait -- and wait.
Now it's happening in the fierce battlefield that is online video: Since Periscope's launch last March, more than 110 years of live video has been watched via Twitter's live streaming video app
everyday
.
But, since the app was enabled within Twitter users' timelines, it has reached more than 200 million live broadcasts. That's more than double the number of broadcasts Twitter announced just three months ago -- when it launched Periscope live video streams directly within user timelines.
Even further, Twitter told us that Doritos ran its own real-time Periscope video advertisement during the Super Bowl. The app is going to start generating revenue.
SPEAKING OF REVENUE
Here is Twitter's incredible all-time revenue (TTM) chart via Capital Market Labs (CML Pro):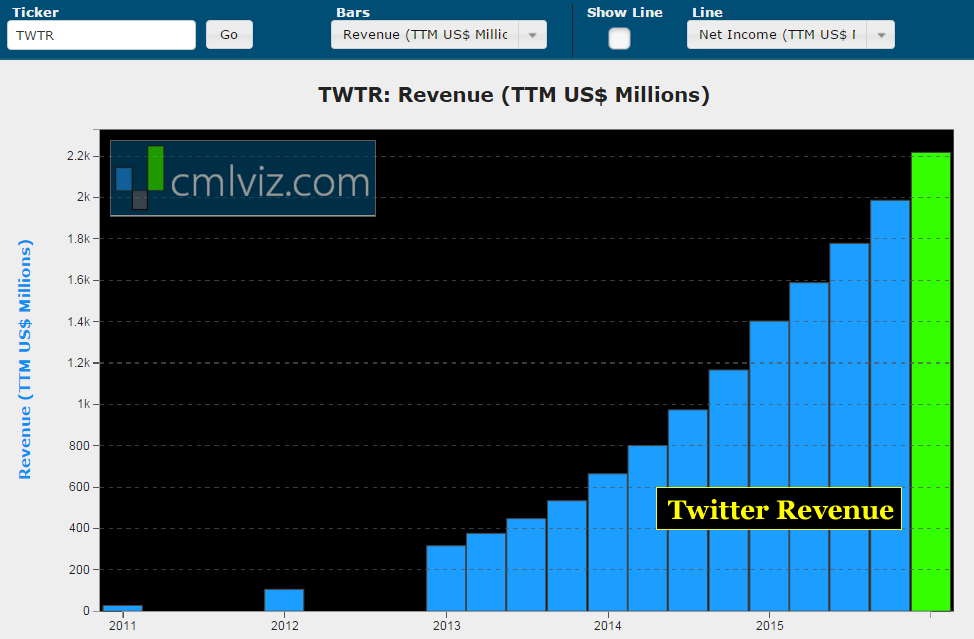 And the growth -- it's enormous relative to peers. Here is a chart that compares Twitter's revenue (TTM) growth over the last year with other technology companies of similar market caps: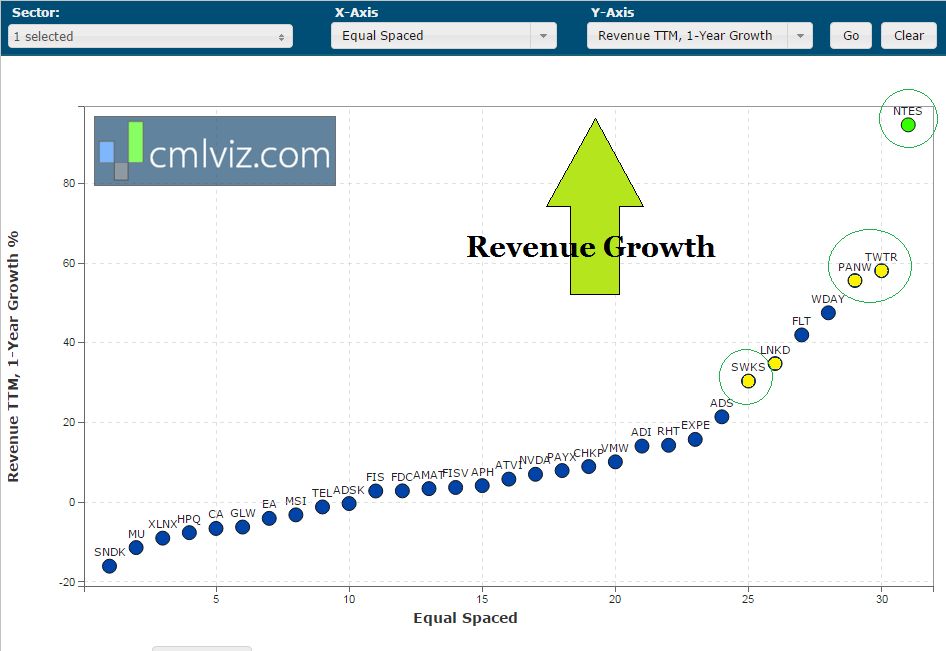 Twitter is growing faster than all but one other technology company in this peer group.
RECONCILING THE NUMBERS
We know that Periscope has doubled its broadcasts to 200 million in three months just as it was added to the Twitter timeline. Facebook and Snapchat give us actual views -- 8 billion a day. How to reconcile that Periscope number with the other two social media isn't trivial, but here's a crack at it:
Periscope likes the metric "years watched per day." As of August 12th, the company said that it received 40 years of video watched a day. Periscope defines Time Watched as the aggregate amount of time that people spend watching live broadcasts on iOS & Android. This was the growth chart as of August 12th:
We now know that the number is 110 years -- nearly a triple. The company has openly stated that "Time Watched serves as a proxy for active user growth, without suffering some of the limitations of focusing exclusively on a metric like Daily Active Users (DAU) or Monthly Active Users (MAU)."
OK, so we have it. Periscope has essentially tripled its users since August -- it has doubled its broadcasts since January. If we were all waiting for a part of Twitter to show that parabolic growth -- friends this it and you better believe Facebook and Google are watching.
Recall that on the earnings report on 7-16-2015, Google disclosed that watch time for YouTube rose 60% in the second quarter and
the video service had more viewers aged 18-49 on mobile alone than any U.S. cable network.
There's a reason Google is cozying up to Twitter and it goes way further than search results. We discuss those details in CML Pro, but Facebook may now be finding a legitimate competitor from a Twitter / Google team.
THE REAL WINNERS
The giants will battle for position and MAUs -- that's Google, Facebook and soon Apple with its new social network patent filing. But the net outcome could be equal sized gains.
To find out if Twitter will be a winner, or further yet, to find the 'next Apple' or 'next Google,' we have to get ahead of the curve. This is what CML Pro does. Our research sits side-by-side with Goldman Sachs, Morgan Stanley and the rest on professional terminals, but we are the anti-institution and break the information advantage the top .1% have.
Each company in our 'Top Picks' is
the single winner
in an exploding thematic shift like artificial intelligence, Internet of Things, drones, biotech and more. In fact, here are just two of the trends that will radically affect the future that we are ahead of: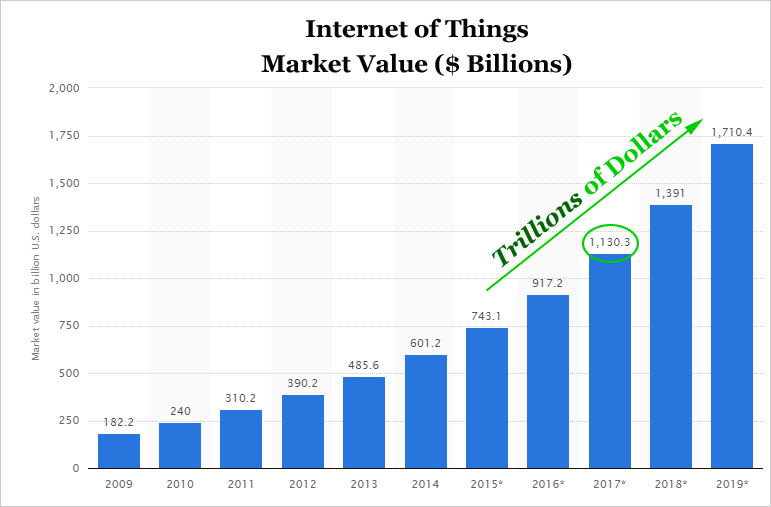 The Internet of Things (IoT) market will be measured in
trillions
of dollars as of next year. CML Pro has named the
top two companies
that will benefit. Then there's cyber security: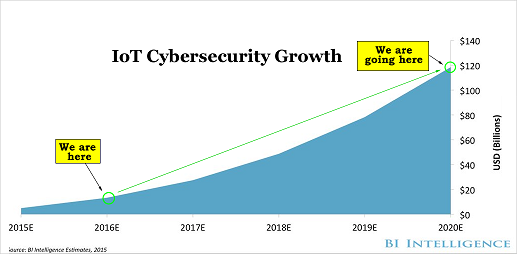 Market correction or not, recession or not, the growth in this area is a near certainty, even if projections come down, this is happening. CML Pro has named
the single best
cyber security stock to benefit from this theme.
These are just two of the themes we have identified and this is just one of the fantastic reports CML Pro members get along with all the visual tools, the precious few
thematic top picks for 2016
, research dossiers and alerts. For a limited time we are offering CML Pro at a 90% discount for $10/mo. with a lifetime guaranteed rate.
Join Us: Get the most advanced premium research delivered to your inbox along with access to visual tools and data that until now has only been made available to the top 1%.
Thanks for reading, friends.
The author and the author's household hold shares in Twitter as of this writing.
Legal
The information contained on this site is provided for general informational purposes, as a convenience to the readers. The materials are not a substitute for obtaining professional advice from a qualified person, firm or corporation. Consult the appropriate professional advisor for more complete and current information. Capital Market Laboratories ("The Company") does not engage in rendering any legal or professional services by placing these general informational materials on this website.
The Company specifically disclaims any liability, whether based in contract, tort, strict liability or otherwise, for any direct, indirect, incidental, consequential, or special damages arising out of or in any way connected with access to or use of the site, even if we have been advised of the possibility of such damages, including liability in connection with mistakes or omissions in, or delays in transmission of, information to or from the user, interruptions in telecommunications connections to the site or viruses.
The Company makes no representations or warranties about the accuracy or completeness of the information contained on this website. Any links provided to other server sites are offered as a matter of convenience and in no way are meant to imply that The Company endorses, sponsors, promotes or is affiliated with the owners of or participants in those sites, or endorse any information contained on those sites, unless expressly stated.