Twitter: 10 Incredible Facts Before Earnings


Fundamentals

Our purpose is to provide institutional research to all investors and break the information monopoly held by the top .1%. That means wading through misinformation. You're now a part of that change.
PREFACE
Twitter saw its userbase, measured as monthly average users(MAUs), shrink for the first time ever last quarter from 307 million MAUs to 305 million. While
revenue
growth has been jaw dropping, a shrinking user base for a social media, if not corrected quickly, is tantamount to a disaster.
That's the narrative we have been told. But it's not the truth and Twitter very well may announce a new all-time high in MAUs when the company reports earnings in less than three hours. That's speculation, of course, but here are some facts about Twitter that have been hidden, obfuscated, overlooked and even misrepresented. It's now time to know the truth.
Discover the undiscovered:
Get Our (Free) News Alerts Once a Day.
FIRST: FACEBOOK SEES TROUBLE
First, an article came out surrounding Facebook's (NASDAQ:FB) diving engagement rates in a
story
entitled "The worst thing that could happen to Facebook is already happening." Here's the quick recap in one quote:
In the past few months, Facebook has quietly shifted into crisis mode.

[P]osts consisting of users' own words and images--fell 21 percent from 2014 to 2015, contributing to a 5.5 percent decrease in total sharing.
Source:
Inc.
At the same time, Twitter is in turnaround mode and collaborating with Alphabet's Google (NASDAQ:GOOG) to drive billions of impressions on tweets
a day
. That's a fact directly reported by Twitter.
NOW SOME MORE FACTS ABOUT TWITTER
This is a snippet from the CML Pro tear sheet and full research dossier posted for members on April 19th, 2016.
Our analysis on Twitter spans several years and has little to do with short-term swings. The upcoming earnings report has room for some great surprises to the upside,
but also a bevy of potential pitfalls
. The stock could certainly go down.
We expect a great deal of volatility off of this report, but we also expect it to have little impact on the longer term view unless growth forecasts are substantially changed from expectations.
I.
Since Periscope's launch last March, more than 110 years of live video has been watched via Twitter's live streaming video app
every day
. But, on August 12th, 2015 that number was just 40 years. So, we have seen nearly a triple. This data comes directly from Periscope on their medium channel. We also note that Meerkat, an early competitor to Periscope, has for all intents and purposes been put out of business by Twitter's Periscope.
II.
Twitter revealed that the number of direct messages grew over 60% in 2015 and yet more, the number of Tweets shared privately has grown by 200% in just the second half of last year. This information comes directly from Twitter's blog.
III.
Twitter disclosed that it has seen across-the-board increases in likes per-user favorites, retweets, replies, tweets and daily usage following the new timeline's debut. This comes straight from the company.
IV.
Twitter was selected by the NFL to carry the live national broadcasts
and submitted lower bids than the other large firms
in the fray. This data was given to us directly from the NFL and the league further pointed to Twitter's competitive strength in real-time communiqués.
We note that at least one analyst purportedly noted that Twitter bid $100 million for the NFL games -- that was wrong and misrepresentative, but once it made its way through the main stream media spin cycle, it somehow become a fact. It is not a fact. It is mistaken.
V.
82 percent of Twitter users watch video content on the platform and 90 percent of those came from mobile. This data comes directly from Twitter.
With online video becoming the new battleground for adverting dollars, Twitter is well positioned to grow given its user demographics. Here's the trend that Facebook and Alphabet / Google (NASDAQ:GOOGL) are chasing: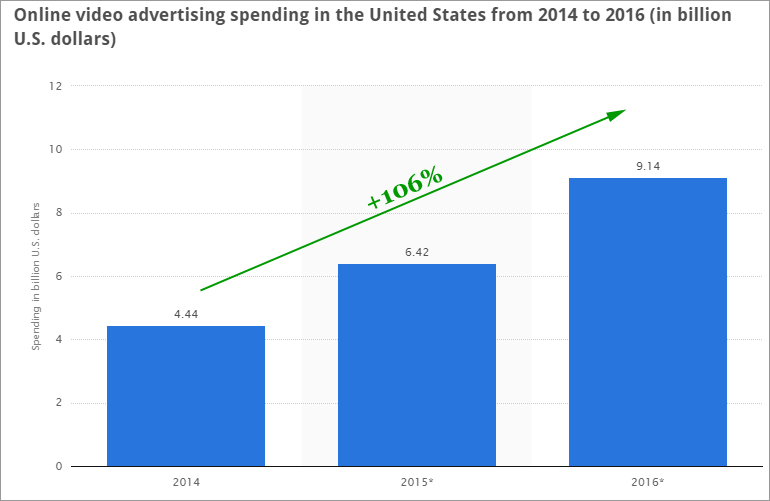 Twitter is here, its platform for video is growing rapidly, and it was hand chosen by the largest sports league in the United States as its conduit to online viewers.
VI.
Shailesh Rao, Twitter's vice president for Asia-Pacific, Latin America and emerging markets reported that Twitter has seen a 340% growth in the number of advertisers using Twitter in Hong Kong, and the types of advertisers are diverse.
VII.
Twitter lost two million MAUs falling from 307 million to 305 million last quarter (excluding fast and SMS users) but the company announced that the lost 2 million have
already
been recovered. Given the seasonal strength for this time of year, we expect to see MAUs net over 3 million additions, or 308 million MAUs. This is above consensus estimates of 307 million and more importantly
would be an all-time high
in users.
VIII.
Twitter receives 500 million MAUs from non-logged in users and the firm estimates that these users can be monetized at about half the current rate -- or $1.3 billion. For context, the $1.3 billion in potential additional revenue compares to $2.2 billion in revenue the company generated in the trailing-twelve-months.
IX.
The Digital Policy Council revealed that 83% heads of state worldwide are active on Twitter as of December 2015. A total of 139 world leaders out of 167 countries had accounts on Twitter set up in their personal name or through an official government office. While there has been nearly no growth in the last year, it's clear that Twitter remains quite relevant at the highest levels of communication.
X.
According to data compiled by
eMarketer
, 38% of Millennials in the United States use Twitter, which is a far cry from Facebook's 81% but it is in fact
larger than Snapchat's
36%,
larger than Pinterest's
34% and it rivals Instagram's 46%.
RELEVANCE
If we move beyond statistics, and look at real world interactivity, we note this: Apple (NASDAQ:AAPL) Support recently officially joined Twitter to better access its customers. That's a need – not a meme or a cat video.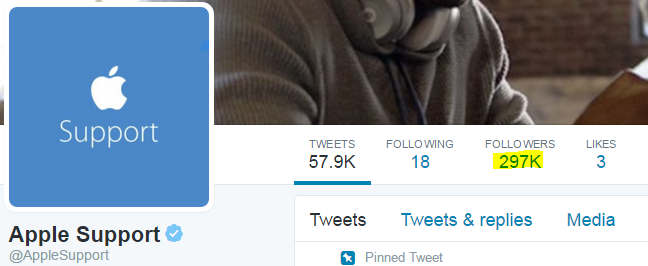 The account was launched on March 3rd and in its first six weeks has accumulated nearly 300,000 followers. The largest, most powerful technology company in the world has decided rather clearly that Twitter is a critical platform for its customer service, and people have come to it in droves.
JUST THE BEGINNING
This was just a small snippet from the CML Pro dossier that spans thematic shifts in technology from social media, online video, online advertising to global connectivity and the differences between 'need' and 'want'. Here is Twitter's all-time revenue chart: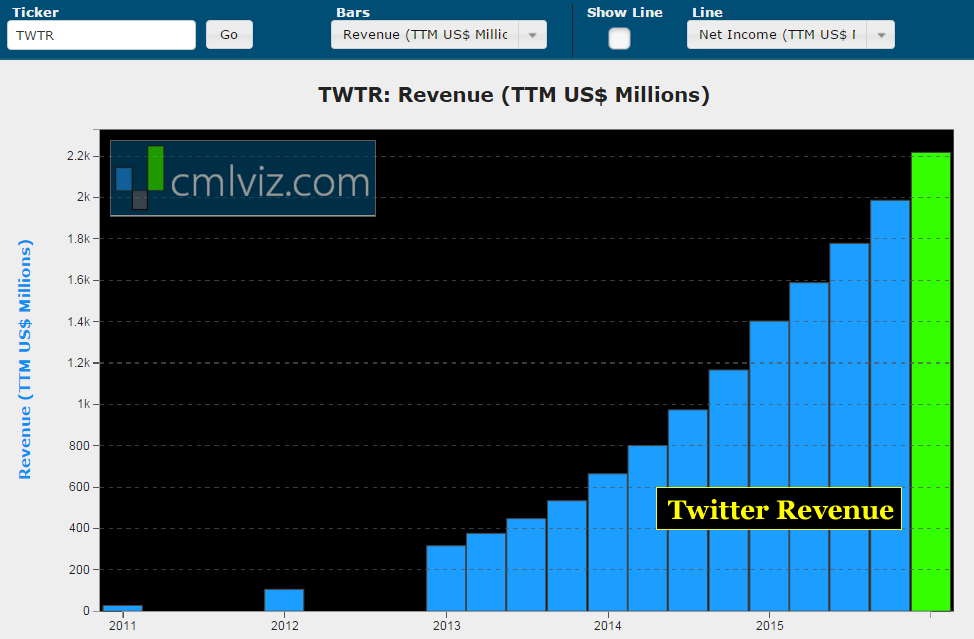 And this is how the firm's revenue
growth
looks relative to other mid cap technology stocks: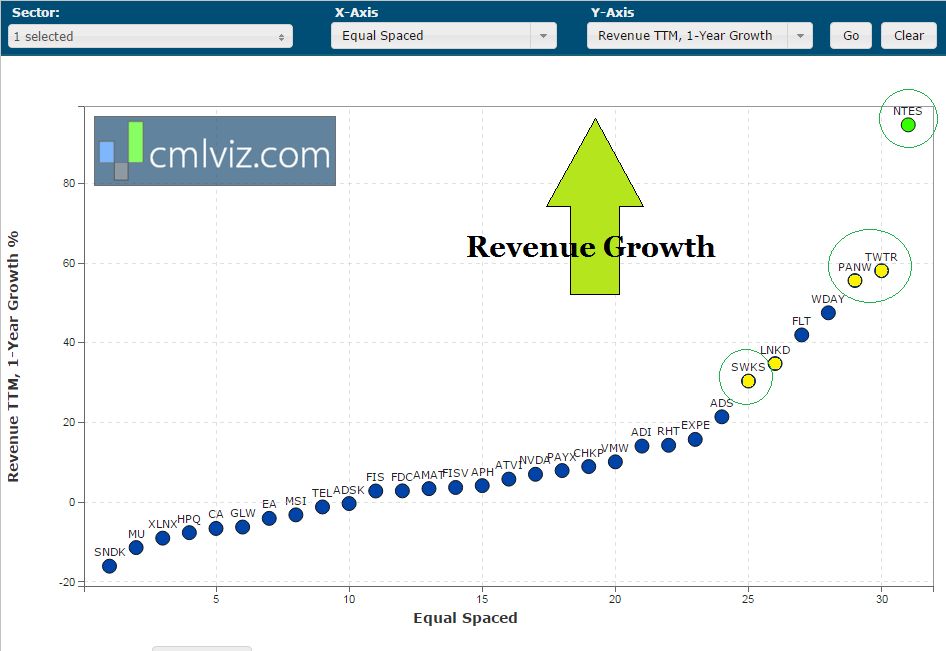 SEEING THE FUTURE
This is the beginning of analysis, not the end. But if any of the information we just read together feels like a surprise, in many ways it is. To
really
understand why Twitter will finally be a winner, and then to go further, to find
yet again
the 'next Apple' or the 'next Amazon,' we have to get ahead of the curve -- with facts. This is what CML Pro does. Our research sits side-by-side with Goldman Sachs, Morgan Stanley and the rest on professional terminals, but we are the anti-institution and break the information advantage the top .1% have.
Each company in our 'Top Picks' is
the single winner
in an exploding thematic shift like artificial intelligence, Internet of Things, drones, biotech and more. In fact, here are just two of the trends that will radically affect the future that we are ahead of: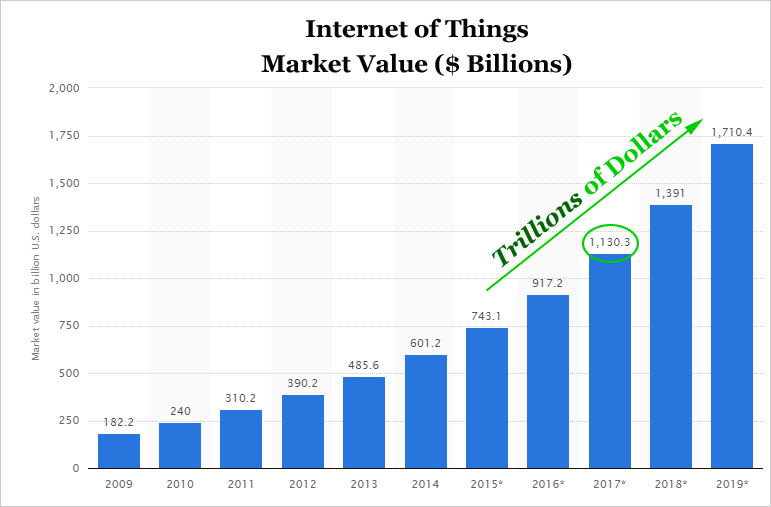 The Internet of Things (IoT) market will be measured in
trillions
of dollars as of next year. CML Pro has named the
top two companies
that will benefit. Then there's cyber security: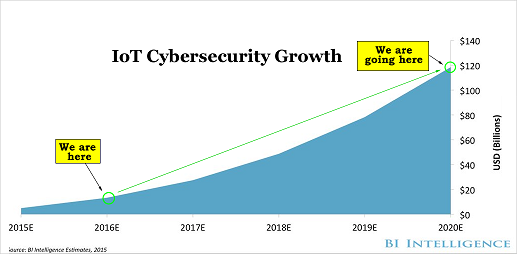 Market correction or not, recession or not, the growth in this area is a near certainty, even if projections come down, this is happening. CML Pro has named
the single best
cyber security stock to benefit from this theme.
These are just two of the themes we have identified and this is just one of the fantastic reports CML Pro members get along with all the visual tools, the precious few
thematic top picks for 2016
, research dossiers and alerts. For a limited time we are offering CML Pro at a 90% discount for $10/mo. with a lifetime guaranteed rate.
Join Us: Get the most advanced premium research delivered to your inbox along with access to visual tools and data that until now has only been made available to the top 1%.
Thanks for reading, friends.
The author and the author's household hold shares in Twitter as of this writing.
Legal
The information contained on this site is provided for general informational purposes, as a convenience to the readers. The materials are not a substitute for obtaining professional advice from a qualified person, firm or corporation. Consult the appropriate professional advisor for more complete and current information. Capital Market Laboratories ("The Company") does not engage in rendering any legal or professional services by placing these general informational materials on this website.
The Company specifically disclaims any liability, whether based in contract, tort, strict liability or otherwise, for any direct, indirect, incidental, consequential, or special damages arising out of or in any way connected with access to or use of the site, even if we have been advised of the possibility of such damages, including liability in connection with mistakes or omissions in, or delays in transmission of, information to or from the user, interruptions in telecommunications connections to the site or viruses.
The Company makes no representations or warranties about the accuracy or completeness of the information contained on this website. Any links provided to other server sites are offered as a matter of convenience and in no way are meant to imply that The Company endorses, sponsors, promotes or is affiliated with the owners of or participants in those sites, or endorse any information contained on those sites, unless expressly stated.