Twitter is Growing Fast, But Not Fast Enough


Fundamentals

USERS
If there was a log line for Twitter's quarter as if it was a movie it would read:
Twitter grows fast, but not fast enough.
In the prior quarter Twitter reported its first ever user decline as measured by monthly average users (MAUs). Here's the new chart with data from Statista and the green bar added by CML Pro: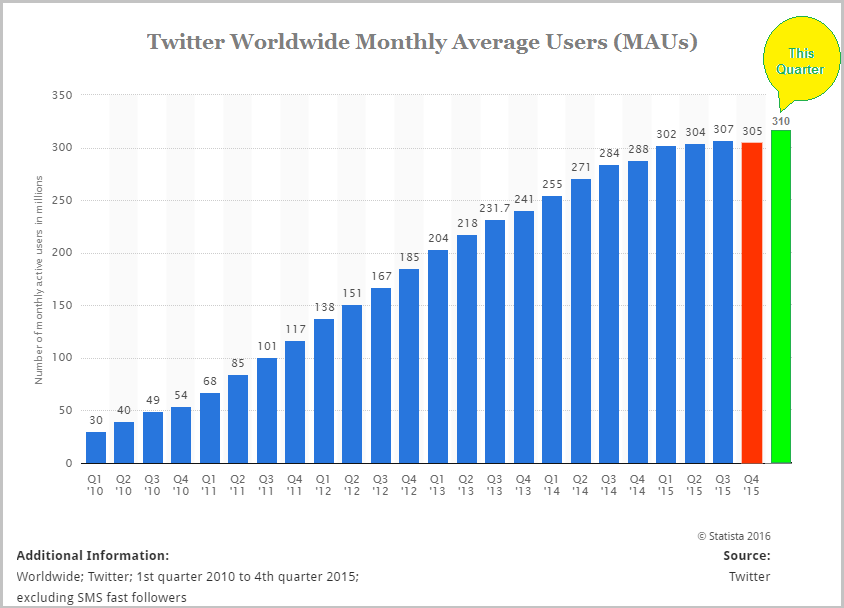 But the company just reported 310 million MAUs, for a 5 million user gain, beating expectations of 308 million and for now ending the dire fear that Twitter was now a shrinking company. Mobile MAUs represented 83% of total MAUs.
The company further noted:
Few other services can touch as many people as ours — we have more than 800 million visitors on Twitter, and more than 1 billion monthly unique visitors to pages that syndicate Twitter content.

Source: Twitter Letter to Shareholders
REVENUE AND EPS
The company reported $0.15 in non GAAP EPS, beating estimates of $0.10 and last year's number of $0.07.
Revenue grew 37% to $595 million but the street expected $608 million. Mobile advertising revenue was 88% of total advertising revenue. U.S. revenue totaled $390 million, an increase of 35% year-over-year. International revenue totaled $204 million, an increase of 39% year-over-year. Excluding the impact of year-over-year changes in foreign exchange rates, international revenue would have increased 46%.
Q1 adjusted EBITDA came in at $180 million, up 73% year-over-year, representing an adjusted EBITDA margin of 30%.

Twitter now has $3.6 billion in cash, cash equivalents and marketable securities. Free cash flow in the period was $99 million.

Source: Twitter Letter to Shareholders
The company brought down estimates for next quarter to $595 million to $610 million, well below expectations of $678 million. Data licensing and other revenue hit $64 million, a 34% rise year-over-year. The company's IR Twitter handle posted this image: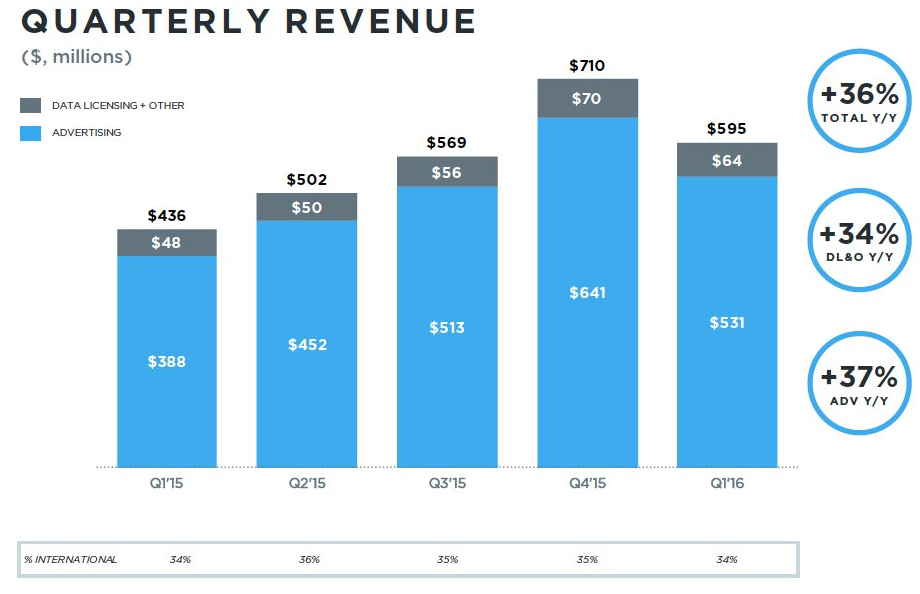 For more context, $600 million (ish) that Twitter has forecast for next quarter compares to $502 million in the same period last year; so the company is still looking at 20% year-over-year growth but that was a huge reduction in forecast.
DEVELOPERS
Twitter's shareholder letter reads:
We crossed a huge developer milestone in April, with over 2 billion devices using Fabric-enabled apps every month.

There are approximately 2.4 billion active devices running either iOS (1 billion) or Android OS (1.4 billion) in the world right now.

This is simply staggering growth in less than two years.

Source: Twitter Letter to Shareholders
STOCK MARKET
The market hates all of it. Twitter closed the day at $17.75 and as of this writing is trading at $15.25 in after hours.
CONFERENCE CALL
After listening to the CC my general takeaway from Twitter was this:
The short fall in revenue and the lowering of guidance surrounds the fact that video ads are performing
significantly better than legacy promoted tweets
but large brands are still testing this, so budgets are reduced until the testing is over. Further, there is some technical functionality that Twitter needs to develop (and is developing) to maximize the video ad sale process.
It appeared that if the video ad results continued to prove as strong as they are now that large brands would come back in with full sized budgets. Now, that was a little bit of tea leaf reading on my part, but I think that's what the Twitter management team was trying to convey.
Here is some more I took from the CC via some of my tweets:




MOVING TARGET
Wall Street had made it clear for the last few quarters that it wasn't focused on revenue growth, but rather user growth and the potential for user shrinkage. Now that Twitter has turned user growth back on and at a much higher rate than forecast (at least last quarter), Wall Street has gone back to revenue. Never has Wall Street focused on EPS. Further, the company did note that among verified accounts on Twitter, they have seen a more than 20% increase in the number of videos posted quarter-over-quarter. In other words, video is not only the future, it is the present and it's increasing engagement.
WHAT I REALLY DIDN'T LIKE
One part of the conference call that I really (really) didn't like was that the three managers (Anthony Noto, CFO; Adam Bain, COO; Jack Dorsey, CEO) on the call never directly addressed the rather stunning guidance pull back for next quarter. They spoke around it and only addressed it when directly questioned by the audience. I can't say, still, that I really understand how the company can take down revenue estimates by 15% when we're just 26 days into the new quarter unless they see a substantial pullback in ad spending. If that's the case (which it must be), then why didn't Twitter discuss the reason?
Is it a macro issue that everyone is facing or, is it fewer advertisers, or is it something else? I was left with a feeling, for the first time, of confusion. Not for lack of growth, but for how they could possibly have such good visibility into the current quarter and not communicate
exactly
the problem. That's very unlike Twitter, which to this point has been exceedingly transparent on conference calls
WHAT WAS YET MORE ODD
Having said all of that -- the management team seemed totally unmoved by the poor guidance. This is a group, especially Anthony Noto and Jack Dorsey, that so lamented user growth a few quarters ago that they themselves crushed the stock after hours. This time, they appeared confident and undisturbed. I don't mean they seemed apathetic -- not at all -- they seemed unmoved and rather forward looking.
The note surrounding the quarter that Twitter releases read like a stock solicitation. It was so bullish and so forward looking and so promising that you would have thought they just crushed earnings and the stock doubled. Everything you read in blue above was straight from the letter. Here's more:
Total ad engagements grew 208% year-over-year, an acceleration in growth compared to Q4 2015

Source: Twitter Letter to Shareholders
For those interested, here is the letter:
Q1'16 Shareholder Letter
WHAT NOW
The Twitter story still has promise -- they did grow MAUs and engagement rose -- those are the critical elements. Advertisers are like app developers, demonstrate an audience and they will come. For now, Twitter's audience is finally growing again. Let's see if that continues.
Thanks for reading, friends.
The author and the author's household hold shares in Twitter as of this writing.
Legal
The information contained on this site is provided for general informational purposes, as a convenience to the readers. The materials are not a substitute for obtaining professional advice from a qualified person, firm or corporation. Consult the appropriate professional advisor for more complete and current information. Capital Market Laboratories ("The Company") does not engage in rendering any legal or professional services by placing these general informational materials on this website.
The Company specifically disclaims any liability, whether based in contract, tort, strict liability or otherwise, for any direct, indirect, incidental, consequential, or special damages arising out of or in any way connected with access to or use of the site, even if we have been advised of the possibility of such damages, including liability in connection with mistakes or omissions in, or delays in transmission of, information to or from the user, interruptions in telecommunications connections to the site or viruses.
The Company makes no representations or warranties about the accuracy or completeness of the information contained on this website. Any links provided to other server sites are offered as a matter of convenience and in no way are meant to imply that The Company endorses, sponsors, promotes or is affiliated with the owners of or participants in those sites, or endorse any information contained on those sites, unless expressly stated.