Twitter Becomes More Attractive for Google Takeover



Fundamentals

PREFACE
Twitter Inc. (NYSE:TWTR) today announced on its blog, penned by CEO and co-founder Jack Dorsey, that it has acquired Magic Pony Technology. That move may have made the company yet more attractive as a takeover candidate for Alphabet Inc. (NASDAQ:GOOGL). Mr. Dorsey describes the company as "a London-based technology company that has developed novel machine learning techniques for visual processing."
While the move is shrewd in that it strengthens Twitter's competitive stance against all things Facebook Inc. (NASDAQ:FB), it has another piece to it, which is just too much fun not to examine.
BREAKING
First, here's what Jack Dorsey wrote:
"
Our acquisition of Magic Pony builds on other investments we've made in machine learning, beginning with the acquisitions of Madbits in July 2014 and Whetlab in June 2015.
Magic Pony's team will be joining Twitter Cortex, a team of engineers, data scientists, and machine learning researchers dedicated to building a product in which people can easily find new experiences to share and participate in.
"
Source: Twitter Blog
Of course, the company that is really pouring resources into artificial intelligence and machine learning is Alphabet Inc. (NASDAQ:GOOGL) (NASDAQ:GOOG). We recently penned an article, "You Won't Believe What Google is Doing With Artificial Intelligence" that described the mad dash Alphabet Inc. is making toward AI. Here are a few snippets:
"
On the most recent earnings conference call, Google's CEO Sundar Pichai reminded us of this:
"We've been investing in machine learning and AI for years, but I think we are at an exceptionally interesting tipping point where these technologies are really taking off."
Other than a few more sentences, Google's CEO didn't touch on the progress. But now it's the secret in plain sight.
While Facebook's Mark Zuckerberg openly and loudly proclaimed that he was dedicating 2016 to artificial intelligence in his house, Google has been more subtle. That subtlety is now exploding.
"
Source: CMLviz.com News
The article referenced above pours over Alphabet's numerous new offerings and the way it will use artificial intelligence to revolutionize its product line, and most importantly, its ecosystem of Search. Now, with Twitter's move toward more machine learning, we just have to talk about the possibility of an acquisition.
WILL ALPHABET INC. BUY TWITTER INC.
After Microsoft acquired LinkedIn for $26 billion, a 50% premium to the closing price, rumors (again) swirled that Twitter Inc. would be a takeover candidate next. While the discussion of which firm
could
acquire Twitter surfaced, there's one company that is the obvious best fit.
Alphabet Inc. has a partnership with Twitter that drives billions of impressions a day on tweets through Google Search. Tweets have been given special placement on Google Search and the latest data we have reads that over 90% of Google searches turn up tweets as a part of the search algorithm.
The massive influx of impressions on Twitter's micro blogs have driven the news that, while Twitter reports 310 million logged in monthly average users (MAUs), it has a
additional
500 million visitors every month that don't have accounts.
In fact, we just published the note "
Twitter Stuns Wall Street
" which detailed how Twitter has now turned advertising on for those additional 500 million people which could lead to a 60% boost in advertising revenue per the latest news from the company's COO Adam Bain.
Alphabet of course is famously known for its failed Google Plus social media, although it is trying again with a different flavor. And, Google Photos turned out to be a tremendous success. A social addition to that service could be a serious threat to Facebook's Instagram.
The purpose behind an Alphabet acquisition of Twitter runs deep and complex and we outlined it in our seminal dossier "Google Will Buy Twitter," written ten months ago. For now, the Twitter move into AI and machine learning is smart for the company, and adds a little more flavor to a possible Alphabet Inc. (NASDAQ:GOOGL) and Twitter (NYSE:TWTR) combination.
WHY THIS MATTERS
There's so much going on with Twitter and Google it's impossible to cover in one report. But, to find the 'next Apple,' 'next Google,' or 'next Facebook,' we have to get ahead of the curve. This is what CML Pro does. Our research sits side-by-side with Goldman Sachs, Morgan Stanley and the rest on professional terminals, but we are the anti-institution and break the information advantage the top .1% have.
Each company in our 'Top Picks' is
the single winner
in an exploding thematic shift like artificial intelligence, Internet of Things, drones, biotech and more. In fact, here are just two of the trends that will radically affect the future that we are ahead of: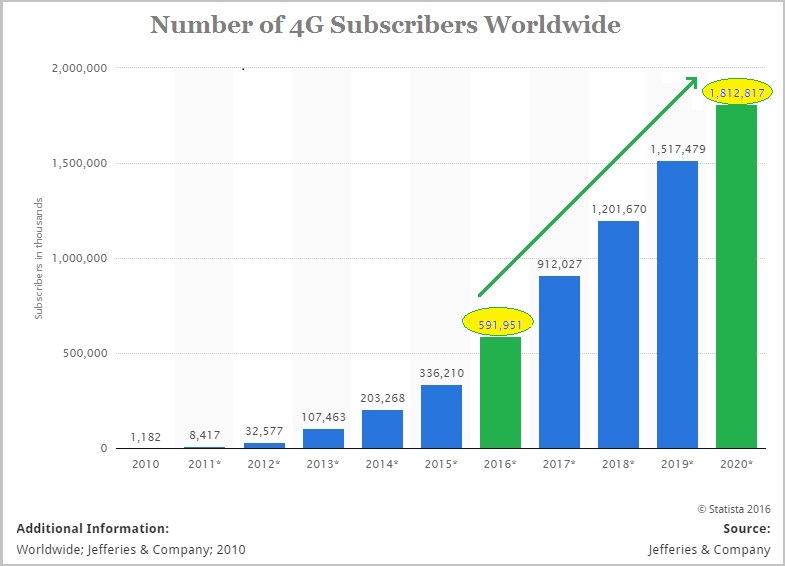 That chart plots the growth in 4G usages worldwide and how it will grow from 330 million people today to nearly 2 billion in five years. This is the lifeblood fueling every IoT and mobile device on the planet and CML Pro has named the single winner that will power this transformation. Then there's cyber security: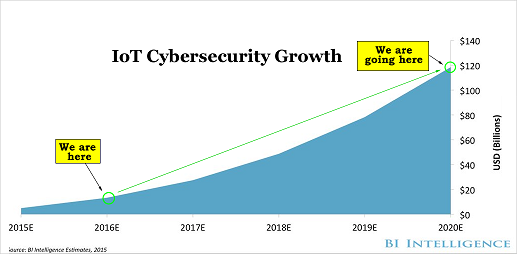 Market correction or not, recession or not, the growth in this area is a near certainty, even if projections come down, this is happening. CML Pro has named
the single best
cyber security stock to benefit from this theme.
These are just two of the themes we have identified and this is just one of the fantastic reports CML Pro members get along with all the visual tools, the precious few
thematic top picks for 2016
, research dossiers and alerts. For a limited time we are offering CML Pro at a 90% discount for $10/mo. with a lifetime guaranteed rate.
Join Us: Get the most advanced premium research delivered to your inbox along with access to visual tools and data that until now has only been made available to the top 1%.
Thanks for reading, friends. The author is long Apple shares in his personal account.