Breaking: Twitter Inc. (NYSE:TWTR) To Live Stream Collegiate Athletics
Breaking: Twitter Inc. (NYSE:TWTR)
Date Published:
7-22-2016

BREAKING
In what has been one of the most impressive quarters of deal making we have ever witnessed, Jack Dorsey (CEO), Anthony Noto (CFO) and Adam Bain (COO) have done it again.

Twitter Inc. (NYSE:TWTR) has just announced that it has, yet again, signed another contract to live stream, this time for more collegiate athletics.

STORY
Through a press release, Twitter Inc. announced that it has a new partnership with Campus Insiders to live stream over 300 collegiate athletic events from the Mountain West Conference, Patriot League and West Coast Conference. The ACC will provide national daily news as well, but no live stream of games.

This partnership comes on the heels of what has been a frenetic two-months for Twitter Inc., when the firm has signed so many live stream deals that it's almost impossible to keep track of.

In the collegiate athletics realm, Twitter Inc. announced a partnership with the Pac-12 conference earlier this month as well. But Twitter Inc. has also announced a bevy of partnerships in the professional athletics world, most famously with the NFL for its Thursday night games, but also with Wimbledon, Major League Baseball and Major League Soccer. Then, just on Tuesday of this week, Twitter Inc. announced a partnership with the National Basketball Association for a live stream of exclusive programming, but not actual games.



"

Twitter and the National Basketball Association announced an expansion of their partnership that includes the creation of exclusive and original programming specifically for the social media site.

The highlight of the deal is a new, weekly NBA pregame show that will be streamed on Twitter with what the NBA called "first-of-its-kind elements."

"

Source: The Mercury News


BEYOND ATHLETICS
Twitter Inc. (NYSE:TWTR) has found its identity in the world of a live stream of events, but that has not been limited to just athletics. Twitter announced a partnership with Bloomberg, as well as the Republican and Democratic national committees for live stream content.

Twitter Inc. reports earnings on July 26th, after the market closes, but analysts have become yet less bullish on the stock price. While all of these deals show great promise, from athletics to politics and finance, all of them will take shape in several months, rather than the most recent quarter.

Wall Street is right to note that the quarter to be announced, and even the one to follow, may see little impact from the live stream partnerships just announced in the last two-months. But, a stock price is the present value of all future free cash flows, and that means, regardless of some potential stagnation in the current quarter, the future looks bright for Twitter Inc. (NYSE:TWTR) stock if the live stream turns into an identity for the firm, and therefore a core competency when it comes to selling advertising.

Only time will tell. The author is long shares of TWTR.
WHY THIS MATTERS
Twitter generates nearly all of its business from advertising and it is leading the way in the revolutionary new ad format that is online video which is growing so quickly that it will someday over take standard linear Television ads. It turns out that there is one technology company that will power this revolution, regardless of whether it's Facebook, Google, Twitter, or whomever that will end up with the largest audience.
It's identifying trends and companies like this this that allows us to find the 'next Apple' or the 'next Google.' This is what CML Pro does. Our research sits side-by-side with Goldman Sachs, Morgan Stanley and the rest on professional terminals, but we are the anti-institution and break the information advantage the top .1% have.
Each company in our 'Top Picks' is
the single winner
in an exploding thematic shift like artificial intelligence, Internet of Things, drones, biotech and more. In fact, here are just two of the trends that will radically affect the future that we are ahead of: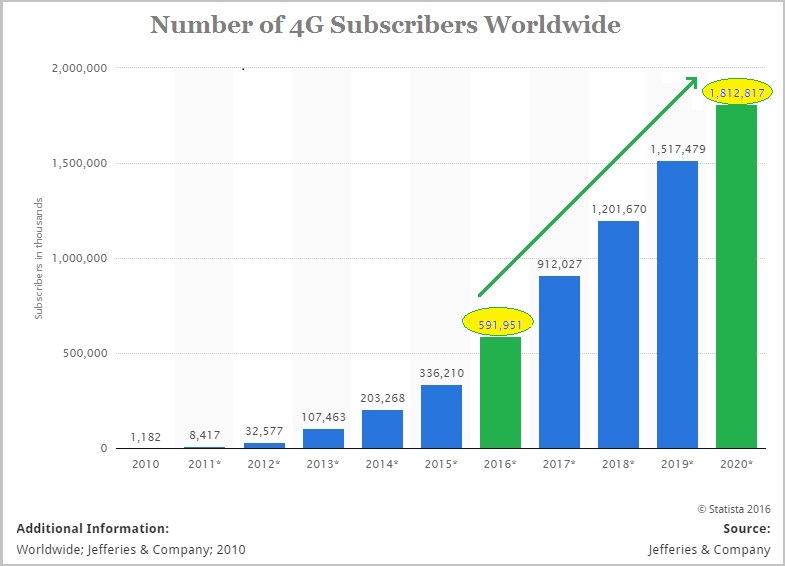 That chart plots the growth in 4G usages worldwide and how it will grow from 330 million people today to nearly 2 billion in five years. This is the lifeblood fueling every IoT and mobile device on the planet and CML Pro has named the single winner that will power this transformation. Then there's cyber security: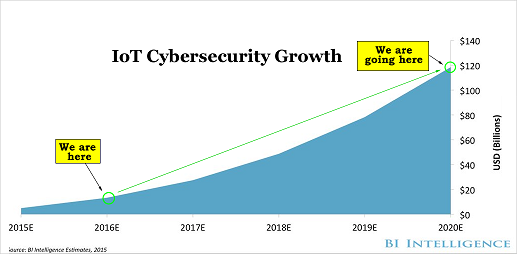 Market correction or not, recession or not, the growth in this area is a near certainty, even if projections come down, this is happening. CML Pro has named
the single best
cyber security stock to benefit from this theme.
These are just two of the themes we have identified and this is just one of the fantastic reports CML Pro members get along with all the visual tools, the precious few
thematic top picks for 2016
, research dossiers and alerts. For a limited time we are offering CML Pro at a 90% discount for $10/mo. with a lifetime guaranteed rate.
Join Us: Get the most advanced premium research delivered to your inbox along with access to visual tools and data that until now has only been made available to the top 1%.