Twitter (NYSE:TWTR) and Apple (NASDAQ:AAPL) Team Up
Rumors: Twitter and Apple Make a Deal
Date Published:
2016-08-14

BREAKING
Mike Isaac of The New York Times has just reported that Twitter (NYSE:TWTR) and Apple (NASDAQ) will be teaming up to put the NFL on the Apple TV using the Twitter app.

STORY
Twitter has signed a plethora of live streaming deals, most focused on sports, and most famously with the NFL, in which Twitter beat out several rivals to gain streaming rights. While the investing world is holding its breath (or its nose) in anticipation of the results for Twitter , it turns out one other company, Apple (NASDAQ:AAPL), has sided with Twitter. Here's what the NYT reported:



"

To bolster the effort, Twitter is in talks with Apple to bring the Twitter app to Apple TV, which would potentially let millions of Apple TV users watch the streaming N.F.L. games, according to the two people briefed on the discussions.

Apple and Twitter declined to comment.

"


This simple snapshot reminds us of why this matters: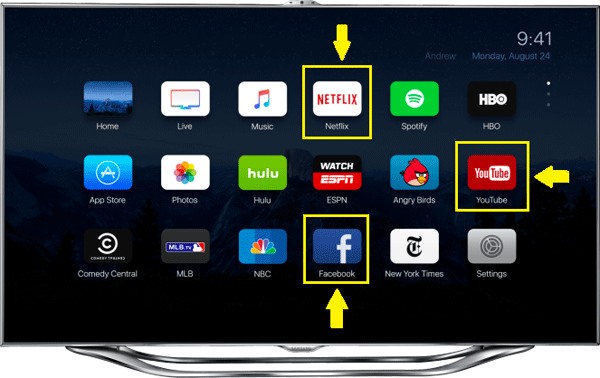 WHAT'S REALLY HAPPENING
Twitter won the NFL from the other competitors for several reason, some of which were made public, like the NFL saying out loud that Twitter was the place for live streaming events. Others were less public, but widely referenced.

Specifically, as the NYT article repeats, Facebook (NASDAQ:FB) reportedly tried to impose its will on the NFL, setting much harsher advertising terms that allowed Facebook to sell all the ads that would air during the games, which explicitly sliced out any coordinated sales effort between the NFL and Facebook. Of course, this story has been attributed to "two people who asked for anonymity because the discussions were private."

That tone, however, has become pervasive, as Twitter (NYSE:TWTR) now owns the rights to either live streaming of games or content for the NBA, NHL, MLB, MLB as well as a bevy of collegiate athletics and Wimbledon and the English Premier League.

All of this has been known, at some level or another.

But what is not known is if this new direction for Twitter will in fact work. Wall Street has been rather mum on the subject of the success of the NFL's prior streaming attempts, including the success the NFL had with Yahoo!, which garnered more than ten million viewers.

TWITTER HAS MORE
Although we won't cover it in this dossier, Twitter , contrary to popular opinion, does in fact have the eyes of the younger generations. The NYT reported that "about 72 percent of the social media service's user base is 18 to 34 years old, according to third-party data and company models, said two people who asked for anonymity because Twitter's internal metrics were confidential."

If the Twitter (NYSE:TWTR) deal with Apple (NASDAQ:AAPL) is in fact true, that means the mobile centric Twitter will have another avenue to reach users -- the Apple TV. The revolution of online advertising is coming, it will be larger than anything the advertising world has ever seen, and it's an open war for the market, with Google's YouTube the current leader, but Twitter making a fierce run at the competition. With Apple Inc by its side, the living streaming sports part of Twitter's strategy looks a lot stronger.

The author is long shares of both Twitter (NYSE:TWTR) and Apple (NASDAQ:AAPL).

WHY THIS MATTERS
Twitter is a 'Spotlight Top Pick' for CML Pro but Facebook and Google just crushed earnings and nearly all of their business comes from advertising. But that world is changing dramatically toward video. It turns out that there is one technology company that will power this revolution, regardless of whether it's Facebook, Google, Twitter, or whomever that will end up with the largest audience.

It's identifying trends and companies like this this that allows us to find the 'next Apple' or the 'next Google.' This is what CML Pro does. Our research sits side-by-side with Goldman Sachs, Morgan Stanley and the rest on professional terminals, but we are the anti-institution and break the information advantage the top .1% have.

Each company in our 'Top Picks' is the single winner in an exploding thematic shift like artificial intelligence, Internet of Things, drones, biotech and more. In fact, here are just two of the trends that will radically affect the future that we are ahead of: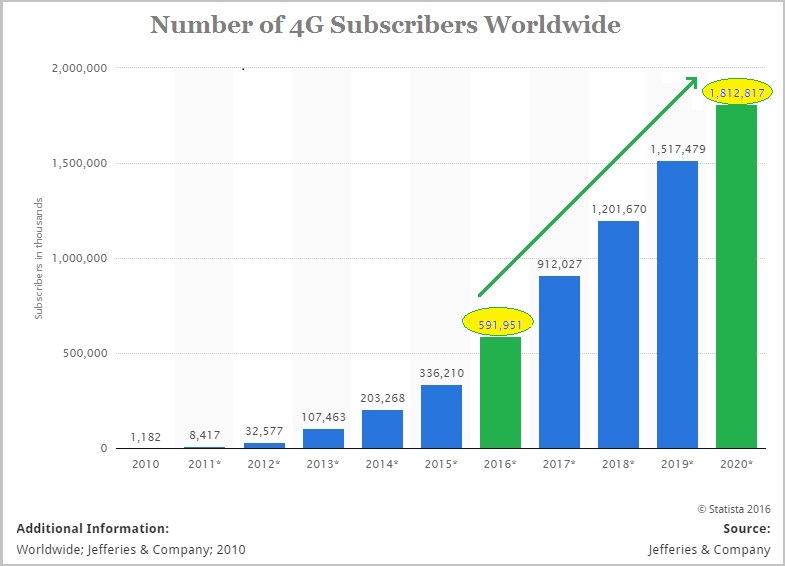 That chart plots the growth in 4G usages worldwide and how it will grow from 330 million people today to nearly 2 billion in five years. This is the lifeblood fueling every IoT and mobile device on the planet and CML Pro has named the single winner that will power this transformation. Then there's cyber security: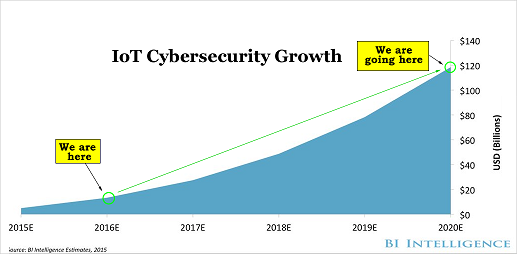 Market correction or not, recession or not, the growth in this area is a near certainty, even if projections come down, this is happening. CML Pro has named the single best cyber security stock to benefit from this theme.

These are just two of the themes we have identified and this is just one of the fantastic reports CML Pro members get along with all the visual tools, the precious few thematic top picks for 2016, research dossiers and alerts. For a limited time we are offering CML Pro at a 90% discount for $10/mo. with a lifetime guaranteed rate. Join Us: Get the most advanced premium research delivered to your inbox along with access to visual tools and data that until now has only been made available to the top 1%.