The NFL On Twitter Inc. (NYSE:TWTR) is a Revolution
Twitter Inc. (NYSE:TWTR) and the NFL is a Revolution
Date Published:
2016-09-15
Written by Ophir Gottlieb

Preface
Twitter Inc. (NYSE:TWTR) will broadcast its first ever NFL game tonight and there are some reasons that the company's offering could not only win in the long-run, but totally and utterly revolutionize the way live video is consumed.

But, contrary to recent headlines which are written for the sole purpose of a click and a $0.01 in advertising, this is not the "Super Bowl" for Twitter Inc. (NYSE:TWTR). This is just day one.

Further, the marketing of the game will likely grow into the event with a call to action (like click here to watch the NFL), rather than an advertisement weeks ago with a call to .. "remember?."

STORY
Twitter Inc. will be live streaming the Thursday night NFL game tonight -- the first of ten. Let's keep in mind that that is "take one," it will get better and it will get bigger.

The game is nationally broadcast but is also available on the CBS streaming app as well as the NFL Network's streaming app. While there should be plenty of viewers to go around, as an investor and a viewer we can ask, "Why Twitter?"



"

The negative narrative surrounding the company is a realized

cognitive dissonance

, based on the past failures, rather than the recent successes.

"



WHY TWITTER
The CBS televised broadcast, streaming broadcast, and the NFL network broadcasts will be, for all intents and purposes, identical. The same game, the same announcers, and almost the same video angles.

The Twitter Inc. (NYSE:TWTR) broadcast is not identical. On a Periscope last night, I demonstrated the user experience for a Twitter Inc. app live-stream on the Amazon Fire TV Stick, which is pretty similar for the Apple TV and Microsoft Xbox. Here's a snapshot: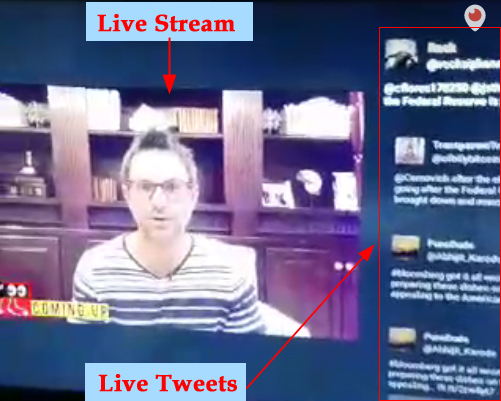 Forgive the blurriness, but the point is this: While the game streams in real-time to the left, viewers on Twitter Inc.'s app will also have live commentary from the crowd on the right. The next question to answer is whether anyone cares what people are saying. I can't answer that definitively but we can say this:

TWITTER HAS THIS, NO ONE ELSE DOES
While the conversation between fans can be fun, how about this group of likely tweeters (I am using a list from Mashable).

Adam Schefter: "There's a good reason ESPN's Adam Schefter has over 3 million Twitter followers. He breaks more news than anyone else in the business — following him will keep you in the loop for all breaking NFL news."

Richard Sherman: "The outspoken Seattle Seahawks cornerback is All-Pro both on the field and at shutting down critics on Twitter. Sherman has earned a reputation for trash talking, but he always has the resume to back it up."

Matthew Berry: "His title at ESPN is literally Senior Fantasy Analyst. Even if you don't play fantasy, Berry is still a diehard NFL fan and entertaining Twitter follow."

Bill Barnwell: "Grantland's lead NFL writer offers patient, in-depth analysis throughout the season. He's also pretty funny on Twitter."

Jon Bois: "SB Nation's Jon Bois makes hilarious comments during football games and often engages his Twitter following in ridiculous, fun activities like the one below."

Dan Wetzel: "Yahoo's Dan Wetzel offers great analysis and top-notch sarcasm on Twitter."

Rob Gronkowski:"The New England Patriots tight end is an elite talent on the field and a first-class party boy off it. Most importantly, he asks the big questions on Twitter."

That's just a snippet. There's also Darren Rovell (ESPN Sports Business Reporter) and Louis Riddick (ESPN analyst and insider). There's even my friend Jeff Macke (North America's sweetheart and generally hilarious dude).

TWITTER HAS MORE
But, not only do Twitter Inc. (NYSE:TWTR) app viewers get all of that, they get the best part of it. Twitter is a social media -- users can reply back if they are logged into the app on their phones (or desktops). A celebrity NFL analyst says something you don't agree with, be interactive and respond.

That's what CBS, the NFL Network and everyone else does not have.

Is the Twitter Inc. (NYSE:TWTR) #GoLive initiative going to work? I don't know. But is it different from everything else in the world? Yeah, it is, by a lot. In fact, it's a lot, a lot, different.

And that means it might be, could be, a lot, a lot of a success. It also gives us pause to consider the likelihood that maybe, just maybe, the negative narrative surrounding the company is a realized cognitive dissonance, based on the past failures, rather than the recent successes.

The author is long shares of Twitter Inc. (NYSE:TWTR).

WHY THIS MATTERS
Twitter is chasing the revolution that is online video. It will change the advertising landscape like the radio did in the 1920s and the television did in the 1950s. But one company is powering the advertising in online video for Twitter, Facebook, Instagram and soon Snapchat and its tiny compared to these firms.

It's identifying trends and companies like this this that allows us to find the 'next Apple' or the 'next Google.' This is what CML Pro does. Our research sits side-by-side with Goldman Sachs, Morgan Stanley and the rest on professional terminals, but we are the anti-institution and break the information advantage the top .1% have.

Each company in our 'Top Picks' is the single winner in an exploding thematic shift like artificial intelligence, Internet of Things, drones, biotech and more. For a limited time we are offering CML Pro at a 90% discount for $10/mo. with a lifetime guaranteed rate. Join Us: Get the most advanced premium research delivered to your inbox along with access to visual tools and data that until now has only been made available to the top 1%.